I am sure most of you saw or owned a phone before the smartphone era. The phones were thick, tough enough to handle a few drops, as compact as possible, used mainly for calling and rarely for occasional basic gaming.
Then came the touchscreen phones and later the smartphones took over the world, now with larger screens, smaller width, higher specs and, as expected, a higher price tag. This made choosing the best rugged phone a lot harder, since the smartphones came with a major disadvantage: if before, dropping your phone wasn't the cause of great stress, smartphones are not as drop resistant as their predecessors.
Some screens won't survive from falls even below 3 feet and there are stories on the web that some phones screens shatter simply by being carried inside the pocket.
For people who don't want to treat their cell phones like jewelry and don't want to spend hundreds of dollars on a device that can shatter at any time, we have compiled a list of the best rugged smartphones that, although not indestructible, at least try to be drop and shock proof.
But, before that, you need to understand that the rugged smartphones are not really a homogeneous group and that, in reality, they are divided for two main audiences: the ones that work in an industrial environment or in constructions and need a fully rugged, durable and no-compromises phone (where the internal specs are not a high priority) and the ones that need a mid-to-high-end smartphone which will survive the occasional fall (even face first) and that can handle splashes or even full submerges underwater (usually, active people who regularly practice different types of outdoor sports).
UPDATE 10.09.2017: Added the Blackview BV8000 Pro to the best rugged smartphones list.
1. CAT S60

The Cat S60 is the next generation of rugged smartphones after the generally successful Cat S50. As the name suggests, this is indeed a smartphone coming from the Caterpillar Company that specializes into the construction equipment department, so this is a step further to give the construction workers a serious phone that can withstand even the harshest environments, while maintaining the elegant look of modern smartphones. There is also a twist: the S60 features a thermal imaging camera.
You shouldn't really expect the level of elegance of the Samsung Galaxy S7 or iPhone 6S, because this is a rugged phone after all, but the S60 looks really good, despite its bulkier case (5.82 x 2.89 x 0.5 inches) and its weight (9.8 ounces).
It features a carbon fiber back with a removable flap that hides the microSD and SIM card slots, the buttons from the edges are big, firm and easy to press (there is also an SOS flap that covers a SOS button, which sends your location to a list of predefined contacts and there are also two more covers, one for the USB port and the other protects the audio jack). The edges are smooth and rounded, so it makes it easier to hold the phone and not worry about it slipping.
Furthermore, this phone can withstand a lot of punishment. It is drop proof, so it can endure drops from 6 feet onto concrete (IP68 certified) thanks to its reinforced die cast frame. Also, on the front, the edge protrudes a bit creating a bit of a lip around the display, so, along with the Corning Gorilla Glass 4 protection, it should ensure that the screen won't shatter if dropped face-first. But, there is no guaranteed protection if the phone is dropped on a sharp object from a greater height.
The Cat S60 can also be submerged under water down to 16 feet for 60 minutes, making it one of the most waterproof smartphones on the market. Additionally, you can capture photos and videos underwater, but you can't make calls (obviously).
Besides the fact that it's a tough smartphone, the appeal of the S60 also comes from a surprising new feature, the built-in thermal imaging camera. The camera uses the MSX technology which allows you to capture clear thermal images, videos or time-lapse footage, it can retroactively pinpoint a temperature in the image and it can even 'see' in environments that have lots of smoke.
The natural question would be what can you use it for. Well, we have to remind ourselves that this is a phone made by Caterpillar, so engineers, electricians or construction workers could make better use of it: for identifying insulation gaps, to discover electrical faults and so on. But, you can also use it for fun in everyday activities like discovering the freshest piece of bread, spotting wires before drilling holes into the wall or just pretend to be the alien from the Predator movie.
Since we already talked a bit about the front of the phone, know that the S60 features a 4.7 inches a-Si AHVA display, with a resolution of 720 x 1280 pixels, a pixel density of 312ppi and 540 nits of brightness. Sure, the resolution is sharp enough for a 4.7in display and the viewing angles are solid, but I expected more considering the price tag. Also, the black level aren't really deep (no way close to the AMOLEDs).
On the inside, the S60 comes equipped with an octa-core Qualcomm MSM8952 Snapdragon 617 chipset (four 1.2GHz Cortex A53 and four 1.5GHz Cortex A53), backed by 3 GB of RAM, an Adreno 405 GPU and 32GB of storage memory (don't forget that you can also add up to 256GB using the microSD slot). The S60 runs on Android 6.0 Marshmallow, an almost stock version that will definitely appease most users as it doesn't annoy with additional useless apps (that sometimes are un-installable).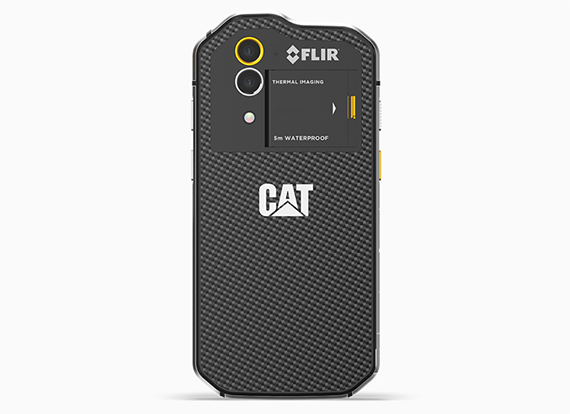 On the back of the phone, there's a 13-megapixel camera with dual-LED flash and the FLIR thermal camera (which we already talked about). On the front, you can find the 5-megapixel secondary camera. The problem with the main camera is that it isn't on par with other similarly priced phone cameras, it shoots noisy photos if the room isn't bright enough and in low-light or during the night, the performance doesn't get any better. It's not unusable, but not at the same level of other mid-ranged smartphones from the market (which, unfortunately was expected from a rugged phone).
The Cat S60 is equipped with a 3800mAh battery (with the Quick Charge 2.0 feature), which means that you get around 30 hours of medium use.
Verdict: The S60 is equipped a lot better than most other smartphones in this list, it has lots of features and it also looks good. In terms of ruggedness, the S60 excels in every aspect, it is waterproof, dustproof and can handle lots of drops. Additionally, you also get the awesome thermal imaging camera. This means that it takes the first place in our list.
2. Panasonic Toughpad FZ-E1

The Panasonic Toughpad FZ-E1 is part of the fully-rugged ToughPad series from Panasonic and along with it's Android-based Toughpad FZ-X1 sibling, these are some of the most rugged devices you can find on the market right now. At 5-inch, Panasonic calls the Toughpad FZ-E1 a handheld tablet that can make phone calls (compatible with 4G LTE data) which myself and a large majority of people may find odd, since 5.5-inch phones are very common and phablets are just below the 7-inch line which is (for now) reserved for tablets.
So, the 5-inch mini-tablet which can make calls is a smartphone, right? Well, yes and no. It certainly has all the functions of a normal smartphone, but the way it is built and the additional features it has, sets it apart even from the rest of the rugged smartphones and the closest device that I could find is the Cat S60 (since it has also narrowed its niche by using a thermal imaging camera).
I held myself back for a while to include this product for more than a couple of reasons: it is unfortunately not suitable for the usual consumer, it's specifically built for industry workers and I doubt you'd like to carry one around since it is huge. That's right, the Toughpad FZ-E1 features a really thick case (which measures 3.4 x 6.5 x 1.2 inches), a rounded back panel to keep the device comfortably in your hand and there's an optional strap which will go around your palm to make sure there is absolutely no way you'll ever drop this smartphone (tablet or phablet?).
On the front of the device, just above the display, there's a small indicator which shows the status of the battery (when it's red, it means that the battery level is 10% or less), the ambient light/proximity sensors and then the usual earpiece, front camera and microphone. Underneath the display, there are two small speakers (but don't get fooled by their size, as they can reach up to 100 dB), three physical buttons (Back, Start and Search – the last button's function can be changed) and again, a small microphone (which, along with the microphone on the back make for an intelligent noise cancellation system).
The sides of the Toughpad FZ-E1 are made of a black rubberised material and there are lots of ports covered by flaps all around the device: on the top, there's a 3.5mm headset jack covered by a protective cover, an 1D/2D barcode reader (not all models have this feature) and a Power button (if the temperature of the device is equal or less than 10.4 °F, the indicator will flash an orange and green colour and the Toughpad FZ-E1 will not turn on until the temperature rises above the aforementioned degrees).
On the right side of the device, there's an interface cover with a lock switch, which hides a DC input jack and a microUSB port (both can be used to power up the ToughPad), while underneath it, there's a dedicated camera button and what Panasonic calls a cradle rail. On the left side, you can find the volume controller, a side button (used along with the barcode reader, but it can also be reprogrammed) and a second cradle rail, while on the back side, the large cover can be removed to reveal a removable battery and underneath it, there is a card access cover. As a side note, the Toughpad FZ-E1 also has an internal NFC antenna.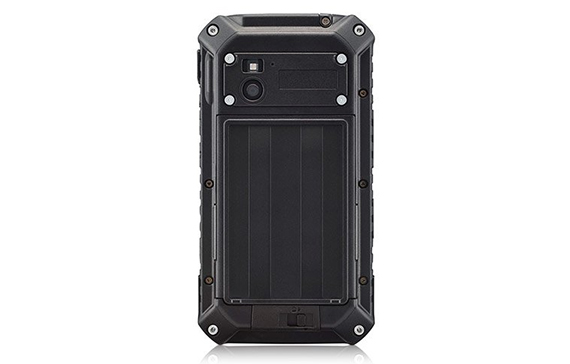 The large part of the front side is occupied by the 5-inch TN-LCD display, which has a resolution of 1280 x 720 pixels, a pixel density of around 294ppi and up to 500cd/m2 brightness levels (which, in addition to the anti-reflective and anti-glare layers, makes the screen perfectly usable under direct sunlight). Smartphones had a tendency to go upwards towards the 5.5-inch spot, but have recently reduced the size towards the more manageable 5.1 to 5.3 displays.
The Toughpad FZ-E1 is pretty much where all the other smartphones are right now with its 5-inch display, but you can't really expect too much from it since it was created to be functional and less about entertainment: the pixel density is a bit low, the colours aren't really as vibrant as what other cheaper phones from the competition have to offer and the viewing angles aren't that great, but that seems to be expected with almost all rugged devices, since the only ones to offer a great display are the ones to offer the least amount of protection. On the plus side though, the screen of the FZ-E1 is operable with gloves and it senses rain drops, therefore preventing the activation of the screen by water droplets (the process involves limiting the touchscreen multi-touch usability from 10 fingers to just one finger).
Now, since this is a rugged device, it is expected that the screen won't shatter easily and this is true for the most part since it can be dropped from 10 feet without taking any damage (the thick border that surrounds the display plays an important part) and it will survive without problems a lot of drops (yes, even face-first ones – it's surprisingly difficult to destroy this device). Furthermore, the Toughpad FZ-E1 is also MIL-STD-810G certified, so it can handle both high and low temperatures (the operating range is between -4 and 140 degrees Fahrenheit), explosive atmosphere, humidity, sand and dust, vibration (including loose cargo transportation), shock, freezing rain, acidic atmosphere and more.
The device is also certified ANSI 12.12.01 for hazardous environments, so it can be used where there are gas or vapour hazards, in locations with ignitable gases, vapours or liquids, as well as in environments with lots of chemical dust, hydrocarbons, fuels, solvents and carbon monoxide. As expected, the Toughpad FZ-E1 is also water resistant, being IP68 rated, so you can submerge it down to 5 feet underwater for about 30 minutes and it's also IP65 rated, which means that it can easily handle high-pressure jet sprays. One other curious, but interesting feature is the internal heater which has the role to warm up the device in case it gets below 10.4 °F (you need to activate the function to switch the Heater to Auto from the interface).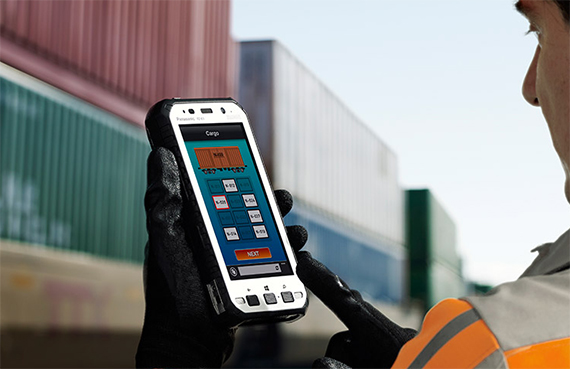 Inside the case, the Panasonic Toughpad FZ-E1 is equipped with a quad-core Qualcomm MSM8974AB chipset clocked at 2.3GHz, an integrated Adreno 330 graphics card, 2GB of RAM and 32GB of storage memory (the Android-based ToughPad FZ-X1 is equipped with a less powerful quad-core 1.7GHz Qualcomm APQ8064T chip). Both the E1 and the X1 can have their internal storage augmented up to another 64GB by using a microSD card. Both devices are also compatible with the following wireless and Voice&Data standards: 802.11a/b/g/n/ac, Bluetooth, 4G LTE, HSPA+, UMTS, EDGE, GPRS and GSM. The Qualcomm Snapdragon 801 was one of the preferred chipsets more than a couple of years ago for the flagship smartphones (around the time the Toughpad FZ-E1 was released) and even today, it will handle resource-heavy apps and even the more recent games without problems (even if there aren't that many apps for the Windows platform).
The ToughPad FZ-E1 uses the Windows Embedded 8.1 Handheld OS, which is perfectly suitable for line-of-business handheld devices (the smaller Panasonic ToughPad FZ-F1 comes with Windows 10 IOT Mobile Enterprise). Surely, the OS allows for a good integration with various software from tech and industry companies, but I expect an update to Windows 10 IOT Mobile Enterprise as soon as possible from Panasonic (this type of OS updates may take a longer time for industrial tech since companies don't like to fully upgrade to different versions of the OS until it is absolutely necessary – such as end of life warnings).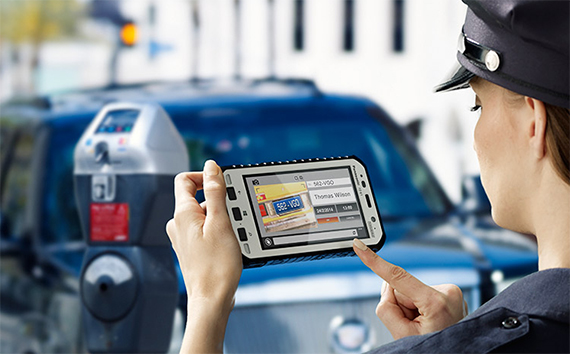 Next, the FZ-E1 is equipped with an 8-megapixel rear camera (with LED flash and auto-focus) and a 1.3-megapixel front camera (relatively suitable for video conferences and nothing more). The rear camera will take reasonable photos in good lighting and especially outside in a sunny day (although there was a bit of overexposing), but indoors and during the night the photos were full of noise and blurry. Overall, these are indeed tablet-level cameras and won't really satisfy if you want to use the phone as a main camera on holidays (not that anyone would want to do that), so the device is once again suitable for enterprise use (to scan QR codes or for photographing schematics or other type of documents).
One of the most important aspects of any smartphone or tablet (rugged or not) is the battery life and it seems that Panasonic did not held back in this chapter equipping the Toughpad FZ-E1 with a high capacity 3.8V 6200mAh battery which is both replaceable and hot swappable. Panasonic claims that the battery can take up to 14 hours of continuous data access (WiFi+continuous web-browsing), up to a full day of talk time and almost 1000 hours of standby (which is true for the most part since you could get about 9 hours if you add some gaming into the equation). Furthermore, the Toughpad FZ-E1 takes advantage of the Quick charging feature, so the battery will go from 0 to 50 % in 1 hour and 15 minutes and from 0 to 100 % in about 3 hours and a half.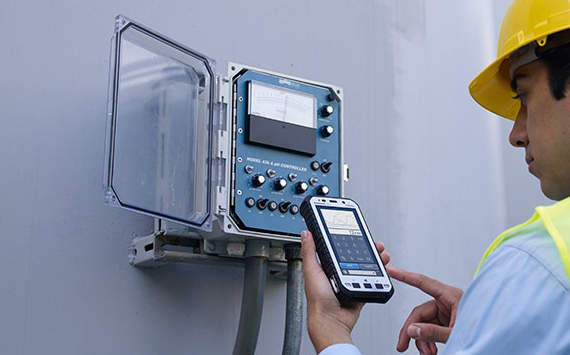 Verdict: Why isn't the Panasonic Toughpad FZ-E1 the first in the list you may ask, since it's such a great rugged device? Well, because it doesn't really follow the same guidelines as the usual smartphones (or tablets, for that matter) and, while it's true that rugged cell phones, in general, are more niche devices, the Panasonic Toughpad FZ-E1 is even more narrow into the targeted audience. To be more specific, this belongs in a warehouse with industrial workers and I highly doubt I'll ever see an active person running with this mammoth strapped to their arm. That being said, the Panasonic Toughpad FZ-E1 is pretty much the pinnacle of ruggedness, having a screen resistant to shock, the case can handle pretty much everything you throw at it, it has some awesome features (suitable for an industrial environment), but there are some minuses, since software is a bit outdated, the cameras are nothing to brag about, the device is incredibly thick (there is no chance you would put it in your pocket) and the most important negative is the incredibly high price.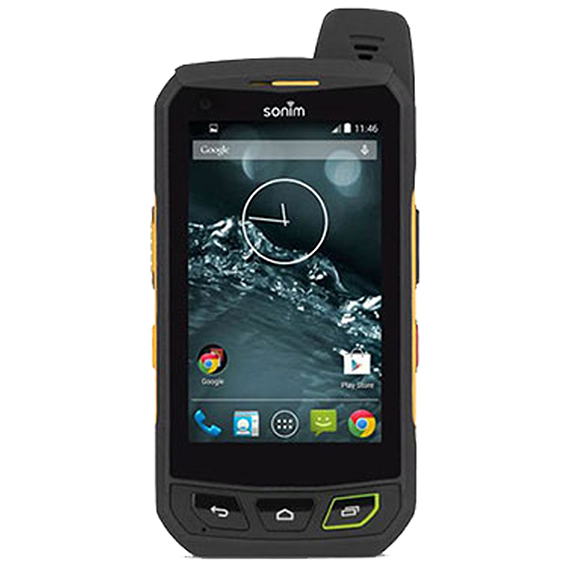 3. Sonim Xp7

Following up the Sonim Xp6, the new smartphone tries to aim at one particular type of customers, the ones who need the toughest smartphone on the market. People who work on a construction site, electricians, workers at chemical plants or just who undergo outdoor sports will definitely enjoy this phone.
The Sonim Xp7 is able to withstand a lot of abuse. It is IP68 and IP69 rated, so it can be submerged underwater up to 6.5 feet for as long as 30 minutes, it can also withstand extreme pressure, corrosive chemicals and oils and can survive a lot of falls before taking actual damage. So no, the phone is not indestructible but it is one tough piece of work!
At the first glance, the Sonim Xp7 does look like your ordinary rugged phones, being thicker (measures 5.39×2.84×0.82 inches and weighs 10.23 oz) and less attractive than your ordinary Android phones.
While the Kyocera Brigadier has a sapphire screen, the Sonim Xp7 screen is protected by Corning Gorilla Glass 2 that obviously is not as resistant but thanks to the construction of the phone it is well protected and a few tumbles on some rocks didn't do any damage. Still, if dropped face first on sharp rocks, the screen will shatter a lot easier than the sapphire screen.
The display is 4 inches, has 480×800 pixels and 233ppi pixel density that is bright enough so it's easy to see the display even under direct sunlight. Still, besides the brightness there isn't much more to be praised about this display.
The colours are a bit washed out, even more if the display is viewed off axis, the text could have been smoother, so overall, it doesn't deliver a good media experience.
Note: The Sonim Xp7 can be used when wearing gloves.
The Sonim Xp7 features a 1.2GHz quad-core Qualcomm MSM8926 Snapdragon 400 CPU, 1 GB RAM and 16GB native storage memory. Unfortunately, the phone doesn't support microSD, so 16GB is the maximum you will get in terms of storage.
The CPU is reasonable but 1 GB RAM and 16GB maximum storage is quite a let down considering the price tag.
Note: The phone runs the 4.4.2 KitKat version of Android.
Moving on to the camera, we can see that it sport a 8-megapixel rear camera (3264 x 2448 pixels) and a 1-megapixel front camera. Just like the Kyocera Brigadier, the camera performs reasonably in good light but under-performs in low-light.
The rear camera features autofocus, LED flash, geo-tagging, HDR and you can film 1080p videos at 30FPS.
Now let's have a look at the battery. The Xp7 has a quite impressive 4800mAh battery that will deliver up to 48 hours of normal usage.
One last appealing 'feature' is the three year warranty. Just like the HTC One M9, the Sonim Xp7 is replaced if it breaks, without questions asked.
Verdict: The Sonim Xp7 does feel like it is indestructible and it almost is, but it is definitely not for the wider audience, it doesn't look like a smartphone and under-performs on many levels but fully delivers in terms of ruggedness. So this phone takes the third place for being one of the most durable smartphone on the market.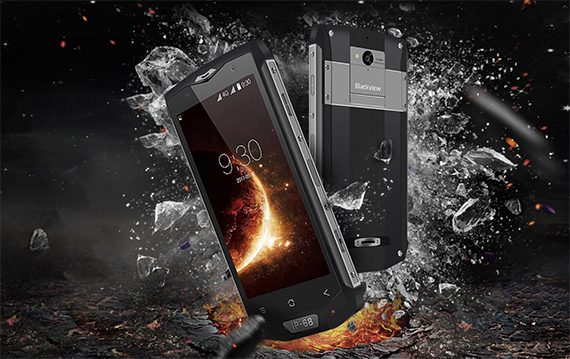 4. Blackview BV8000 Pro

Because of their bulkiness, the rugged smartphones are considered somewhat niche, so the market isn't exactly flooded by this type of devices and rarely do we get to see a rugged smartphone to be released by a popular company in the US or EU. At the same time, there is an abundance of Chinese rugged handsets to choose from, but if they're not specifically targeted towards the public outside China, there may be some problems with the 4G LTE compatibility (such as the FDD-LTE), the warranties and the support.
Even so, there are some Chinese-based smartphones that have become quite popular in the US (such as Xiaomi and Oneplus) which has opened up the market for some new manufacturers to showcase their products to a larger audience. This gets us to the Blackview rugged smartphone line that has managed to gain some popularity the last couple of years and, specifically, I'll focus on one of its latest handset, the Blackview BV8000 Pro, which even if it's not without faults, it promises to be a tough phone, capable of withstanding a beating and it also comes at a very good price.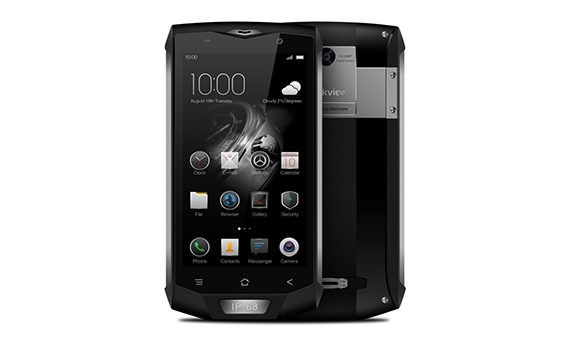 The rugged smartphones are not really elegant devices, lacking the narrow bezels, the thin profile or the full-glass body of the usual mid-range and flagship handsets (although significant advances have been made to strengthen the screen, as can be seen with the Motorola Moto Z Force line and the latest Samsung Galaxy S8 Active), so, as expected, the Blackview BV8000 Pro features a thick case, mainly made of plastic, with the left and right side being partly made of metal (which unites with the rear side metal section that surrounds the camera). Both the rear and the front side lacks uniformity and you'll get multiple design patterns (a mix between soft metal, kevlar and soft plastic) and different colour tones (the device is also available in grey, silver or yellow).
Furthermore, the edges get slightly narrower, which makes the handset a lot more comfortable to hold in hand and, because of the textured stripes, you won't feel that the device may accidentally fall at any time (be aware that the phone is quite heavy for its size, weighing 0.54 lbs). The bezels of the Blackview BV8000 Pro are significantly large and it seems that the Chinese manufacturer has decided that the phone may still not be tough enough and it has added extra inches all around the handset (that are slightly elevated to help if the device falls face-first), so, even if it has a 5-inch display, the chassis of the BV8000 Pro has almost entered the realm of the 6-inch phablets (its dimensions are 6.1 x 3.1 x 0.5 inches).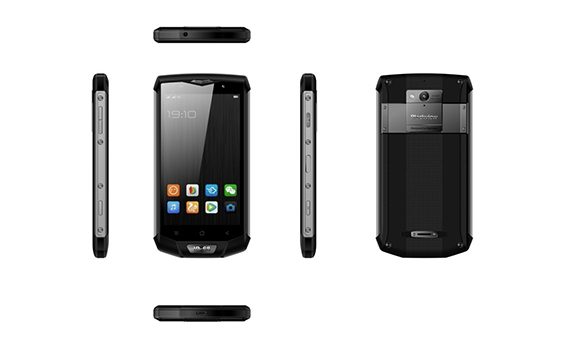 The left and the right edges of the smartphone (on the metal piece) are home to the Power button, a Push-to-Talk/SOS button (cannot be configured for any other function), a fingerprint reader (which is surprisingly fast), a volume controller and a dedicated camera button (it will come in handy if you want to capture photos under water). Underneath the display, the BV8000 Pro has opted for a trio of capacitive buttons. Some of the sensors which have been implemented within the BV8000 Pro are the gyroscope, the accelerometer, the pressure sensor, the compass, the heart-rate sensor and the GPS.
Note: The 3.5mm headphone jack and the SUB Type-C port are not covered by any protective flaps, so, if the phone has been submerged under water, it is advisable that you will charge it or use the headphones after you made sure not water has remained inside the ports (you can use a hair dryer).
The BV8000 Pro has been IP68 rated and Blackview made sure that you wont forget it by putting a small plate with an IP68 logo on the front of the device, something that was a very uninspired decision from the design point of view (why didn't they just put the company logo is beyond me). So, the BV8000 Pro is dust-proof and it will survive immersions under water down to 5 feet for no more than 30 minutes, but it seems that the phone does not carry any MIL-STD certifications (which came as some surprise since this is a smartphone that prides itself with its ruggedness). Even so, the BV8000 Pro will remain operational up to an altitude of 16,400 feet, it will handle relative humidity up to 95 % and it is suitable in a working environment with a temperature between 5 and 130 degrees F.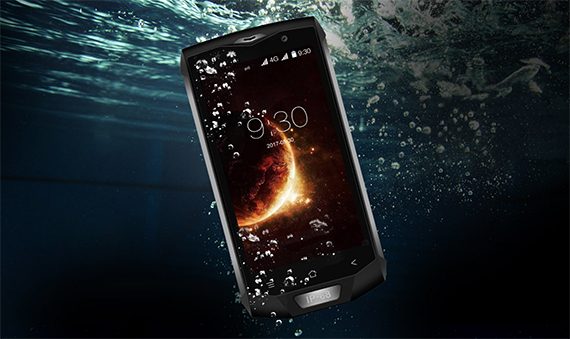 On the front, the Blackview BV8000 Pro features a 5-inch FHD IPS touchscreen display, with 16 million colours, a resolution of 1920 x 1080 pixels, 16:9 aspect ratio, a pixel density of 441ppi and it is being protected by Corning Gorilla Glass 3 (so, it will withstand some minor key scratches). Overall, the display did not really manage to impress me in any way, as it was somewhat of an average performer, being capable of rendering acceptable colours (it did not have the deep blacks of AMOLEDs, but the black levels and the white balance levels were acceptable), the viewing angles were good, but, even if the maximum brightness goes up to 440 cd/m2, I still had some trouble reading my emails or watching some photos outside, on a bright sunny day (and, a rugged phone will be used outside quite a lot) – using it indoors and in the shade should solve this problem.
Inside the case, the BV8000 Pro is equipped with an octa-core Mediatek Helio P25 MT6757 SoC (2.6GHz Cortex-A53), a Mali T880MP2 GPU (clocked at 900MHz), 6GB of RAM and 64GB of flash memory (you can use a microSD card to add up to 256GB). Keeping in mind that this is a mid-range phone, multitasking was handled with ease (the 6GB of RAM made sure of that) and most of the games ran without problems (such as Asphalt 8), but, more demanding titles will definitely prove to be a challenge for the internal hardware.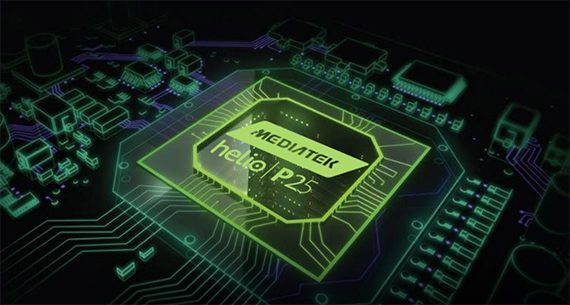 The BV8000 Pro's interface is built on top of the Android 7.0 Nougat and, similarly to other Chinese brands, it has been heavily modified, but it did not add a lot of bloatware: actually, there's one app that has caught my attention, the Toolbox, which can measure the heart rate (using the implemented sensor), the sound and the altitude and it also has a level to play with in your outdoor adventures. Will Blackview upgrade the BV8000 Pro to Android 8.0? Probably not, since these type of devices are often left with the original OS until they reach EOL, but it is possible that Blackview may surprise its users since it has released several updates to fix some reported problems.
On the rear side, the rugged smartphone is equipped with a 16-megapixel camera with a Samsung S5K3P3 sensor, an f/2.0 aperture and dual-led flash which has proven to be quite capable in good lighting, managing to capture some solid shots, with a good colour balance and no overexposure (don't be afraid to adjust some settings to get better results). Indoors and in low light shots are reasonably good (although it won't rise above the mid-range level – don't compare it with the camera of Samsung Galaxy S8), so, if you have steady hands, the pictures were OK, but, as expected there is a noticeable amount of noise. On the front, the handset is equipped with an 8-megapixel camera which also has a Samsung sensor (S5K3P3) and it does a good job with selfies or conference calls (it lacks a bit in terms of sharpness though).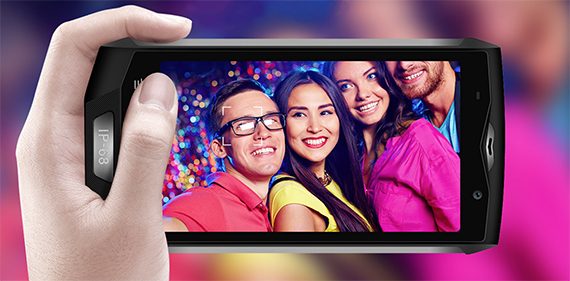 One of the most important elements of any smartphone is, of course, the battery and Blackview BV8000 Pro does not disappoint, being equipped with a non-removable 4180mAh Li-Polymer battery which will be able to deliver up to 2 days of moderate use, a full day if you are a heavy user and almost 10 hours of screen-on time. You will need about 2 and a half hours to fully recharge the smartphone (it does not feature any quick charging capabilities – but it does have the OTG function, which allows for a convenient data transfer and you can also power up other devices, use an external mouse, flash drive or gamepad).
Verdict: The Blackview BV8000 Pro has many attributes to make it an attractive device for anyone in need of a tough smartphone: it has a rugged exterior, the display and the cameras are acceptable, it's packed with sensors, has a good price and it is also one of those rare rugged smartphones to cover the full LTE spectrum (Europe, North, Central and South America, Africa, Australia, Middle East, Asia and Oceania).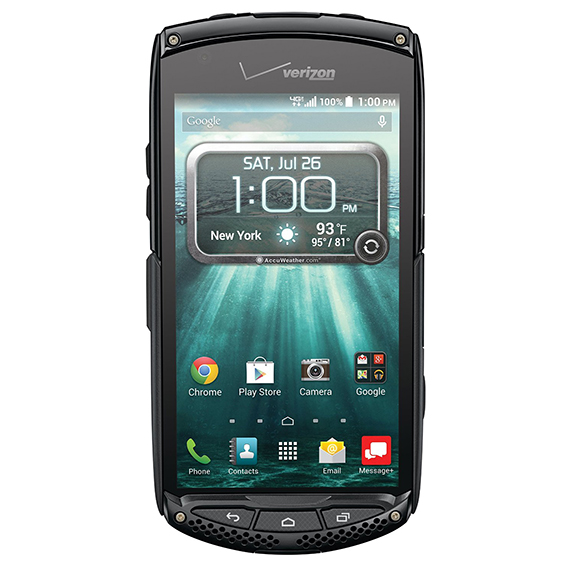 5. Kyocera Brigadier

If you've been following the news,  there have been some rumours that the next generations of smartphones may feature sapphire screens (even though Apple disliked the idea), which are considered to be better than the Gorilla Glass 4.
Funny enough, there are some phones that actually have this technology implemented for quite some time, like the Kyocera Brigadier.
So, is a sapphire screen better than the Corning Gorilla Glass? In a sense yes, sapphire is the second hardest crystal in the world, the screen would be scratch free, a lot harder to break or shatter.
But the problem is the manufacturing process, the sapphire screen is a lot more expensive than Gorilla Glass, is not environmentally friendly and the display would be a lot more dim,  so a lot more battery consumption.
Still, Kyocera opted for this type of screen hoping that it would be unscratchable and even if dropped face first onto rocks, the display would not shatter.
The phone is well protected, it meets the US Department of Defence Military Standard 810G(which protects against a large array of possible damage agents like shock, vibration, extreme temperature, rain, low pressure, solar radiation, water immersion and more) and has IP68 rating.
But what about the actual phone features?
The Kyocera Brigadier's design is not going to win any beauty contest, it is rather bulky, measuring 2.7×0.5×5.4 inches and weighing 6.6 ounces and it has three physical buttons (which is rare nowadays and also not elegant).
The display is 4.5 inches, features a resolution of 1280 x 720 pixels and 523 nits, so the screen is very bright even on direct sunlight (this is a great thing because sapphire screens tend to be rather dim).
Note: The screen is usable with gloves.
Brightness is the only aspect that we liked about the display, the colour accuracy wasn't too good and reached around 60 percent of the sRGB spectrum.
On the inside, the phone sports a 1.4GHz quad-core Qualcomm Snapdragon 400 CPU backed by 2GB RAM, 16GB internal memory and a possible addition of up to 32GB with a microSD card. It has Android 4.4.2 KitKat that runs relatively smooth, we haven't encountered any stuttering or lags.
Now let's focus on the camera. There is a 8.0MP rear-facing camera and a 2.0MP front-facing camera. The rear camera is capable of shooting some decent photos under good lighting conditions.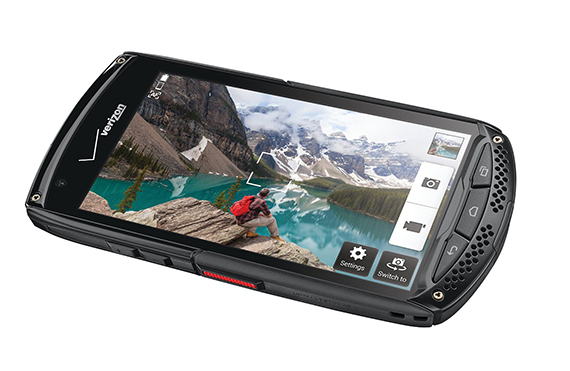 But overall, the photos do look a bit grainy and do lack some details, so we wouldn't recommend this phone to anyone who wants a phone that can shoot great DSLR-like photos (even though the price tag may suggest so).
The camera also features digital zoom, LED flash, auto-focus and can capture 1080p videos at 30FPS.
The Kyocera Brigadier has a 3100mAh non-removable Lithium Ion Battery that can deliver up to 24 hours on normal use and about two weeks if on standby.
Yes, the Kyocera Brigadier does have a few minuses, it may not have the best display or camera and battery life could have been better, but this phone was constructed to survive in tough environments, even if being subjected to extreme conditions and it does all this really great.
Verdict: The phone can survive under extreme conditions, the screen can't be shattered easily and it has a mid-range phone performance. Considering the other candidates for rugged smartphones and the price tag, the Kyocera Brigadier takes the fifth place for the best rugged smartphone on the market.
6. Kyocera DuraForce Pro

The Kyocera DuraForce Pro is one of the latest handset from the Japanese manufacturer to join the rugged smartphones market and it clearly comes as an improvement in many areas over the older Kyocera Brigadier (at which I had a look not long ago). Lately, I have noticed that the line between rugged and non-rugged smartphones is getting thinner, especially since the latter started to become waterproof and dustproof (features that, sometimes, are used as a main selling point – the Samsung Galaxy S7 and LG G6 are a good example). But, that's not all, because rugged smartphones are starting to look similar to the more elegant non-rugged flagships and the DuraForce Pro is the proof to show that both the tougher handsets and the normal, more fragile ones are converging towards a final product to feature both a rugged body and the flagship performance that we have become accustomed from the likes of Apple, HTC, Samsung or LG.
As expected, you won't find any glass and metal combination (which is definitely attractive, but fragile) and instead, you get a mix of polycarbonate and thick rubber. The case has a curved back, soft rounded corners (it's less curved than the Brigadier, being closer to the current smartphone standards) and on the top and bottom, there are some patches of texturized rubber that slide towards the screen and towards the centre of the rear panel.
All around the case, you can find pretty much the same buttons and ports as on any other smartphone (yes, it has a headset jack), with any port opening being covered by protective flaps and it's nice to see that Kyocera decided to keep the three front buttons for Back, Home and Recent (as a bonus, there are front-facing speakers). The new elements would be the PTT/Programmable key (by default, it will activate Verizon's push-to-talk service, if you use Verizon, but you can program it to either launch any app or to automatically send help texts and the GPS location in case you get lost or are in danger) and the Fingerprint Sensor on the Power key (quite the unique feature for a rugged phone).
Because of the curved back, the phone fits comfortably inside the palm of the hand, but the increased size over the Brigadier will not go unnoticed, since it now measures 5.8 x 2.8 x 0.5 inches and it's got a bit heavier (8.1 oz). The bigger size means more screen real-estate, but bigger smarphones are usually more fragile and more prone to breaking than any other smaller handsets (until better technologies are developed, I'm not sure rugged smartphones should go over 5 inches). Another interesting aspect is that I found it hard to fit the phone in my pocket because of its thickness (so keep that in mind before purchasing).
That being said, the main attraction of any phone is the display and Kyocera has equipped the DuraForce Pro with a 5-inch IPS LCD display with 16 million colours, a resolution of 1080 x 1920 pixels and a pixel density of 441ppi. Furthermore, you get the same Sapphire Shield protection, so the display becomes virtually unscratchable and it is a bit harder to break than the traditional screens (if it falls at a odd angle, the screen will shatter into pieces instead of cracking like the usual Corning Gorilla Glass protection). The display is greatly improved over the dim Kyocera Brigadier, now reaching up to 691 nits, so you can clearly see everything even under direct sunlight. You should not expect the vividness of AMOLEDs or the true colours of iPhones, but the DuraForce Pro does a fair job on delivering a good visual experience, with images and text being crisp and clear, the colour accuracy is reasonably good and it has surprisingly good viewing angles.
Note: You can use the touch-screen even if you are wearing gloves or if your fingers are wet.

Similarly to Kyocera Brigadier, the DuraForce Pro has a Military Standard 810G certification, so the phone should withstand low pressure, temperature shock, any contamination by fluids, humidity, solar radiation, mechanical vibration, pyroshock, freezing temperatures and more, which makes the handset perfect for working in industrial fields. This should ensure a certain protection from the elements and in case you accidentally drop it, know that the screen is not unbreakable (as said before), so be aware that if you drop it on a sharp object face first, it could shatter (there is a lip around the display which will definitely help a lot with keeping the screen integrity intact).
Furthermore, the phone is IP68 rated, which means that it is protected against dust and it can be temporarily immersed into water. To be more precise, the DuraForce Pro will allow you to go as deep as 6.5 feet for up to 30 minutes with your phone and at the same time, there is the underwater mode for all the camera options (you can film and take photos underwater).
And that leads us to the cameras. On the rear side, the DuraForce Pro features a main 13-megapixel camera, with autofocus, LED flash and HDR, and a secondary wide-angle 2-megapixel camera. In good light, the camera can capture some really good photos, with accurate colours, a low amount of noise and an overall good exposure. In low light, the camera struggled a bit, capturing photos with a lot of noise and grain. The secondary wide-angle camera is definitely an interesting addition, because it helps shooting photos with an 135-degree field of view, but, because it's limited to 2 megapixels, it will show signs of optical distortion (very similar to how GoPro cameras behave and I'm not sure that's a coincidence since the phone works great with GoPro mounts). The front 5-megapixel camera is good for selfies, but again, it will do a decent job in good light, but not so much indoors and in low-light environments.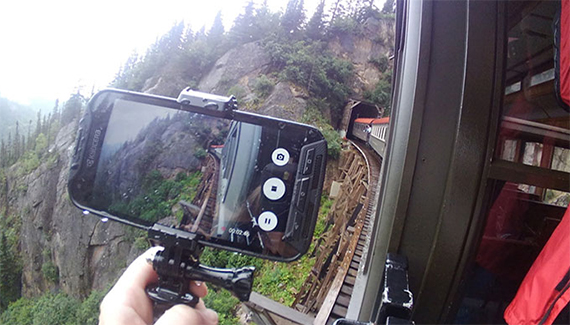 On the inside, the DuraForce Pro is equipped like a mid-range smartphone, sporting an octa-core Qualcomm MSM8952 Snapdragon 617 chipset (quad-core 1.5GHz Cortex-A53 & quad-core 1.2 GHz Cortex-A53 CPU), an Adreno 405 GPU, 3GB of RAM (for the Verizon version; the At&t and Sprint version only has 2GB of RAM), 32GB of internal storage memory, which can be augmented by 256GB using a microSD card. Also, the phone runs on Android v6.0 Marshmallow, but it has some pre-installed elements from Kyocera and some more from its carrier (the DuraForce Pro does not have an unlocked version, so far). The 3 GB of RAM will make a difference when multitasking and to contain the bloatware from the carrier (the version that I used was from Verizon and there is plenty of annoying bloatware).
Ignoring the carrier apps, the interface is reasonably clean and Kyocera added only a few native applications, such as the Outdoor Report, which is a good tool for checking the weather, a real-time position of the moon and the sun, the correct altitude and even the tide with a fish activity rating. There's also the Camera Underwater Mode which basically disables the touch-screen and let's you control the phone using only the physical buttons.
The last aspect that I would like to cover is the battery life. The phone comes with a non-removable 3240 mAh battery which will get through a full day of medium use (in the continuous loop video test, the battery died after almost 7 hours). The good news is that the phone comes with the Quick Charge 2.0 feature, so the battery will charge up to 60 % in about half an hour and there is support for the Qi wireless charging, but the charging pad is not included.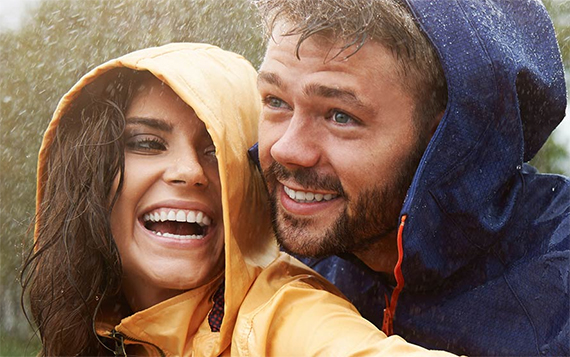 Verdict: The Kyocera DuraForce Pro is definitely a better smartphone than the Kyocera Brigadier (better camera, a whole lot better display, powerful hardware), but I'm not convinced it's a better rugged phone simply because it has a bigger screen, while no improvements have been made to the overall ruggedness from its predecessor. Furthermore, I'm not really a fan of not having the option to purchase this phone unlocked and being forced to go through a carrier (which this time has added an annoying amount of bloatware up to the point that it actually affects the way the phone performs, almost negating those 3 GB of RAM). These are the minuses of the Kyocera DuraForce Pro and of course, I have already signalled all of its pluses, so if it's not a problem for you to go through Verizon, At&t or Sprint, this is a worthy smartphone for active people that like rock climbing and swimming.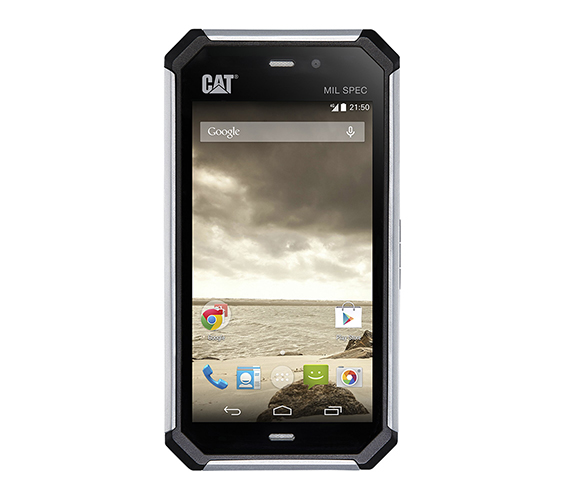 7. CAT S50

The seventh phone in this list is the CAT S50. Coming from the US Company Caterpillar, best known for its construction equipment, the CAT S50 wants to be a very rugged phone but having a sense of style at the same time.
It is IP67 rated and it meets the US Department of Defense Military Standard 810G compliance for shock, vibration, rain, low pressure, solar radiation and more.
Even though it looks better than the Sonim or Kyocera, the CAT S50 is still chunkier than your usual smartphones. It measures 5.69×0.5×3.03 inches and weighs 6.56 ounces.
The CAT S50 has an angular design, with straight edges, really wide bezels around the screen and a pleasant back texture. The phone provides a very good grip, especially thanks to the thick rubber best seen on the corners.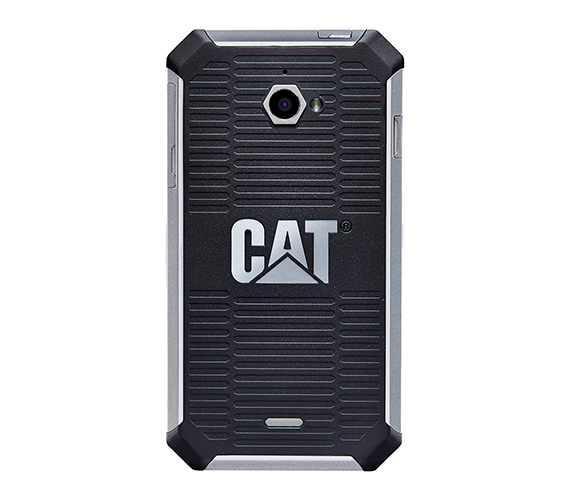 Now let's talk about the display. The CAT S50 has a 4.7in LCD display with a resolution of 1280x720p, 312ppi pixel density and is protected protected by Gorilla Glass 3.
The display is visible under direct sunlight, the resolution is sharp enough but the colours are a little washed out and it lacks a bit of contrast.
On the inside, the S50 features a 1.2 GHz quad-core Qualcomm MSM8926 Snapdragon 4 chipset (Cortex-A7 processor) backed by an Adreno 305 GPU, 2GB RAM, 8GB native memory and up to 64GB possible addition through the microSD slot.
The internal specs are good, apps load quickly and we haven't experienced lags or stutter even when playing more resource-heavy games or multitasking.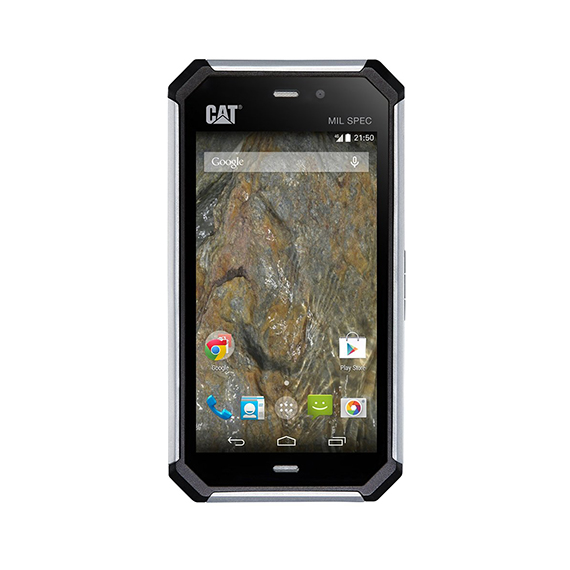 The S50 runs the 4.4 version of Android (KitKat) and features around 1000 applications from CAT, targeted at a specific niche: engineering, construction.
The phone has a 8-megapixel rear camera camera (3264x2448p) with autofocus and LED Flash and a front-facing VGA camera.
The rear camera takes solid, good quality photos, it maintains reasonable quality even when the conditions are darker, although images do have a bit of blur and some noise. The camera also shoots 1080p videos at 30FPS.
The battery is reasonable, it is a 2630mAh non-removable battery that delivers around 24 hours of medium to extensive use.
Verdict: What we really liked about the CAT S50 is that it actually looks like a smartphone. It doesn't really provide the same level of protection as Sonim or Kyocera but it does have good specs, a good design and overall it is a good rugged phone for the wider audience.
8. Samsung Galaxy S8 Active

Another year, another Active version of the flagship smartphone from Samsung and this time, it's the Galaxy S8 Active. Similarly to its predecessors, the S8 Active keeps pretty much all the internal hardware of the standard S8 (which should make it the best rugged smartphone to date, from a performance point of view) and, while the exterior has lost a bit in terms of elegance, it looks surprisingly close to the original model, especially because of the new increased display real-estate (both the S6 Active and the S7 Active failed to do so). The S8 Active won't really survive an industrial environment, but it is the perfect device for active people, so let's have a closer look.
If you put the Samsung Galaxy S8 and the S8 Active next to each other, you will undoubtedly notice that the latter lost the full metallic body in favour of a mix between polycarbonate (for the rear side) and a metal frame with hard rubber bumpers around it. Furthermore, the corners have lost a bit of finesse and, while the main appeal of the S8 was the bezel-less approach, the S8 Active needed these larger bezels to offer an increased level of protection.
The S8 Active has also gained a bit in size and weight (it measures 5.98 x 2.95 x 0.39 inches and weighs 7.34 oz), which is perfectly normal for a rugged cell phone and because of the case construction, you do get a lot more grip than you would with the Galaxy S8 (I also felt that it sat better in my hand).
Along the side, the S8 Active has the same buttons and ports layout as the S8: on the left, there's the volume controller and the Bixby key (which replaces the customizable Active button from the previous generations), while on the right, you can find the Power button and on the bottom side, there's a 3.5mm headset jack and the USB Type-C 1.0 charging port. On the rear side, besides the camera and the fingerprint sensor (which is very fast and responsive, but weirdly placed), the S8 Active is also equipped with a Heart rate sensor, which may prove to be useful for some people, while a simple gimmick for others.
So, the Galaxy S8 Active can definitely be considered the best designed rugged smartphones out there, but how does it really fare well in terms of ruggedness? Well, the phone is IP68 certified, so it is protected against dust particles and it is waterproof, allowing you to submerge it underwater down to 5 feet for about 30 minutes (it's better to use it with fresh water, since salt water is corrosive). The S8 Active is also MIL-STD-810G compliant, which means that the smartphone has been tested (and survived) 21 tests in various environmental conditions, which include extreme temperatures, shock and vibration, humidity, low or high altitude (I wasn't able to find the exact tests that have been conducted, so far).
Taking into account the way it was designed, the S8 Active will definitely survive any drop from about five feet onto flat surfaces (such as the pavement) even at odd angles and you will, most of the time, just have to deal with some minor scuffs and nothing more. If the phone will fall face-first, there is a slight lip that will protect the display and it seems that Samsung went a somewhat similar route as Motorola Moto Z Force series and made the screen less vulnerable to damages (the screen is made of glass, but it uses a shatter-resistant plastic layer).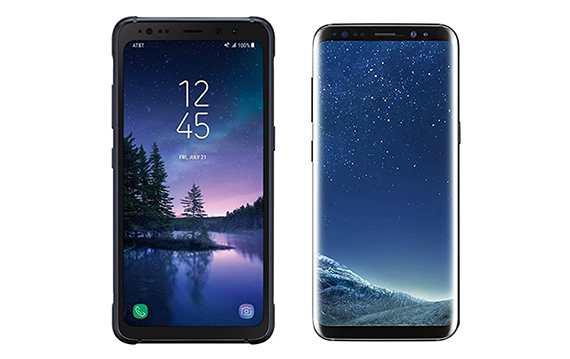 That being said, on the front of the device, there's a large 5.8-inch Super AMOLED display, with 16 million colours, a resolution of 1440 x 2960 pixels, 568 ppi pixel density (which is very little below the 570 ppi of the S8) and it is protected by the latest Corning Gorilla Glass 5. Even if last year's S7 Active had a great display, the increased screen real-estate has proven to be a huge improvement, especially while watching videos or movies with a 21:9 aspect ratio. The panel is what you would expect from a Super AMOLED, the black levels are very deep, the white levels are proper, colours are incredibly vivid, with a lot of contrast and the display has excellent viewing angles. The display will remain visible outdoors in bright sunlight, since it can reach pretty high brightness levels (the S8 can go over 1000 nits).
Inside the case, Samsung has equipped the S8 Active the same way as the standard S8: there's the latest octa-core chipset from Qualcomm, the MSM8998 Snapdragon 835 (with the quad-core 2.35GHz Kryo CPU and quad-core 1.9 GHz Kryo CPU), an Adreno 540 GPU, 4 GB of RAM, 64 GB of internal storage and, using the dedicated slot, you can add up to 256 GB. The overall performance was very consistent and pretty much the same as the Galaxy S8: it's not the fastest phone on the market, but the apps loaded quickly, multitasking was no challenge for the smartphone thanks to the 4GB (could have been more) and it will run any resource-heavy game you will throw at it without problems.
The S8 Active's TouchWiz interface runs on top of the Android 7.0 (Nougat) platform (it will undoubtedly be updated to the latest Android O) and you get the same experience as with the Galaxy S8, the only difference being the Activity Zone app which gives you access to weather info, your step count, the compass, the flashlight and so on. The UI also features Bixby, which is the equivalent of Siri and Cortana (personal assistant), you can opt to use Samsung Pay (it's MasterCard and Visa Certified) or Samsung Health and, since we're talking about a carrier exclusive, you'll get some bloatware from AT&T.
On the rear side, the S8 Active is equipped with a 12-megapixel camera, which has an f/1.7 aperture, 1/2.5″ sensor size, 1.4 µm pixel size, Optical Image Stabilization and LED flash (the camera can record 2160p videos at 30fps and 1080p videos at 60fps). While the Galaxy S7 had one of the best phone cameras of 2016, the S8 and the S8 Active have the best camera of 2017 and it has set a new standard for the other manufacturers. Outdoors and in good light, the pictures were well exposed, had accurate colours, good contrast levels and an excellent amount of detail (also, the autofocus was very fast). In low light, things did not change significantly, the pictures has a lot more detail than last year's S7 and the colours remained natural and well balanced.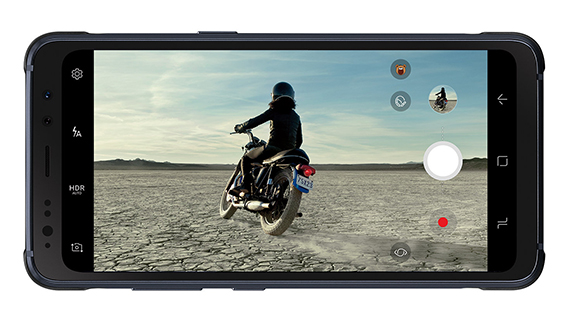 On the front, there's a 8-megapixel camera, with an f/1.7 aperture and autofocus. Similarly to the rear shooter, the camera handles things really well, making it perfect for selfies and for video conferencing.
One important element of a rugged smartphone is the battery life and Samsung Galaxy S8 Active doesn't disappoint, being equipped with a non-removable Li-Ion 4000 mAh battery (a significant upgrade over the 300 mAh of the S8, but the same as the S7 Active – I expected Samsung to be a bit bolder since this is not an inexpensive device). The battery will power the smartphone through two days of moderate use and I got about 11 hours of screen-on time with the brightness set to 70 percent. Furthermore, the S8 Active takes advantage of the fast charging technology (Quick Charge 2.0), so you'll quickly get your smartphone up and running.
Verdict: Samsung is one of the world leader when it comes to building a high-end smartphone and the Galaxy S8 Active is proof of that. It has a great display, a good battery life, it has a stellar performance and most important, it can survive an active lifestyle and the only shortcoming that I could think of is the price tag.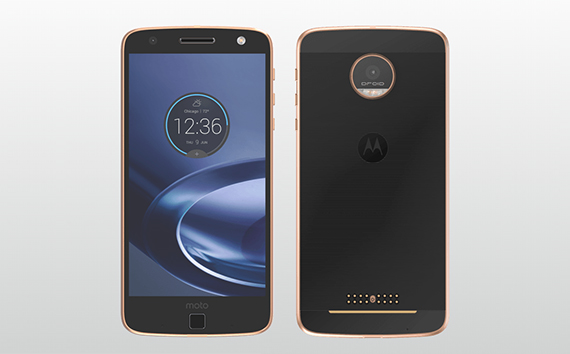 9. Motorola Moto Z Force

I don't think many of you would be surprised that a Motorola (Lenovo) smartphone made its way into a best-of list of rugged handsets, especially since Motorola went into the spotlight with the Droid Turbo 2, which attracted everyone's attention with its advertised shatterproof display. As expected, the people rejoiced at the prospect of having their phones fall face-first and not shatter and, since the Droid Turbo 2 held true to the claims, the shatterproof protection has been implemented into future iterations, which brings us to the Motorola Moto Z Force. No, the smartphone isn't suitable for industrial, harsh environments (it won't survive this type of extreme conditions), but, it offers what every active person dreams of: a virtually unbreakable display.
The Motorola Moto Z Force is an adaptation of the Moto Z for people that want a better battery life and more protection thanks to the shatterproof protection (similarly to what the Samsung Galaxy S7 Active is for the Galaxy S7). The Moto Z was and still is one of the thinnest smartphones on the market (0.2 inches), while the Moto Z Force has gained some thickness and weight (its dimensions are 6.14 x 2.98 x 0.28 inches and the weight is 5.75 oz, as opposed to the 4.8 oz of the Moto Z), but, this does not have a big impact on the overall look of the phone.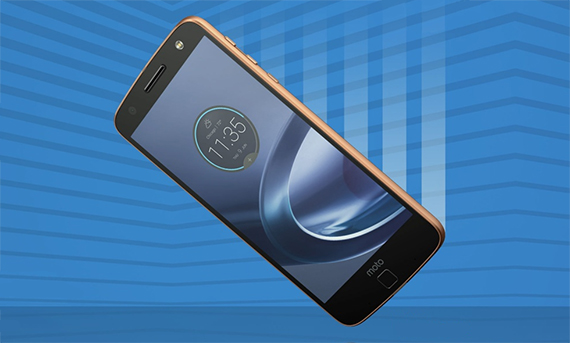 It still has the flagship-level of elegance, featuring a stainless steel back panel (which accommodates the metal pins for any additional mods and the rear camera), the case has soft rounded corners and, on the front, there's the 5.5-inch display and a square button which has a fingerprint sensor underneath, but it does not act as a Home button.
No, there are no rubber edges or elevated bezels to protect the display and by looking at it you won't find any noticeable signs that this is a rugged device, but, here's the deal: if you take one of its main competitors, the S7 Active and drop both phone, face-first on sharp rocks, the Z Force has a higher probability of surviving with maybe some minor scratches on the case and nothing more. To accomplish this, Lenovo did not do some black magic or anything, but instead of using the usual glass screen with a Corning Gorilla Glass protection, it used multilayer combination of glass and plastic to accomplish a more flexible display which will remain intact even if the phone is dropped at odd angles (as manufacturers like to say when they void your warranty).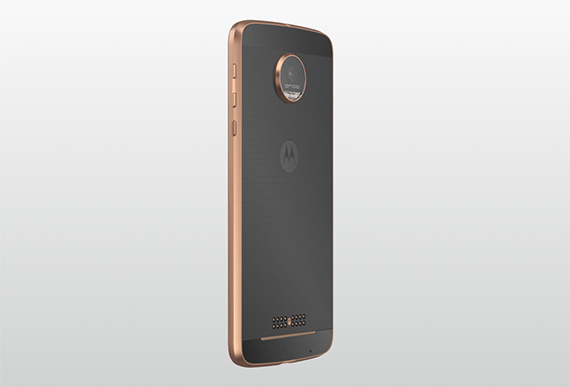 So, there really isn't anything revolutionary here, as you can easily scratch the screen (a scratch-proof protector should solve this problem), but, it's really enough to protect the relatively large 5.5-inch display.
There are some minuses though. First, this may be the only phone where you want to drop the phone face-first and not on it back, since the camera lens is a lot more fragile and will shatter easily (a case should solve this problem). Secondly, it's not fully water-proof. Motorola (Lenovo) did say that the phone will survive splashes of water, but, I would advise against fully submerging the device underwater. Lastly, there is no headphone jack (I have no idea why this is a thing right now, but I hope it's a trend that doesn't stick). Once again, to solve the inconvenience, you get an additional adapter to connect your headphone via the USB type-C port.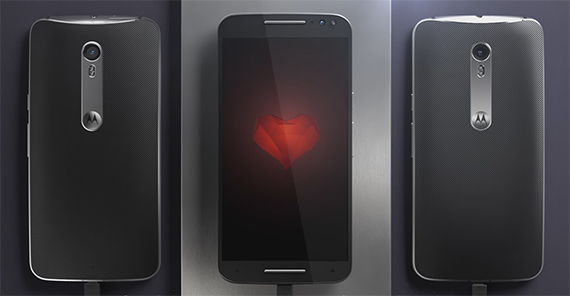 When it comes to rugged or simply tougher smartphones, manufacturers tend to pour a lot of the budget into making a proper, shock-absorbing body, so one wouldn't need a case, but, more often than not, they fail to actually create a reliable smartphone. So, you get to pay premium prices for an average performance, a below-average camera and a disappointing display with a low resolution. That's why it's important to see if you actually need a fully rugged smartphone (that looks like a tank) and not just a tougher one, which is usually slimmer and can be protected by a case. Fortunately, the Moto Z Force has kept pretty much all the elements which made the Moto Z a flagship device and even added some more.
Note: The Moto Z Force is, by default Verizon and US exclusive, but you can still get unlocked versions of it online (GSM 850, 900 E-GSM, 1800 DCS and 1900 PCS; LTE B1 2100, B2 1900 PCS, B3 1800+, B4 1800,2100 AWS 1, B5 850, B7 2600, B12 700 ac, B13 700 c, B17 700 bc, B25 850+, B41 TD 2500).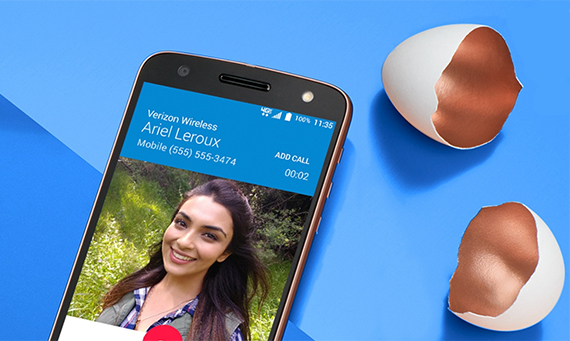 So, the Moto Z Force features a 5.5-inch AMOLED display with a resolution of 1440 x 2560 pixels, 16 million colours and a pixel density of 535 ppi. The display of the Moto Z is technically the same as the Z Force, but the protective shatterproof screen takes away a bit from the vibrancy and the brightness of the image. Even so, the display of the Z Force is able to produce deep black levels, vivid colours and overall, the images look more vibrant and with punchier colours than the other displays on the market.
Inside the case, the Z Force is equipped with a quad-core Qualcomm MSM8996 Snapdragon 820 chipset (dual-core 2.15 GHz Kryo CPU & dual-core 1.6 GHz Kryo CPU), along with an Adreno 530 GPU, 4GB of RAM, 32 or 64 GB of internal storage (depending on the model) and a possible addition of up to 256 GB using the dedicated card slot. As you can see, there are no compromises done from the performance point of view (something way too common with fully rugged smartphones, in order to keep the price tag as low as possible). These specs are something normal for a flagship from the last year and, as expected, it performed wonderfully with pretty much everything I threw at it. So, it handles a high degree of multitasking (the 4GB of RAM help a lot), any game will run without problems and overall, the hardware is properly tied to the software.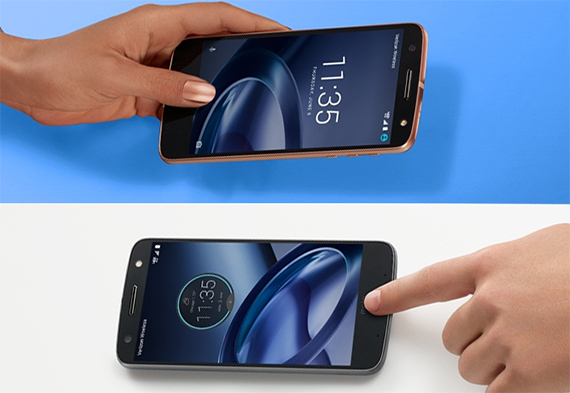 That being said, the Moto Z Force's interface is built on top of the Android v6.0.1 Marshmallow (it is upgradable to Android v7.0 Nougat) and as expected from a Moto handset, the user interface is pretty much close to stock, with only some minor additions (such as Moto Actions and Moto Display). This will appeal especially to the Android 'purists', since there is close to no bloatware.
Furthermore, the Z Force features a 21-megapixel rear camera with a f/1.8 aperture, optical image stabilization, dual-LED (dual tone) flash and a pixel size of 1.12 µm (it can capture 2160p videos at 30fps and 1080p videos 60fps or 30fps). You may notice that the Z Force gets an increase in megapixel from 13 to 21, but there won't be any radical difference between it and the camera of Moto Z (it just means that more detail can be captured).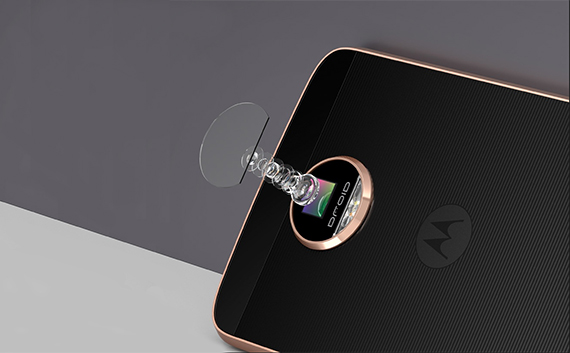 So, during the day (especially outdoors), the rear camera is able to capture some really good photos, with close-to-real-life colours, but, you will notice some noise reduction, which will make the photos look more softer than what would the S7 or the LG G5 be able to deliver. In low light, the Z Force stood its ground and was able to capture a good amount of detail, but you need to keep the camera steady for a few seconds since the shutter will need more time to process everything. On the front, there's a 5-megapixel camera with a f/2.2 aperture and LED flash (can capture 1080p videos). Just like the rear camera, the front-facing shooter is not the best among its peers, but it definitely is above average and can capture a good amount of detail, which makes it perfect for selfies in both good light and in low-light situations.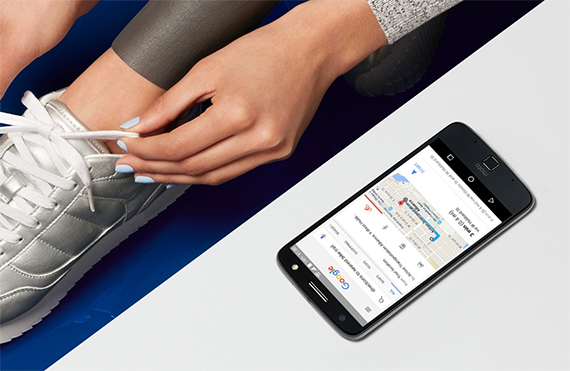 While the non-removable 3500 mAh battery of the Moto Z Force is nothing to brag about, it's definitely a step up from the 2600 mAh battery of the Moto Z. So, you'll manage to get about 5 to 6 hours of screen-on time and, if used moderately, the phone will get you through a day and a half. Since the Moto Z Force uses the Fast Battery Charging technology, you can get from 0 to 50% in about half an hour. If this is not enough, the Moto Z Force has a very easy system of adding separate modules (they get magnetically fixed on the rear side), so you can add battery mods (such as the Moto Turbopower™ Pack) or other various mods (such as the JBL SoundBoost 2, the Moto Gamepad, the Hasselblad True Zoom or the Moto Style Shell).
Verdict: At first glance, the Motorola Moto Z Force will definitely raise some eyebrows as it doesn't look like the usual rugged smartphone. But, it is surprisingly tough and the screen won't shatter even if the phone will fall face-down. Now, I would still recommend a case because the rest of the handset is not really shock resistant and the camera lens can be damaged quite easily. So, if you're an active person which likes to practice different types of outdoors sports and want to have a reliable and powerful smartphone, the Moto Z Force will not disappoint. Of course, if you are a construction or industrial worker, this may not suit you, but fret not, there are better choices from Kyocera, Panasonic, CAT or Sonim.
10. LG X Venture
LG has been struggling for the past two years to remain relevant in the over-competitive smartphone market. The modular flagship LG G5 was heavily criticized and was generally disregarded by the general public, while this year's LG G6 came a bit too early and was overshadowed by the Samsung Galaxy S8 (even though the G6 is a great improvement over the G5). To get out of this streak of bad luck, LG decided to have a try at building a budget-friendly rugged smartphone and this is a welcomed decision since there aren't that many new durable handsets at an affordable price available. So, let's see if LG X Venture managed to reach a proper balance between ruggedness and functionality or if it had to compromise too much to maintain a low price tag.
The LG X Venture is not in the same league as the durable smartphones from Panasonic, CAT, Kyocera or Sonim (which are more suitable for industrial workers), but it was built for active people who practice outdoor sports. So, you won't see a huge rubber body with a small display, but it's true that put next to the Motorola Moto Z Force, the X Venture is not really the slimmest smartphone out there.
That being said, the handset does not feature a metal and glass combo, but went the rubber, plastic and metal route: the back panel is made of a textured rubber which adds a lot to the gripping factor, while the front is made of glass (with three physical buttons) and the sides are reinforced by metal. Overall, the LG X Venture seems like a combination between Samsung Galaxy S5 Active and Cat S40.
Around the glass screen, there is a narrow bezel that helps a bit with protecting the screen from shattering, but I'm surprised that LG didn't make it more elevated (for better protection, a case could prove to be a wise investment). As with many other smartphones, rugged or not (except the Moto Z Force), it is best not to drop the phone face-first on a sharp object, because the usually used Corning Gorilla Glass protection won't do much against heavy impacts (it's suitable only against scratches). As I said before, the rubber back keeps the phone from slipping and its dimensions are reasonably suitable for today's standards, although I prefer for a rugged phone not to go past 5 inches (its dimensions are 6.06 x 2.98 x 0.37 in and it weighs 5.89 ounces).
The front centre Home button is a fingerprint sensor (it seems that this type of security is being adopted even by non-expensive handsets), while the other two rubber buttons (Back and Multitasking) are quick and reactive. On the right side there's the Power/Lock key and on the left side, you can find the QuickButton Hot key (which can be customized to open any app, but, by default, it opens the Outdoor Essentials apps – which include the barometer, compass, flashlight, LG Health or the current weather – double press the QuickButton to enable the possibility of using the display with gloves on), a volume controller and a SIM/microSD card tray (the X Venture is also equipped with a NFC antenna). The bottom of the smartphone is occupied by a headphone jack and a microUSB port (yes, no USB type-C, but, at least there is QuickCharging 2.0).
In terms of ruggedness, the LG X Venture is pretty much on the same level as the Active series from Samsung, being IP68 certified, which means that it is dustproof and will survive submersions underwater down to 5 feet for up to 30 minutes. Furthermore, it also carries the MIL-STD 810G certifications, which, as LG claims, it passed 14 tests for durability in a controlled environment (I was unable to find the exact tests that were performed, but I hope that LG makes them public, soon).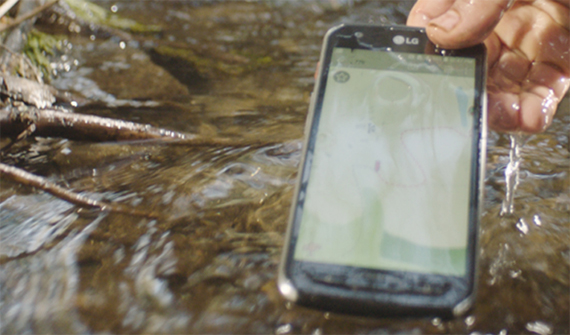 Note: The X Venture is not available unlocked (at this moment) and can only be purchased through carriers (specifically, AT&T).
One cornerstone of the X Venture is, of course, the display and LG used a 5.2 inches IPS LCD capacitive touchscreen display, with 16 million colours, a resolution of 1080 x 1920 pixels, a pixel density of 423 ppi and it is being protected by Corning Gorilla Glass 4. Even if it's not an AMOLED, the display of the X Venture features excellent viewing angles, a good colour representation and most importantly, it is very bright. At around 450 nits, the display of the X Venture can be clearly seen during bright days, which makes it perfect for outdoor expeditions.
Inside the case, the X Venture sports a Qualcomm MSM8940 Snapdragon 435 chipset (1.4GHz octa-core Cortex-A53), an Adreno 505 GPU, 32 GB of internal storage memory and 2 GB of RAM (you can add up to 256 GB of storage memory through the microSD card slot). I found it quite unusual that LG would go for this internal hardware (which is more low-end than mid-range level), so expect some stuttering while multitasking and no, you won't be able to smoothly play the latest graphics-intensive games, but web browsing, watching Youtube videos and other less heavy apps worked just fine (to be honest, I expected more from a phone in its price-range, but I guess this is where LG cut some corners).
Furthermore, LG X Venture interface runs on the Android 7.0 Nougat platform and it has made some significant changes from the stock version (such as the lack of an app drawer), but it is still less than what any previous LG phone came with. Some preinstalled apps from LG have proven to be incredibly useful, such as the aforementioned Outdoor Essentials, but, since we are talking about a carrier-exclusive device (an unlocked version may be underway), there is a lot of third-party bloatware (such as the DirecTV apps).
The X Venture is also equipped with a 16-megapixel rear camera with autofocus, LED flash, HDR and an aperture of f/2.2. I have to admit that I expected a good performance from the camera (since both the LG G5 and G6 were excellent shooters) and the X Venture was able to capture really good photos outdoors, in good light (the photos were sharp and had a good exposure, featuring reasonably accurate colours), but, indoors and in low light, things weren't that great (the photos usually end up underexposed and it doesn't capture a large amount of detail). So, in the end, the rear camera is what you would expect, considering the price tag of the device. On the front, there's a 5-megapixel camera, with a f/2.2 aperture (can film 1080p videos) which is also quite modest performance-wise, but it is useful for occasional selfies or for conference calls.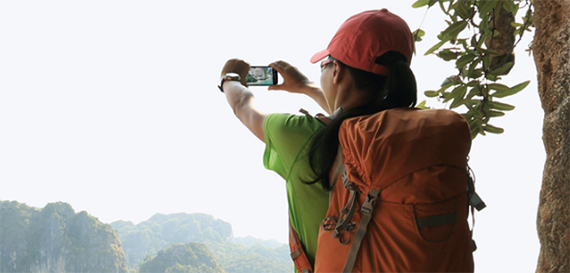 One of the best features of the X Venture is the non-removable 4100 mAh battery which can last for up to two full days with moderate to heavy use and I noticed an average screen-on time of 8 hours. The Snapdragon 435 definitely keeps things efficient enough, but I think that a Snapdragon 625 would have made better use of the battery (and reaching over 10 hours of SoT). Fortunately, the smartphone takes advantage of the QuickCharging 2.0 and the phone charges from 0 to 100 in about 2 hours.
Verdict: When LG created the X Venture, it had in mind a budget-friendly, good-looking rugged phone that would survive outdoor activities and with a battery that could last for a long time. And it's clear that it has reached its goals since I can't complain about the durability or the battery life, but it has made some sacrifices in order to keep the price down (the performance is very underwhelming and the cameras could have been better). Despite that, the X Venture is a nice alternative to the more expensive Samsung Galaxy Active series and, even if not used as the main handset, it will offer some value for people that practice outdoor sports.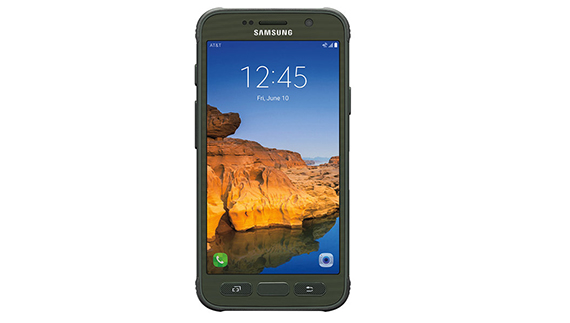 11. Samsung Galaxy S6 Active

There are rugged phones like Kyocera, Sonim or CAT and then there are rugged phones like the Samsung Galaxy S6 Active. The Samsung isn't made for extreme conditions, as it won't survive if used by construction workers, but if you are an active person, like to bike, climb, jog or any other type of sport, the S6 Active will provide a lot more protection than the S6 or S6 Edge.
Samsung claims that the S6 Active is IP68 rated, being resistant to extreme temperatures, pressure or humidity and it meets the US Department of Defence Military Standard 810G for water resistance (you can submerge the phone 5 feet underwater for 30 minutes).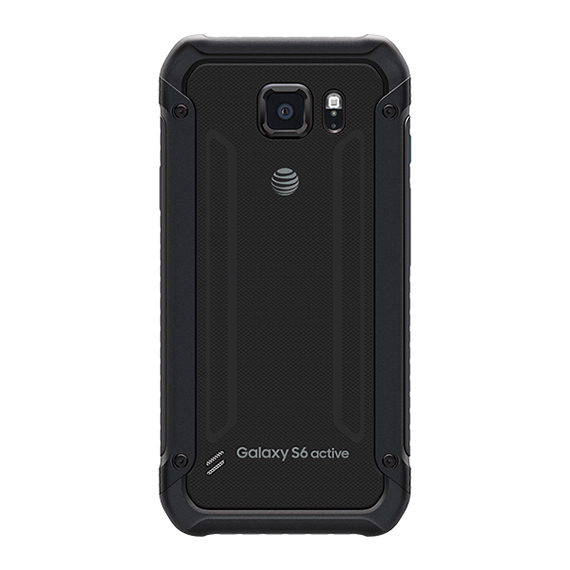 If you know about the Samsung Galaxy S6, the new Active S6's design is quite different. Say goodbye to metal and glass and welcome to plastic. Yes, the Samsung Galaxy S6 Active is made of solid plastic, with angled, reinforced corners and is thicker overall than the S6 (which is expected from a rugged phone), measuring 2.9×0.3×5.8 inches and weighing 5.3 ounces.
Just like the S5 Active, the S6 Active has 3 textured buttons under the display and it doesn't feature a microSD slot or a removable battery.
We know about the gorgeous display of S6, but what about S6 Active?
It features the same 5.1 inches Quad HD Super AMOLED display, with 2560X1440 resolution and 577ppi pixel density. The display is one of the best you can find on a smartphone, with true colours, great colour gamut and great contrast. For more information on the display have a look at the original review for Samsung Galaxy S6.
The same can be said for performance. The Galaxy S6 Active features a 2.1GHz and a 1.5GHz quad-core Exynos 7420 processor backed by 3GB RAM, a ARM Mali-T760 GPU and 32GB internal storage. This translates in one of the fastest smartphones of the moment, engaging games and multitasking without breaking a sweat.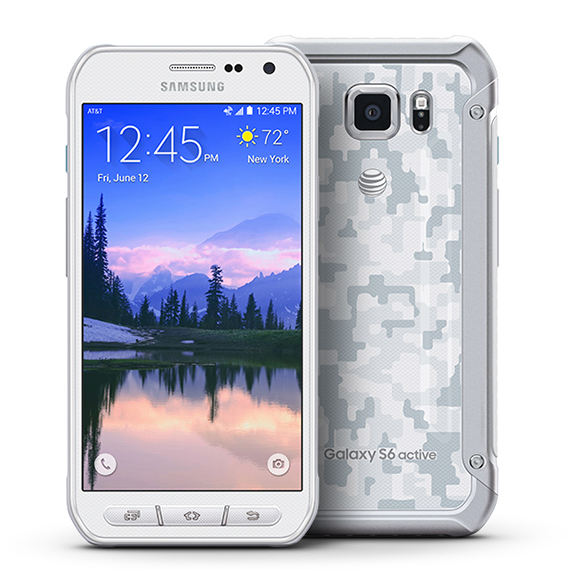 The S6 Active also has a 16-megapixel rear camera and a 5-megapixel front-facing camera. Just like the S6 and S6 Edge, the camera takes great photos, comparable to what you can take with a DSLR and is still one of the best cameras you can find on a smartphone.
Although the S6 Active runs the familiar Android Lollipop with TouchWiz, there are some additions from the S6: The Activity Zone, which is specially made to act as a fitness application.
Note: One annoying thing about the Galaxy S6 Active is that it is only available from AT&T right now.
The S6 Active features a non-removable 3500mAh battery (the S6 has a 2800mAh battery) that will get you through a day and a half with normal use.
Verdict: The Samsung Galaxy S6 Active is as great as the S6 in terms of specs and it manages to deliver a reasonably rugged phone experience, while retaining the high-quality a flagship phone should have. But putting it alongside the likes of CAT, Sonim or Kyocera just doesn't seem right. The S6 Active is a great, durable android phone phone, best fitted for active persons and nothing more.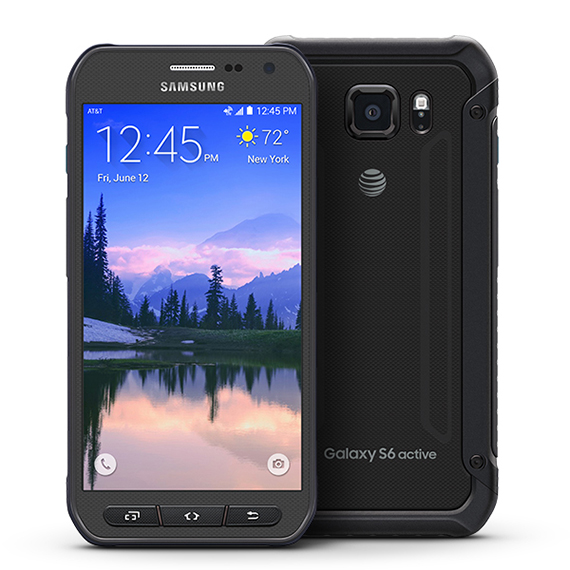 12. Samsung Galaxy S7 Active

After the successful Active S6, the next natural iteration from Samsung is the Galaxy S7 Active, a much anticipated version of the original S7, that featured the fantastic 1440 x 2560 pixels AMOLED display, the 12-megapixel camera, the glass and metal case, a great performance thanks to the powerful hardware, less bloatware and a microSD card slot (a return to the basics!). The Galaxy S7 is considered to be the best overall smartphone of 2016 and the Active S7 takes it a step further, by adding protection to the weather elements and a much more rugged case (so you don't need to use a protective cover).
The design of the Galaxy S7 Active is definitely more attractive than the other rugged smartphones on this list, but, sure enough, it lost a lot of the sexiness of the S7. The case is now made of plastic, instead of metal, the edges are now rubberised, but still soft to the touch and the back panel is now texturized, improving a lot how the phone feels in hand and adding a certain amount of grip.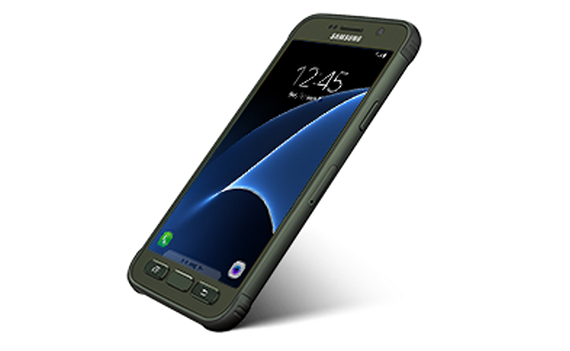 This enhances make the S7 Active a little bit more bulkier than the S7 (although it still remains rather slim by the rugged smartphones standards) and ensure that the case won't crack if you drop the phone from a certain height (Samsung claims that the S7 Active can withstand a lot of physical punishment, but, as with most rugged handsets, be careful with screen-first falls, because while Gorilla Glass 4 protection is reliable in some situations, it won't protect your screen in some severe cases).
Furthermore, on the front of the handset, where one would expect the capacitive keys, there are now three physical navigation keys (Recent, Home/Finger Scanner and Back) and, on the left edge, near the volume controller, there's an Active button. The Fingerprint Scanner is a great addition that the S6 Active lacked, which is helpful for security reasons (it also works great with Samsung Pay transactions) and the Active button which is completely configurable by the user and can be used in three instances: standard short press, long press and double press (Samsung took inspiration from the other rugged phones manufacturers when it added this button, which is a great addition to use for Emergency calls to 911 or automatically send any SOS messages).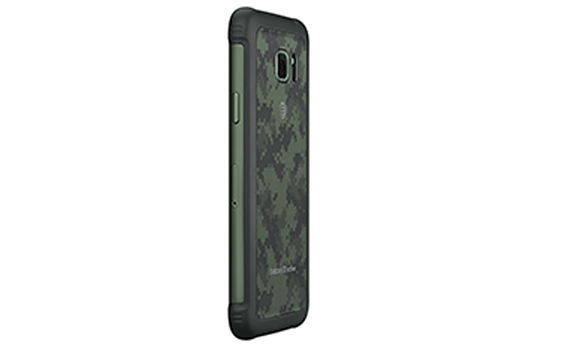 The Samsung Galaxy S7 Active is MIL-STD-810G certified (so, it is resistant to salt, dust, vibration, solar radiation, humidity, rain, transport and thermal shock) and, similarly to the original S7, it is IP68 certified, therefore dust proof and water resistant if you drop the phone under 5 feet of water and keep it there for 30 minutes (Samsung had some issues with some units that haven't displayed any waterproof capabilities, but it seems to have fixed the problems). In reality, I would be careful with the phone, but know that it will survive the occasional splashes, rain and even drops into the toilet (it happens quite often).
Also on the front side, besides the three keys, the S7 Active features a 5.1 inches Super AMOLED capacitive touchscreen display, with a resolution of 1440 x 2560 pixels, 16 million colours and a pixel density of 576 ppi. The display is basically the same as on the S7, with deep blacks, good white levels, sharp, vivid colours and, it comes with the new Always-on feature. Additionally, the screen is shatterproof if dropped from up to 5 feet.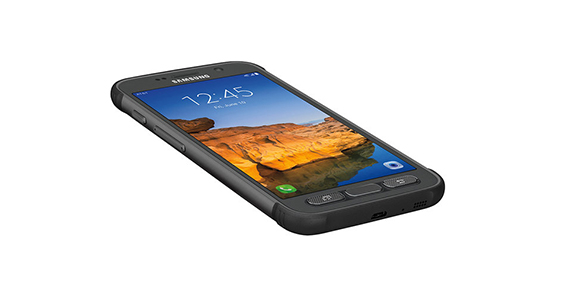 Inside the case, the S7 Active is equipped with a Qualcomm MSM8996 Snapdragon 820 processor (quad core CPU – dual-core 1.6GHz Kryo and dual-core 2.15GHz Kryo), an Adreno 530 GPU, 4GB of RAM, 32/64 GB of internal storage and you can also add up to 256GB using the dedicated card slot for microSD.
As for performance, there isn't much to say other than that it's an absolute beast: it runs every game without any lags or slowdown, you can open multiple heavy apps in dual-window mode without problems and overall, I haven't experienced any problems with any app I have tested so far.
In terms of software, the S7 Active comes with the Android v6.0 Marshmallow and is upgradeable to the next Android v7.0 Nougat OS. Besides the usual Android apps and features, Samsung did not add many things, so you shouldn't worry about the usual bloatware Samsung used to put on their phone.
On the rear side, there is a 12-megapixel camera with an f/1.7 aperture, 1/2.5″ sensor size, 1.4 µm pixel size, OIS, phase detection autofocus and Auto HDR, which allows you to simultaneously capture 4K videos and 9MP image recording. There's also a 5-megapixel secondary, front camera, with an 1/4.1″ sensor size, an f/1.7 aperture, dual video call feature and Auto HDR.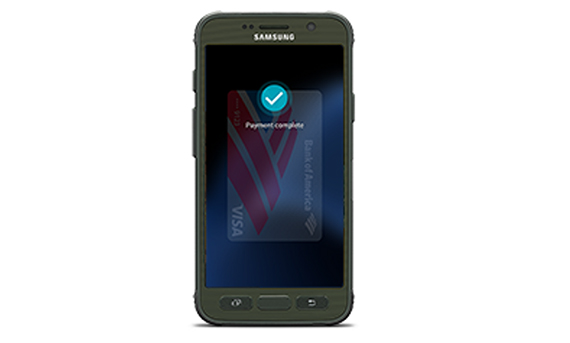 The rear camera of the Samsung Galaxy S7 Active is one of the best on a smartphone so far, being able to capture great photos in good light, with close-to-reality colours and with lots of detail. Indoors and in low-light photos were also surprisingly great, lacking the usual graininess and washed-out colours you usually get with other smartphones from the market.
While the S7 had a capable 3000 mAh battery, the S7 Active is equipped with a non-removable Li-Ion 4000 mAh battery which will get you through a day and a half without problems and if you loop a video, the battery will deplete after about 20 hours. The smartphone also has the Quick Charging and Wireless charging features, the former charging the phone up to 50 percent in 30 minutes.
Verdict: The Samsung Galaxy S7 Active is a great phone, having everything that made the S7 one of the best smartphones of 2016 (minus the metal body), but how does it fare against the likes of Kyocera, CAT or Sonim? Well, the verdict remains the same as with the S6 Active: we're dealing with an awesome smartphone, suitable for active persons that like to jog or biking, but not so much for people that work in harsh environments.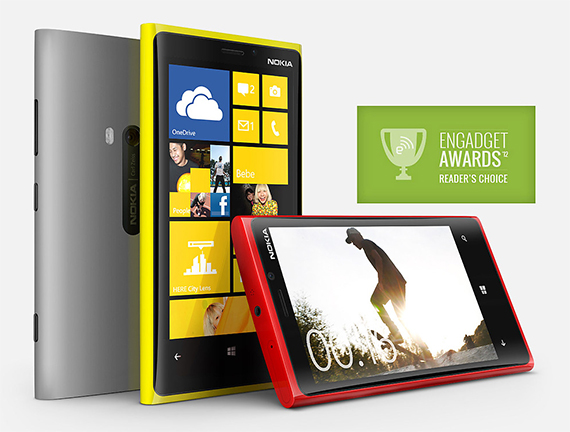 13. Nokia Lumia 920

I'm sure almost all of you is familiar with the Nokia 3310, since it is renown for being an indestructible phone. Obviously, the 3310 can be destroyed but it stands to show that Nokia always tries to make sturdy, shock resistant phones and this is available even now, with its Lumia Series.
At the 9th place we have the Nokia Lumia 920, a phone well known for it's polycarbonate uni-body that is capable of withstanding serious abuse.
The one piece of polycarbonate plastic gives the phone a premium feel, having an unbroken effect, but besides the black variant that has a non-slippery, matte finish, it only comes with a glossy finish that is prone to scratches and doesn't provide very good grip.
The Lumia 920 measures 2.79×0.42×5.13 inches, weighs 6.56 ounces and has some thick bezels around the screen.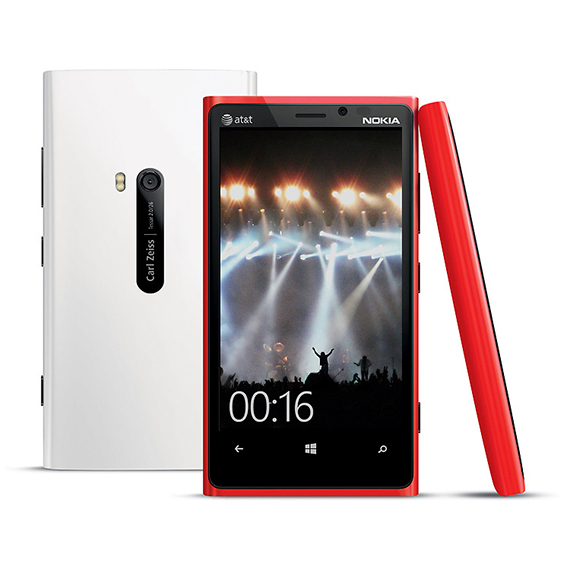 On front there is a 4.5in IPS LCD display with 1270x768p resolution, 332ppi pixel density and is protected by Gorilla Glass 2. A great feature about the screen is the anti-glare ClearBlack filter that delivers great viewing experience even on the beach or in the desert.
Besides this feature, the display has good contrast, colours are not washed out, the image is vibrant and clear.
Under the hood, the Lumia 920 sports a 1.5GHz dual-core Qualcomm Snapdragon S4 processor backed by 1GB and 32GB internal storage memory. Unfortunately, the 920 doesn't have a microSD slot, so no additional memory.
The performance isn't exactly breathtaking by today's standards (it was released in 2012), but even right now is quite capable for running apps or games and let's not forget that Windows OS is not as taxing as Android.
Currently, the Nokia Lumia 920 can be upgraded an runs smooth with the newest Microsoft Windows 10 that introduces great features, like Cortana.
In terms of connectivity, the phone features Bluetooth 4.0, NFC and 4G LTE.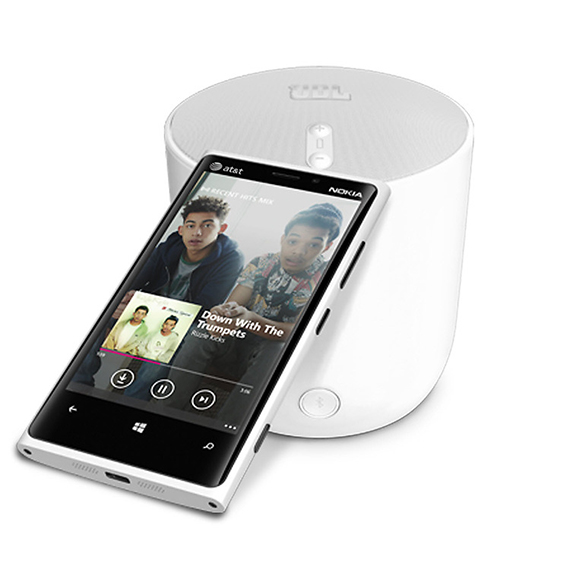 Nokia Lumia 920 has a 8.7-megapixel rear camera and a 1.6-megapixel front camera. The rear camera is quite odd as it performs admirably in low-light conditions especially thanks to the optical stabilisation but in normal light the photos are a bit average. You can also film 1080p videos.
The battery is a a non-removable 2000mAH that will get you through the day on light to medium use. A great feature that isn't used even in 2015 at a larger scale is the wireless charging. In order for the Nokia Lumia 920 to take advantage of this feature you have to buy a separate charging pad.
Verdict: You may ask why we didn't put a newer version of Lumia on the list. It's simple, because none are as strong as the Lumia 920, but don't get us wrong most Nokias are more reliable and sturdier than most other smartphones on the market.
The Lumia 920 is still sturdy and reliable even today, after 3 years, it still has a great screen, a good camera and some new features (like the wireless charging) and because it's capable of withstanding a beating it deserves a spot in this list as number 9.