The BlitzWolf BW-SL3 was designed to improve your look while vlogging (with the emphasis on the cosmetic segment) by allowing you to adjust the color temperature, the brightness and the position of the ring light, and yes, there's also a smartphone holder in the middle that you can adjust in pretty much any manner you like (due to the flexible arm).
The ring light is a device that has been extensively used in videography and photography for decades due to its ability to shine an even light on the face of a person, illuminating the eyes and minimizing the shadows on the face.
BlitzWolf BW-SL3
Amazon.com
Check Product
Clip 5% off coupon on-page and
apply code MBRBWSL3 to get 15% off.
So, it's no wonder that they're mandatory for professional glamour shots and the fact that this technology is being ported as an affordable accessory for any user shows how there is a huge request for beautification methods to improve the look of the person (especially teenagers) when revealing themselves towards the public on the social media (be it YouTube, TikTok or Instagram). Since it's quite affordable, the BliztWolf BW-SL3 is the perfect candidate for any aspiring vlogger that wants to try creating makeup tutorials, but that's not the only use for a ring light since it can also be quite versatile when trying to photograph smaller objects (for a magazine or website publication), where it's quite difficult to get an even light.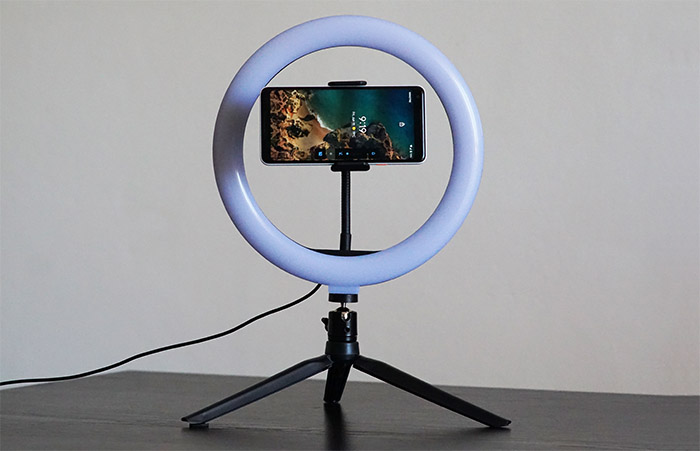 After opening the box, you will see that the BW-SL3 comes in several parts that need to be attached: a tripod stand, a pan-tilt system, the LED light and the cell phone holder which comes already connected to the flexible metal tube. The tripod stand is entirely made of plastic (except for the top-pointing screw) and it has three relatively large legs to ensure that the light ring won't fall – this does mean that it will cover a lot of space from your desk (it has a diameter of about 10 inches). In terms of material choice, BlitzWolf didn't use the best quality plastic (the tripod is lightweight and feels a bit flimsy), but it should be enough for occasional use – since the tripod can be detached, you can always invest in a sturdier one, especially if you need to adjust the height (the BW-SL3 lacks any height adjustment).
The good news is that you do get some silicone pads on the bottom of each feet, so the tripod is going to stay in place even if you accidentally yank the cable. Everything else is a lot better made, such as the pan-tilt attachment which is fully metallic and allows for a wide range of adjustments (there is a screw on the back to fix it in the desired position) and the circular LED light is also quite solid despite being entirely made of plastic.
On the front, the ring is glossy white, while the back is covered by a black matte finish, the two pieces being stuck together via plastic clamps. BlitzWolf says that it relies on 120 LED beads which can go up to 2800 lumen in terms of brightness and the color temperature can vary between 2300K and 6000K. After I opened the front side, I could indeed identify two rows of 60 LEDs on a metallic board and it's interesting to that the device achieves the three available lighting modes by either enabling a single row of LEDs (for warm and cold) or both at the same time (for natural). Lastly, there's the flexible metal tube which ends with the smartphone holder.

The tube is metallic (it is covered by a plastic finish) and it can be adjusted to certain angles – it's a bit rigid in order to keep the smartphone in a fixed position. To remove the smartphone holder from the tube, simply unscrew the nut and take out the metallic ball. The holder can accommodate even the largest smartphones from the market going from 2.1 to 3.3 inches (I could easily insert my Pixel 2 XL along with its case) and I do like that BlitzWolf decided to rely on a couple of springs for the width adjustment since these do not wear out that easily (I know that some manufacturers prefer to use rubber bands to reduce costs).
There is also a fairly long cable (6.2-foot long) that is directly connected to the ring light and somewhere in the middle, there's a small controller that allows you to turn On or Off the light (underneath the Power button, there's a blue LED that's always on as long as it's connected to a power source), a Plus button and a Minus button (to increase or decrease the brightness level) and a Tone button (to switch between the three available light tones). I do like that the BlitzWolf BW-SL3 doesn't need to be connected to a power socket and instead, it has a USB Type-A connector, allowing you to power it from a computer, power bank or any other device that can output 5V of power (the power consumption is 10W).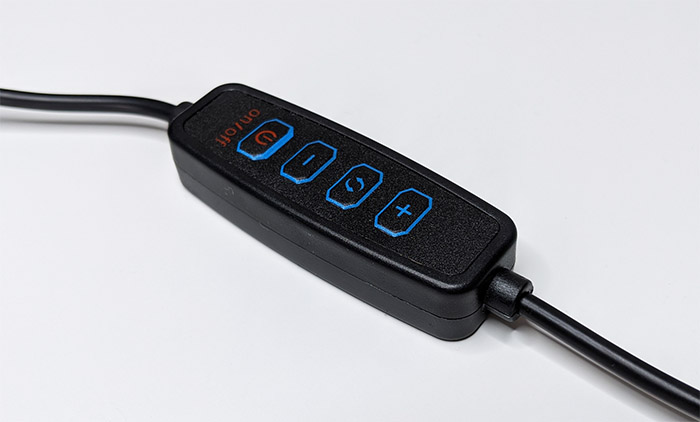 I know that a few ring light manufacturer have added some protection from dust and water, but the BW-SL3 was designed to be used indoors, so it does not have any IPxx rating. Now that we saw that quality-wise, the BlitzWolf ring light is built in an acceptable manner, how well does it perform for its intended use? As I said in the introduction, the purpose of this device is mainly to help beginner vloggers that don't have a large budget to start their makeup tutorials and if this is why you're going to use it, then it does a very good job at hiding some imperfections, while highlighting your best facial features.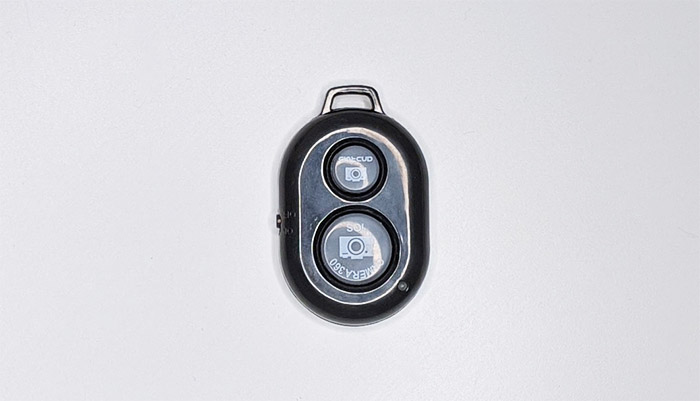 It's also great for selfies and BlitzWolf has included a small Bluetooth controlled remote control that you can pair to your Android or iOS mobile device (it has dedicated buttons for each environment) and capture photos without having to touch the display of the smartphone. The remote needs a single CR2032 battery and I do like that the manufacturer has added a back-up battery in the package. Since I am not a makeup artist or any type of vlogger, I did find the perfect use for the BlizWolf BW-SL3 and that's to help me uniformly illuminate some devices that I have to photograph. Bare in mind that I don't really have a professional setup that I can compare the BW-SL3 to, but it's clear that the ring light does its job perfectly fine even for this application.
Conclusion
The ring light was for a long time a very expensive device and photographers and videographers could afford them a lot later in their career so seeing devices such as the BlizWolf BW-SL3 making things so easy without too many compromises and still keeping the price at an affordable level is definitely a delight. Still, don't go expecting to be able to shoot some professional magazine shots or anything of the sorts since the targeted audience remains the amateur photographers and the vloggers at the start of their career. That being said, if you're on a budget, then the BlizWolf BW-SL3 is more than enough for most 'smallish' projects and it's a good way to understand how lighting works in a set (allowing you to go to the next level).
Pros
Three light modes
Flexible smartphone holder
Bluetooth remote (dedicated buttons for Android and iOS)
Connects to a USB port (requires 10W)
Can be connected to most types of tripods
Cons
The tripod feels a bit flimsy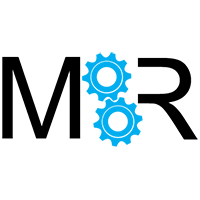 Mark is a graduate in Computer Science, having gathered valuable experience over the years working in IT as a programmer. Mark is also the main tech writer for MBReviews.com, covering not only his passion, the networking devices, but also other cool electronic gadgets that you may find useful for your every day life.