Choetech is very serious about associating its brand name with the affordable laptop accessories, to be more specific, with the USB-C hubs, and I know that I have already tested the ultra-portable HUB-M8, but Choetech has also made available a 9 in 1 USB-C adapter (HUB-M15) which, as the name suggests, is a lot more generous with its port offering (especially in the video output segment). It's true that you gain more ports, but the device loses a few points in terms of portability, although not that much, considering that you're still going to be able to easily carry it around with you.
And that's the entire concept behind these USB-C hubs or dongles since they are designed to replace the missing ports from your ultra slim laptop by relying on a single connection via a USB-C port. If you have a gaming laptop, I doubt you will need those extra ports, but a MacBook Pro (or Air) or a Dell XPS aren't properly equipped even for your peripherals, let alone for a wired Internet connection. Of course, you could go for a docking station, but they're not always that easy to carry, nor are they affordable, so an inexpensive USB-C hub is usually enough to easily connect your peripherals or even connect a VGA device in a conference room.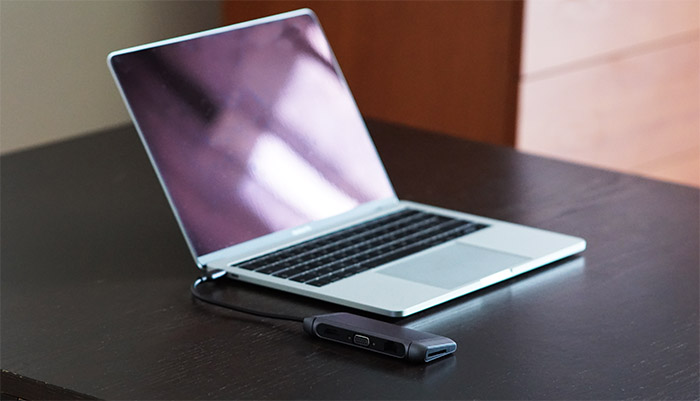 The Choetech HUB-M15 aims at providing the aforementioned conveniences, featuring a rectangular case filled with all kind of ports and while the Choetech HUB-M08 was built like a tank, the HUB-M15 feels less robust. The case is mostly made out of aluminum, but it's a bit thinner and there is also more plastic involved: the lateral sides and one other side (where rests the VGA connector) are deprived by that premium metal feel. Furthermore, the device is covered by a gray matte finish and there is a slight slope towards the slimmer USB ports area. Like I said before, the Choetech 9 in 1 HUB-M15 is far from being the most compact USB hub on the market and, at its 4.88 x 1.96 x 0.35 – 0.59 inches (12.4 x 5.0 x 0.9 – 1.5cm), it is actually more than twice as large as the Choetech HUB-M08. But, again, I didn't have any trouble putting it in the pocket of my jeans or in a small compartment on my travel bag, so the device remains quite portable. One mild annoyance that I also had with the smaller 8-port Choetech adapter is the lack of any silicone feet which would ensure that the device won't move so freely on the desk and would protect the metallic body from scratches.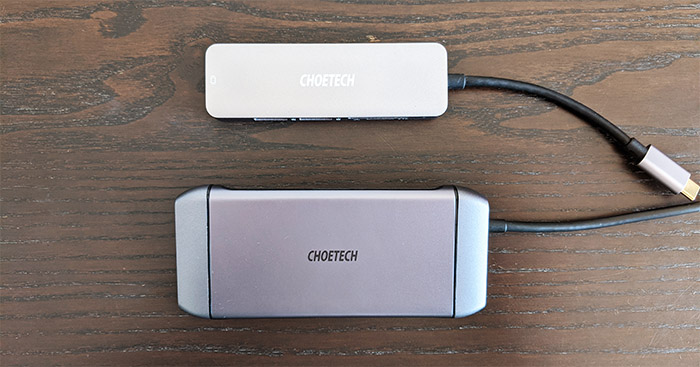 The cable is also a bit longer, now measuring 8.26 inches (21 cm) and I'm not sure how much it can be considered an advantage, but it does help with the strain on the USB-C connector and you can should also be able to keep it farther from your laptop (tuck it on the rear of the computer to keep it out of sight). Similarly to the 5-port HUB-M08, there are two ways to mount your SD card: either relying on the TF port (which lies next to the USB 3.0 ports) or by putting the card into an adapter and insert it on the opposite side of the dedicated slot (on the opposite side of the permanently attached cable).
To see how Choetech managed the storage performance, I immediately took a microSD card (a 128GB SanDisk Ultra U1 with an adapter) and I inserted it into the slot of the hub which, in turn, was connected to a Lenovo Y520's USB-C port. This way, while running the CrystalDiskMark 6.0.2 synthetic benchmark, I saw an average of 85.93 MBps sequential reading speed (Q32T1) and an average of 60.82 MBps sequential writing speed (Q32T1). Afterwards, I connected the SD card directly to the laptop to see any performance difference and I was surprised to see that the Choetech hub provides better transfer speeds than the built-in card reader: 69.67 MBps (sequential read) and 32.69 MBps (sequential write).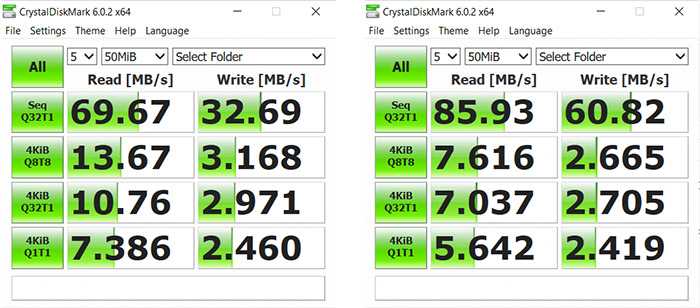 Next to the TF card reader, there are only three USB 3.0 ports and they're great for your peripherals, but if you decide to connect three portable SSDs and try to transfer files on one of them, the hub will kick out one of the remaining two SSDs drives. That being said, I did run some synthetic benchmarks on a Samsung T5 portable SSD drive while it was connected to the Choetech USB-C hub and the results weren't that different as when the drive was directly connected to the Y520 – the same was confirmed by the ATTO Disk Benchmark 4.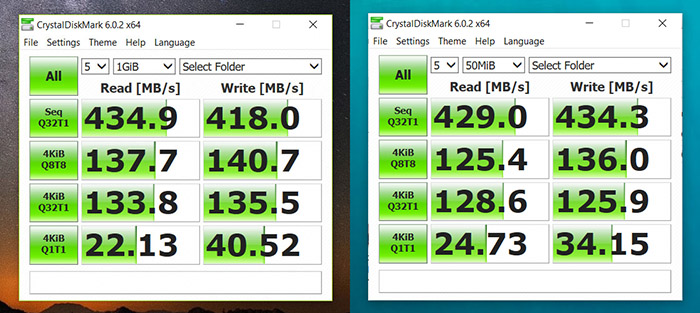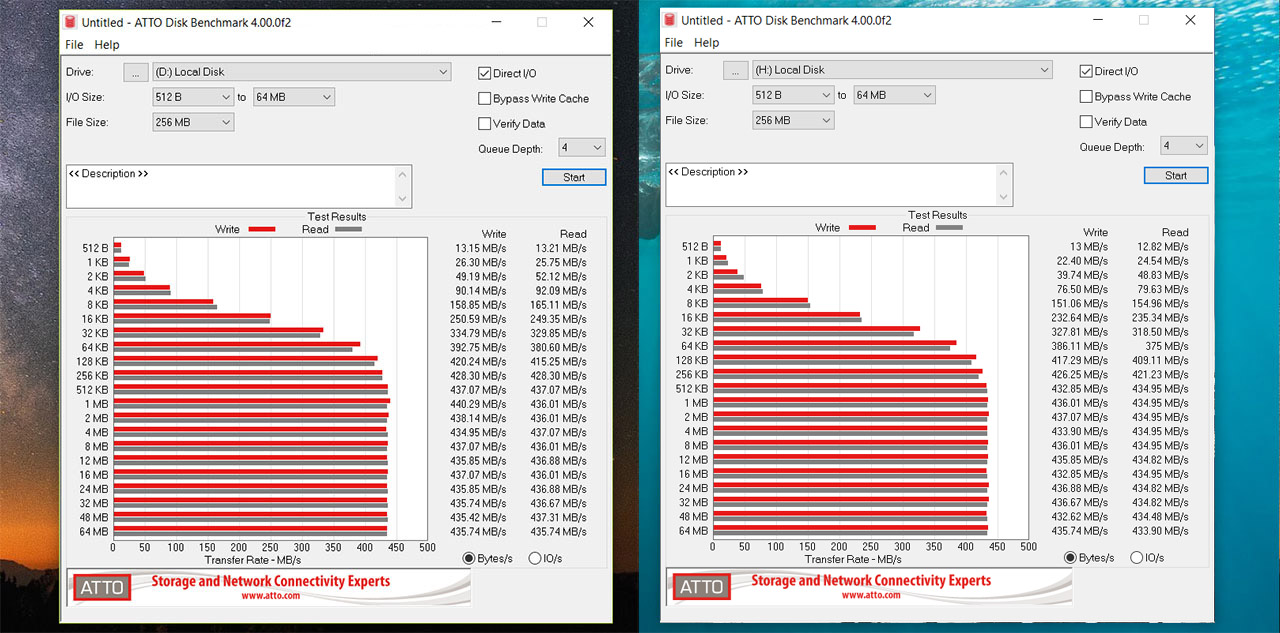 An interesting addition is the USB-C port which sits next to the cable and it's only a Power Delivery port which cannot be used for data transfer – it does support a maximum of 100W pass-through power, so you can easily charge up a MacBook Pro (yes, even those larger than 13-inch), but you will have to use original or certified PD adapters in order to get a proper output (Choetech has made available an affordable wall charger for this exact reason – it reaches up to 61W). The last section of interest is where you'll find the video outputs, so in the middle, proudly sits a VGA connector – yes, I know it's an old standard and all of you cool people have already migrated to HDMI and DisplayPort, but in the corporate world things are far slower, so a 1080p video output at 60Hz via VGA is a godsend when you're using older projectors.
Of course, Choetech has also added a HDMI port which the manufacturer says that it can output Ultra HD 4K video at 30 Hz, but since I don't have a 4K monitor or TV available, I could only test it with a 1440p monitor and the refresh rate was 60Hz, which is good. It's worth noting that if you decide to use the HDMI and the VGA port simultaneously, then the HDMI output quality drops to 1080p at 60Hz.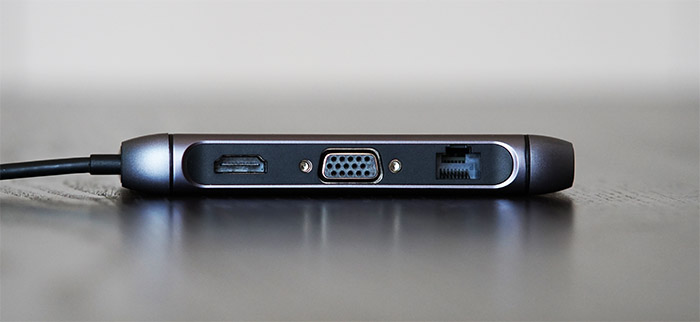 Also next to the VGA port, lies a Gigabit Ethernet port and, to see the maximum supported throughput, I connected the adapter to a MacBook Pro (through one of its Thunderbolt 3 port) and ran a quick test: from the client to the server, I measured an average of 938 Mbps and, from the server to the client, I saw an average of 893 Mbps.
The Choetech 9 in 1 USB-C adapter hub falls somewhere in the same category as the Kensington SD1600P, and, while it does have far lower price point, it provides a very similar experience. Well, up to a certain point, since it does struggle with more than two SSD drives connected at the same time and I didn't like that there is no LED indicator, but you do get a wired Gigabit connection, three USB ports for your peripherals, a couple of card readers and two video output options (one being able to go up to 4K), so if your laptop is low on ports, the Choetech adapter hub is definitely worth checking out.
Note: Check out other Cheotech products on the official website https://www.ichoetech.com/
Choetech 9 in 1 USB-C adapter hub
-
Pros
PD USB-C port (100W)
VGA + HDMI (the latter supports 4K 30Hz)
Two card readers
A bit chunky, but still very portable
Cons
No Power LED
No silicone feet to hold it place
Three USB ports for your peripherals is a bit limited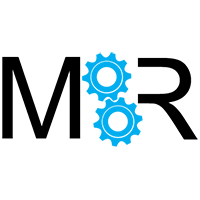 Mark is a graduate in Computer Science, having gathered valuable experience over the years working in IT as a programmer. Mark is also the main tech writer for MBReviews.com, covering not only his passion, the networking devices, but also other cool electronic gadgets that you may find useful for your every day life.