The Choetech HUB-M14 is a 7 in 1 USB-C hub designed to offer more ports to your portable computer and I know that I have already had a look at other hubs from this manufacturer, but this device is different. Instead of relying on a short cable to connect to a laptop, Choetech decided to use not one, but two USB Type-C connectors and completely remove any attached cable, allowing the HUB-M14 to get very close and personal with the computer.
As you may have already guessed, I am not talking about any type of laptop, the Choetech HUB-M14 was indeed built to be solely used with a MacBook Pro or Air. Of course, only the more recent models are compatible since the older ones use proprietary ports. I was surprised to see that Apple decided to give up its hermetically sealed ecosystem and incorporate the universal USB-C ports (Thunderbolt 3) which, as expected this has opened wide the doors for third-party hubs to enter the market.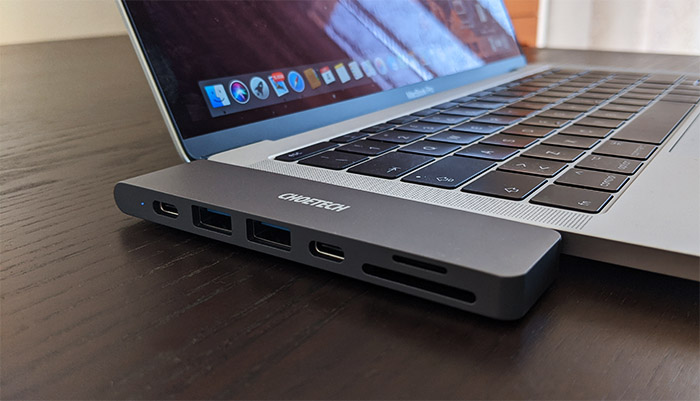 The concept behind the Choetech 7 in 1 USB-C hub is far from new since I have already seen it years ago with HyperDrive and Satechi, but the competition is never unwanted and the Choetech HUB-M14 is more than capable to give your MacBook Pro (which was stuck with two Thunderbolt 3 ports) a proper port variety without breaking the aesthetics of the elegant device.
But why take two ports instead of only one? I assume it's for stability reasons. A cable is more flexible and a sudden mechanical shock would most likely just disconnect the dongle from the USB-C port – I doubt this will be the case with the type of design of the Choetech HUB-M14 where it would be easier to either break the connector or damage the Thunderbolt 3 port on your laptop. That being said, the USB-C hub is decently compact and quite slim, measuring 4.7 x 1.1 x 0.3 inches (12.0 x 2.8 x 0.9 cm) and the case is almost entirely made out of a single slab of metal, with only the side that touches the MacBook being made out of black plastic.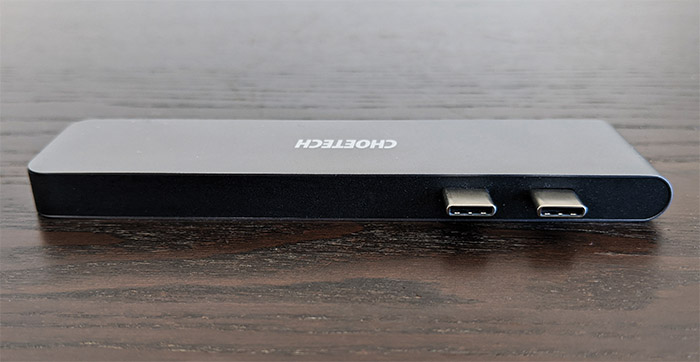 The device also only weighs 1.4 ounces, so the metal is not as thick as on the Choetech HUB-M08, but that's doesn't really take away from its premium look. And indeed, when connected to a MacBook Pro, it does look like a natural extension of the laptop, something that no other type of hub can accomplish. But it does come with some disadvantages. First of all, you have to dedicate almost half of the available space only for the two USB-C connectors and secondly, you can only use the hub with a MacBook Pro or Air. If Apple decides to move one of the ports a few inches, this hub becomes unusable, but, on the bright side, Apple hasn't changed its design for about four years (with the MacBook Pro), so I doubt it will anytime soon and the form factor is excellent, removing any annoying cables (seems integrated with the body of the laptop).
If you were hoping to trade the two Thunderbolt 3 ports for another set of T3 ports and some more, then this inexpensive hub is not really going to deliver, but you do get a couple of USB-C ports, the first (the one on the left) being advertised as being able to work in Thunderbolt 3 mode, therefore supporting up to 40GBps and with an output of 4K at 60Hz. To test this claim, I took my Samsung X5 out of the box and, considering that's one of the fastest Thunderbolt 3-only compatible external SSDs, it would certainly push the hub to the limit, right? Well, I had a bit of trouble making it connect to the MacBook Pro through the Choetech HUB-M14 and the laptop insisted that the drive did not have enough power to keep the SSD alive and running.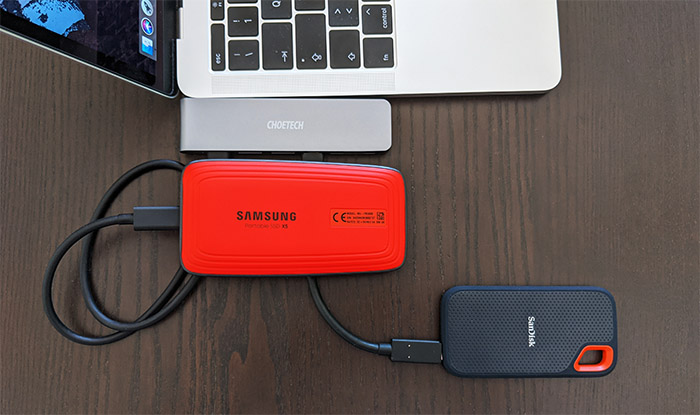 It's worth mentioning that the portable SSD was the only device connected, so, what went wrong? Nothing really, it's just that the Choetech HUB-M08 just can't keep such a demanding device alive when connected to a 13-inch MacBook Pro 2017, so take that in mind if you wish to use the hub with an external Thunderbolt 3 SSD when connected to your MacBook Pro or Air. It will work just fine with a regular USB-C portable SSD and, to put the Choetech USB-C ports to the test, I decided to connect a SanDisk Extreme SSD (250GB) and see if there's a difference between when it was directly connected to the laptop and when it was attached to the Choetech hub.
The benchmark of choice was the BlackMagicDesign and I saw that the performance was very similar when the SSD was connected to the first USB-C port on the hub and directly to the laptop, but, as can be seen in the screenshots, the secondary USB-C (which is limited to 5Gbps) had a less impressive performance.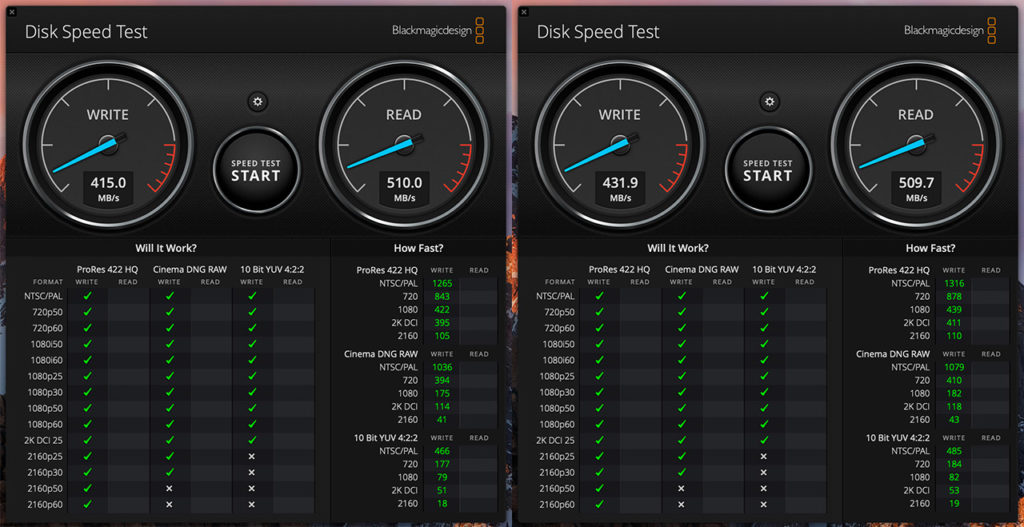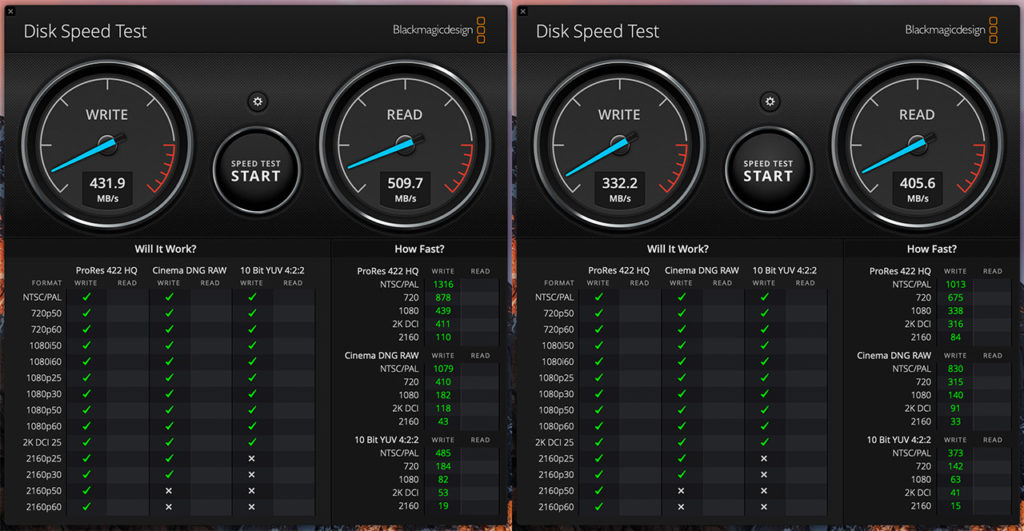 The hub is also equipped with two card readers, one suitable for the microSD card by itself and the other for the larger adapter. I ran the same BlackMagicDesign benchmark on a 128GB SanDisk Ultra SD card and, while the read results were nearly identical, I did see an improvement on the reading speed when using an adapter for the SD card.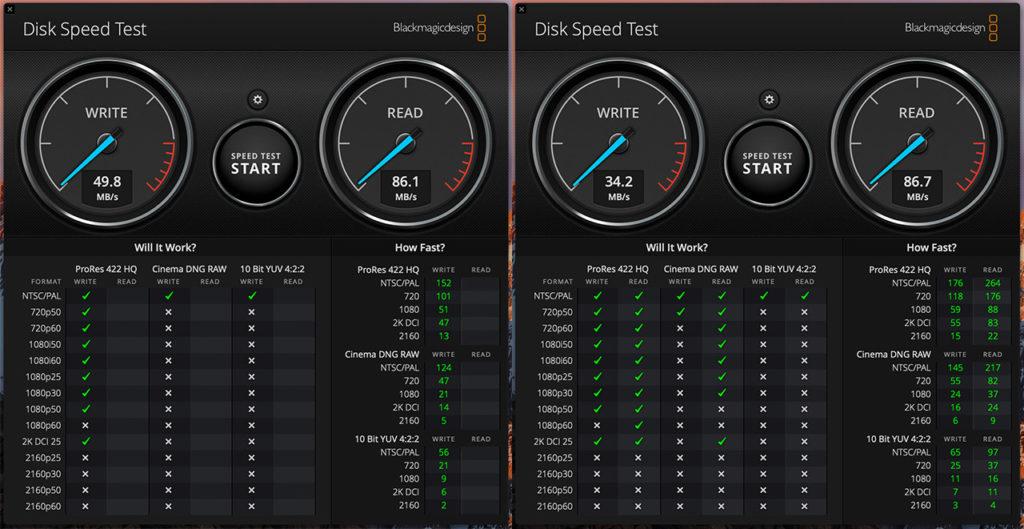 On this side of the Choetech HUB-M14, there is a small Power LED (which is more useful than one may think) and there are also a couple of USB 3.0 ports (both can go up to 5Gbps) which are suitable for your peripherals (how exactly are you supposed to connect a mouse and a keyboard to a MacBook Pro without relying on a hub?). Lastly, there's an HDMI port which supports a resolution of up to 3840 x 2160 (commonly referred as 4K) at 30Hz. I still don't have a 4K monitor or TV, so I connected the MacBook Pro to my Dell U2515H 1440p monitor and, as you can see, the hub had no problem delivering the full resolution.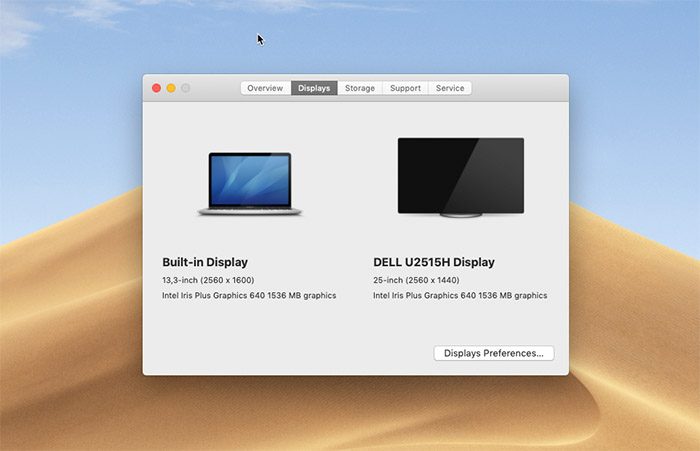 Note: The Choetech HUB-M14 supports up to 100W of power input and up to 87W pass-through charge.
It's interesting to see that Choetech decided to create such a narrow niche device, but I do appreciate the ability to gain such a port variety at a very affordable price, without sacrificing the looks of the hub. Yes, you will lose both Thunderbolt 3 ports and you will not be able to connect an external Thunderbolt 3-only compatible external SSD, but, if that's a sacrifice you're willing to make, then the Choetech HUB-M14 is a solution worth taking into consideration.
Note: Check out other Cheotech products on the official website https://www.ichoetech.com/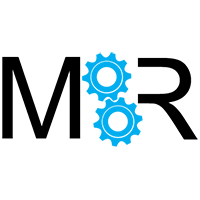 Mark is a graduate in Computer Science, having gathered valuable experience over the years working in IT as a programmer. Mark is also the main tech writer for MBReviews.com, covering not only his passion, the networking devices, but also other cool electronic gadgets that you may find useful for your every day life.