Do you work both at home and at the office and do those thin, ultra-portable laptops look just perfect for your needs? That's great! You're going to need a dongle. Indeed, the days of multiple types of ports surrounding the sides of your portable computer seem to be over when you switch to an ultrabook or even better, to a MacBook Pro, which has only two Thunderbolt ports and a 3.5mm audio jack, so you're left with all your dearly peripherals that still have Type-A connectors and now have nowhere to go.
Ideally, you would go for a docking station that supports all types of connections (such as Thunderbolt 3 or dual 4K monitors), but these do come with a high price tag and they're not easily carried around (mostly due to the large power brick), so, if portability is the main requirement, Choetech has recently unveiled a very small multi-port adapter that should easily cover some of the basic needs, such as connecting a mouse and a keyboard, as well as streaming to a single 4K monitor at 30Hz or to quickly transfer videos that you captured on a DSLR camera from a microSD card.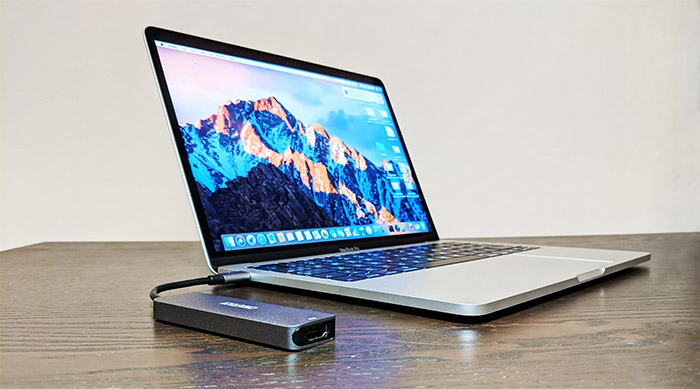 It's clear that the port quantity may not be that great but there is a very good reason for it and that's the extreme portability which is awesome, but always limiting. I recently had a look at the BlitzWolf BW-TH5 and I thought that it had to be one of the thinnest USB-C adapters on the market and then along came Choetech which cut those dimensions in half, so the adapter measures 3.7 x 1.1 x 0.3 inches (LxWxH), being no larger than a regular USB storage drive.
Furthermore, the device is mainly made of a single metallic piece, only with the lateral sides being made out of plastic (covered by a black matte finish). The metallic body does give the adapter a premium feel and it will not look out of place next to an elegant aluminum unibody ultrabook, such as the MacBook Pro. Additionally, it should also ensure that even if it does fall to the ground a few times, it will not break – I would have preferred for the manufacturer to have added some silicone feet to the bottom of the device in order to both protect the device from scratching and from making it a lot less slippery, especially when multiple cables are connected at the same time.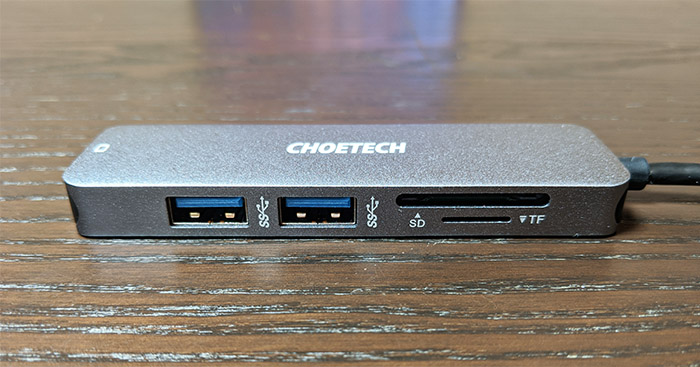 But, the short cable should keep the Choetech adapter closer to the body of the laptop and even if it's going to sit hanging from the desk, it shouldn't put any strain on the USB-C connector. That being said, on the opposite side of the cable, there is an HDMI output port which can connect to a 4K monitor (the resolution of 3840×2160 pixels), but it will be limited to 30Hz, the same as on a 2K monitor (1440p); it can also be connected to a 1080p or 720p monitor at 60Hz. At the moment, I use a 2K Dell U2515H and I could easily mirror the screen from my laptop to the monitor and, at the same time, I decided to also connect a couple of external SSDs (a 250GB Samsung T5 and a 250GB SanDisk Extreme) to see if the adapter could handle these multiple connections.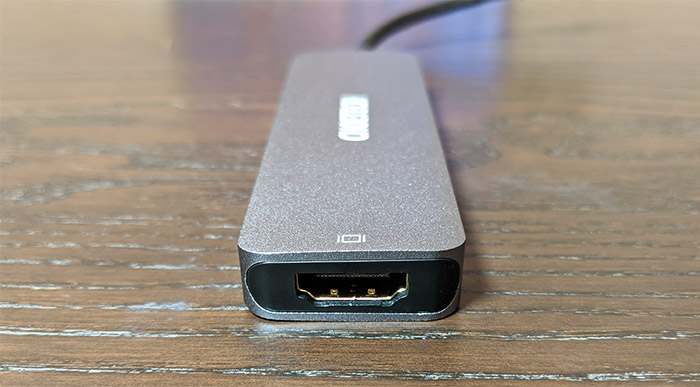 While some USB-C adapters have some trouble maintaining a couple of portable SSDs, it seems that the Choetech adapter managed to keep every device alive and all that without overheating. But, Choetech does say that the capacity is limited to 1TB only due to the power requirements and that it's compatible with 2.5″ external storage devices, so there are some limitation to take into account before purchasing it.
It is also worth noting that the thin aluminum body does get warmer especially when it is put under a bit of stress, but so far it didn't get hot. The two SSDs were connected to the only two available USB 3.0 ports which are limited to 5Gbps (as a comparison, the USB 3.1 can go up to 10Gbps and Thunderbolt 3 port goes up to 40Gbps) and, to test the storage performance of the adapter, I decided to run the CrystalDiskMark 6.0.2 benchmark on the Samsung T5 portable SSD.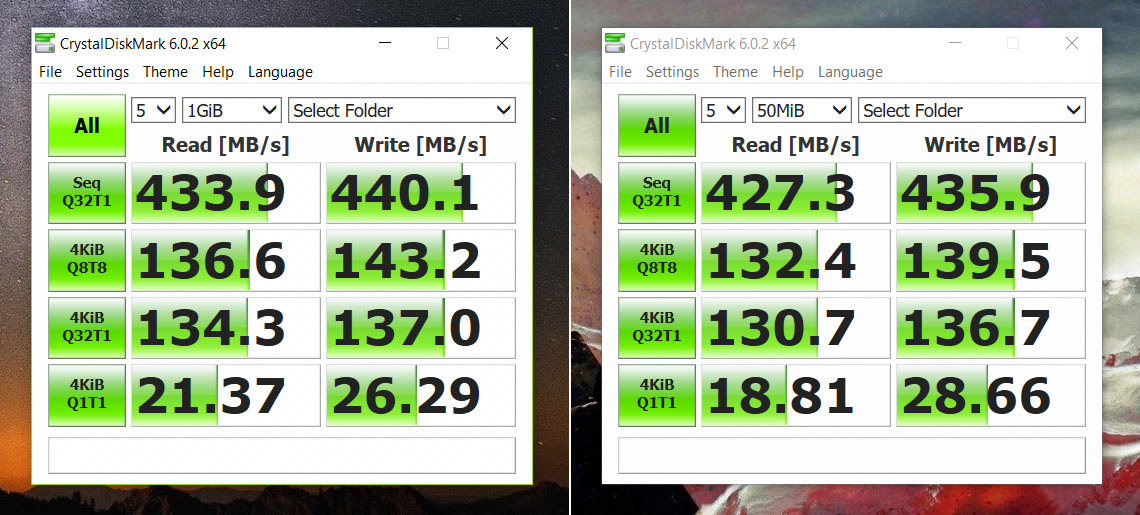 As can be seen in the image, the T5's storage performance was only a slightly bit affected, but overall, you should see close to no impact on the writing/reading speed. Furthermore, the USB 3.0 ports can also charge your devices (5W) and, as expected, there is no fast charging implemented, so, after I connected a Google Pixel 2 XL to the adapter, I immediately got the 'Charging slowly' message. Next to the two USB ports, the Choetech USB-C adapter has two slots for microSD cards, one using an SD adapter and the other for simply inserting a microSD card.
To test the storage performance of these slots, I used a Samsung EVO Plus U3 and when connected directly to my Windows laptop (Lenovo Y520), I measured an average reading speed of 59.2 MBps and an average writing speed of 31.5 MBps. When connected through the Choetech USB-C adapter, I did see a relevant difference regarding the reading speed, considering that I got an average of 40.2 MBps, but the writing speed remained quite similar, so I measured an average of 30.6 MBps.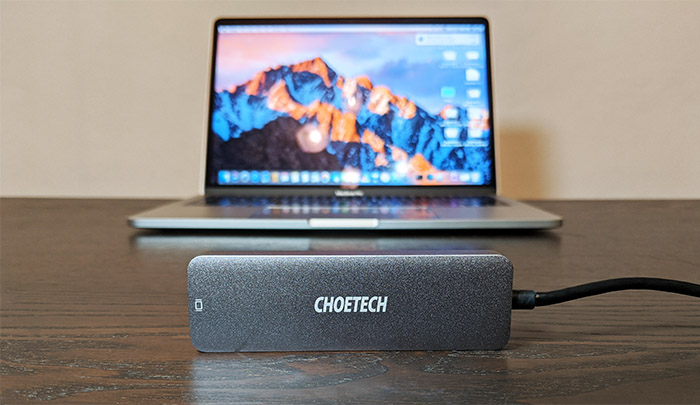 One relatively minor annoyance (that I also got with the more expensive Kensington SD5500T) is the lack of a Power LED, so, when you connect the adapter, you will know that everything is working fine only after you start adding devices.
I know that the number of ports may be a bit disconcerting, but the Choetech USB-C adapter is all about the ultra-portability factor and it does fully deliver in this department, allowing you to put it even in the tightest pockets. The construction of the device is solid, it does have enough ports for a couple of peripherals and a monitor (although, if you're thinking about gaming, you should keep the resolution at 1080p), but I would have liked at least one USB-C port, since a lot of devices are now migrating towards this standard, especially smartphones. Still, considering that we're dealing with an inexpensive device, it clearly understands its targeted demographics, so, if you're willing to trade some ports for more portability, then this is a great solution to take into consideration.
Note: Check out other Cheotech products on the official website https://www.ichoetech.com/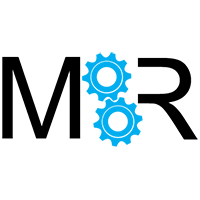 Mark is a graduate in Computer Science, having gathered valuable experience over the years working in IT as a programmer. Mark is also the main tech writer for MBReviews.com, covering not only his passion, the networking devices, but also other cool electronic gadgets that you may find useful for your every day life.