The Flaskie is a 17oz water bottle made of stainless steel that, besides keeping your beverages cold or hot, it will also show you the internal temperature every time you slide your finger on the small touch-screen display mounted on the lid.
I know that the manufacturer calls it smart water bottle and yes, it's smarter than your regular flask, but, just as with the Noerden Liz, this is more of an enhanced water bottle, as it has an additional sensor and some electronic components. But there is no water intake tracking and no mobile application, so it's quite far from what is considered a smart water bottle nowadays. At the same time, the market for smart bottles is still in the same shape as it was a couple of years ago, with one player, Hidrate Spark constantly releasing new products, while other manufacturers have a go with an unusual concept and then vanish off the face of the Earth (that's why some people don't trust inexperienced start-ups).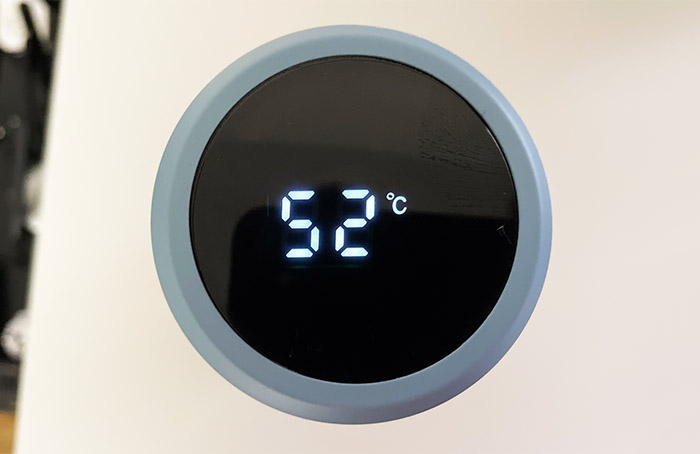 So, the Flaskie is more than welcomed as a new player, but it is currently playing it very safe, essentially reusing a concept bottle that has been around for years, only to be re-branded under various names. Still, I did see that Flaskie has also made available a self-cleaning bottle that uses UV-C to kill germs and there's a second generation of the bottle I am currently testing, so they do seem to be in it for a longer run than others. That being said, I admit I was a bit confused after I took the Flaskie bottle out of the package because it did not have any instructions. And, apparently, it does not need any. That's because you don't have to charge the display because it seems that it uses very little energy. And it's true but only to a certain degree, because the battery will be depleted after 4-5 months and then you are left with a regular insulated bottle (it does seem that you can purchase additional lids).
The design of the Flaskie water bottle is nice and with a minimalist tone, featuring a light blue matte finish which does have a rubbery feel. This coating covers a stainless steel body (SUS304) which seems to be thick enough to be able to ensure that the beverages remain thermally isolated for a long period of time.
There are some other colors available from Flaskie, such as pink, black and green. At the bottom of the water bottle, there's a plastic base which should ensure that the coating won't be chipped after prolonged use – it should also act as a protective layer in case you drop the bottle on the floor.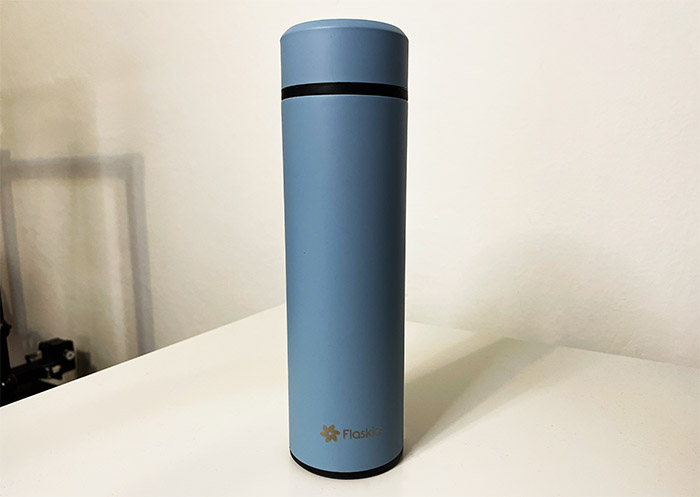 Inside the bottle, Flaskie has decided to include a tea infuser which is a cool addition for people that prefer carrying around some hot tea (the manufacturer is UK-based). Other than that, there's the lid which is covered by the same rubbery finish and, at the top, sits the small touchscreen LCD that displays the temperature. The sensor is very responsive to touches, but you need to touch and hold for a second to activate it (not just quickly tap it). I was a little taken aback by the fact that you can't recharge the inner battery, nor can you change it, so I decided to open up the lid and see how it's built. I needed to dedicate about 20 minutes of my time and steadily push on the display until the blue section finally came off and I was then left with the inner casing. I had to check around for a small protrusion and, using a screwdriver, I popped off the top section.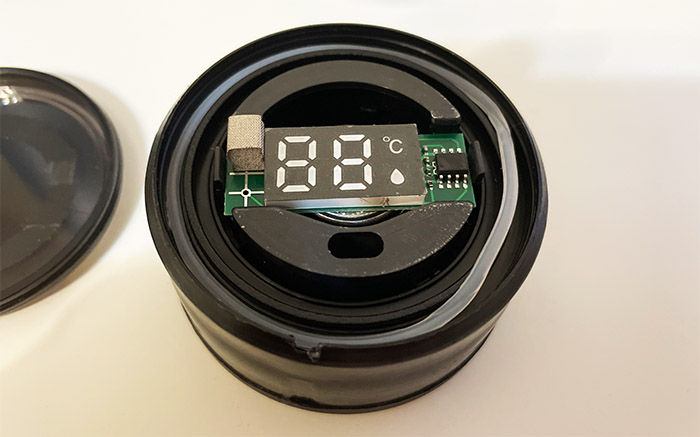 I was then greeted by the small PCB which has the temperature display – take it out gently because at the bottom, the manufacturer used very thin copper wires to connect to the lid sensor. This way, you will be able to see the circular battery and it's also very much possible to replace it. After that's done, reattach the top with the black finish and then slide down the external shell over the lid.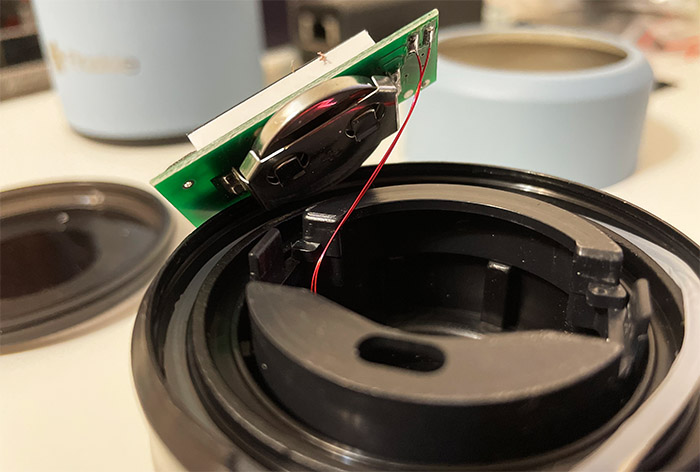 Now it's time to check how well it fares with hot and cold drinks. I poured some fairly hot water (about 122 degrees F or 50 degrees C) and I immediately understood that the sensor measures the temperature of the metal plate at the bottom of the lid, not the true temperature of the liquid. So, if I kept the bottle upside down, it would show me the liquid temperature, while upwards, I got 5 degrees C less (40 F). After I waited for about 5 minutes, the metal plate got hot enough to be more accurate, so that was good. The same is true for cold beverages, since you do have to wait a bit until the plate gets cold enough to reflect the true temperature of the liquid.
I didn't feel any noticeable temperature transfer towards the outside of the bottle, but, considering that the steel is not thicker than what I saw on the Super Sparrow 25oz bottle or the 64Hydro, you can expect about 5 hours before your hot tea will get warm to cold (depending on the external temperature). The cold water usually lasts more if you put some ice cubes and, since the mouth of the bottle is large enough, I did insert some ice cubes along with some cold water.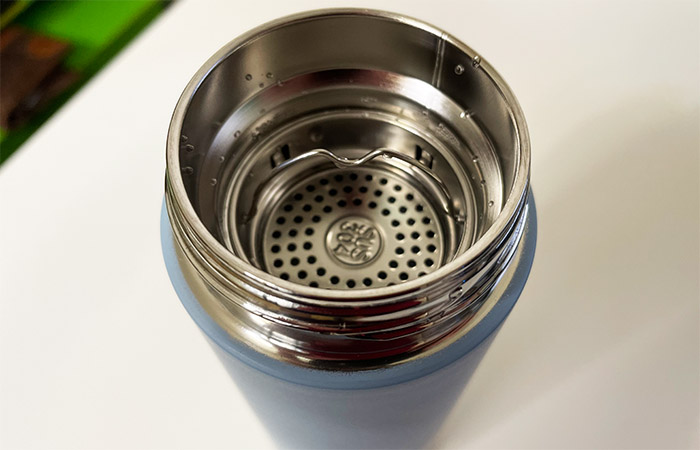 After 24 hours, the ice was completely gone and the water was only a bit colder than the room temperature (about 10 degrees C difference), which is not a bad performance. Lastly, I know that some of you may ask whether it's dishwasher-safe. The answer is yes, but only without the lid since it does contain some circuits that may get damaged if water manages to get in. The lid can be cleaned with a cloth and only a little bit of warm water – don't use any abrasive substances or bleach.
Pros
Small and easy to carry
Stainless steel interior with rubbery coating exterior
Available in multiple colors
Cons
The battery can't be replaced (well, you can replace it, but it's needlessly difficult)
It's very similar to other rebranded water bottle with a temperature display on the lid
You can't change between C and F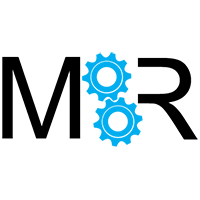 Mark is a graduate in Computer Science, having gathered valuable experience over the years working in IT as a programmer. Mark is also the main tech writer for MBReviews.com, covering not only his passion, the networking devices, but also other cool electronic gadgets that you may find useful for your every day life.