LG has been steadily making a name for itself over this past few years. Starting with the LG G2 in 2013 which although wasn't a game changer, it was a solid contender in the smartphone market and with the more acclaimed LG G3, this year (2015), we can get our hands on a new, improved and maybe one of the best smartphones to date, the LG G4.
The version we tested is the H815 unlocked international version, with 32GB and with brown leather back.
Note: Considering it's size, the LG G4 falls into the phablet category as the screen size is 5.5″.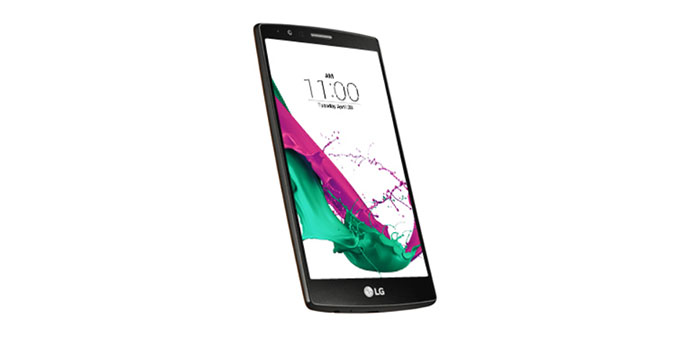 Design
LG G4 looks a lot like G3 and this isn't a bad thing as G3 was one of the best looking phones of the year. So, G4 features a thinner frame, smooth rounded corners and glossy edges that give a premium overall look.
The back of the phone is what caught most of the media attention as it comes in a few unusual variants: metal coated plastic craft, diamond-shaped ceramic coated plastic craft and smooth tan leather craft.
The leather back does give a nice classy feel and is a big plus for the phone's design, putting it right next to its more expensive competitors (like Samsung S6 or iPhone 6+).
Despite it's fairly large size (148.9×6.3×76.1 inches) and the 5.5 inch display (for this reason most other phones are not easy handled), the G4 manages to deliver a really good grip and is easy handled with one hand.
Note: The LG G4 weights 5.44 ounces, which considering its size, is fairly light.
On the back of the G4 you can find the perfectly placed volume controller and power button, along with the rear camera. If you remove the back cover, you can find the microSD and SIM slots and on the bottom edge of the phone lay the USB port and 3.5mm jack.
The audio is being supplied by a mono speaker on the back of the phone and one front stereo speaker that delivers a pleasing, clear sound.
The design is definitely premium, making the G4 one of the best looking phones around, but how well does it behave under pressure? LG G4 has a curved frame that the manufacturers claim it makes the phone 20 percent tougher (than the previous model). Putting the phone under minor stress did definitely not break it but as always with big, expensive phones, purchase a protective case for added safety.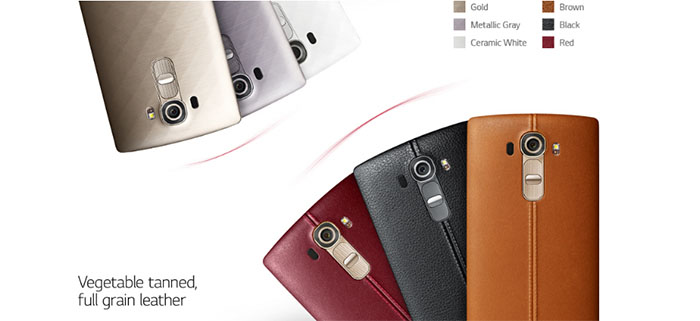 Display
The LG G4 features a 5.5in IPS Quantum Display protected by Gorilla Glass 3, with a resolution of 1440x1560p and a pixel density of 538ppi (almost as high as Galaxy S6).
The curved screen helps to achieve a better colour accuracy and overall you can see a great improvement from G3. The colours are now rich, vibrant, whites are brighter, the contrast is great that translates into deeper blacks. Also, exposed to direct sunlight, the screen performed stellar, remaining visible even under high light intensity.
Although, the G4 achieves 98% DCI colour gamut, the colour palette seems too wide, some colours became too intense and over-saturated and as a direct effect, some photos looked a bit unnatural.
At the end of the day, the display is great, images were sharp, movies looked deep and detailed enough and although it may not be on par with the display on iPhone 6 Plus it still is pretty close.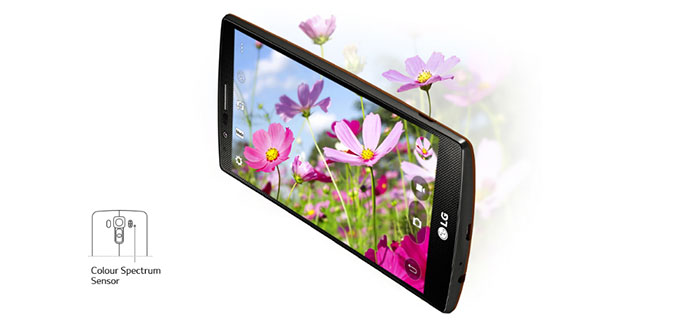 Performance
LG G4 opted for a hexa-core Qualcomm MSM8992 Snapdragon 808 chipset with a Dual-Core 1.82 GHz Cortex-A57 and Quad-Core 1.44 GHz Cortex-A53 processors, backed by an Adreno 418GPU, 3GB RAM, 32GB native storage and a possible addition of up to 128GB through the microSD.
The Snapdragon 808 is not as capable as the 810, but there may be a silver-lining as the latter tends to overheat the phone and consume a lot more battery.
Considering the LG G4 specs, running the usual applications was fast and smooth, most games played flawless (like Riptide 2), watching Netflix or other streaming websites went as it should, without stutters or artefacts.
Camera
In terms of picture taking, LG hoped to surpass the more established camera that you can find on Galaxy S6 and in some terms it may have managed to surpass it.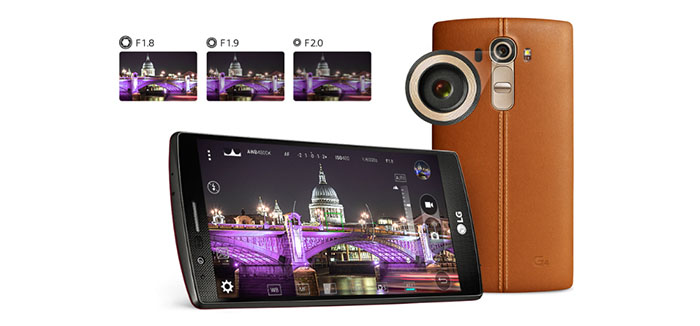 The rear camera on G4 is a 16-megapixel with f/1.8 aperture lens and optical image stabilisation that can take stunning, detailed, true colour photos whether if on low-light or very bright conditions.
Note: Taking photos is made by pressing a physical button rather than tapping the screen.
Even though auto-mode is enough for most of us for taking awesome photos, the more advanced or professional photographers can access the manual-mode where you can basically setup everything, like shutter speed, manual focus, white balance, aperture value or ISO. The end result will be a professionally made picture that can be outputted in DNG raw file format (for further editing).
If you want to film videos, the camera can record in ultra-high definition.
The front facing camera is a 8-megapixel that is also a great camera, capable of great shots and as a bonus there is the gesture control (best for selfies).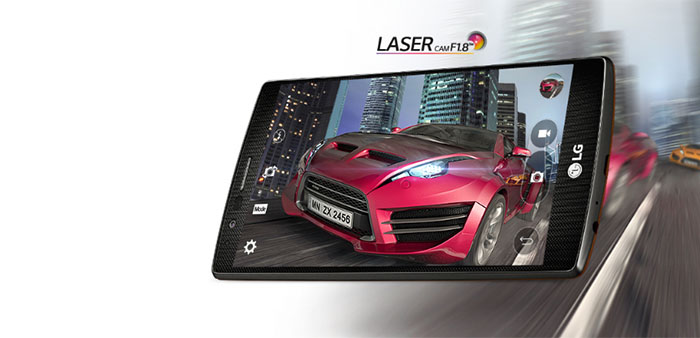 Software
LG G4 comes equipped with Android 5.1 Lollipop that features a clean, user-friendly interface named Optimus UX 4.0.
Everything on the home screen is customizable, from notifications on the lock screen to what apps should stay and which should go.
Some interesting apps worth mentioning are the Smart Notice that gives you helpful tips and advice for how to use the phone, Smart Bulletin that gives you access to features as LG Health, Calendar, QRemote and Smart Settings, Smart Power Saver Mode (extends battery life by closing unnecessary features when a certain battery level is reached) and more.
With Smart Settings you can automatically turn On the WiFi when you get home or open some other apps, like open music application as you connect headphones.
In terms of connectivity, G4 has dual-band WiFi, Bluetooth 4.1, 4G, NFC, Slimport 4K and the IR blaster.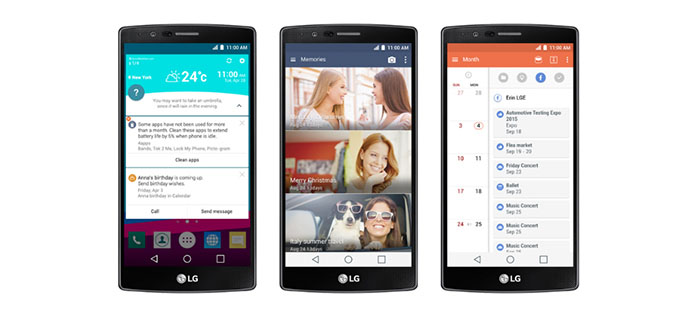 Battery Life
The LG G4 features a 3000mAh removable battery that can reach 1.5 days on medium usage and about 10 hours with more extensive usage.
When recharging, G4 uses quick-charge technology that manages to charge the phone from zero to full in one hour and 45 minutes. Wireless or turbo charge is available using the necessary accessories.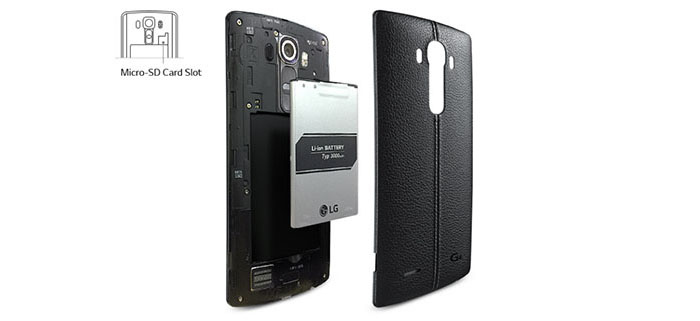 Conclusion
In the end we can say that LG G4 has met all our expectations, it features a great, unique design, capable performance, a stellar camera and it does deserve it's spot as one of the best smartphones right now on the market.
Check the product here: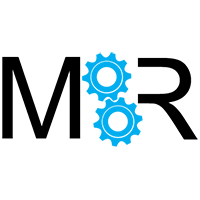 Mark is a graduate in Computer Science, having gathered valuable experience over the years working in IT as a programmer. Mark is also the main tech writer for MBReviews.com, covering not only his passion, the networking devices, but also other cool electronic gadgets that you may find useful for your every day life.