The NTONPOWER 5-Port USB Charging Station is a one of the two docking charging stations available from the Chinese manufacturer (the other featuring 10 ports and more power budget), each of these devices focusing towards delivering a more convenient way of managing all your portable devices that constantly need recharging.
NTONPOWER 5-Port USB Charging Station
Amazon.com
Check Offer
With the emergence of the universal USB 2.0 standard which took the world out of the propriety mess prior to the smart gadgets era (when every manufacturer released a different charging cable for every device), almost all of our phones and tablets have adopted this new standard, therefore making our lives a little more easier (not smartwatches though, since these seem to be the most stubborn portable device to still stick to a proprietary charger).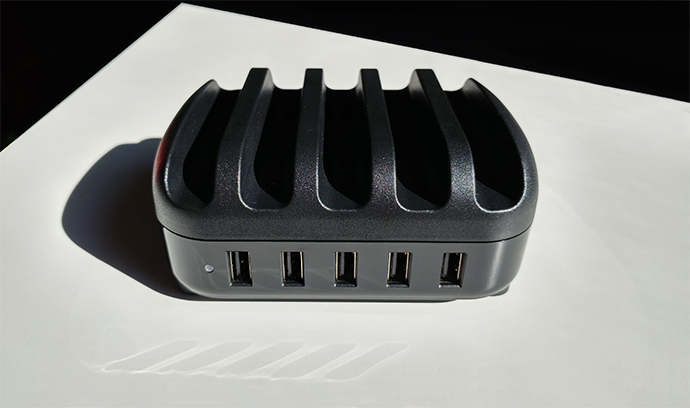 But, even with a universal charger, it couldn't keep up with the ever-growing number of devices per human (these gadgets needing to be charged constantly, especially during the night), so you either use all the outlets in the house, or simply use a charging station which will use a single power outlet, while simultaneously charging multiple devices (NTONPOWER NUK-5P can handle up to 5 devices). This means that the charging stations and the USB hubs have gone from a simple commodity to a necessity if you don't like to have a mess of cables and all the outlets always occupied by an unused charger.
The USB charging stations come in different shapes and sizes, ranging from the small, compact rectangular cases which can be positioned vertically or those that sit horizontally (with the ports either on the lateral sides or pointing upwards) to the devices that can be directly connected to the wall (have an integrated plug) and the NTONPOWER 5-Port USB Charging Station is part of the former category, featuring a small plastic case (a fireproof PC+ ABS material), mainly covered by a black matte finish (doesn't retain fingerprints), but, there's a glossy horizontal band which cuts through the middle of the device. Overall, the charging station lacks a bit in terms of elegance, but it is built focusing more on the ruggedness and practicality factor, especially because of the five docking slots on the top of the device.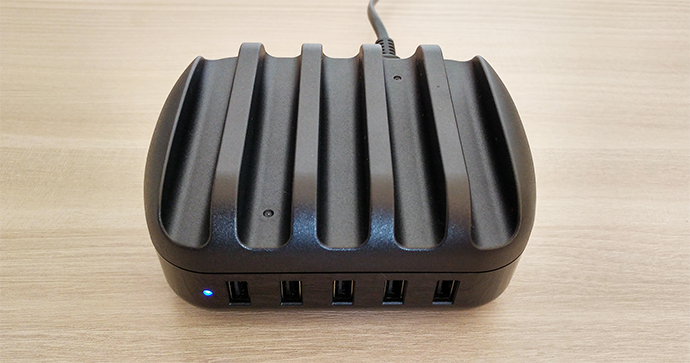 The 6 fins on top of the charging port allow for a convenient way of storing your smartphones and/or tablets while charging – the fins are slightly elevated (about 0.6 inches), while the gap between them is also about 0.6 inches, while the soft plastic ensures that your devices won't get scratched. The charging station measures about 5.0 x 3.8 x 2.2 inches and it weighs 0.66 lbs, so it is a reasonably sturdy device which won't easily budge (especially because of the four rubber feet that play a major role into keeping the device in place).
But, keep in mind that if you put a single large tablet on the last docking slot (on either sides), there is a chance that the device may tip over. Furthermore, the 0.6 inches width between the fins may not be enough for all type of cases, so, if you have a thick protective case for your tablet or a battery pack case on your smartphone, it may not fit (you will have to keep it next to the charging station). Since most smartphone and tablets come with their own, fairly long USB cables, it may be advisable to purchase several smaller cables, so the whole setup will look less overcrowded and messy.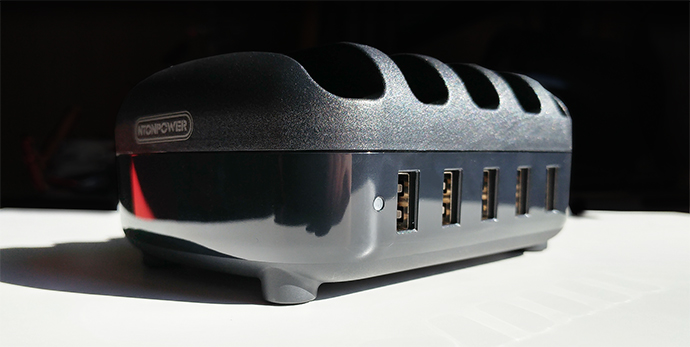 If you are familiar with the 10-port NTONPOWER charging station, you know that it had some fail-safe fans which ensured that the device would never overheat, but, it seems that NTONPOWER had a bit more faith in its 5-port device, which only relies on the passive cooling and, so far, it seems to be enough, since the charging station barely got warm (even if I could not notice any cut-outs for maintaining a low temperature, I suspect that the four tall feet have a significant role into dissipating the heat).
On the front of the NTONPOWER USB Charging Station, there is a small LED light which shines a non-intrusive blue light when the device is powered on and to the right, there are five USB 2.0 ports (the total output is 8A 40W, while each port has a DC 5V 2.4 A output). On the rear side of the device, there is a power On/Off button (the button is big, robust and easy to press) and a Power adapter (AC 100-240 V, 50/60 Hz, 1.2 A). Unfortunately, it does not also work as a USB hub, so there is no USB port for connecting to a computer or laptop to gain more ports, the device being simply used for charging up other gadgets.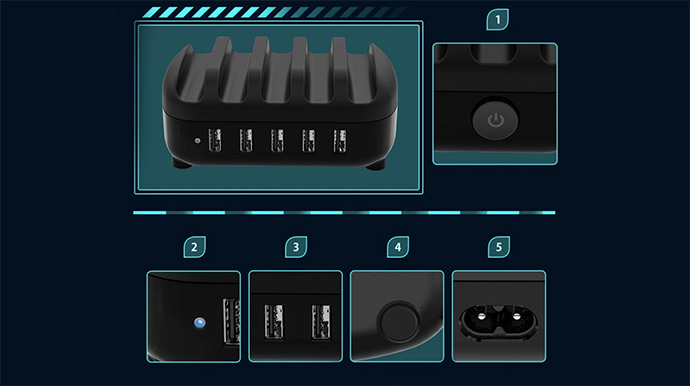 Note: The charging station is compatible with pretty much all 5V smartphone or tablets (and it will also work with other 5V USB devices).
Now, in order to ensure the safety of all the connected equipment, the manufacturer had to take a few things into consideration when building a USB Charging Station and, fortunately, NTONPOWER thought about all these and it has implemented over current protection, which means that if you connect any device which requires more than 2.4A, then the power gets automatically cut off in order to avoid the scenario where your devices may get burnt by high current and it also ensures that when you connect a new device, the internal smart IC chip will analyse how much power it is needed and it will intelligently output the necessary current to the newly connected gadget.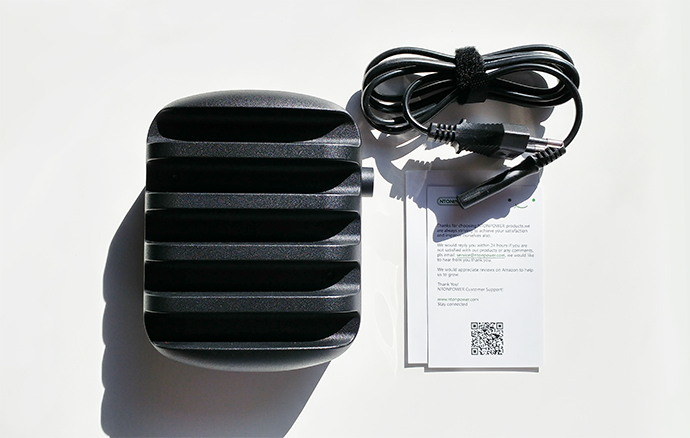 Furthermore, the charging station has over charging protection, which has the role of cutting off the power of the USB port when the device is fully charged, but it has not yet been unplugged from the charging station and there's also short circuit protection, which means that, in case of a short-circuit, the charging station will automatically cut off power, so your devices won't be burnt.
Note: Inside the package, you can find the NTONPOWER NUK-5P 5-Port USB Charging Station unit, a 3 feet power cord, a Service Card and the User Manual.
Check the product here:

NTONPOWER 5-Port USB Charging Station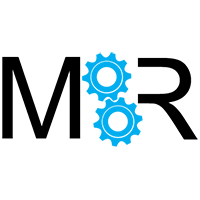 Mark is a graduate in Computer Science, having gathered valuable experience over the years working in IT as a programmer. Mark is also the main tech writer for MBReviews.com, covering not only his passion, the networking devices, but also other cool electronic gadgets that you may find useful for your every day life.