NVidia tried its hands once on building a tablet and created the NVidia Shield, a pseudo-tablet that focused on one thing only, gaming. The first NVidia Shield was bulky, with huge bezels and overall, didn't have a nice design.
It could play Android games, but its main selling point was the option to stream PC games wirelessly, so basically it mainly acted as a peripheral for your PC (you needed a NVidia GPU). Because of this approach, it wasn't really welcomed by a large variety of customers, most of the happy owners being only gamers.
So, NVidia created a new Shield tablet, one that would improve on the flaws of its predecessor and address a much larger community.
The approach this time was to make the NVidia Shield to actually feel and behave as a tablet, while at the same time still being great with gaming. And it seems it may have accomplished its goals with its second generation of the Shield. Although the last year's NVidia Shield was an awesome tablet, NVidia released an almost identical version called the NVidia Shield K1 that comes a bit cheaper. So let's have a look at it.

Design
Unlike the first Shield, the NVidia Shield K1 actually looks like a tablet. It is rather stylish, having two long black rubberised speaker grilles at the top and bottom, with chamfered edges where the back meets the screen, reasonably thick bezels around the display and a black matte back with the silver SHIELD logo in the middle. Also, the hard plastic is gone, now being replaced by a softer one, which is less prone to creaking. Overall, it looks clean and premium, reminding us of the Nexus devices (especially the Nexus 7).
Being mostly a gaming tablet, you can expect the tablet to be a little chunkier and this is true for the NVidia Shield K1. It measures 8.70×4.96×0.36 inches and it weighs 13.76 ounces. So it isn't really heavy and because it is a 8-inch tablet, it can be used just fine with one hand.
It will feel a bit heavy and look thicker when put next to the likes of Samsung Galaxy Tab S2 or iPad Air 2, but you also get a better ventilation compared most tablets and some extra ports.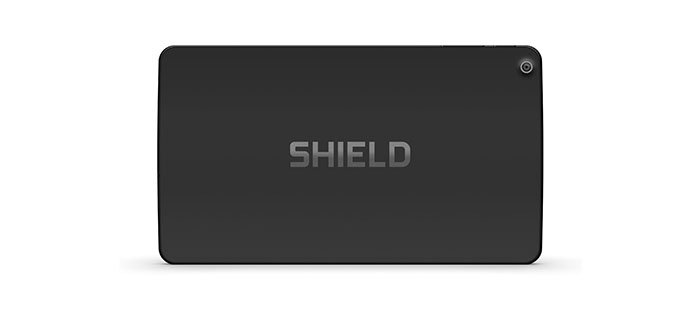 So, the right side of the Shield K1 is home to the Power button, the volume controller and a microSD slot underneath a small rubber cover. The WiFi model also features a micro-SIM card slot. Last year's Shield tablet also came with a built-in stylus, but NVidia decided to not include it this year (to get a lower price tag perhaps?).
On the top edge of the tablet lies a micro-HDMI port (up to 4K resolution output), a micro-USB port and a 3.5mm headphone jack. The left side is not as crowded, you can only find two magnetic ports for the optional Shield Tablet Cover (you don't have to worry about the case falling because the magnets are really strong).
And lastly, the bottom edge is where you'll find a single speaker vent. There also one on the top edge with its role being to enhance the sound of the speakers and it does a fine job because the sound is loud and clear, perfect for gaming.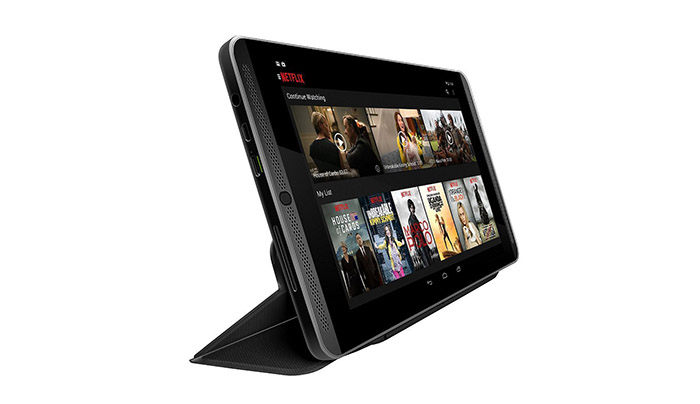 A minor complaint would be the feel of the buttons. They feel a bit fragile and soft, sometimes you couldn't tell if you correctly pushed the buttons or not, feeling like you have to press really hard to get a response from the tablet.
But like, said before, this is a minor complaint, because the tablet feels compact and well balanced. The design is a lot better, there's a large variety of ports and overall, this is a great tablet to own.
Display
The NVidia Tablet features a 8-inch capacitive touchscreen IPS display, with 16 million colours, a resolution of 1920x1200p and a pixel density of 283 ppi. Sure, one would expect a higher resolution, especially since the tablet is specialized for gaming, but a FULL HD resolution on such a small screen is reasonably suited and it won't have a high impact on the battery life.

The display has large viewing angles, it's bright and crisp (for its size), but there is a slight yellow tint on the whites, although little noticeable and better for the eye. Still, it's clear that the tablet doesn't have really accurate colours, barely reaching 80 percent of the sRGB colour gamut. We suspect that all these were made so there would be less battery consumption, but this may not be a good compromise as some gamers would prefer a better display even if the battery life would be affected.
Anyway, watching movies and gaming was not a problem on the FullHD display and if you're keen on a better display you can always connect the Shield K1 to a 4K monitor or TV.
Obviously the display is not as vibrant as the AMOLED screen from Samsung Galaxy Tab S or even as the Retina display from the iPads, but don't let that fool you, it's a worthy tablet with a good display, it will be enough for gaming an movie watching in most situations.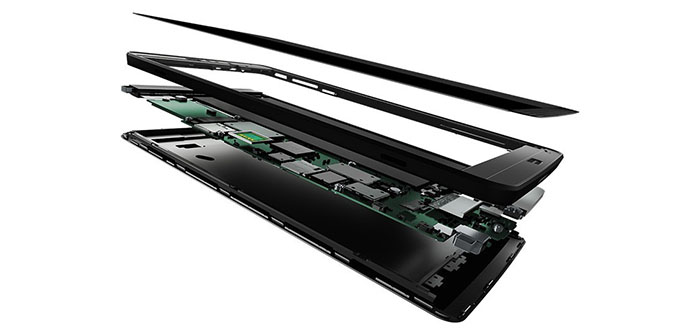 Performance
Now let's get to the tablet's best feature, the performance. The NVidia Shield K1 sports the same a NVidia Tegra K1 chipset like its predecessor (with a 2.2GHz quad-core Cortex-A15 CPU), backed by a ULP GeForce Kepler 192-core GPU, 2GB DDR3 RAM, 16GB and you can add up to 128GB through the microSD card.
NVidia claims the Tegra K1 to be the world's fastest mobile processor and it may not be a bold declaration (although in 2015 NVidia developed a more powerful Tegra x1). Running the NVidia Shield K1 through some tests we see that it is one of the most powerful devices on the market and this is not only because of the processor.
It also features a high-quality mobile GPU capable of supporting DX12 API, OpenGL 4.4 and even Unreal Engine 4. So you can take every game that runs on PC or from a console and run it on Tegra (as Tim Sweeney, founder and CEO of Epic Games said) and because the K1 is built on the NVIDIA Kepler architecture, you can expect graphics similar to PS4 or XBOX One.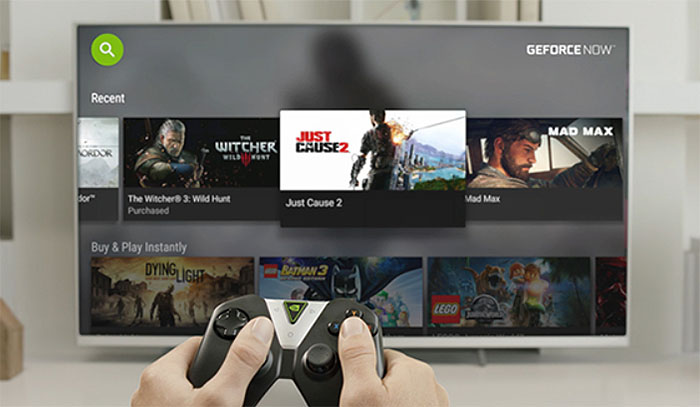 Comparing it with other high-end tablets, we got better performance than the likes of Samsung Galaxy Tab S or iPad Air and it is quite close the Nexus 9, though a bit better. Overall, apps and videos load quick, switching between apps is smooth and stutter-free, but what about games?
Well you got three main types of games you can play, Android games, games optimized for the Tegra K1 and streaming games to your tablet from a PC or to a PC from your tablet.
NVidia Shield K1 tablet supports all Android games, the only problem being that most Android games aren't really designed for high-end GPUs. So, don't go expecting awesome graphics while running Grand Theft Auto III.
But, fear not, there are a lot of games specially optimized to run on the NVidia Shield K1 devices. You get Trine 2, which looks fantastic on the tablet, the rendering being close to what a console can offer, other games like Portal, Half-Life 2 and Max Payne also looked incredibly good and ran smoothly.
A cool feature, also present on the Shield Portable, is the Gamepad Mapper. Some Android games won't support physical controls, so the Shield K1 allows controller support to these native touchscreen games. You can download some presets or create your own.
Unfortunately, the list is pretty small with games that actually take advantage of the powerful hardware. NVidia was aware that this may happen so it has yet another feature called GameStream. At the beginning it wasn't really stable, but after a few updates, GameStream runs like a dream.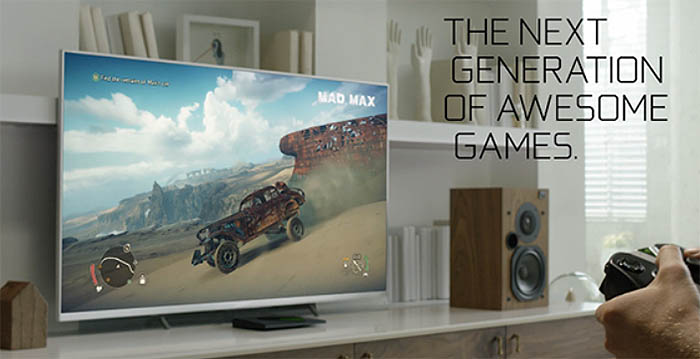 GameStream, as the name suggests, allows you to stream games from a computer to the tablet and vice-versa. But there are some requirements, the PC has to have a high-end NVidia card (GTX 650 and up) and also a capable router to handle the streaming (an ASUS RT-AC68U or NETGEAR Nighthawk should do the trick).
You can also connect the tablet to a TV through the microHDMI port and use it in Mirror Mode or Console Mode. The Mirror Mode keeps the tablet active and mirrors it on the TV, while the Console Mode disables the Shield K1's display and changes the native resolution to 1080p to match the TV.
By connecting the tablet to a TV using the microHDMI you also get the possibility to use up to four wireless Shield Controllers. Once you have it all configured, you're in for a treat.
Overall, there is little to no latency, you won't notice it, we tried games like Borderlands 2, Batman: Arkham Origins and even some of the latest titles, like the Witcher 3 and it worked really well.
The only thing that you have to remember is the distance, it's ideal if you have the TV, tablet and router in the same room.
Note: The NVidia Shield K1 also allows you to stream to Twitch.tv. You can record up to 20 minutes and it also allows for voice recording and face view at the same time (perfect for let's play videos).
So, streaming games through your local network works as intended, but what if you're trying on the LTE? Well, you can't. The new Shield K1 does not have a LTE version, unlike its predecessor. We hope that NVidia will release an LTE version of the K1 because it's quite awesome to be able to play all the games from your PC in the coffee shop or even from miles away, just imagine playing Fallout 4 on a long train ride on your NVidia Shield K1.
Controller
You can't have a complete gaming experience without a controller. Unfortunately, just like its predecessor, the controller is not included within the Shield K1's price and you will have to purchase it separately.
It isn't mandatory to buy a NVidia controller, you can use any other Bluetooth one, but know that the NVidia controller was designed specifically with the Shield K1 tablet in mind, so you may miss on some key features, like the WIFi connection.
Yes, you heard that right, the Shield Controller uses a WiFi connection (you can switch between 2.4 GHz and 5 GHz) instead of the usual Bluetooth. This will result in a reduced latency and you can also stream audio wirelessly to the gamepad.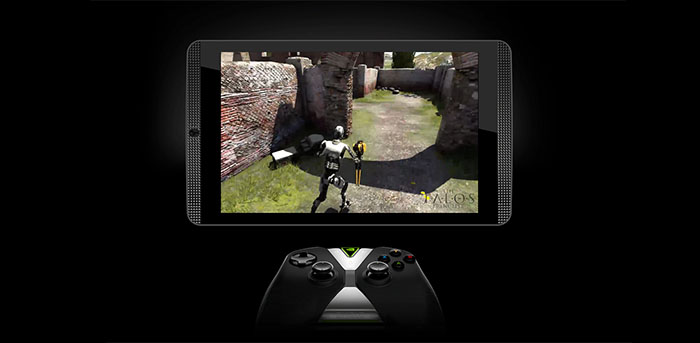 The controller looks and feels on par with controllers from XBOX or PlayStation. It feel sturdy and solidly built, but at the same time light and comfortable.
You get a large touchpad in the centre of the controller that let's you to easily access and control your device remotely and there's also the usual pack of buttons: two bumpers, two joysticks, two analogue triggers, a D-pad and the ABXY buttons.
Additionally, you get an NVidia button, an Android Home and Back buttons, volume controls, a touchpad button and a Start button. The controller also features a built-in microphone and a stereo headset jack.
It can be recharged through microUSB and it can be used for up to 40 hours on a single charge.
Overall, it's a great controller, it works perfectly with the Shield K1 Tablet and is a must have for the best gaming experience.
The Stylus
The NVidia Shield came with a passive stylus included (DirectStylus 2). The new K1, however, does not, but you can buy one if you want because the software is unchanged and still pretty awesome. The purpose of the stylus is to give the tablet an artistic side, and it works. Normal, active pens are quite expensive and a passive stylus, although cheaper would feel inferior, but NVidia has it all figured out.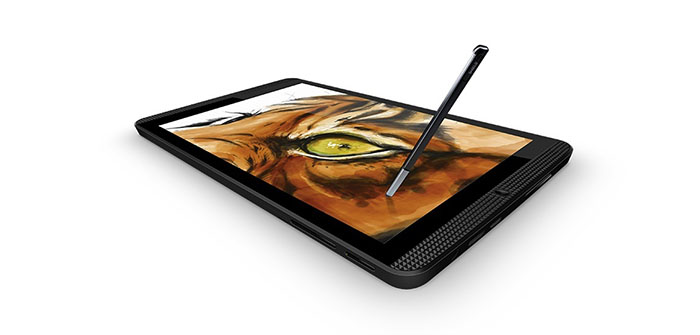 The stylus uses the GPU to analyse 300 scans per second to capture the pressure levels and to make the difference between the tip of the stylus and fingers.
The pen is very accurate and thanks to the native painting program called the NVidia Dabbler, you can actually create some awesome paintings, similar to the dedicated artistic tablets. So, you can reproduce watercolour or oil paints, use different types of lines and inks; the watercolour will slowly penetrate the paper-like simulated surface or, if you put the tablet upright, the wet strokes of paint will slowly drip, like in real life.
Overall, there is a lot of value in this feature and everyone (especially artists) will really appreciate it.
Software
The NVidia Shield K1 Tablet comes with a nearly stock version of Android 5.1.1 Lollipop and you should be able to upgrade it to the newer Marshmallow version really soon.
So what does nearly stock means? Well, you have almost zero bloatware, no launchers, no skins, no widgets, just plain Android with very few additions from NVidia for controller, Shield Hub, Twitch and game streaming. The Shield Hub app is what you will use the most and acts as a console interface.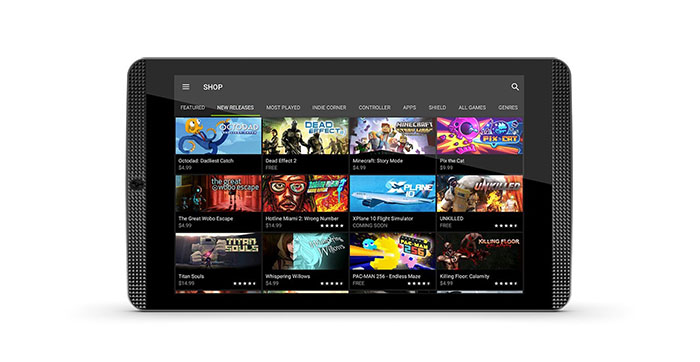 Navigating the Shield Hub is extremely simple, on the left you have a menu and you can choose to enter the Shop (which allows you to buy games or accessories), access the News section, Launch Android Games, access My Media Apps and access My Pc Games.
So, everything is simple and clean and most of us will really appreciate this, apps run smoothly, no bloatware, updated OS, so there isn't much else we can ask for.
Camera
NVidia Shield K1 features the same 5-megapixel primary camera (with OmniVision's OV5963 sensor, f/2.0 aperture, 2592×1944 pixels and autofocus) and also the same 5-megapixel front camera (with HDR and fixed focus).
Unfortunately, you can't expect much from the cameras, they are mediocre at best. The cameras can shoot reasonable photos in good light, with clear colours, though a bit muted, but indoors, images were really noisy.
Also, we tried taking a photo of the sky and the result was quite overexposed.
Anyway, tablets shouldn't be used as primary cameras, but, if you absolutely have no choice, photos were reasonable enough.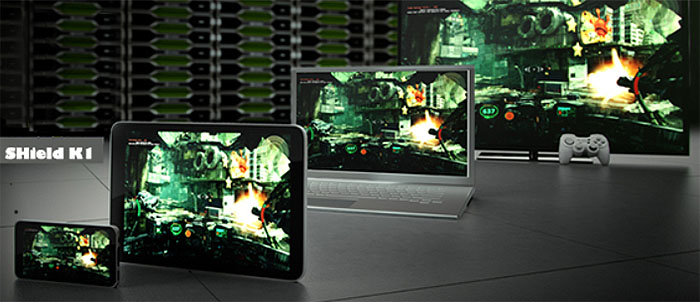 Battery Life
A good battery life is essential on a tablet and especially on a gaming one. The NVidia Shield K1 Tablet features a 19.75Wh LI-Ion battery that performs reasonably, but not as great as you would expect.
You do get 10 hours of battery life is used as a normal tablet, but we know this won't be the case with most users. With heavy gaming you get a maximum of 5 hours and a half and looping a video non-stop will deplete the battery in 8 hours.
It is a bit strange why the tablet hasn't a better battery life, most of the hardware has low power consumption. It could be because the Cortex A15 is not really power efficient or the LCD backlight consumes more power, but in the end, you do get a normal battery life, it's not great, but it's not all that bad.
Conclusion
If you ever owned a tablet, know that the NVidia Shield K1 is of a different breed, it is a lot better than its first instalment and more focused on what it wants to accomplish.
It's a great Android tablet, it has a good display, a premium design, lots of additional features, but it is also offers the best ways to game on a tablet.
Android games, dedicated titles and PC games, all can be played on this tiny tablet, no matter how sophisticated they are. For people who already own a NVidia card or plan to acquire one, know that the NVidia Shield K1 is such an awesome addition to your PC it's a shame not to try it.
So, if you're asking yourself, what is the best gaming tablet on the market, the answer will most likely be NVidia Shield K1.
Check the product here:

NVidia Shield K1
Pros
Awesome Gaming Experience
Packed with Features and Ports
Nice Design
Clean, Almost Stock Android
A Great Price Tag
Cons
The GamePad is not included
Battery Doesn't Last Too Long While Gaming
Buttons are a bit Mushy
The Charger is not Included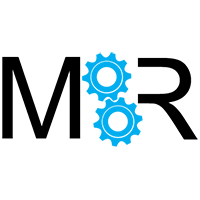 Mark is a graduate in Computer Science, having gathered valuable experience over the years working in IT as a programmer. Mark is also the main tech writer for MBReviews.com, covering not only his passion, the networking devices, but also other cool electronic gadgets that you may find useful for your every day life.