To save space, most laptop manufacturers have slowly, but steadily cut down from the once large number of USB ports down to two or three ports that you can use to connect your peripherals.
Besides saving space, the reason why manufacturers have reduced the number of ports is to guide the laptop users towards connecting their smartphones, tablets or smartwatches wirelessly and have implemented SD card readers for people that want to back-up their photos and videos from their mobile devices or DSLR cameras or simply view them on a bigger screen.
Unfortunately, not all laptops or even Desktop computers come with a lot of USB 3.0 ports and some may still keep the USB 2.0 standard (which will deprive the users from a better transfer speed) with maybe one or two USB 3.0 ports.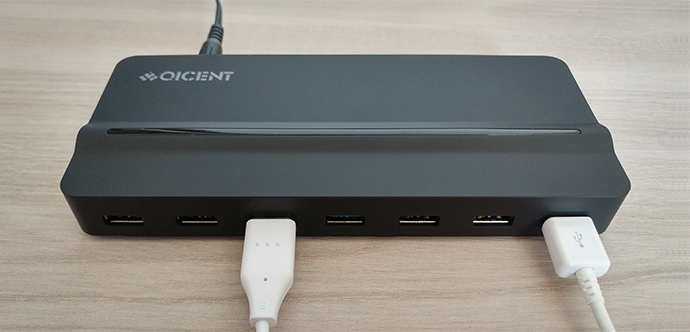 Furthermore, the laptops aren't the only devices to act as a hub for multiple gadgets, but there are also monitors which have one or two USB ports and especially smart TVs which may take the most advantage from a larger number of USB ports (for connecting a keyboard, mouse, flash drive, camera and so on).
So, the people that need more USB ports on their devices and want to take advantage of the newer USB 3.0 standard are constrained to use external USB hubs, these devices being available in different shapes and sizes, with various number of ports and it may prove to be a challenge to choose the most suitable one for their needs. One of the more popular USB hubs is the QICENT QIC H7P which is a 7-port USB 3.0 Plug-n-Play hub (special thanks to QICENT for providing a review sample), with built-in surge protection and is compatible with all the popular operating systems on the market (including Mac OS X).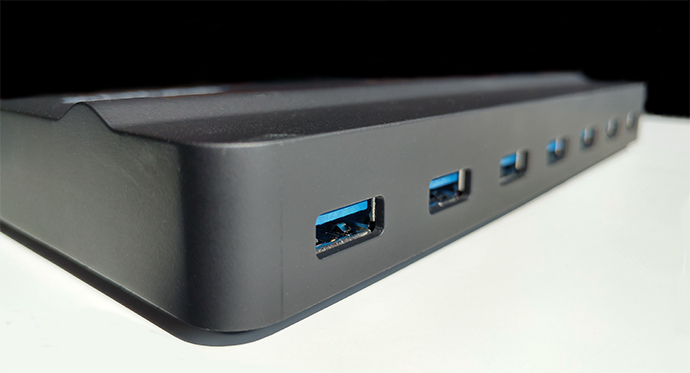 Similarly to many other USB hubs from the market, the QICENT USB 3.0 hub is a small rectangular device, with soft rounded corners, covered by a black matte finish on top and lateral sides (QICENT used a rubber process oil which makes the device feel comfortable and soft – it is also often used in the production of toys). For whatever reason, QICENT decided to put a glossy finish on the bottom part of the hub, which definitely adds to the elegance factor when you take it out of the box, but I have noticed that it will scratch very easily and it is a fingerprint magnet (there are no obvious reasons for its existence though, except for a weird design choice).
Overall, the QICENT USB 3.0 hub feels solidly built and because it has small proportions for a 7-port device, it will easily fit anywhere in the room (it measures 6.88 x 2.95 x 0.94 inches). On the bottom of the device, there are two rubber feet (that are very slightly elevated) which have the role of keeping the device from budging, but, in practice, by taking into account that we're dealing with a relatively lightweight device (it weighs 7 ounces), it can move around easily, especially if no device is yet connected.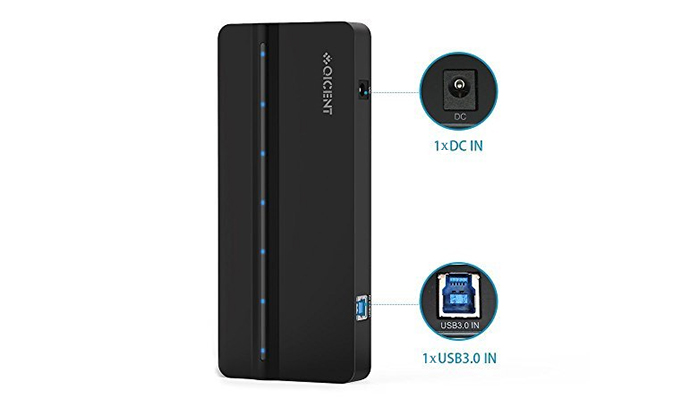 One thing that I like about the QICENT USB 3.0 hub is that it has all its ports positioned on the lateral side and not upwards, like other devices from the competition (which, I felt, it takes away from the elegance factor). This allows you to let the cables flow from the table (you'll have to keep it close to the edge) and not deal with upwards pointing cables, which can make the desk look messy. On the top of the hub, the plastic case curves upwards to make way for a long and narrow glossy piece of plastic which allows the seven LED lights to shine through.
When you connect a device to a USB 3.0 port, the corresponding LED light will light up (solid blue) to show that the connection has been successful (if you attach only a cable and not a device, the LED will remain turned off). The 7 USB 3.0 ports can be used for both data transfer and charging, but there are no high-speed, fast-charging ports available (which are a nice addition, but not a necessity).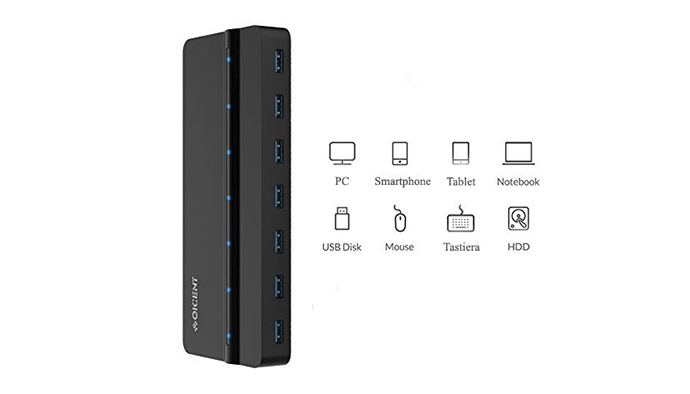 On the back of the QICENT USB 3.0 hub, there is a USB 3.0 output port and a DC-IN port for connecting the 12V power adapter. This ensures that each port gets 900mA of power (which means that you can easily charge multiple devices – such as smartphones, tablets or smartwatches). You don't need the hub to be connected to a computer through the USB output cable in order to charge any device, since it is powered only through the DC-IN adapter, so you can also use it in an airport, train, and so on (you only need an available outlet and you're set). As a side, note, I've noticed that the USB 3.0 hub did not get hot and it maintained a room temperature even when charging multiple devices.
Since most people will use this hub to either connect their peripherals to a smart TV, laptop or to simply transfer data from their phone or tablet to a computer, I took a smartphone (equipped with a USB 2.0 port) and an external USB 3.0 flash drive to test the speed performance that most people will likely get (the tests can be limited by the connected device's hardware and should really be taken as a reference).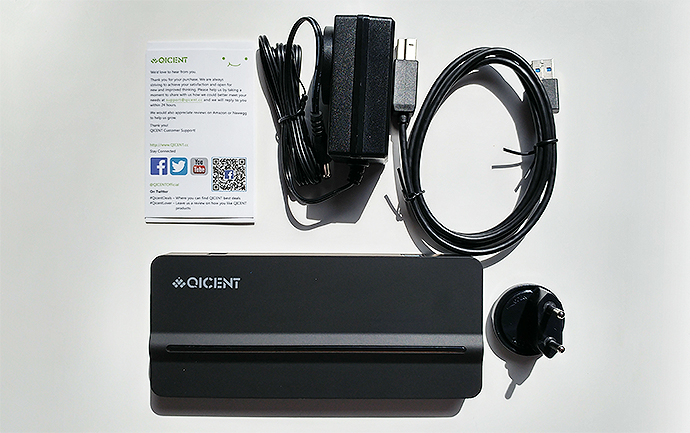 After connecting the USB 2.0 device (smartphone) to the hub and to a desktop PC, I took a 3GB video file and I measured 295 Mbps from the PC to the smartphone and 315 Mbps from the smartphone to the PC. Next, I connected the USB 3.0 flash drive to the hub and once again, I took the 3GB video file and I measured 256 Mbps from the PC to the drive and 754 Mbps from the drive to the PC.
Afterwards, I took a 1.5GB folder with various files (.exe, .jpg, .mp4, .txt) and, using the phone with a USB 2.0 port, I measured 198.8 Mbps from the PC to the smartphone and 220 Mbps from the smartphone to the PC. Also using the 1.5GB folder, but, this time with the USB 3.0 flash drive, I measured 210 Mbps from the PC to the drive and 980 Mbps from the flash drive to the PC.
Note: The QICENT USB 3.0 hub is compatible with devices that use the Mac OS X 10.6 to 10.9, Windows OS 10 / 8.1 / 8 / 7 / Vista / XP, Linux 2.6.14 and above.
Check the product here: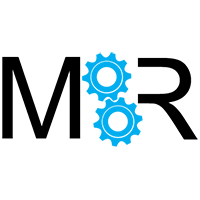 Mark is a graduate in Computer Science, having gathered valuable experience over the years working in IT as a programmer. Mark is also the main tech writer for MBReviews.com, covering not only his passion, the networking devices, but also other cool electronic gadgets that you may find useful for your every day life.