[yasr_overall_rating]
Nowadays, phones come in such a large variety, that it would be almost impossible to not find something perfectly suited for your taste. Most feature attractive designs (so you can make your friends envious), great cameras (you need it for selfies or when you're on voyage), the ability to play some games or videos and, if possible, a good battery life. This is the stage that phones have evolved, they are basically mini-computers we carry around all day and that produce a great deal of dependency. But, although they look nice, smartphones are notorious for their fragility.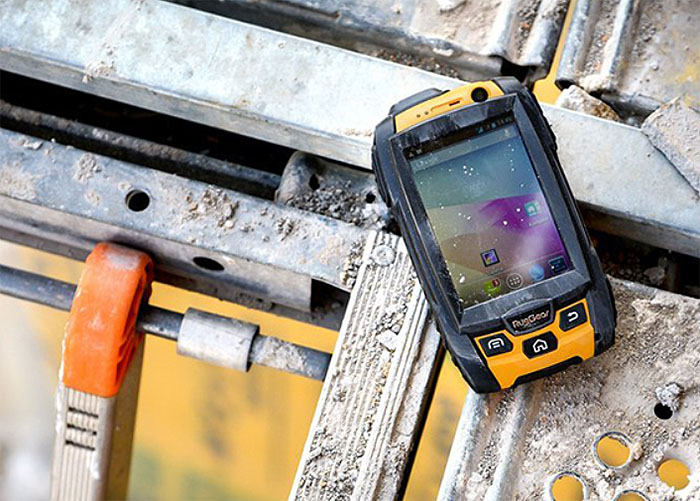 Sure, there is a great deal of development in this sector (better Corning Gorilla Glass, sapphire screens), but it's still not on par with the real-world dangers, especially if you don't work in an office (even here, there are a lot of dangers for your devices). So, workers on a construction site, electricians or people who practice outdoor sports won't have the luxury to use slim, elegant handsets, because it just won't do (trust us, you don't want to break your 600-700 dollars investment in a week). If you work in a harsh environment or plan to go on a hiking expedition you need a good rugged smartphone.
There are many great rugged smartphones on the market (we actually created a top not long ago), but we will focus on
the RugGear Swift RG500. This rugged smartphones promises all the functions you would expect from a normal handset, but at the same time being water, dust and shock resistant. Let's see if it delivers.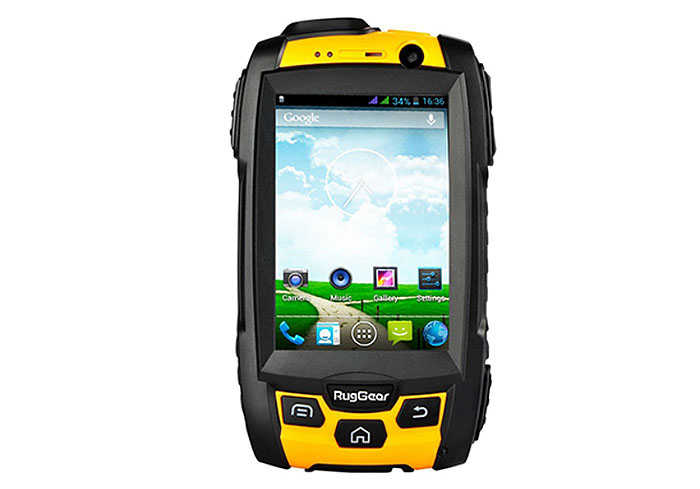 Design
Just as with most rugged smartphones, you shouldn't expect finesse or elegance, simply because the focus was switched towards functionality and maneuverability and less on the aspect. OK, we'll be honest, if you look at CAT S50 or Kyocera Brigadier, you see that the manufacturers tried to make these smartphones to look as elegant as they could, without sacrificing any of their toughness. This was not the case for the Swift RG500, because RugGear decided to go for a more 'manly' and raw approach, meaning it won't look out of place near screwdrivers, drills, hammers or anything you would have in your toolbox.
The main body is one slab of hard plastic, with thick, pronounced tire-textured rubber bands on the left and right edges. This way you get a great grip, making it almost impossible for the phone to slip out of your hand (even if you use gloves). The handset measures 4.88×0.94×2.7 inches (LWH) and weighs 7.84 ounces, which makes it rather compact and bulky (especially for its size). It may look small, but just take it in hand and you'll be surprised by its heaviness.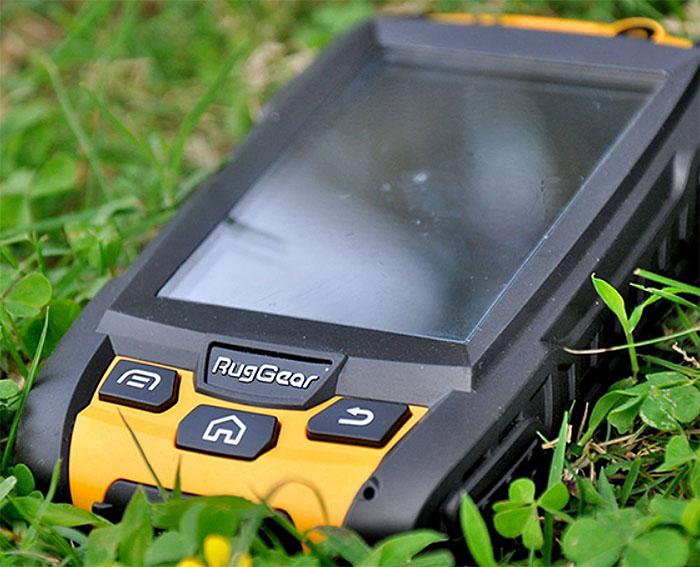 The back of the RG500 has a transformer-like appearance, with yellow accents on top and bottom and a rectangular protruded door that gives you access to the two SIM card slots and one microSD card slot. The removable back is covered with tire-like textured rubber and is tightly fixed by two screws. On top of the removable cover, there is the amplified 3-watt loudspeaker on the left (with 100db) and the camera with the flash is on the right, in a recessed zone.
The protruded back, along with the rubbery edges and its compact size allows for a great maneuverability and the phone sits comfortably in the palm of your hand (if the back of a phone is slightly curved, you get a better, comfortable feeling). Also, the phone can easily be used one-handed. Still, you may be a bit sceptic because of its rather increased weight, but in reality you don't have to worry as it will help give a feeling of steadiness. Most popular smartphones will feel hollow or fragile and this is obviously not the case with the RugGear Swift RG500.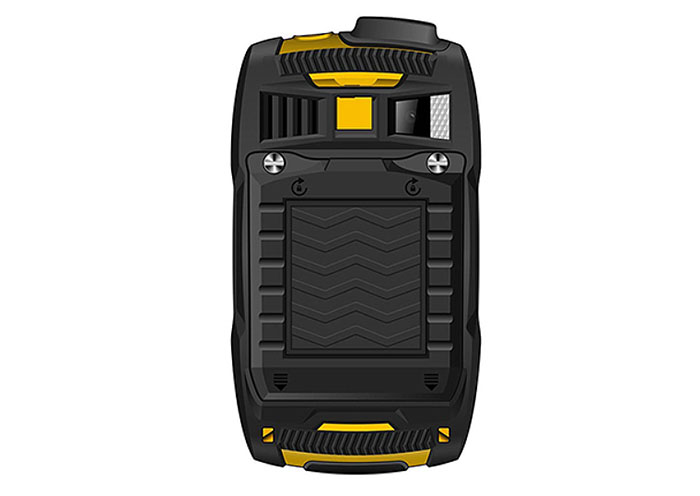 On the top and the bottom edges there are two pieces of yellow plastic that curve from the rear to the front. Inside the yellow section, on the top edge, you can find the Lock/Power button and a larger protrusion that acts as an antenna. On the bottom edge there is a large removable cover that hides the 3.5mm headphone jack and the microUSB ports.
The right edge of the RG500 offers access to the volume controller and a SOS button (that also doubles as a Camera button). The left side is a Push-To-Talk button (PTT). In order for the SOS and PTT functions to be enabled, you have to install specific applications (by using the apps from the manufacturer, there are extra costs). The SOS function is a great addition and can be a life saver if used properly. The PTT function is equally important as the SOS, because it allows you to create a private network and use the phone in Walkie-Talkie mode.
Note: It would have been better if both the Push-To-Talk and SOS functions remained free (as seen with Runbo X6).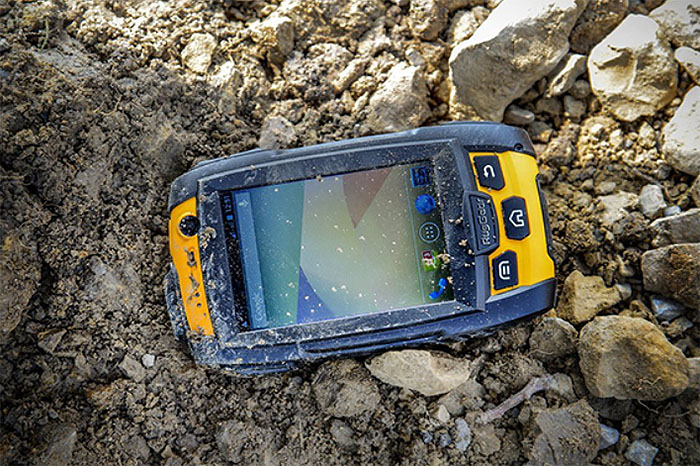 The front of the handset is home to the 3.2-inch display (a bit small by today's standards) and three buttons for Menu (a list of options), Home (press once to go to the Home Screen and press and hold to return a list of the most recently accessed apps) and Back (return to the previous screen). The display is surrounded by large outward-protruding bezels that form a great protection for the screen if you drop it on a hard surface, but it won't survive if the display comes in direct contact with a sharp object (something normal for all smartphones, rugged or not, because there is no technology available yet, to properly protect the screen from violent shocks). RugGear has provided a pre-installed screen protector, but you shouldn't rely on it too much because it will only protect the phone from scratches and not from hammering a nail into the screen.
Anyway, the Swift RG500 will withstand drops onto concrete from a maximum height of 6 feet, it has been tested under extreme temperatures (-20 °C to 60 °C), in environments with chemicals or vibrations and it has come unscathed. Besides these, the phone is rated IP68 for dust and water. This means that you can submerge your phone 6 feet underwater and leave it there for 30 minutes, without worrying about damage. Also, if you work on a construction site or if you're a carpenter, you don't have to worry about dust or micro-particles entering inside the case and messing up the circuits. The RugGear Swift RG500 is a durable phone and can withstand a lot of punishment.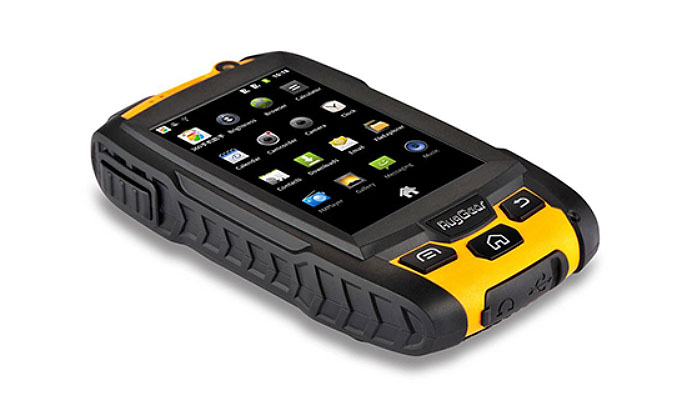 Display
RugGear Swift RG500 features a 3.2-inch TFT capacitive multi-touch display made from RugDisplay-Glass, with a 480x320p resolution and a pixel density of 180 ppi. The display is very underwhelming, even considering the size. You shouldn't expect the level of quality you get from AMOLED displays from Samsung or the natural colours from the iPhones, it even has a hard time competing with the displays from any smartphones on the market.
It doesn't mean you won't be able to watch movies or play Youtube videos, because you won't have a problem, but there won't be sharp, vivid colours on the display, but slightly washed out and of low-resolution pictures.
Another problem also revolves around its small screen, as you won't be able to easily type a message, comparing to its larger-screen competitors (especially if you use gloves). So, it does take some time to get used to it. One may argue that the RG500 wasn't made to deliver eye-candy visuals, but rather to remain intact after a hard-working day, but it's still clear that RugGear has cut some corners here.
Overall, the display isn't the best we've seen, it's usable, but doesn't stand a chance against its competition from a visual-experience point of view, but hey, it should help a lot with the battery life.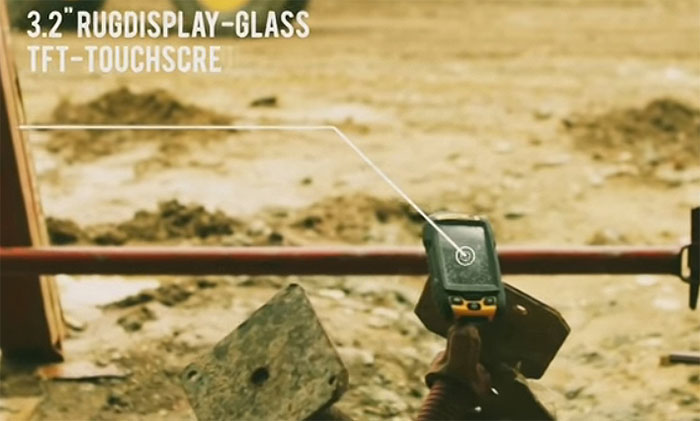 Performance
RugGear Swift RG500 is not really a powerhouse, you get a 1.2GHz dual-core MediaTek MT6572 processor, backed by an ARM Mali-400 MP1 GPU (clocked at 500 MHz), 512 MB RAM, 4GB internal storage and if you need more space, you can add up to 32GB using the microSD card slot (to access the slot you will have to remove the battery, so after inserting the microSD card, make sure you tightly secure the rear panel with the two screws, otherwise it may impede the waterproof and dustproof capabilities).
Because of the reduced resolution of the display, the RG500 will handle most apps and games with ease, without stuttering or lags, but, it may have a hard time if multiple apps are opened at the same time or if you try to run high-end games (most modern smartphones have at least 2GB of RAM, more suitable for multitasking and for a larger screen).
In terms of connectivity, the RG500 features NFC (for better synchronization between devices), Bluetooth and it's fully compatible with both 2G and 3G networks (although only SIM one offers the 3G connectivity – the call signal is always very good thanks to the large antenna at the top of the phone).
You also get access to the internet, the handset being compatible with the IEEE 802.11 b/g/n standards. Because this phone can be used by people who practice outdoor sports, then a reliable GPS system is a must and the RG500 features a network independent GPS. On top of that you also get a barometer, an altimeter, a pedometer (for weather) and a compass.
Note: The phone has a built-in radio and you don't need headphones in order to use it.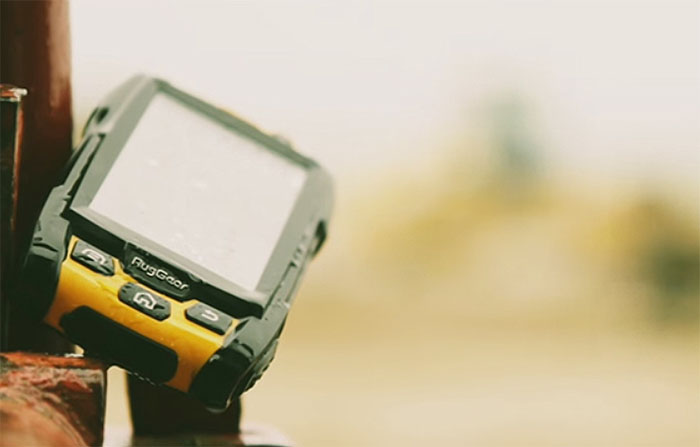 Software
RugGear Swift RG500 comes with a stock version of Android 4.2.2 Jelly Bean out of the box and you shouldn't expect any upgrades to the newer Android versions, simply because the phone wouldn't be able to handle them (has 500MB of RAM).
After you power up your phone, you are greeted with the usual default Jelly Bean screen, divided into three main sections: the Status Bar, the Home Screen and the Quick Access Bar. The Status Bar is located at the top of the screen, on the right displaying the status icons (battery status, GPS, mobile connection and time) and on the left side it displays the notifications (messages, calls, emails). If you drag the Status Bar down, you get a better look at all the notifications you got and they can be dismissed with a simple swipe.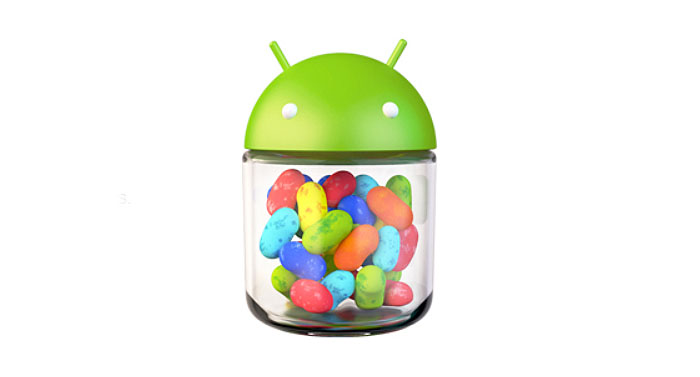 The Home Screen is the place where you get access to everything on your phone (app icons and shortcuts). You can customize which icons should be displayed.
The Quick Access Bar allows you to open the App Drawer and access any app you have installed on your smartphone.
Overall, the OS does feel a little outdated, especially if you have used a more recent version of Android, but, we still liked that it's a stock version and it lacks all that annoying bloatware you get from custom skins.
Camera
RugGear Swift RG500 features a 5-megapixel rear camera, with flash LED, digital zoom, autofocus and a resolution of 2592×1944 pixels. It also has a 0.2-megapixel front camera, with a resolution of 640×480 pixels.
Overall, you won't get great shots or social media-worthy pics (the colour balance is a bit off, no clear focus and a bit noisy), but the camera will do a basic job of capturing pictures (especially if you need a quick shooter while you are working). If you're going to go on a trip we advise that you take a dedicated camera (preferably a DSLR), so you get the best scenery shots.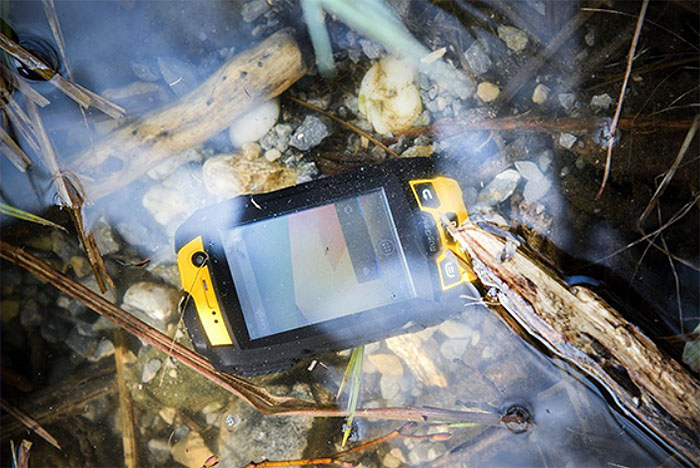 Battery Life
RugGear Swift RG500 sports a removable Li-Ion 2060 mAh battery, capable of delivering up to 300 hours in stand-by, 6 hours of talk time and overall, no more than 12 hours of average use.
We are a bit surprised by the battery choice, as most rugged smartphone manufacturers usually equip their handsets with powerful, 3500+ mAh batteries.
There are no battery saving options (although you can use the scheduled power ON/OFF to save some juice) and the charging time is 3.5 hours.
Conclusion
RugGear Swift RG500 isn't the epitome of elegance, but it features a bold design (that may not be to everybody's taste) and it reaches the expectations in terms of resistance and reliability. So, even though it doesn't excel at being the best smartphone (it's quite outdated), it still is one of the most reliable rugged device on the market.
Check the product here: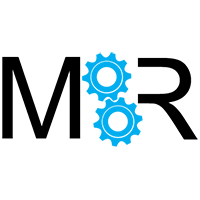 Mark is a graduate in Computer Science, having gathered valuable experience over the years working in IT as a programmer. Mark is also the main tech writer for MBReviews.com, covering not only his passion, the networking devices, but also other cool electronic gadgets that you may find useful for your every day life.