The phone history was a restless one, it went from big, heavy chunks of plastic to small, almost weightless devices. Afterwards, when the computer hardware could be made smaller, the phones became 'smarter' and have started to grow again. Prior to becoming smartphones, handsets were durable, could resist a lot of punishment and a cracked screen was an unheard concept (the Internet is full of stories about the indestructible Nokia phones). Smartphones, on the other hand, brought beauty and elegance, computer-like performance and a really easy way to keep in touch with your friends and family through more than one channel (Skype, Facebook, Twitter and good ol' calling and messaging). Sure, these all sound great, but there are some shortcomings, the phones got a lot more fragile than before.
Sure, you could get a protective case, that most likely will double or triple the size of the smartphone and hide its beautiful shape (won't look much different than a native rugged one), but from our experience, if you work in a rough environment, a case may prolong the life of your phone, but won't prevent the inevitable. Also, a smartphone shouldn't be treated like jewelry, but be a reliable continuation of oneself, without worrying if your data, photos and especially, your money, will be lost in a second of negligence. It's not unusual to be carried away by the beauty of a product, but, depending on the sector of your work, you may want to reconsider purchasing a slim, sleek new smartphone and go for a rugged, bulky and a lot more reliable handset.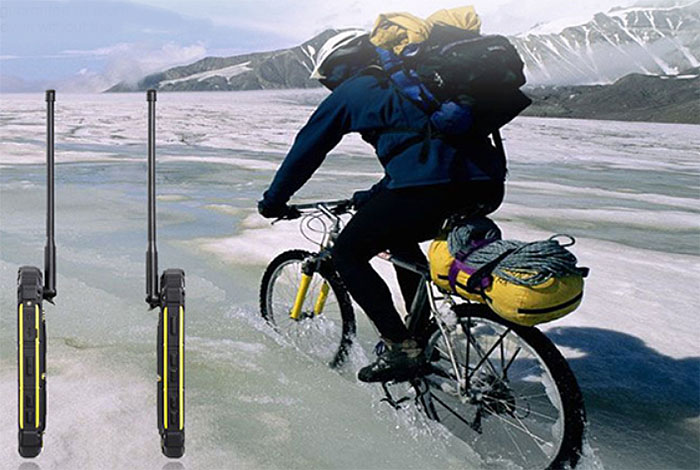 We took a look at some of the best rugged smartphones (not all have sacrificed beauty for more functionality) and today we'll have a look at a promising rugged smartphone, the Snopow M8. The M8 is a product made by the ShenZhen Snopow Outdoor technology co, specialized in creating and developing reliable waterproof devices, like phones, smart watches and any other similar gadget (IP67 and IP68 rated). The Company prides itself with developing devices for the army, the railway and the mining industry (it has even delved into the IOT sector). So, let's see how does the phone fare into the real world.
NEXT, CHECK OUT THE MOST RUGGED SMARTPHONES
Design
Rugged smartphones aren't known for their beauty, but surprisingly, Snopow M8 is actually a visually pleasant phone, especially when compared to Runbo X6 or Sonim XP7. But, don't expect the finesse and elegance from an iPhone 6S or Samsung Galaxy S7, as this is still a rugged phone. This is a critique that a lot of rugged smartphone makers have received over time, because a lot of them ignored almost completely that even though people wanted a durable handset, the style element shouldn't be completely buried. Kyocera understood that when it made the Brigadier and the latest from CAT, the S60 is also a lot more elegant than before.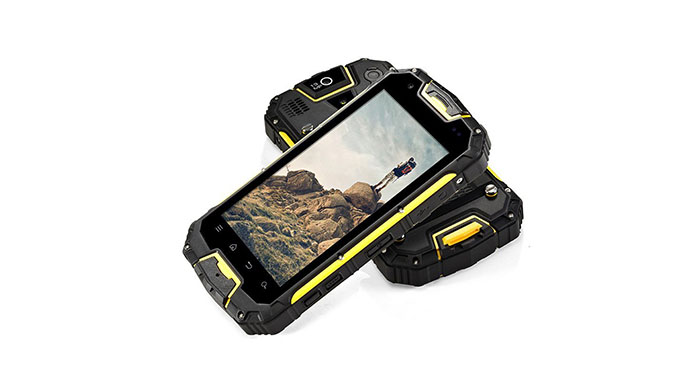 So, the Snopow M8 took the style element a lot more seriously and has delivered an aesthetically pleasing smartphone, being entirely made of plastic and although it has a modular flair, it feels compact and well made (every part feels like it fits perfectly). We also liked that it steered clear of those huge rubber sides that most rugged smartphones have. Yes, the sides a lot softer, but you can still find small rubber-textured silicone patches around the edges and there's also a slight curve effect that the M8 tries to mimic, although, you'll generally find sharp edges (this helps with handling). Speaking of handling, Snopow M8 feels very comfortable in hand and can be easily be maneuvered. Besides the edges, there's another important factor that plays a key role, the back of the phone.
Some manufacturers have created completely flat phones and quickly came to realize that, while it looked good, it wasn't practical and the handset didn't feel good in hand (also there was an increased risk of dropping it), so, since a couple of years, more and more phone makers created a curved back that arches and allows for the handset to sit comfortably in your hand. The M8 did the same thing, although in a less delicate way. The panel that encases the removable battery protrudes outwards and achieves the aforementioned effect.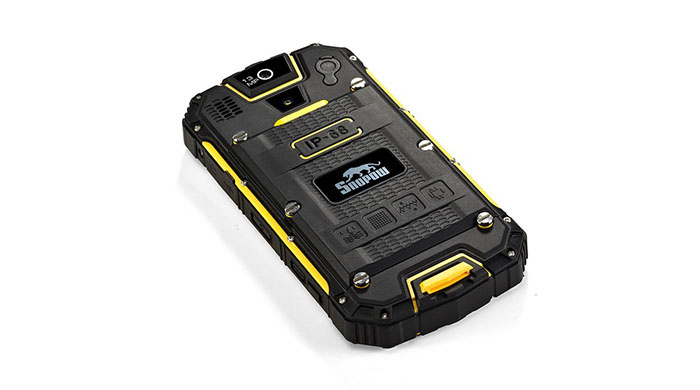 The model we tested had yellow sections around the case (there is an all black version), but, in reality, the phone seems to have a yellow interior layer and an outer black layer on top of it with small cuts to reveal the yellowish tint. Similarly to other rugged smartphones, the M8 is rather big and a bit on the heavy side, measuring 5.9×3.0x0.9 inches and weighing 10.2 ounces. Although thinner than some rugged handsets, it's definitely heavier than most flagships a lot of use got accustomed. But this is a matter of preference, some may find it too heavy, while others will appreciate the steady feeling the extra weight seems to deliver.
A particular cool thing is the choice to use exterior small screws all around the smartphone to further enhance the durable effect (it gives that rugged construction tool vibe – it's also easier to open and access the circuits if needed). Six bigger screws can be found on the back side of the M8, that have the role to tighten the removable panel that hides the dual-SIM slots and the microSD card slot. Now, the M8 is IP68 rated, meaning it's waterproof (the usual three feet for 30 minutes), dustproof and shockproof, so you may be tempted to check out if the phone stands to its claim, but before emerging the handset into water, make sure that you have tightly fixed the removable panel with the screws as to not destroy your unit (as a bonus, you also get resistance to corrosion, especially from salty water). The same can be said about dust. If you work on a construction site or where chemicals are involved, always make sure the phone is secured.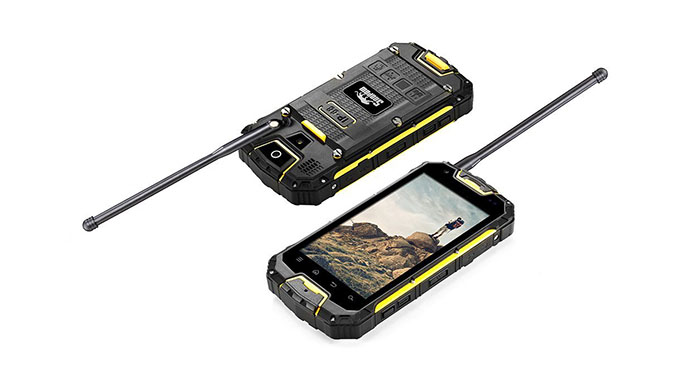 As said before, the M8 can resist to shock and the phone can be dropped from 5 feet and it won't sustain any damage. But, as with every smartphone, avoid dropping it face first on a sharp object as it may break. Some of you may object that this is a rugged phone and should resist such treatment. And we agree with you, but unfortunately, the technology developments are not quite there yet. We do get better Gorilla Glass with every flagship instalment and the sapphire screen looks promising, but these still won't prevent the screen from being broken in every situation possible. Also, never get fooled by the protective layer of plastic, as it will only prevent scratches (from your keys or coins inside your pocket).
On top of the removable rear panel, there's the camera, the flashlight, a speaker and a small removable plug that hides a port for the Walkie Talkie antenna. The Walkie Talkie function is a great one to have (and a common occurrence with rugged smartphone), serving as a communication factor if you're in a place where there's no signal or if you're lost (the worst case scenario). Snopow claims that the Walkie-Talkie function works between 2 to 3 miles and operates at a frequency of 400 – 470 MHz (UHF).
On the left side of the M8, there is a series of buttons responsible for Walkie-Talkie, Flashlight, SOS and two buttons for volume. The SOS function is very important because it can act as a live saver by sending messages with your location to a list of people when you're in trouble. The right side of the phone is home to the Power button, Rest button and a shortcut for Camera. Above the button there's a removable flap and underneath you can find a 3.5mm headphone jack port and a USB plug.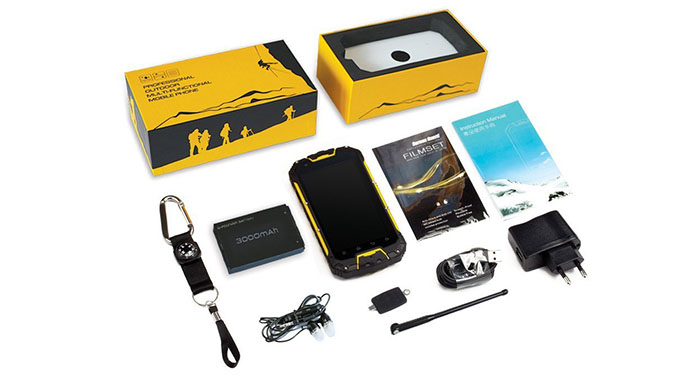 The front of the M8 is where you'll find the display (obviously) and underneath it, there are four capacitive buttons for Menu, Home, Back and Search. Although there is a rather large bezel around the screen, we would have expected a bigger lip to protect the smartphone when falling face-front.
Inside the box (which looks like a toolkit) you'll find the Walkie-Talkie antenna, the data cable, one battery, a power adapter, an earphone, the user manual, a battery case tool and a compass.
Display
Snopow M8 features a 4.5-inches IPS QHD multi-touch display, with a 960x540p and a pixel density of 240ppi. The screen has a protective layer, but the M8 doesn't use any Corning Gorilla Glass (which is a shame).
Why Snopow didn't go with a HD or FullHD display is unknown to us, but for the 4.5in screen real-estate, at first sight, the 960x540p may seem enough. But, if you take into consideration the 240ppi, some may be left wanting more. And we don't judge them. Nowadays, we have 2 to 4K screens (which is a bit of an overkill), so people are accustomed with at least 1080p when dealing with 4+ inches screens.
At the same time, it's not really a bad display, as, surprisingly, you can't really distinguish any pixels with the naked eye (unless you focus really hard), the videos and images were sharp, the colours were vivid enough (though not even close to the AMOLEDs) and watching a movie wasn't a bad experience at all. Au contraire.
Besides the low resolution, there is another complaint that can be made and it's about the brightness. If you go outside and the sun shines directly on the display you won't see a thing. So, it would have been a great thing if the brightness levels would have been a bit higher.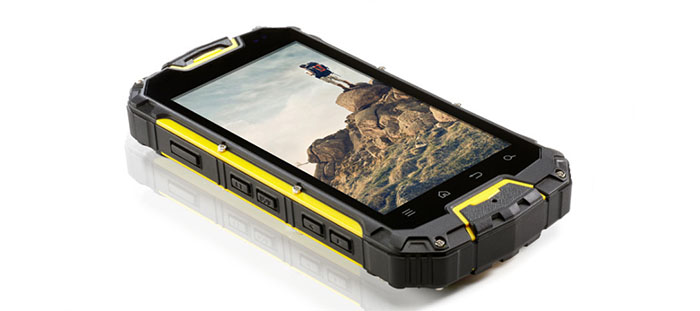 Performance
Under the hood, Snopow M8 runs a quad-core 1.3GHz MediaTek MT6735 processor, backed by a PowerVR SGX 544 GPU, 2GB of RAM and 16GB of internal storage. You can also add up to 32GB of storage memory using the microSD card slot (and you should, because you can never have enough space). After you access the card, don't forget to tightly screw the rear panel to the phone, so you won't impede with its waterproof capabilities (you don't want to be caught in the rain without a secured phone).
The non-LTE version features a less capable quad-core 1.2GHz ARM Cortex A7 (Mediatek MT6589 chipset), but we're happy with the decision of equipping the M8-LTE with a better processor and it has even added an extra GB. Yes, previously, you only got one GB of RAM. Now we have two to play with.
So, we got a great multitasking experience, most games run without problems and overall, we didn't encounter any stutter or lag.
In terms of connectivity, the M8 is compatible with the 2G and 3G network, but it also supports the 4G network (TDD-LTE and FDD-LTE). Additionally, you get NFC, WiFi IEEE 802.11 b/g/n and BlueTooth 4.0. We hope that with future instalments we get to see compatibility with AC routers and devices.
Note: Snopow M8 is rich in sensors, featuring a G-sensor, a light sensor, a distance sensor and a built-in GPS (which uses 7 to 8 satellites).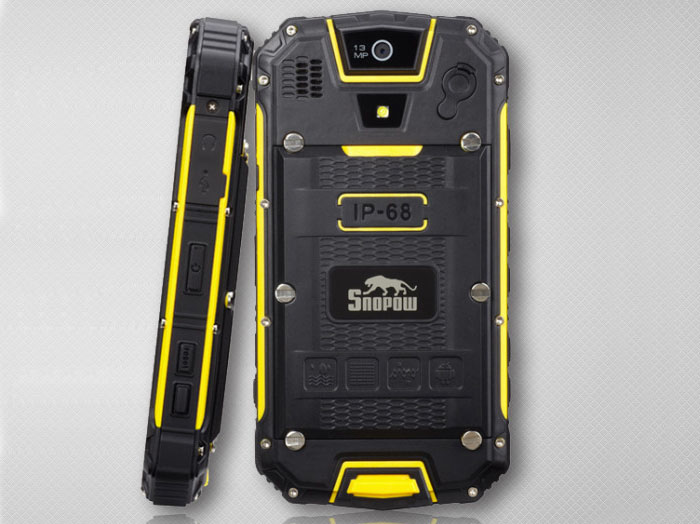 Software
Out of the box, the Snopow M8 comes with Android 5.1 Lollipop (and since it has 2GB of RAM it will run without problems the latest Android 6.0 Marshmallow). It's a stock version, meaning no additional apps and no bloatware, a delight for purists.
Among the main features of Android 5.1, we mention the Material Design (which feels more fluid now), better security, lock screen notifications and many others.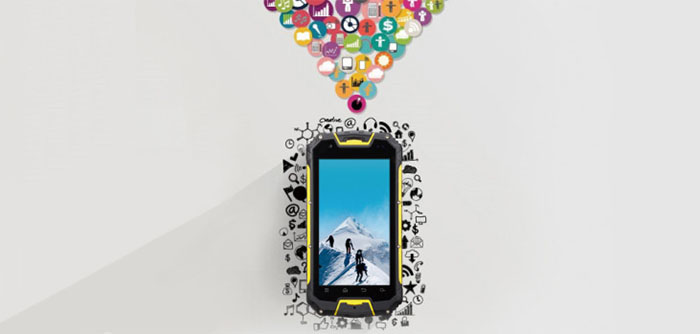 Camera
A while back, you wouldn't expect anything more from a rugged smartphone than to just be durable and make calls. Since the rapid growth of smartphone technology and the accessibility of (now) cheaper high-end hardware, we get to see better performance with every rugged phone instalment.
Following this trend, Snopow M8 has a 13-megapixel rear camera, with 4x digital zoom and a CMOS sensor. On front you get a 2-megapixel camera suited for quick selfies. Sure, you won't get the quality of Samsung Galaxy S7 or iPhone 6S, but overall, we got some decent shots. In good lighting the photos looked detailed and vivid (although the colours were a bit muted and slightly washed out) and indoors, if you keep your hands steady, you could get acceptable shots (if not, they get really noisy).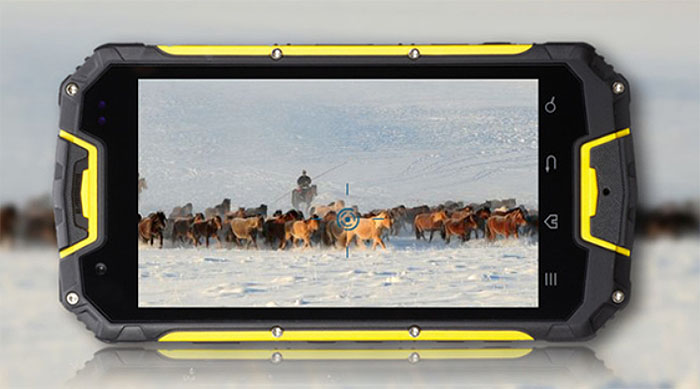 Since this is a phone suitable for workers and those who practice extreme sports alike, if you're on a mountain, you may want to take a lot of photos. Like said before, the photos will look good, but not fantastic, so if you dream of professional-level photography we suggest to bring a DSLR camera along.
Battery Life
In terms of battery life, Snopow M8 doesn't disappoint, especially because of the display. If you use the handset moderately, the 3000mAh battery will deliver between 1.5 and 2 days. But, if you enable the WiFi and the GPS and use it more extensively, it will deplete pretty quickly (we managed to reach about 12 hours).
If you plan on going on an expedition, we suggest to either bring along another battery or a backup phone.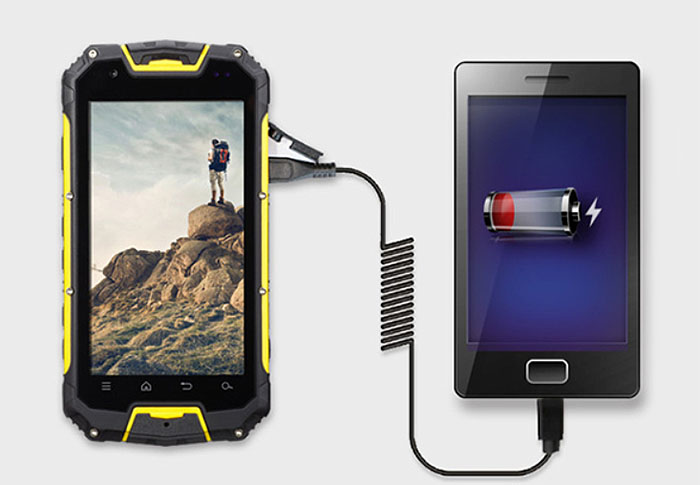 Conclusion
If there was a time when rugged smartphones were frowned upon, we are pleased to say that the M8 doesn't look much different than your ordinary smartphone covered by a strong case. Also, while most rugged smartphones only focus on the durable aspect and less on any other sectors, the M8 got some parts right (like camera, software and performance), but it lacks on others (the display). Anyway, with the M8 we get a medium-range smartphone experience combined with high-end rugged handset muscles.
Check the product here: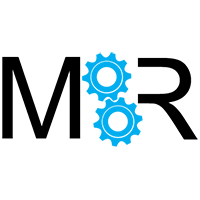 Mark is a graduate in Computer Science, having gathered valuable experience over the years working in IT as a programmer. Mark is also the main tech writer for MBReviews.com, covering not only his passion, the networking devices, but also other cool electronic gadgets that you may find useful for your every day life.