The Super Sparrow 25oz standard mouth water bottle doesn't differ that much construction-wise from the wide-mouth bottle that I tested a few weeks ago, but there are some elements that definitely sets it apart from not only the entire series, but also from other competitors (some of them even higher priced).
Yes, the container is made of double-insulated stainless steel to keep the water warm or cold and there's also the same powder coating, but the manufacturer has focused a lot more towards the style of the bottle. Indeed, there are now a few new accessories such as a wood plated lid (which can be replaced by a straw lid), the insulated carrier and a carabiner for securely attaching the bottle to your traveling bag. Being eco-friendly is a growing trend (not growing fast enough, in my opinion), so a good design to compliment a functional build is definitely a very important factor when you want to persuade more people to adjust their lifestyle.
And yes, a lot of us have gotten so accustomed to just using those regular (one-use-only) plastic bottles, that using a reusable one may feel strange, but these types of bottles are (usually) built without BPA, phthalates or lead and it should also be very easy to clean them (you don't want bacteria to built up over time). So, let's check out the Super Sparrow 25oz standard mouth water bottle and see if it's compelling enough to make you a commit to a somewhat radical change in your lifestyle.
After taking the bottle out of the box, I was surprised to see that despite also having a 25oz capacity, it seems so much slimmer (and not really that much taller) than the wide-mouth Super Sparrow. And this bothered me so much that I actually went ahead and filled both bottles which has indeed confirmed that both the wide-mouth and the standard mouth Super Sparrow bottles that I got were 25oz – I assume that the double-insulated wall on the wide-mouth bottle is thicker. That being said, the standard-mouth Super Sparrow measures 10.15 x 3.07 x 1.91 inches, so it should be very easy to carry, especially since it also weighs about 0.84lbs (or 382 grams), when empty. Add the insulated carrier to the equation and you can easily carry the water bottle anywhere with you in any way you may want – be it in a bag, since it doesn't take that much space or hooked to a backpack. The latter option will require some shock resistance, so how well the Super Sparrow bottle fares in this department?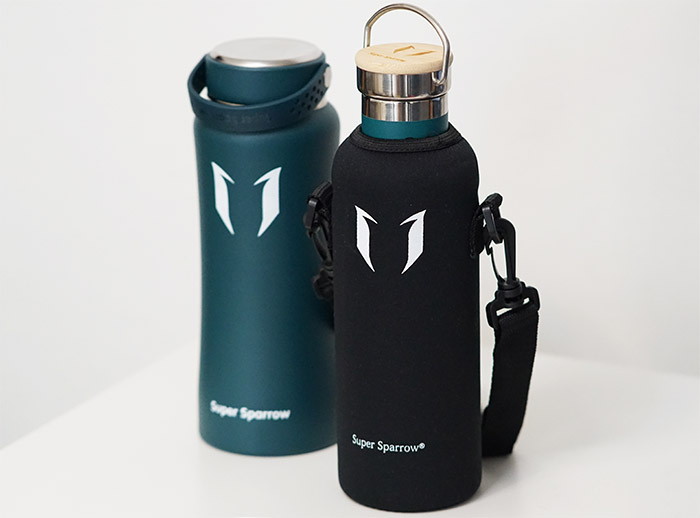 Considering the price tag, it's not too bad, but expect the same behavior as with the wide-mouth variant: the bottle is made out of 18/8 pro-grade stainless steel which is great, but I found it a bit less thick than on other, far more expensive bottles. For this reason, if dropped to the floor repeatedly, the paint can get chipped and even the steel itself may get bent (although it will need to go through some serious mechanical shocks – and the mesh will also help quite a bit in keeping the bottle intact). I really liked that they kept the powder coating since it makes it so much easier to hold the bottle even when you're sweaty or you spilled some water on it and, even though the mouth of the bottle is (obviously) smaller than the wide-mouth water container, it's still wide enough to allow you to properly clean it or add some ice to keep the beverage cool. The opening does measure 1.91 inches and this time, Super Sparrow has added a cleaning brush into the package that will help with keeping the bottle clean. It's still not dishwasher-safe and you will have to avoid cleansers with chlorine or bleach – the good old soapy water should do just fine.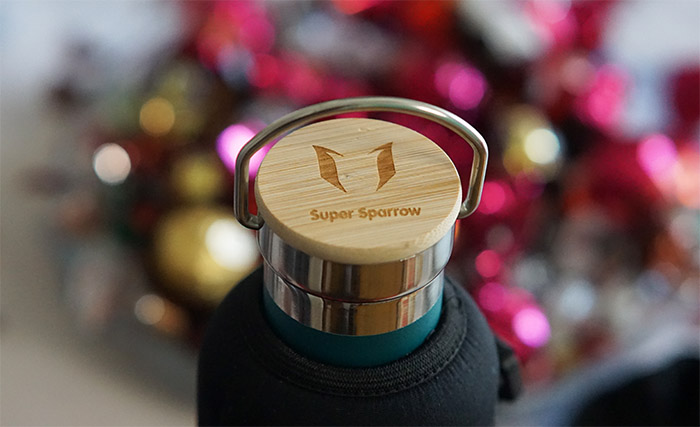 As I said in the intro, the lid is very different than on the other Super Sparrow bottles, being covered by a thin metallic layer (I assume it's also steel) with a metal handle and a wooden top. It's definitely far more stylish than on most water bottle (it reminded me of Equa with its marble lid), but it is fairly easy to stain the wood part, especially if you're opening the lid after a workout and your hands are sweaty. The thing is that Super Sparrow has added a plastic straw lid that's obviously far more functional – and you get an extra straw in the package. As expected every plastic piece is BPA-free and the manufacturer insisted on mentioning that it went further and ensured that the material also lacked phthalates, lead or other similar toxins that may leech chemicals into your beverage.
The straw lid is easy to operate – you just need to raise the small mouth piece (and then recline it back after you're done drinking) – and there is a fairly stiff handle which I found to be a bit small and would have liked it to be more flexible.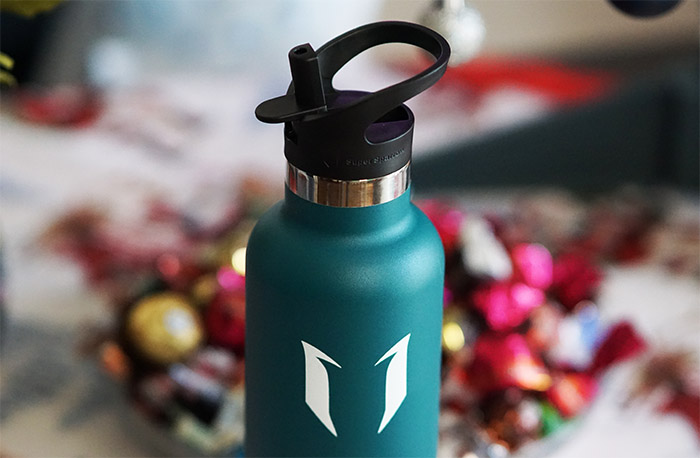 Since I have noticed that some people said that the lid would not always stop the water from leaking, especially when dealing with hot beverages, I decided to check out whether it happened with the standard-mouth bottle (it didn't with the wide-mouth Super Sparrow). So, once again, I violently shacked the bottle for a few good minutes with either lid and it didn't leak a drop of water (so maybe a small batch had a defect?). As for insulation, the Super Sparrow 25oz should be able to keep water hot for up to 12 hours and cold for up to 24 hours. Similarly to the Super Sparrow wide-mouth test, I poured water at 120 degrees F, closed the plastic lid and periodically checked to see when the water would start feeling only warm.
It did happen after about 5 hours and a half (while the room temperature was at about 65 degrees F) which is the same as with the wide-mouth Super Sparrow stainless steel bottle. I did notice that the wooden lid was warmer which suggests that some heat transfer and as expected, the water would lose its high temperature a bit faster, although nothing dramatic faster (after about 5 hours).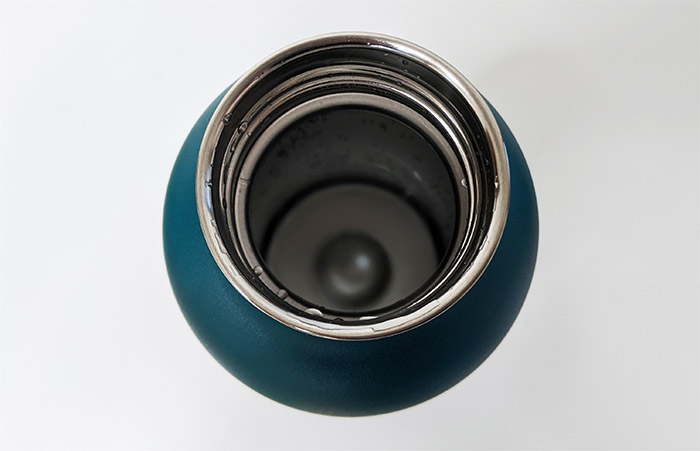 Afterwards, I added some ice and then checked the bottle (with the straw lid) after about 24 hours – the ice was melted and the water was still cold, but again, the room temperature was relatively cool, so, if you keep the bottle in the sun in the summer, the water will get warm a lot faster (although no faster than 12 hours which is still a decent performance). The wooden lid would again perform a bit worse than the straw lid – the water would start getting warm after about 20 hours.
Conclusion
The Super Sparrow standard-mouth 25oz is clearly the most stylish water bottle from the entire series, so it will attract the most attention, but is it actually worth purchasing? I did like the option to swap between the lids, the mesh insulated carrier looks and feels great and I enjoyed the overall stylish look (it's the best looking water bottle that I have tested so far). But there is a slight difference in the ability to keep water either cool or hot depending on the lid that you use and, if you're not really a fan of the straw lid, but keeping the beverage at a certain temperature for a long time is extremely important to you, then you could also check out the Super Sparrow 25oz Wide-Mouth bottle.
Super Sparrow standard-mouth 25oz
-
Pros
It's one of the best looking water bottles on the market
Has two different lids
Has a good grip
It's easy to clean (there's a brush in the package)
Insulated carrier + carabiner
Cons
It's not dishwasher safe
The wood lid looks great, but it's not really practical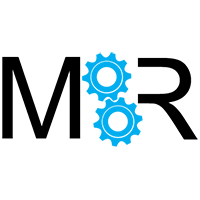 Mark is a graduate in Computer Science, having gathered valuable experience over the years working in IT as a programmer. Mark is also the main tech writer for MBReviews.com, covering not only his passion, the networking devices, but also other cool electronic gadgets that you may find useful for your every day life.