The Vankyo MatrixPad Z1 is an entry-level 7-inch tablet that wants to persuade you to leave behind the Amazon environment, as it does seem to go directly against the Amazon Fire 7, but that's not an easy feat to accomplish since the retail giant does provide excellent support and it's not afraid to lose some money in the process of ensuring that you'll be a long-time user, so Vankyo does have to offer some serious performance at a very acceptable price (that didn't really happen as the tests will reveal later).
The tablet market hasn't been in its best shape for a while now (and it's not only the Android tablets that are less desirable, the Apple iPads are also seeing a decrease in interest) and the reason for why the larger slate is losing its reason of existence is mostly due to the ultrabooks getting slimmer and lighter, but also because the smartphone is now larger and seriously powerful (so there's now barely any reason to carry a tablet around except for maybe reading or playing some light games on the go). Despite this, Vankyo seems to think that it's worth pursuing this market, so let's see how does the MatrixPad Z1 stand against its main competitors.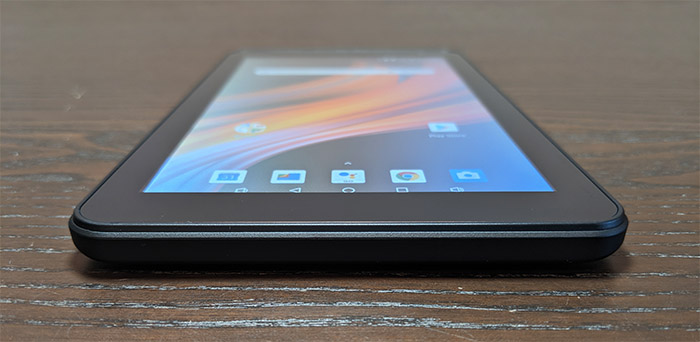 Design and Display
The premium tablets usually come with metallic frames, Gorilla Glass-protected 2K or 4K screens, small bezels and stylus support, but when you go under $100 (and close to $50), it's obvious that some corners had to be cut and you're not going to see any of those elements. Instead, the material choice is going to be plastic and the display is not going to have the highest resolution or pixel density (the bezels are also going to be larger).
And that's the case of the Vankyo MatrixPad Z1 which does feature a plastic body covered by a black matte finish and with a soft texture to ensure that it won't easily slip out of your hands, while on the front, the screen doesn't seem to be made of glass, instead I'm pretty sure we're dealing with a transparent plastic cover which does have its advantages, such as the serious resistance to damage (as we saw with the Motorola Moto Z2 smartphone), but it also can be easily scratched, so you should put a screen protector immediately (that's why Gorilla Glass is the preferred option in most cases).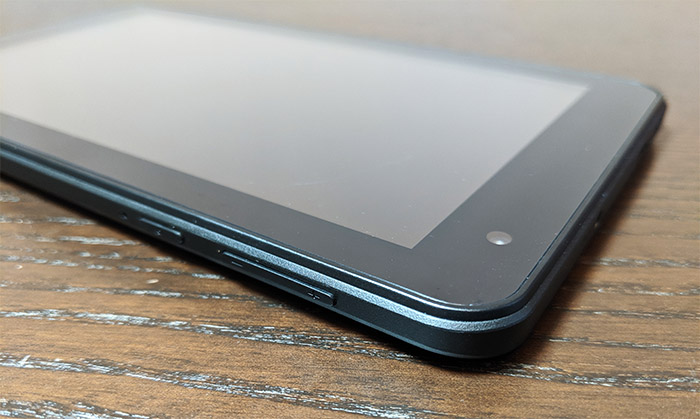 Since it went full plastic, the device is surprisingly light (my Pixel 2 XL feels heavier), weighing 8.81 oz, so it is going to be easy to carry it around – it's dimensions are also relatively small (considering that this is a 7-inch tablet), so, at 7.48 x 4.33 x 0.31 inches, I could almost operate it with one hand (I do have larger hands). Furthermore, the round corners and the slightly inflated rear panel do allow for the tablet to feel comfortable in your hands and while the case feels a bit hollow, there was no flex when I pushed on the plastic, so it's plenty sturdy. On the right edge of the case, you'll be able to find the volume buttons along with the Power ON/Off switch and a small recessed Reset button (which is quite useful with this type of device which do tend to have issues more often); on the top edge of the device, there's a 3.5mm headphones jack, an exposed microSD slot (it supports up to 128GB using an additional card) and a microUSB charging port.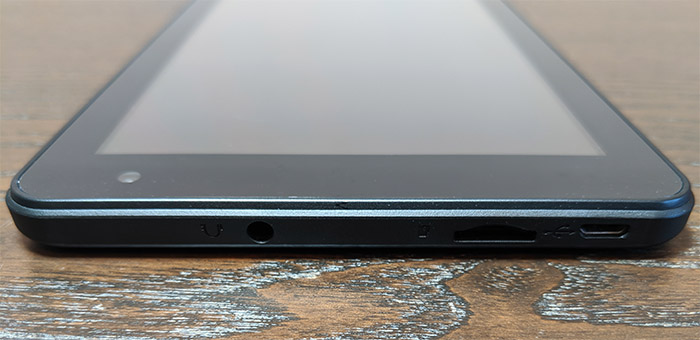 On the rear side, Vankyo has added a couple of cut-outs towards the bottom for the single speaker and towards the top, there's a camera bump (not that significant, but it still pushes the camera outwards) – the speaker is not powerful and the sound is tiny and underpowered, so I do suggest to use headphones (Bluetooth earbuds will also work quite well and I experienced no disconnections up until I reached the usual failing point which is around 30 feet). The metallic cases look better, but they often have a problem with the heat management, while plastic is a bit more forgiving – the Vankyo MatrixPad Z1 did get warmer near the ports area when I ran some benchmarks and some games, but it didn't get hot to the touch.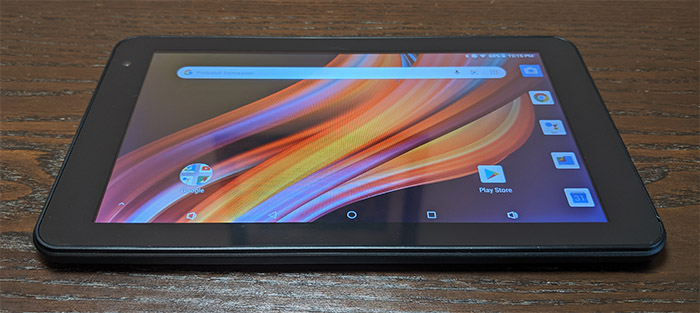 The main element of any tablet is the screen and the MatrixPad Z1 comes equipped with an IPS display that has a resolution of 1024 x 600 pixels (and a screen density of 172 dpi) which is identical to what Amazon Fire 7 is offering (at least of paper). In reality, the display does not impress in any way since the low resolution on a relatively large screen will allow you to easily notice the pixels (and you will, especially on the white background), but that was to be expected on a budget device. While watching videos and movies, the scenes were a bit washed out and the blacks would never pop out; the whites were also not that bright and since the display is very reflective, you will have trouble seeing a movie or reading a book on the beach, unless you go to the shade. There is one odd thing that I also noticed and it's a strange indigo effect that I can see in various corners when I change the angle of the display and it made me doubt that this is an IPS display after all (it reminds me of the first gen Pixel 2 XL which had that reflective layer and probably it's the same in this case as well).
The tablet does have an Eye Health option that can be activated from the top menu and it does make the color warmer and the blue light is less aggressive, so it will be useful for when you're reading books before bed (so it won't affect your sleep).
Performance and Software
Inside the case, Vankyo has equipped the MatrixPad Z1 with a quad-core processor and the CPU-Z app has revealed that it's a Rockchip RK3066 (quad core ARM Cortex-A35 clocked at 1.51GHz) and it works along the Mali-G31 GPU, 1GB of RAM and 32 GB of storage memory. OK, everything screams ultra-budget, so how does the tablet handle day-to-day use? Well, as you may guess, it's not that great, but it's also not the worst – it's actually performing as a tablet from more than 5 years ago, such as a Nexus 7 after some years of heavy lifting. This means that I was able to open all kind of apps and all ran without problems, the issue is that you have to be patient.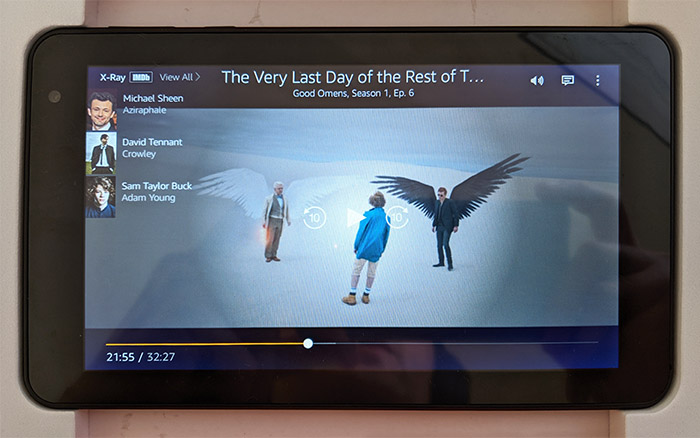 And I mean really patient since it will take slightly longer than what I got used to over the years (spoiled by the SSD on computers or the Pixel 2 XL;s snappy performance), but I was expecting it to be closer to a tablet that I purchased more than three years ago, the Samsung Galaxy Tab A6. Unfortunately, the Samsung tablet still feels snappier even after all these years and the 2GB of RAM will definitely have a say in this regard.
I was able to play Asphalt 8 without any crashes, but there were lots of stutters and I couldn't smoothly turn the car at the corners; I also decided to play PUBG mobile since lots of you may want this tablet for this particular reason, but, you need to curb your expectations because PUBG is not supported on the MatrixPad Z1. What about using the tablet as a SNES emulator? It actually did fantastic and I could play any of the old games smoothly and without stutters. But, immediately after I went to the main page, the smoothness disappeared and the delayed reactions returned. And that's unfortunately how the entire UI works, you click on something, wait 1 or 2 seconds and then it registers (especially the volume buttons that always seem to react way after I pressed them). But, you don't have to take my word for it, let's just run a couple of benchmarks.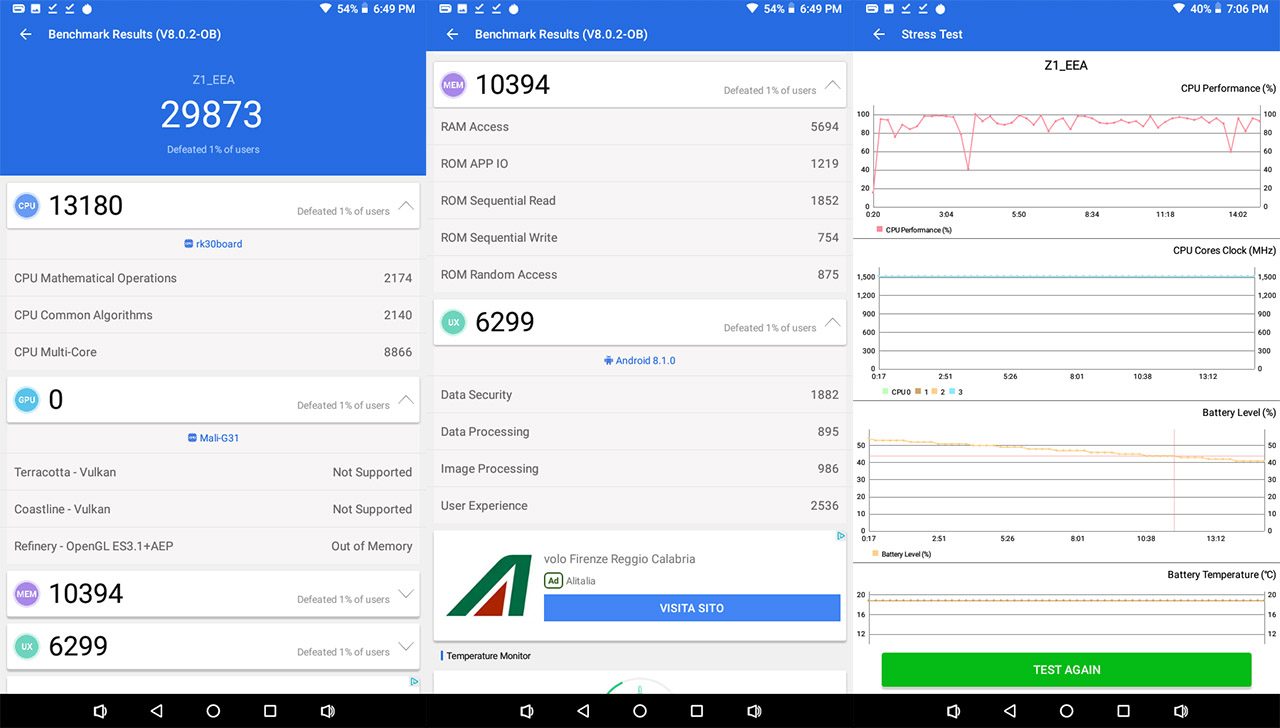 The first one is the AnTuTu Benchmark v8.0.2-0B which tests the GPU 3D Game Performance, the MEMory Performance (RAM), the CPU Performance (2D Physics Engine) and the UX. The results do speak for themselves and, as you can see, it's below average. As for the HTML5 Test, AnTuTu has placed the Vankyo MatrixPad Z1 underneath the Google Nexus 5.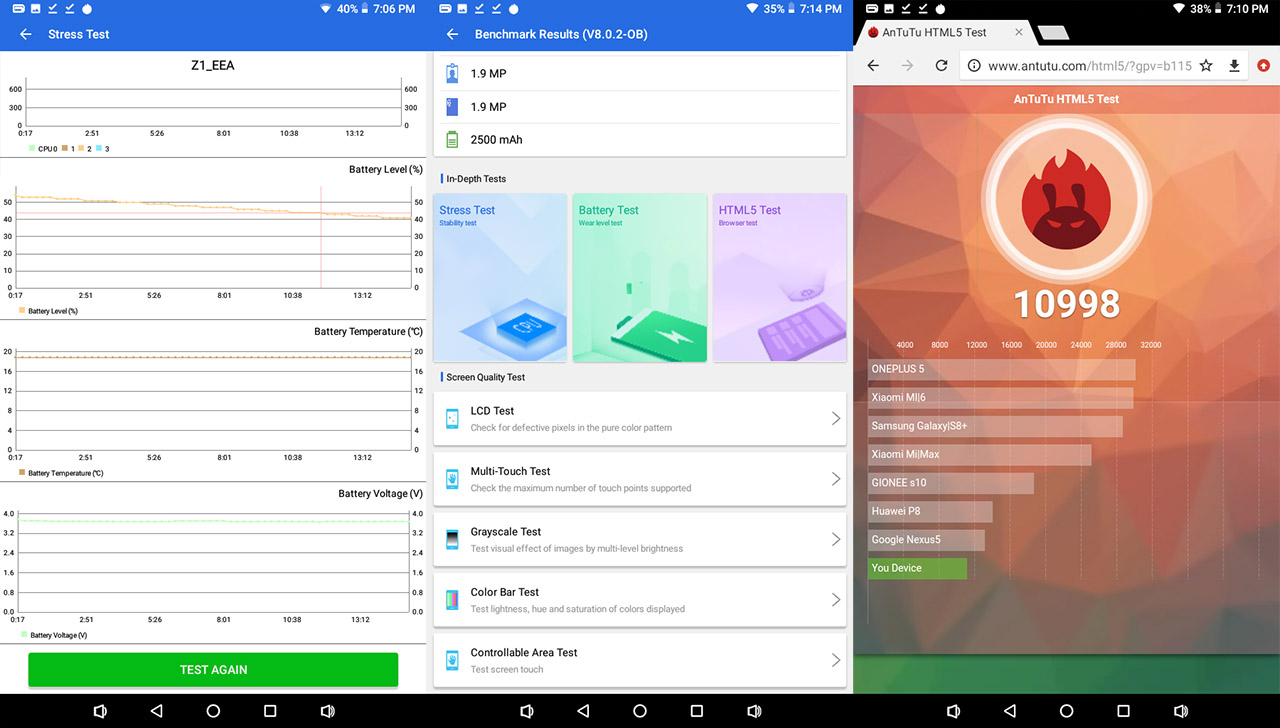 When running the next benchmark, the GFXBench, the tablet seems to have failed the High-Level Tests, while on some Low-Level Tests (Tessellation, ALU 2), the Fps was, well, kind of decent, but again, the performance leaves a lot to be desired. Still, I doubt that Vankyo intended to build a powerhouse at the current budget, so I suspect that the applications for this tablet are less for gaming or other intensive apps and instead, it will feel more at home with some light browsing (there's still that annoying lag), media consumption (Amazon Prime ran quite well and if the WiFi is good in the room, then the connection will remain solid) and lastly, I think that this tablet also intends to be an book reader – there are no PDF programs installed by default, but after installing a free one, I could easily scroll through various books, without experiencing any stutters.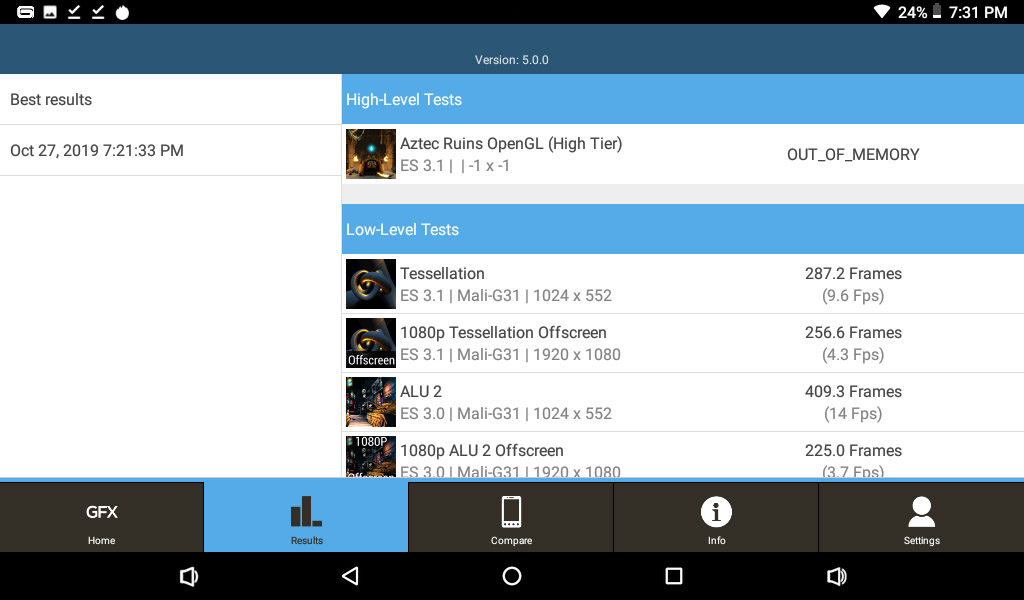 The tablet is using a skin build on top of Android 8.1 Oreo Go and it's surprisingly light with basically zero bloatware, which is always a very welcomed decision. Like I said before, I did expect it to have some trouble maintaining multiple apps at the same time since it only has a single GB of RAM, but I was a bit surprised by the fact that there is this perceptible lag between a tap and the software's reaction and I am not entirely sure it's just the hardware (which suggests that Vankyo could release an update to smooth things out a bit?) What I did like and I didn't see on other tablet is the additional set of buttons next to the usual Back, Home and Overview which do offer a bit of flexibility in various applications.
Camera and Battery Life
The Vankyo MatrixPad Z1 is equipped with a 2-megapixel front and a 2-megapixel rear camera and, considering that most of you don't go around taking pictures with your tablet (I will judge you if you do), the only useful application should be for video conferences. But, if you still want to take photos with the tablet, the cameras just aren't that great: as can be seen from the photos, during the daylight, there is a lot of noise and blur, resembling the photos that could be taken prior to the smartphone era. During the night, things were just as unimpressive, the lights were overblown, there is a lot of noise and if there are no light poles, the photo would be basically black.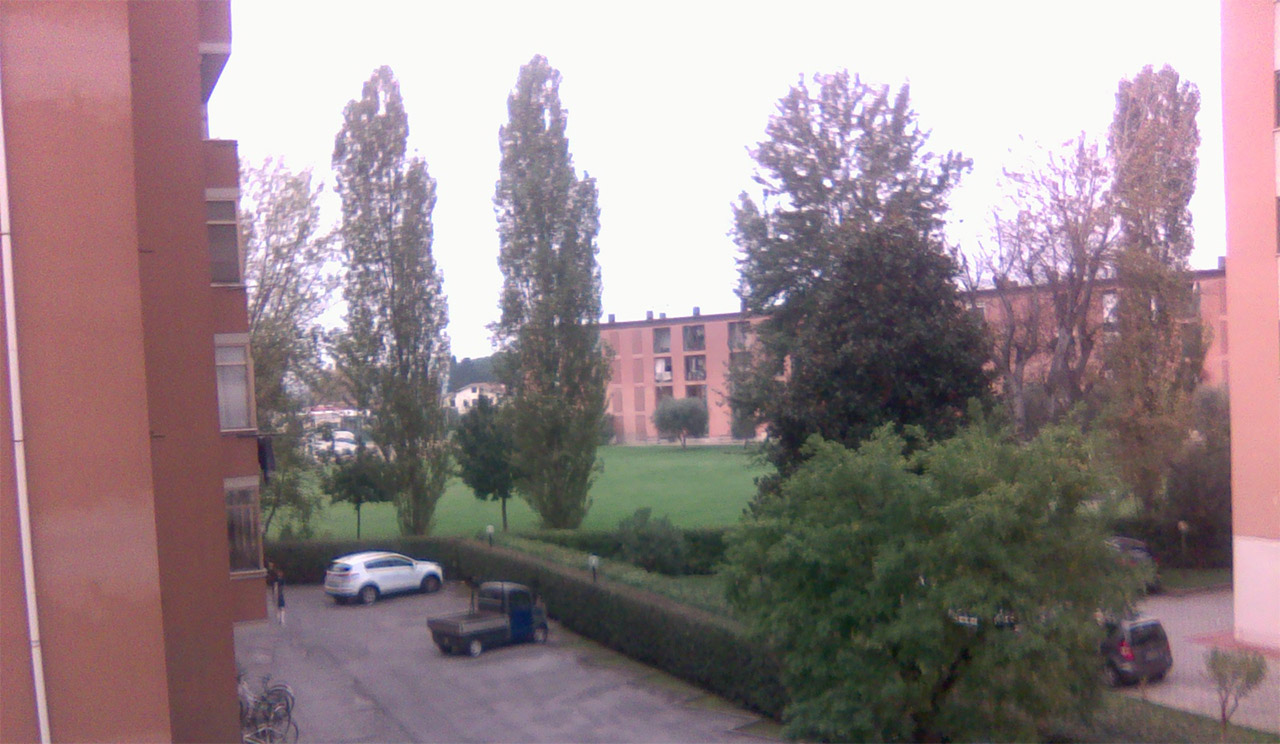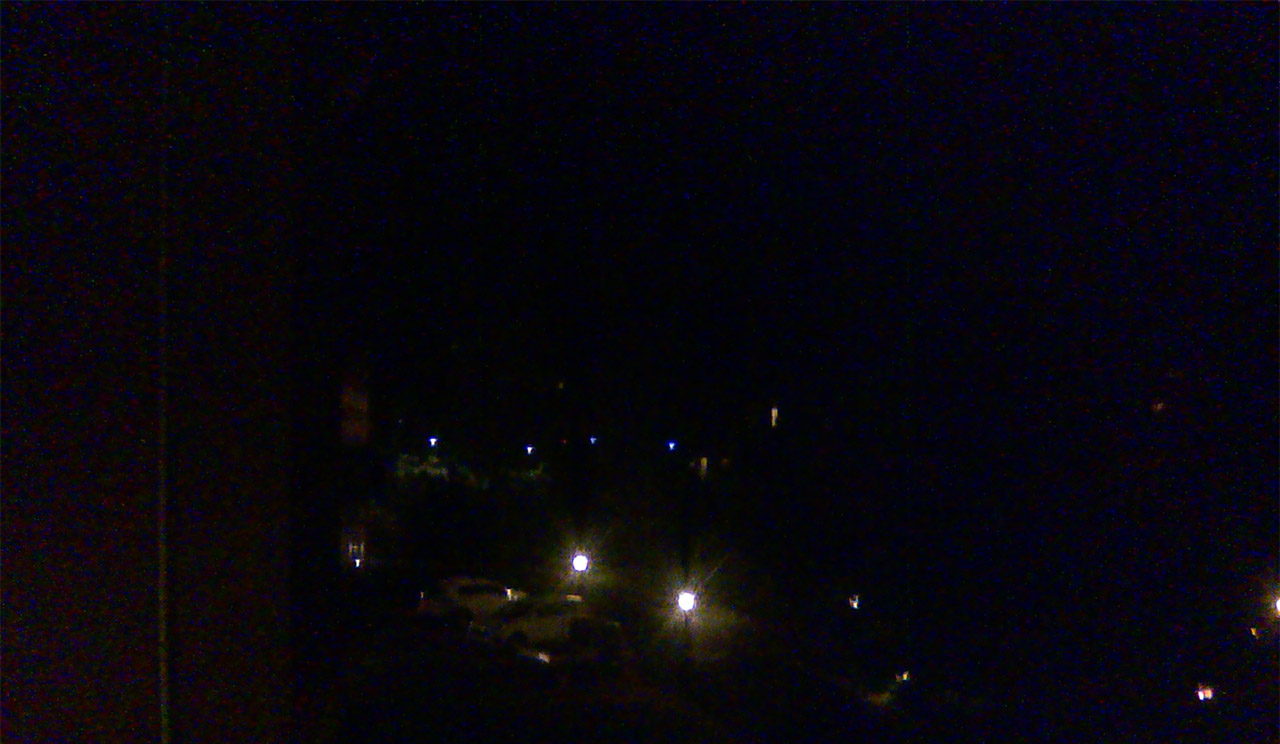 If you do decide to use it for video conference, again, it's going to be a below average experience, but it should get the job done. The battery life is one of the most important elements of any tablet and the user is now used to at least 7-8 hours of continuous use. The Vankyo MatrixPad Z1 has a 2,500 mAh non-removable Li-ion battery which can be recharged from 0 to 100 % in about 2 hours and 40 minutes, so there is no Fast Charging technology involved. Furthermore, I managed to get approximately 2 hours and a half of continuous video play and, after I left it over night, the tablet lost about 10% in ten hours, so it does have some decent power saving features.
Conclusion
I really tried my best to understand what is the targeted audience for this tablet and I do think that the best use would be for reading books, for running emulations (SNES or PS1 – either will run great on this tablet) and for some media consumption (Amazon Prime did run without any significant issues – just a bit of delay while navigating the interface) – but do keep in mind that the battery won't allow you to enjoy the tablet for long. For anything else (gaming, productivity apps, multitasking and even video conferencing), you do need something better. Immediately after I opened the box, I could see that this was intended to be a direct competitor to the Amazon Fire 7, but it's still a bit behind it in basically every chapter, so Vankyo either needs to cut the price to become more competitive or to release a refreshed version with better hardware (and I'm sure people are willing to spend a bit more for a smoother experience, yes, even those that are budget-conscious).
Check the product here:

Pros
Portable and lightweight
No bloatware
Great for reading books and for emulators (SNES, PS1)
The WiFi connection is stable
There's a microSD slot for additional storage
Cons
The display is washed out
You will experience constant delays
The battery life is below average
The cameras are also below average
The speaker sounds tiny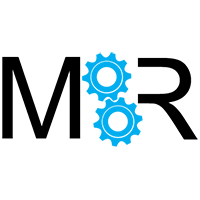 Mark is a graduate in Computer Science, having gathered valuable experience over the years working in IT as a programmer. Mark is also the main tech writer for MBReviews.com, covering not only his passion, the networking devices, but also other cool electronic gadgets that you may find useful for your every day life.