In 2013, we saw a significant progress made for the 802.11ac standard as we were introduced with the AC2400 (4T4R) and later, we had the pleasure of greeting the AC3200 standard that further pushed the boundaries of 802.11ac.
Today, we are going to review the ASUS RT-AC87U, a 'second wave router' that features really high speed and great performance. We talked a bit about its predecessor, the RT-AC68U when we put it against the NETGEAR Nighthawk R7000 and it definitely was a phenomenal router so we hope that the RT-AC87U will also feature ground-breaking performance and speed.
CHECK OUT OUR LIST OF THE BEST AFFORDABLE WIRELESS ROUTERS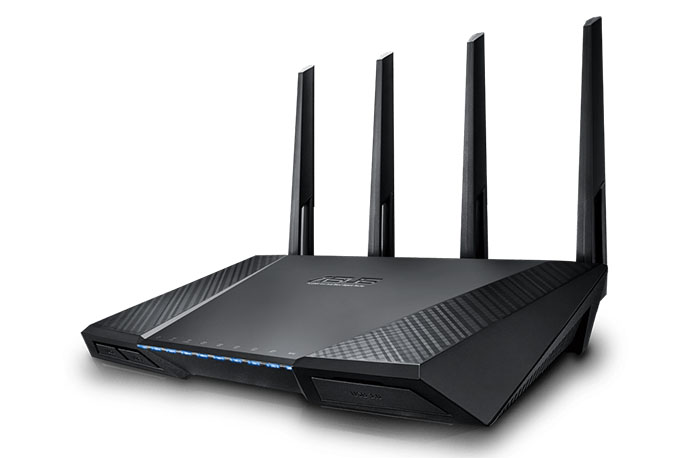 Design
The ASUS AC2400 RT-AC87U features a modern and futuristic design, with angular lines (quite common right now on router design) and it is clearly inspired by Nighthawk series (R7000 or X4).
The router is quite large, it measures 11.5×2.0x6.5 inches and weighs 1.97 pounds so it may be hard to place if you're low on space. The default position is horizontal, but you can wall mount it.
The four detachable antennas are positioned on the rear and, although are quite big, the router just doesn't have the same ominous look like the RT-AC68U (especially when mounted on the wall).
On the front of the router you are greeted with an array of bright LED lights that show the status of connections. The status lights are positioned quite awkwardly, as they face downwards no matter the position (horizontally or wall mounted), so you can't really see the LEDs unless you raise the router for a bit or bend down, rendering these lights useless.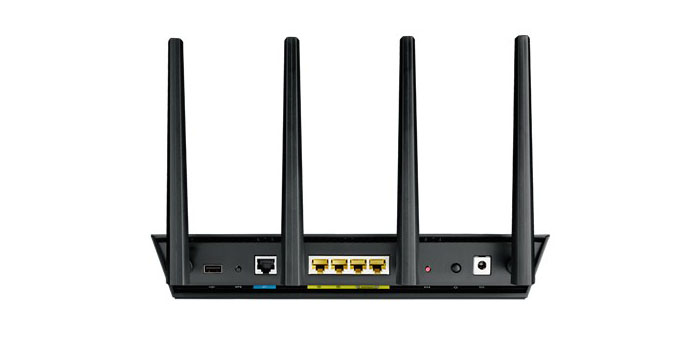 Also on front, underneath the LED lights, on the right side there is an USB 3.0 hidden under a removable cover and on the left side there are two rather thick buttons, one to enable the status LEDs and the other for WiFi access.
It's really great that the router features a USB 3.0 port (though expected considering the price tag) but placing it on front may not have been a good decision, especially if you're going to use the router as a NAS server because there is going to be a mess of cables.
One USB 2.0 port is on the RT-AC87U' back along with a GIGABIT WAN and four GiGABIT LAN ports, a WPS setup button, a reset and an ON/OFF button.
The design is attractive, it will look the best if placed on a modern type furniture and because it is quite large, it will not go unnoticed, so this is not a discrete router.

Hardware
Hardware-wise, the RT-AC87U features a Quantenna QSR1000 4×4 MU-MIMO chipset that can send and receive up to four streams for a data transfer rate of maximum of 600Mbps on 2.4GHz and 1,733Mbps at 5GHz using 802.11ac.
Besides the chipset, the router sports a 1GHz dual-core Broadcom BCM4709A processor (two ARM Cortex-A9 cores) backed by 256MB DDR3 RAM and 128MB flash memory.
Performance and Connectivity
The ASUS router RT-AC87U has four antennas making it capable of 4×4 802.11ac wireless speeds which translates into really fast speed and great performance, but there are rarely any device that has a built-in wireless adaptor that can handle 3×3, and even less for quad-stream 802.11ac.
Now, in order to test the RT-AC87U at its max performance we had to install a a second RT-AC87U and use it in wireless bridge mode.
On 5GHz, between 5 to 10 feet, the router averaged around 1000Mbps, at 20 feet it scored 820Mbps, at 60 feet it averaged 500Mbps and at 100 feet the router reached 360Mbps.
But this is the ideal scenario, because as said before, there are almost no devices that can use 4×4 stream. So we have tested the transfer speed on 5GHz for 2×2 802.11ac. At 6.5 feet the router reached about 150Mbps, at 35 feet it reached 80Mbps and at 60 feet it reached 110Mbps.
Using the 2.4Ghz band on 802.11n we got some pretty good results. At close range, around 10 feet the speed averaged at about 220Mbps and at 100 feet, we measured around 160Mbps.
What impressed us the most is how far the 2.4Ghz band range managed to reach: at almost 300 feet. As we saw, this is a great router, it has huge coverage on 2.4Ghz and on 5GHz band, but it was constructed for 4×4 stream and in this territory it reaches fantastic speeds.
IMPORTANT UPDATE: ASUS has released an important update which enables the MU-MIMO feature, so now, the RT-AC87U can simultaneously connect to more devices and transmit data to these clients at the same time, unlike the standard SU-MIMO technology, which allows transmitting of data to one client at a time. This also means that we will see an increase in WiFi performance (from 5 to 20%).
So, the best way to get the maximum speed and performance is to either install a same second router or use the EA-AC87 in bridge mode. If paired with a second RT-AC87U as a wireless bridge it blows every other router away (being one of the best wireless router in terms of speed), but considering the price and its main competitor, the Nighthawk X4, people should really be sure that this router fits their needs.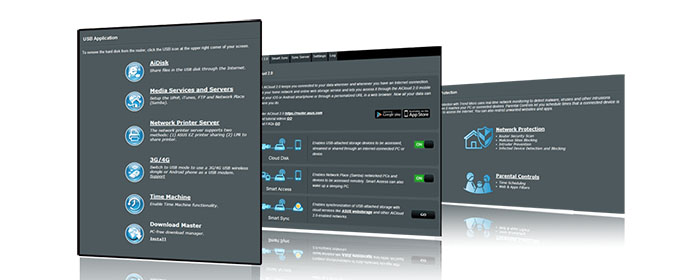 Setup
Setting up the ASUS AC2400 RT-AC87U is easy and straight-forward, just like any other ASUS router. It uses the familiar ASUSWRT interface, you can set the router up in minutes and as always, ASUS provides an abundance of great features and apps.
Among the main features, we name the AiCloud 2.0 (allows users to access their data from devices connected to the router from anywhere around the world) or the AiProtection (replaces Parental Controls) that constantly scans and monitors all the data that comes into the router for viruses or malware and removes any existing vulnerabilities. It also features better, more granular parental controls.
Another great addition is the Adaptive QoS that individually categorises different types of traffic streams (i.e a gaming console will have higher priority than torrenting) and it also prevents some apps from monopolising the bandwidth, providing the minimum quality of service to every user.
Other great features are the VPN, DDNS service, SHCP management, SPI intrusion detection, DoS protection, Printer server and more.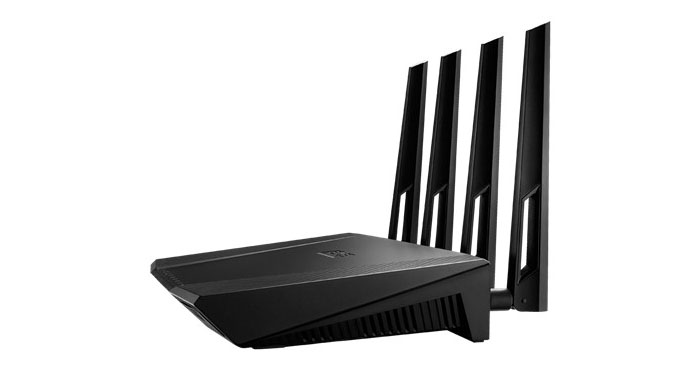 Conclusion
The ASUS AC2400 RT-AC87U used the 802.11ac technology at its best (for 2014) and if you don't want the latest ASUS router, the RT-AC3200 or to wait until the 802.11ax is implemented properly and becomes widespread, you will have to settle with this technology marvel, the ASUS AC2400 RT-AC87U.
Check the product here: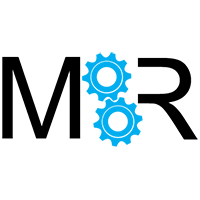 Mark is a graduate in Computer Science, having gathered valuable experience over the years working in IT as a programmer. Mark is also the main tech writer for MBReviews.com, covering not only his passion, the networking devices, but also other cool electronic gadgets that you may find useful for your every day life.