The Google OnHub is a creation from the collaboration between Google and TP-Link and it's the first from a series of routers (the second OnHub has already been released and it was created in collaboration with ASUS). The router looks quite different than your usual routers (although it does resemble the D-LINK DGL 5500) and it also is operated in a different way. But what will be the most frowned upon topic is the price tag.
Yes, the Google OnHub is a bit pricey and although it is quite capable, the competition offers similar performance at a lower price tag. But, Google uses another aspect to gather more attention and that is the device's potential, it seems that the OnHub may be more than your usual router after all. It has the possibility to connect to ZigBee home automation devices and has Bluetooth 4.0 radio, but none are enabled.
So, can the OnHub deliver great speed and coverage, enough to justify the price tag or is the enthusiasm for future possible potential of the router the key to its success in a quite fierce competition? Let's find out.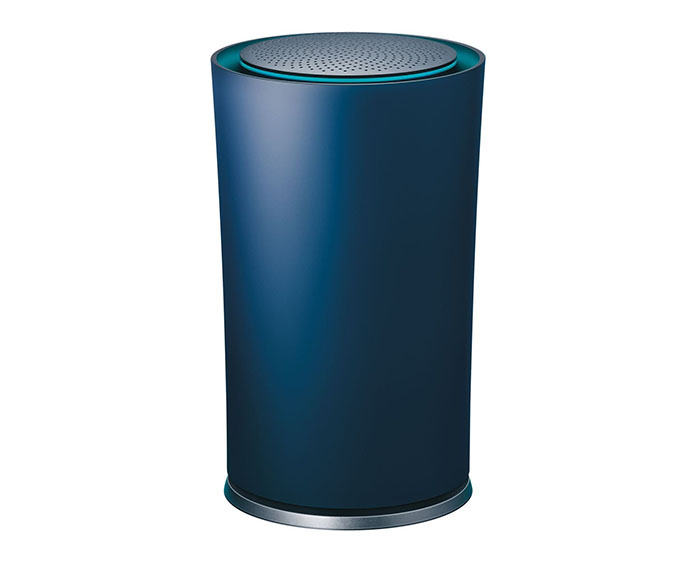 Design
One of the main selling points of the Google OnHub is its design. And rightly so, because it ditched the conservative look most routers have adopted and went for something more unconventional. So, it features two parts, a inner cylinder and a outer, removable shell with a matte finish that has the role of concealing the ports and cables and let's not forget, there are no exterior antennas.
It's still unclear to us if the cylindrical shape is better (or more premium) than the beetle-like or plane-like designs we can find with other routers, but it certainly looks a lot more cleaner and non-intrusive (and you know there are some aggressive designs out there, just have a look at ASUS RT-AC5300U, the RT-AC88U and even Linksys WRT1900ACS). The height of the OnHub is 7.5 inches and it has a 4.6 inches diameter and the cover comes in black or blue.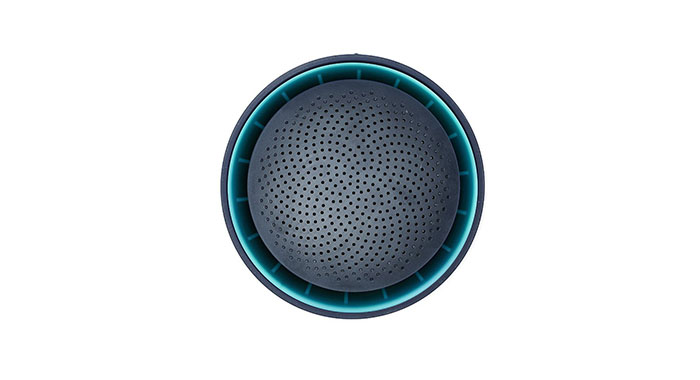 You will be forgiven if you mistake it for a BlueTooth speaker because funny enough, it actually has a speaker at the top. The 3-watt speaker implemented on a router may sound cool, but so far we haven't found any use for it except for setup. There is no microphone, no volume controller so you won't be able to play music with it (so far, anyway).
Also at the top of the router you can find the equivalent to the status lights in the shape of a ring that lights a different colour for different states of the router. So, we have blue for setup, green is for 'everything is fine' and orange for 'something is wrong'. To learn more of the current state of the router you have to access the app specifically designed for the OnHub.
Now, if you remove the outer shell, you get access to the inner cylinder. Here, you gain entrance to the WAN port, a LAN port, the reset button and a USB 3.0. There are a lot of wrong things here. First of all, why only a LAN port? It seems that Google decided that usually there is a mess of cables and, because the OnHub should be in a more central part of the room, you shouldn't use more than one, just to keep it clean.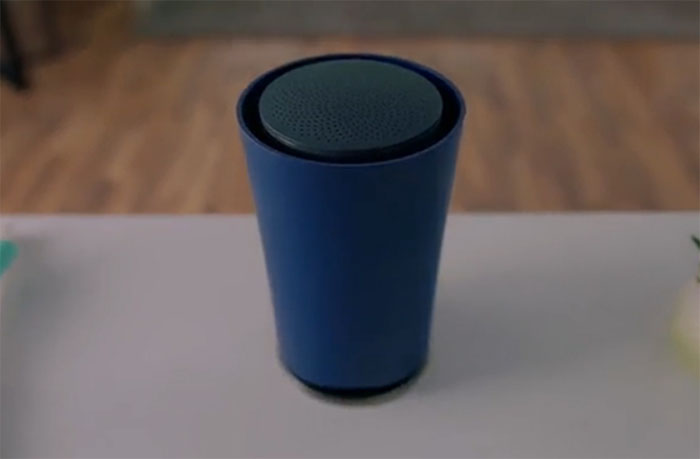 This may be true for a large number of people, but for those who want and/or need to use more than a LAN port have to use a switch and therefore to have a larger mess than it could have been. The second wrong thing is the USB 3.0, it doesn't work as it should. You can only use it to fix the operating system, if needed. So, no NAS capabilities and no connected printer, although in the future, its functions may change.
Another thing we noticed is that the OnHub is heavily ventilated, although it lacks a fan (see Linksys WRT1900AC). The top of the router is also well ventilated, but you may have noticed that one vent hole is different. The reason is because it's an ambient light sensor that should adjust the ring light after the amount of lighting in the room, so it become more visible if needed. Unfortunately, it isn't active.
Okay, the design of the OnHub is nice, there are some features that come in handy, others may create inconveniences, but, overall, although the router looks good, it seems unfinished.
Hardware
Inside the cylindrical case of the Google OnHub there is a 1.4GHz Qualcomm IPQ8064-a SoC (Krait 300 CPU), backed by 1GB DDR3 RAM and 4GB of eMMC storage memory. This is a lot of power for a router, actually, it's the most well equipped we have ever tested.
There are also 13 antennas positioned in a circular style inside the router, six meant for the 5GHz band, six for the 2.4GHz band and the last one to boost the signal.
Thanks to these specs, the OnHub is able to provide up to 1300Mbps on the 5GHz band and up to 600Mbps using the 2.4GHz band.
As we saw before, there is some hardware that isn't currently used by the router, so the OnHub also has a Bluetooth antenna and a ZigBee one, both of them being disabled.
Performance and Connectivity
Just like we saw in the hardware section, the OnHub has 13 antennas, from which one is designed to analyse if there's any congestion. If any channel is overcrowded, it redirects the stream to other, less used channels. The circular position of the antennas (that we also talked before) should also deliver the best coverage, no matter were you position the router.
Another thing you should know about this router is that it doesn't use separate 2.4 and 5GHz bands, so there's the same SSID for both of them. This also means that you won't be able to choose which band you use.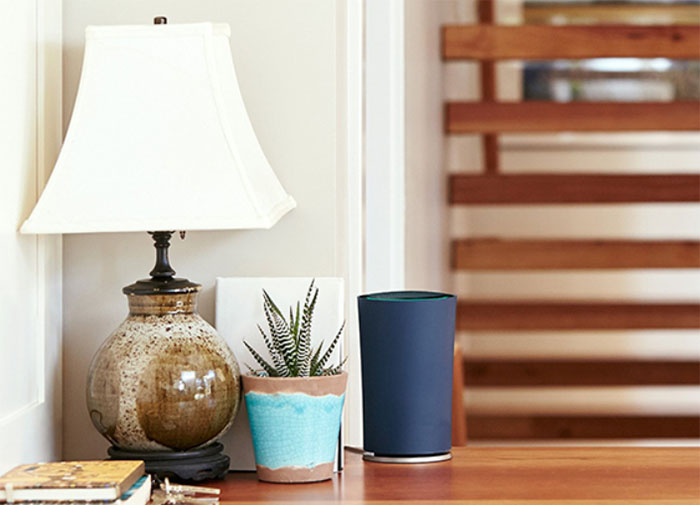 It's not a bad thing, since it makes things a lot easier, you don't have to worry about which band to use when adding a new device to the network. But it does feel like it takes away from your usual router experience, especially if you like to customize the way you use your router to the finest detail.
Now, we can't really see how the router behaves on each band (just like we did with any other router), but in terms of 'mixed use', the OnHub managed to reach up to 290 Mbps at close proximity (10 feet), 246 Mbps at 30 feet and around 90 Mbps at 100 feet.
If you have a look at our best cheap routers article, you will see that lots of routers at a similar or less price tag performed a lot better (especially the ASUS RT-AC68U and NETGEAR Nighthawk AC1900) but there is a certain aspect that we liked about the OnHub, its coverage.
There was no corner of the house that was left uncovered, it even reached the basement and the yard. So, if you live in a small home or apartment you won't really need the OnHub (or any powerful router for that matter), but a larger house will be a better fit and you will really appreciate the coverage.
Setup
The OnHub is extremely easy to setup, although a bit different than the traditional setup process most may be accustomed with. All you need to do is use the Google on smartphone app, available for Android and iOS and also, a Google account.
So, in order to start, sign in using the username and password of your Google account and afterwards, connect the router to an Ethernet cable and just follow the instructions. In a matter of seconds you are done.
If you run the Google On app on an Android phone, the setup has some cool features. So, when running the app, instead of using a security code, the router will 'communicate' with the phone using a series of sounds and when the phone captures them, it connects with the router.
Unfortunately, iOS users will have to take a less direct approach, having to manually connect to the router before running the Google On app.
Having a Google account in order to connect to a Google-made device isn't something new but some users may feel uncomfortable with this and while Google swears it doesn't collect the traffic done on your network, there is some data send to its servers.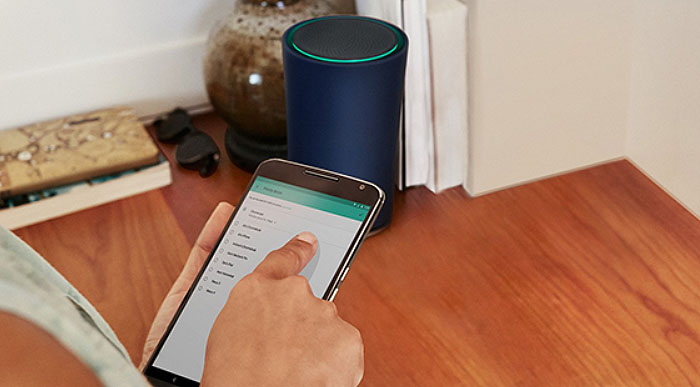 This data is about the signal strength, the WiFi channel or any type of data that would improve the OnHub's performance. But some, more privacy-conscious people would disagree even with this, even though you can disable the data collection (just have a look at the Windows 10 privacy problems).
But the reality is that if you're using the Google search, Google Maps or Android devices, you are already running a large part of your life through the Google servers. Maybe the keyword Google has missed is the comforting impression of anonymity.
Note: The router can also be used as an access point.
After finishing the setup, the app now shows you all connected devices from your network and tapping any of them allows you to prioritize them (just for up to 4 hours). The app also allows you to restart it remotely, lets you adjust the status light brightness (or turn it off completely) and configure the router to automatically load firmware updates.
Still, there are some commonly found features that the router is missing: parental controls, VPN, guest network or dynamic DNS. There is also no SPI firewall, but, fortunately, there is a NAT firewall (Network Address Translation).
Also, installing DD-WRT is something that won't happen anytime soon, the OnHub is just a simple router, without any advanced configuration features.
Conclusion
We keep hearing about it's dormant hardware and how it may be linked in the future to a smart home system, but you buy it as a router and it should behave as a router, it doesn't matter what it could be, it matters what it is.
So, keeping this in mind we saw that the Google OnHub is a capable router, it delivers a good coverage, although the speed could have been better, the design is minimalist and innovative and the software is really, really simple.
All this comes at a quite expensive price tag.
Check the product here:

Google OnHub
Pros
Great Design
The App Is Very User-Friendly If You're Not Interested In In-Depth Configuration
Packed With Hardware That May Be Used In The Future
13 Antennas
Cons
Expensive
The App Is Too Simple If You Want A More In-Depth Configuration
Only One LAN Port
Lots Of Unused Hardware
Only SmartPhone App For Setting-Up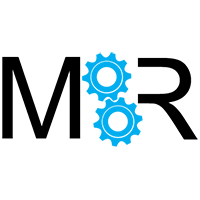 Mark is a graduate in Computer Science, having gathered valuable experience over the years working in IT as a programmer. Mark is also the main tech writer for MBReviews.com, covering not only his passion, the networking devices, but also other cool electronic gadgets that you may find useful for your every day life.