There is now an increased trend to ship laptops and phones compatible with 802.11ac technology and it is known that router manufacturers like to equip their routers with technology, sometimes, way ahead of their time (3×3, 4×4, MU-MIMO technology). But finally we see that the AC technology becomes widespread and you need to upgrade your router in order to take advantage of this technology.
We had a look at some AC1900 routers, more exactly at NETGEAR Nighthawk and later we put it against the ASUS RT-AC68U. We saw that these routers offer a lot of value for their money, with great coverage and speed but still might be a little too expensive for most of us.
So, here comes the TP-LINK Archer C9 AC1900 into play, promising equal performance to both Nighthawk and RT-AC68U, but at a more affordable price tag. Let's see if it delivers.
ALSO CHECK OUT OUR LIST OF THE BEST AFFORDABLE WIRELESS ROUTERS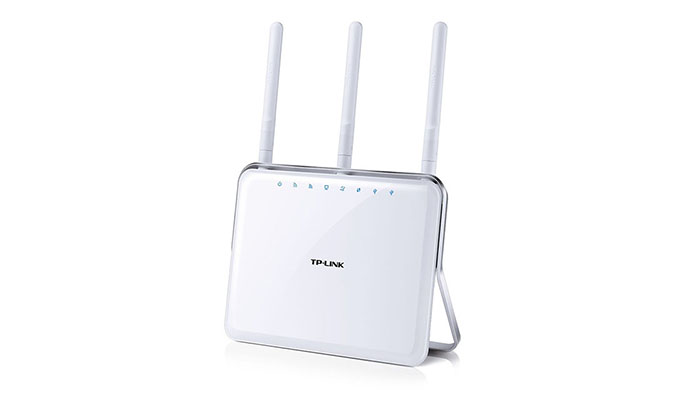 Design
The TP-LINK Archer C9 AC1900 features a simple, classy design, having a white plastic body with a glossy finish (a magnet for fingerprints), a silver band that extends on the back and doubles as the router's stand (it is non-removable). This means that the router can only be used in the standing position and cannot be mounted on the wall.
On top of the router there are three detachable, dual-band antennas that can be oriented in multiple directions. Thanks to its rather small dimensions (measures 8.7 x 3.4 x 6.6 inches and weighs 3 pounds) and its elegant design, the Archer C9 will complement any type of furniture and will easily blend in with the style of any room.
Directly below the three antennas we can find an array of LEDs responsible for the connection status: Power, 2.4GHz band, 5GHz band, Ethernet, Internet, WPS, USB 2.0 and USB 3.0.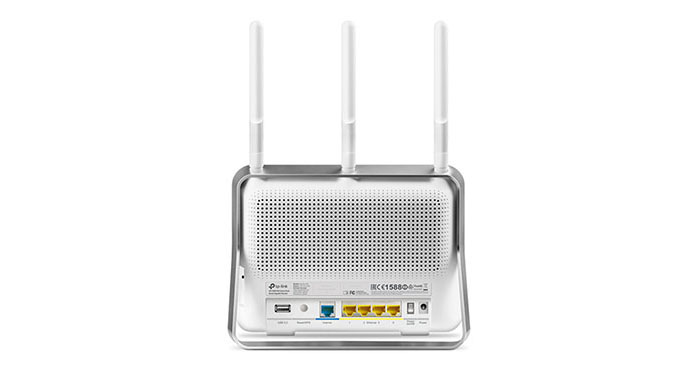 On the rear, you can find the USB 2.0 (can be used to connect to a storage device or a USB 2.0 printer), WPS/Reset (press for less than 5 seconds to access the WPS and more than 5 seconds to reset the router), Internet (DSL or Ethernet connection), ON/OFF and the Power socket.
On the side panel, there is the WiFi button and the USB 3.0 port.
Overall, the Archer C9 is designed in a way that even if it doesn't look premium, it doesn't really need to. Most users will find it appealing enough and its sleek look helps a lot to achieve this effect.
Hardware
Hardware-wise, the Archer C9 is a reasonable 3×3 router, featuring a dual-core Broadcom BCM4709 CPU clocked at 1GHz, 128 MB RAM and 16MB flash storage.
The router is capable of delivering a maximum of 1900Mbps, from which 1300Mbps for the 5GHz band and 600Mbps for the 2.4GHz band. Using the USB 3.0, you can attach a HDD in order to create your own NAS.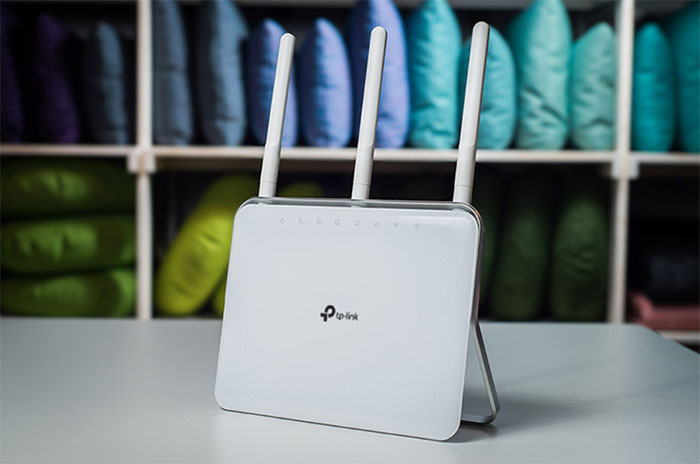 Performance and Connectivity
Just like we said before, the TP-LINK Archer C9 has three dual-band detachable antennas that offer omni-directional coverage. They also feature the Beamforming technology.
We've seen this technology implemented into other high-end routers like the ASUS RT-AC68U and the NETGEAR Nighthawk and what it does is to instantly locate any connected device and directing and amplifying the signal towards it.
This translates into wider coverage, more efficient, targeted wireless connection instead of going all over the place.
In order to test the speed, we have connected the router to another Archer C9 and configured it to work in bridge mode and we got some pretty good results.
Using the 5GHz band, on 802.11ac and at close range (around 5 feet), the router reached a maximum of 320Mbps, at medium range (around 30 feet) managed 210Mbps and at 100 feet, the router reached 430Mbps.
The performance at medium range on the 5GHz band is not impressive, but at close and long range it features a performance similar to what NETGEAR Nighthawk can offer.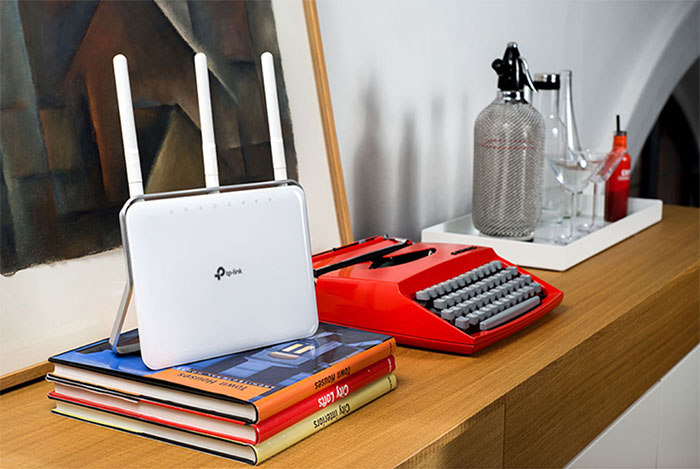 Also on the 5GHz band, but using the 802.11n technology, the C9 averaged around 220Mbps at 5 feet. At medium range the router scored 160Mbps and at 100 feet, the router averaged 130Mbps.
Testing the router on the 2.4GHz band we got 165Mbps at 5 feet, 146Mbps at 30 feet and 110Mbps at 100 feet.
If coupled with an external HDD through the USB 3.0 and used as a NAS, the TP-LINK Archer C9 didn't do too well. It scored 40MBps for reading and 25MBps for writing (for FAT32).
If you want to create reliable NAS, the C9 is quite inferior, the best in its class being the Linksys WRT1900ACS, which outclasses even the dedicated NAS servers.
Setup
Installing the router is quick and you are ready to go in a few minutes. It has a basic, simple configuration page, as well as an advanced one for those who are more tech-savvy and want to configure every aspect of the device.
The quick setup configures ISP login details and creates the 2.4GHz and 5GHz SSID and passwords, as well as the region and TimeZone.
The advanced section, on the other hand, allows for more extensive configuration, so you an setup port forwarding, dynamic DNS settings and Access Controls.
The interface is simple, easy to use and a lot more information is given to the user, like a map of your network so that you can see anytime what devices are connected (a great feature also present on the Linksys WRT1900ACS).
Unfortunately, there is no built-in VPN, although you could install a custom firmware (i.e. DD-WRT) in order to take advantage of this function and some more.
But, you can find a built-in QoS which is enabled by default and Parental Controls that offer the ability to control internet usage during specific times and even create a list for sites that can be accessible by each connected device.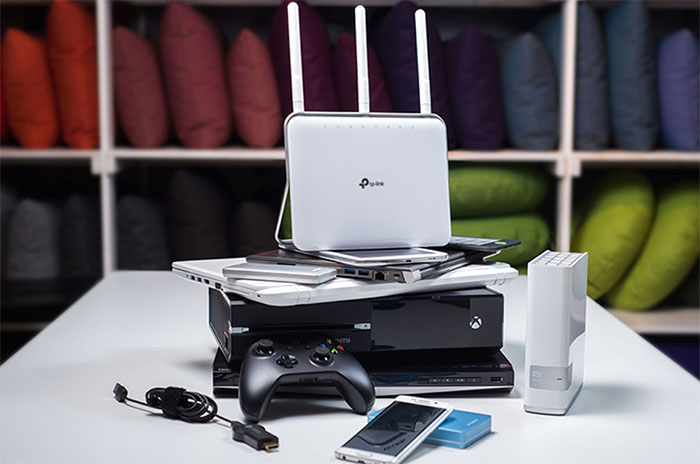 Other interesting features are the Guest Network and the TP-LINK Tether that allows you to manage the router with your smartphone (iOS or Android).
Overall, the router isn't exactly feature-rich, but it does have the right amount of customization that will satisfy both a casual user and an IT professional.
Note: By default, the router is set for US for both the 2.4GHz and 5GHz bands. If the router can't detect any or one of these bands check if the region is set correctly.
Conclusion
To conclude, we can say that the TP-Link Archer C9 is a really good AC1900 router. Although it isn't as features-rich as the Linksys WRT1900ACS or doesn't reach the high speeds of NETGEAR Nighthawk R7000 or ASUS RT-AC68U, the Archer C9 is a worthy contender and offers a lot for it's price tag. So, for anyone on a tight budget but eager to experience the AC1900 technology, the TP-LINK Archer C9 is the best choice.
Check the product here: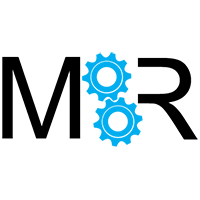 Mark is a graduate in Computer Science, having gathered valuable experience over the years working in IT as a programmer. Mark is also the main tech writer for MBReviews.com, covering not only his passion, the networking devices, but also other cool electronic gadgets that you may find useful for your every day life.