The Kensington SD1600P is a small portable docking station which aims to cater to the needs of those users that require more ports on their laptops, but which prefer not to carry around an additional power brick (necessary in the case of stationary docking station) and want a simple plug-n-play solution. The device offers the possibility to share a wired Ethernet connection with the laptop or a mobile device, it supports pass-through power, so you can charge some devices using the laptop's battery or to connect to any external monitor using either the provided HDMI or the VGA port, which makes it fantastic for office presentation, where some of the older standards will persist for a longer time.
The SD1600P also comes as an upgrade over the SD1500 which was released a couple of years ago and if you put the two devices next to each other, the SD1600P is a bit slimmer (it measures 5.3 x 3.0 x 0.6 inches) and the case was almost completely redesigned, but the dock kept a key element: the convenient way to stow the cable into the housing (furthermore, besides the refreshed look, the big difference is the ability to recharge additional devices). When the SD1500 appeared, it had a bit more trouble justifying its necessity, while in 2018, the Kensington SD1600P makes so much more sense used alongside a MacBook Pro or a slim form-factor modern Windows or Chrome laptop.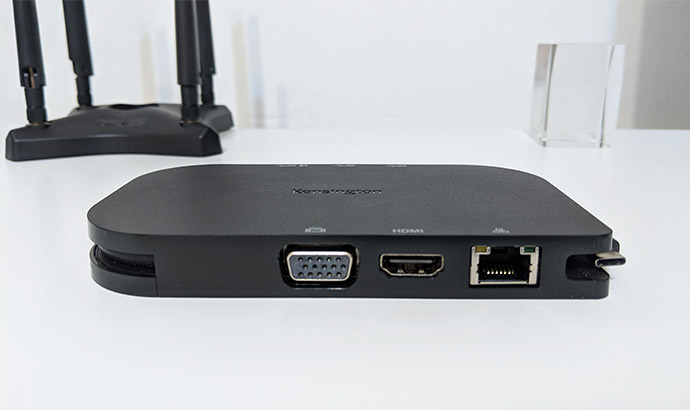 I'm not a fan of removing features to just add them later at additional costs, but in this case, it has allowed the development of really thin and lightweight laptops which can be carried around very easily and the battery received a lot more space, so, usually, an ultrabook will outmatch by a lot the traditional laptop in terms of battery life. This means that the big trade-off may have been worth it after all – especially considering that we do have alternatives in the shape of gaming laptops which have gotten more office-friendly over the years.
If you take a closer look at most docking stations available on the market right now, you will immediately notice that these devices come with a USB Type-C cable which has the role of carrying all the various type of data simultaneously from your peripherals to the laptop and vice versa. I have already discussed the nature of the USB Type-C when I tested the Kensington SD5200T, so to keep it brief, know that it is a reversible port that supports device charging up to 100W and is compatible with lots of protocols. The SD1600P uses a USB 3.1 Type-C connection, which supports a transfer rate of up to 5Gbps and is compatible with Thunderbolt 3 ports, which is another technology that uses the Type-C port that supports a transfer rate of up to 40Gbps (this type of port is so versatile, that it managed to persuade even Apple to adopt it).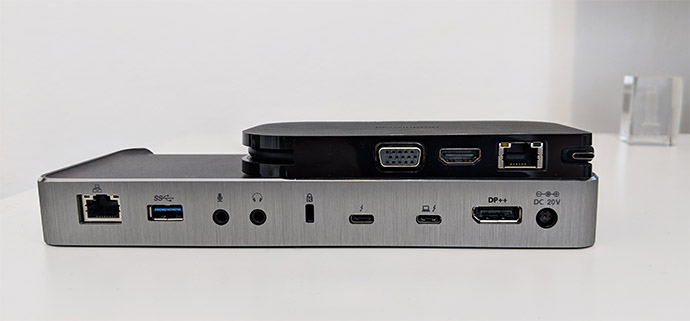 Unlike the Kingston SD5200T which has an elegant outer metallic shell surrounding parts of the case, the SD1600P is completely made of hard plastic and it is surprisingly lightweight (it weighs 3.88 ounces), so it is very easy to carry around, but it still feels robust and perfectly capable of handling a few tumbles (it also lacks any silicone feet, so it does move around depending on the thickness of the connected cables). To add a bit more aesthetic value to the device, Kensington has covered the lateral sides with a glossy finish (the rest remains matte black) and within this area, on the front, you can find a VGA port which is a very old standard that has almost gone extinct (my 3-year old U2515H doesn't have it), but there is a high change that it may still persist within a corporate environment, where some devices are very sturdy and reliable, so they'll stick around for decades – the VGA port supports a video output of 1920×1080 pixel resolution at 60Hz.
Next to it, there's a HDMI port which supports a 4K resolution video output at 30Hz refresh rate which, once again, in an office will be more than enough, but if you intend to use it at home while either gaming or watching movies, it's not going to look good, so, it is advisable to stick with a 2K monitor (you'll have no problems keeping a 2K resolution at 60Hz). What's worth noting is that while the Kensington SD5200T supports a dual-monitor setup, the SD1600P does not, so you will have to choose between using the VGA or the HDMI port.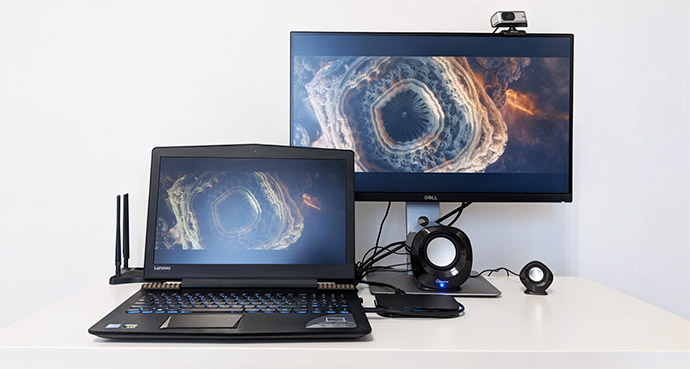 Next to these two ports, you will also find an RJ45 Ethernet port capable of handling an Gigabit connection to the Internet (there are two LED indicators, the amber one shows that there is activity, while the other LED shows that there is a link established). To test if everything was working fine, I connected a Lenovo Y520 and an LG G5 to the Internet through the SD1600P and everything went fine, so I could easily navigate the web, but, surprisingly, my Pixel 2 XL refused to connect for whatever reason, but I suspect this is an Android Pie issue (Google, pull yourself together!).
On the rear side, hidden by the cable, there's a carved-in area where you can find two USB 3.0 ports, both supporting the Power Delivery technology, so it could charge a couple of mobile devices simultaneously; next to them, there's also a USB Type-C port (which supports a maximum of 60W and up to 3A) which can also be used to charge additional devices that feature this type of port (neither of the three ports support any quick charging technologies, so it will take longer to get from 0 to 100 % when charging a smartphone than when using the dedicated power adapter).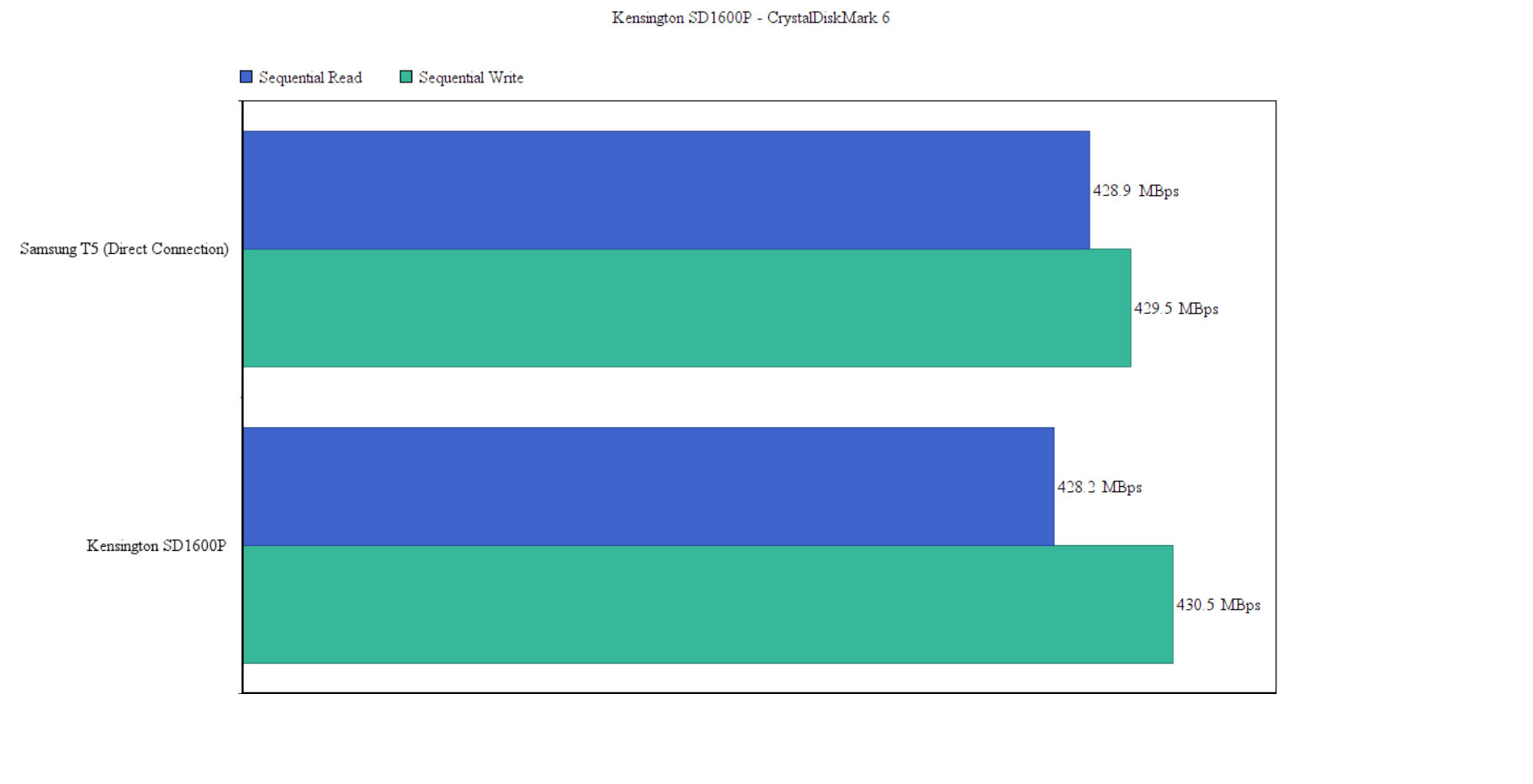 To test the storage performance of the SD1600P using the USB Type-C port, I used an external 256GB Samsung T5 SSD drive and I measured the speed when the device was connected directly to a laptop with a USB Type-C port (not Thunderbolt 3) and afterwards, using the Kensington SD1600P in between them. When the laptop was connected directly to the external drive, the sequential read speed was 428.9 MBps and the sequential write speed was 429.5 MBps. When the drive was connected to the laptop through the SD1600P, the sequential reading speed was 428.2 MBps and the sequential writing speed was 430.5 MBps (which is a welcomed improvement).
Note: The SD1600P is compatible with Windows OS (7+), macOS (10.13+) and Chrome OS (44+).
Conclusion
If you have a thin portable laptop and constantly need to connect multiple devices (at home or at the office), the small form-factor Kensington SD1600P will do wonders, especially when all you have to do is sit down at the table and only connect one cable to the laptop to gain access to all the necessary peripherals.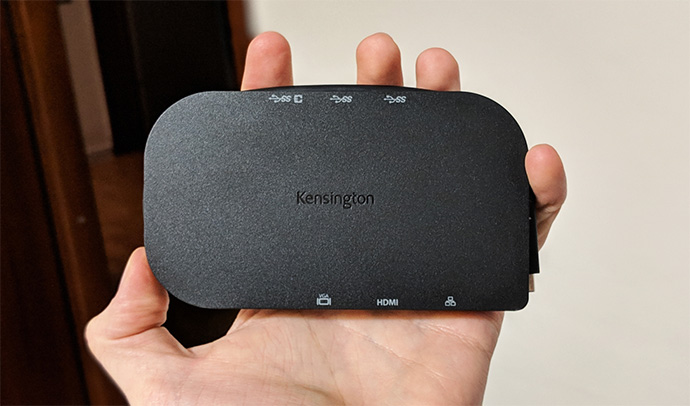 Sure enough, it lacks native charging, so you will still have to rely on your laptop's power brick to charge any additional devices. At the same time, it's this pass-through power feature that managed to widen the reach of the device by a lot (when compared to its predecessor) and it's what gives it an edge over some of its competitors. Of course, there are some minuses, such as the lack of an SD card reader and the fact that there are no audio ports (unless you decide to use those adapters that come with some smartphones which lack the 3.5mm jack), but the SD1600P does offer a reliable connection to a monitor or projector using either the VGA or HDMI port, it can easily charge multiple mobile devices and it allows them to connect to the Internet, so if this fits your needs, then the Kensington SD1600P is one of the better solutions available.
Check out the product here: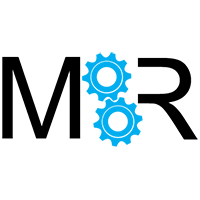 Mark is a graduate in Computer Science, having gathered valuable experience over the years working in IT as a programmer. Mark is also the main tech writer for MBReviews.com, covering not only his passion, the networking devices, but also other cool electronic gadgets that you may find useful for your every day life.