There's no secret that the Samsung Galaxy Tab S had the best display on the market for a long time, it may not have succeeded as well in other departments, but this was its forte. We used it for a while and we liked it, it was one of the first high-end Android tablets and a solid alternative to the already established high-end tablets from Apple.
But now Samsung has released a new tablet, a successor to the Tab S, named Samsung Galaxy Tab S2 (the latest in the Samsung Galaxy Tab series). Just like the latest Apple iPads, the Tab S2 comes in two sizes, a 8-inch tablet and a 9.7 one. This end of year is dominated by multiple iPad releases and since I'm sure most of us have great expectation from the Tab S2, let's have a look at how well does it fare in this fierce competition.
In this review we are going to have a look at the 8-inch variant of Galaxy Tab S2.
UPDATE: Samsung has released a refreshed version of Galaxy Tab S2, which comes with Android 6.0.1 Marshmallow out of the box and it has switched the Exynos 5433 chipset to the 64-bit octa-core Snapdragon 652 processor and the Mali-T760 MP6 GPU to the Adreno 510 GPU.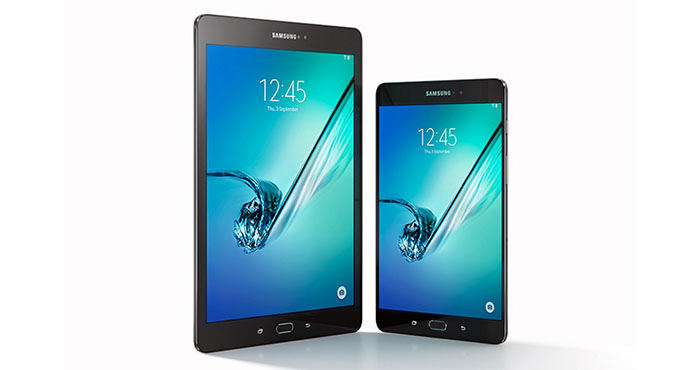 Design
Samsung Galaxy Tab S2 features a sleek design, with nicely rounded corners, flat edges, a matte finish on the back cover and a metallic frame. The back cover is made of a soft plastic and the front is fully made of glass. Overall, the case seems sturdy and does have a premium look and feel, but some may wonder why did Samsung decided to ditch the metal and glass idea, especially since some actually waited for this type of design.
The answer is quite simple. The case would have been incredibly fragile, a lot heavier, therefore making the tablet hard to hold for longer periods of time, it would have created problems with overheating and it would have been more expensive.
But, as you know, the new Galaxy Tab S2 is really, really thin and lightweight. It measures 7.82×5.31×0.22 in inches and weighs 9.59 oz, making the tablet one of the lightest and thinnest tablets ever made.
Unfortunately, if you press harder on the back cover, you will notice that there is a bit of flex. But this is the only downside, because the tablet can be carried with incredible ease and can be held in one hand for long periods of time without becoming uncomfortable.
So, yes, no wrist strains, the grip is great and if you're in a plane or during a long train voyage, this is one of the best tablets to carry around. That's also available for everyday use (if you like to sit in bed and watch a movie before going to sleep) or carrying the tablet in a purse or a bag. So that's the tablet's main selling point, the comfortable manipulation due to its light weight.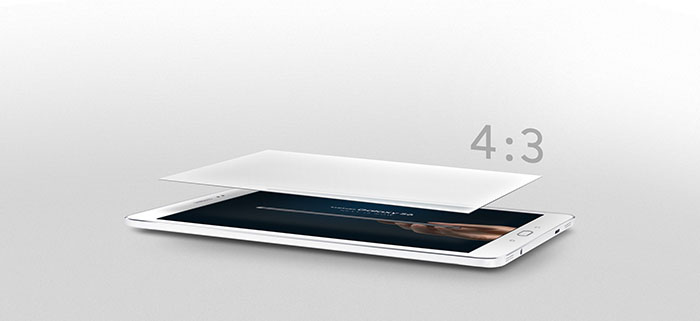 We saw that the tablet is comfortable, but what about its buttons and ports feel and placement? Well, the buttons feel quite solid and there is no lack of ports. The right side of the tablet is home to the Power button, the volume controller and a microSD slot (in order to insert a microSD card you have to use a paper clip to access the tray).
On the bottom you can find two speakers, a Micro-USB port and a 3.5mm headphone jack. On the back of the S2, there is a camera (at the middle) and two metal circles meant for clipping a keyboard cover onto the tablet.
The front of the Tab S2 there are the usual home button and the two capacitive buttons. The home button doubles as a fingerprint scanner. The scanner is accurate and fast, being a nice addition to security.
Note: The tablet comes in black, white and gold.
Comparing it with last year's Samsung Galaxy Tab S, the new Tab S2 is a lot more mature, better designed (it adopted a minimal, clean design) and it's clear that it took some inspiration from its competitors (especially Apple).
Display
The Samsung Galaxy Tab S2 comes in two sizes, one has a 8-inch display and the other a 9.7in one. Both displays feature a 2048x1536p resolution, which is a downgrade from the 2560x1600p resolution of the Tab S, but it was necessary in order to fit the new 4:3 aspect ratio. So, the new display is more squarish than rectangle.
This change has been made in order to deliver a better web browsing or reading experience and although some movies will have black bars, it wasn't a real compromise.
The 8-inch Tab S2's display is a Quad HD AMOLED, has a pixel density of 320 ppi, wide viewing angles, is protected by Gorilla Glass and overall it wants to deliver a similar experience we got accustomed with the Tab S.
But unfortunately, this is only available only for the bigger, 9.7-inch tablet. The smaller Tab S2 uses PenTile submatrix technology. Sure, there is a lot of debate about which type of display is better or lasts longer, but overall, a sharp eye will see a small difference (especially in the text crispness) between the two S2 models, the bigger one being better, of course.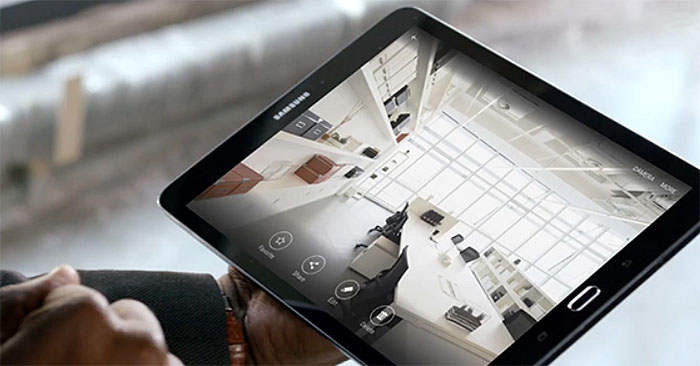 Regardless, just like any Super-AMOLED display, you will see high contrast, incredibly deep black levels, great vibrancy, high contrast ratio and really vivid colours. Viewing angles were excellent and the display has now two features, the Adaptive Display and the Reading Mode.
The Adaptive Display automatically adjusts saturation, gamma and sharpness depending on the environment and the ambient light, but sometimes it felt like a hit and miss. Turning it off will results in you having to choose one of the display's presets (Cinema, Photo and Basic).
Reading Mode adjusts the brightness levels so users can read text content for longer periods of time without eyes strain. We actually liked this mode because it reduces the chance of falling asleep while reading a long text.

Analysing the display, it's clear that it's brighter than the Galaxy Tab S, but while, it's great for visibility (especially on sunny days or at the beach), an image with a different levels of white may appear blown out.
Watching movies is a really pleasing experience, we really enjoyed watching 2K videos, at times it looked even better than some 4K displays, the scenes were fluid, black levels were uniform and deep and as usual (for AMOLEDs), colours popped and were really rich.
At the end of the say, we enjoyed the display. Sure, it has its shortcomings, but nothing too serious and it won't break your visual experience. Still, at such a high price tag we expected at least the last year's Tab S display.
Performance
The thin case of Galaxy S2 is home to an octa-core Exynos 5433 CPU (a 1.9GHz quad-core Cortex A57 chip and a 1.3GHz quad-core Cortex A53 chip), backed by a Mali-T760 MP6 GPU (max frequency of 700MHz), 3GB RAM, native 32 or 64GB storage and a possible addition of up to 128GB with a microSD card.
UPDATE: The refreshed version of Samsung Galaxy Tab S2 is equipped with a 64-bit octa-core Snapdragon 652 processor and an Adreno 510 GPU (the CPU is definitely more powerful, but the Adreno GPU won't be able to perform as good as the previous Mali -T760 MP6 GPU).
Thanks to these specs, the S2 can deliver an above average performance, without stuttering while watching movies or gaming. Resource-heavy games like Need for Speed Most Wanted or NOVA 3 launched quickly and ran smoothly, but it did sometimes stutter during cut-scenes.
Multitasking is also handled reasonably, we didn't experience any lag when switching between apps and there was no stutter. Booting up the OS is quite fast, in about 30 seconds.

Overall, we didn't experience any big performance issues while testing the Tab S2, but it was behind iPad mini 4 and even Nexus 9. It's clear that Samsung didn't use its best chip and although the 8-inch tablet has a reasonable competition considering the price tag, the larger version is just not on par with other similarly priced tablets.
A tablet is not a phone and it allows for larger, more powerful hardware and it definitely needs it considering the size of the tablets. So, Samsung did sacrifice performance for design and we are afraid it may have cut the wrong corners.
Note: In terms of connectivity you get the Bluetooth 4.1, GNSS, 802.11ac standard and 4G LTE (optional).
Software
Samsung Galaxy Tab S2 runs on Android 5.1.1 Lollipop with the TouchWiz custom interface. The good thing is that Samsung has finally realized that a clean, bloatware-free system is what users wanted from the beginning, so now, there is a small amount of apps that most can be uninstalled and some of them are actually useful.
UPDATE: The refreshed version of Samsung Galaxy Tab S2 features Android 6.0.1 Marshmallow out of the box.
The not so good thing is that Samsung usually takes a long time to upgrade its TouchWiz, so although the new Android Marshmallow version may be eventually implemented, it won't happen in the near future.
Note: Although Marshmallow updates will start to roll out to Android devices not later than December 2015, the Tab S2 won't receive it for at least six months from now.
Okay, we've said that the interface is cleaner, but there still are some leftovers that don't really make sense. For example, you still have the Internet and Email apps together with Chrome and Gmail. It's obvious you don't need the first mentioned ones so why include them?
There still are some apps that cannot be uninstalled, like Gallery, Camera, Music, My Files and some more but I actually found some of them useful (like Microsoft Word, OneDrive and Skype). Still, we wait the day when Samsung will either make better apps or just make the native apps uninstall-able.
Just like its predecessor, Samsung has again added some free subscriptions to Scribd and NYTimes (for three months), The Guardian and The Economist (for six months). Also, you get 100GB of OneDrive for two years.
Other interesting apps and features are the SideSync (allows you to move files between your tablet and your PC), Smart manager (manages your RAM usage, battery life, storage and security), Connect (consists of Support, Discover and Promotions) the Flipboard Briefing and the new split-screen implementation.
Although Android Lollipop doesn't support split-screen multitasking, Samsung has made it possible, the problem being the developers that have to take advantage of this new feature. But that's not all Samsung has added, there is now a fingerprint scanner incorporated onto the Home button (you only have to put your finger on top of the button, no swiping is requested).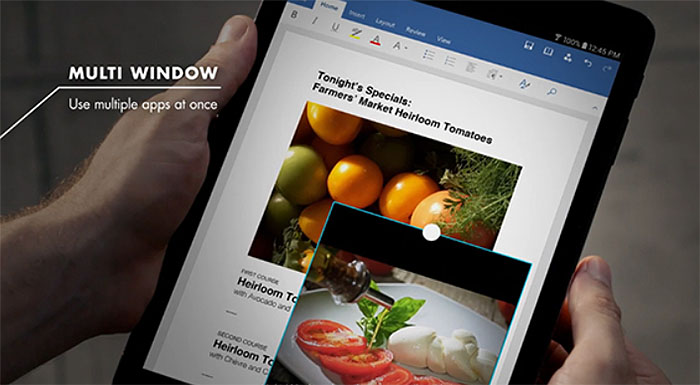 This feature can be seen implemented into Android Marshmallow that came with Nexus 5X and 6P.
It's clear that this is the best TouchWiz so far. Samsung has done a great job this time, there are a lot of new improvements and the implementation of the interface is really well done.
Camera
Most of the time you're going to use the cameras for Skype (or any alternative program), but if you decide to use it for photos, know that the Samsung Galaxy Tab S2 doesn't disappoint.
It packs a 8-megapixel rear camera, a front-facing 2.1-megapixel camera and both of them can shoot some pretty good photos. Also, considering that the bar is set quite low for tablet cameras, the Galaxy Tab S2 features one of the best set of cameras.
The front-facing camera works excellent with Skype and can shoot reasonably good selfies, the image being sharp and with a decent amount of detail. It also manages to render accurate colours in low-lit scenarios.
Images shot with the rear camera looked quite sharp and with rich colours, especially in good lighting and it also did fairly well in darker environments, although there was a noticeable amount of grain.
There are some standard modes available to use: HDR, Panorama, Dual Camera and Virtual Shot. The camera can also record QHD videos with 2560×1440 resolution.
So, overall, the cameras were a pleasant surprise, they can shoot some good photos and it would be unfair to compare the Tab S2's cameras with any flagship smartphone's ones.
The reason is that very few use their tablets as the primary camera, especially because of size and portability, but considering that the Galaxy Tab S2 is so lightweight, Samsung anticipated an increased use for photo shooting.
Battery Life
The 8-inch model of Samsung Galaxy Tab S2 has a 4000 mAh non-removable battery and the 9.7-inch model features a 5870 mAh non-removable battery. One of our favourite things about the Galaxy Tab S was the long battery life, but it seems that Samsung has actually halved it in its newest instalment and therefore we have less battery life from the new Galaxy Tab S2.
You may wonder what was Samsung thinking when they made such a decision. Unfortunately, the answer, again, lies in the shape of the tablet. In order to make it slim and lightweight they had to cut from the battery size. And again we wonder if it was worth it to make such a compromise.
So, you can game for about 5 hours before needing recharging, around 7 hours of video playback and overall the battery will make it throughout a full day of light use.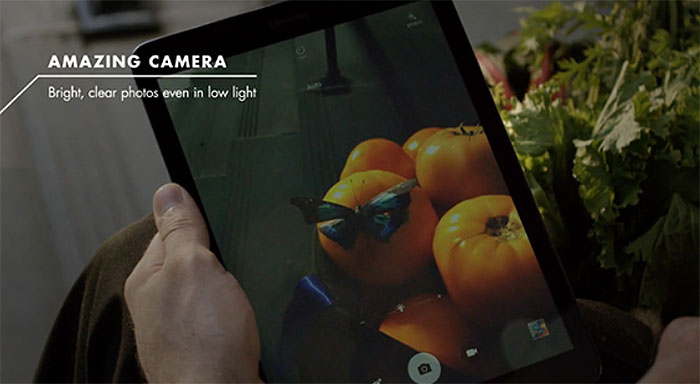 Samsung Galaxy Tab S2 lacks the wireless charging feature and there's also no fast charging. Fully recharging the tablet takes about four hours.
In the end we only hope that with the new Android instalment on the way, maybe the battery life will be improved.
Conclusion
There aren't many high-end Android tablets on the market and even less that can be considered actual competitors to the Apple tablets. The new Samsung Galaxy Tab S2 is an improvement on some sectors over the Tab S and a worthy competitor to Apple tablets, but at the same time some features were downgraded.
The main features of the Tab S2 are the light weight and its thinness and there has been a lot of emphasis on these. But, while we appreciate the easy manipulation, there have been some grave compromises in battery life and a small downgrade in display.
Overall, it's a more mature tablet, closer to what Apple offers, the design is premium, the cameras are surprisingly great and the display is capable, but all these come at a pretty expensive price (especially for the 9.7-inch tablet we reviewed).
The 8-inch tablet, on the other hand, is more reasonably priced considering its competition.
Check the product here: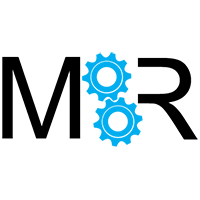 Mark is a graduate in Computer Science, having gathered valuable experience over the years working in IT as a programmer. Mark is also the main tech writer for MBReviews.com, covering not only his passion, the networking devices, but also other cool electronic gadgets that you may find useful for your every day life.