If three years ago, the 802.11ac was something exotic, expensive and not many devices were supporting it, now it's equally widespread to the older 802.11n and is a necessary feature to consider when acquiring a new router.
But, the 80.211ac technology has evolved to unimaginable levels and now, we have ultra routers which feature AC3200 speeds, tri-bands, MU-MIMO technology and more. But they are quite expensive and right now, because no device can really use that much power, the best suggestion would be to stick with AC1900 or below routers.
So, here is where the likes of NETGEAR Nighthawk, ASUS RT-68U or WRT1900ACS shine. But, if you're on a tight budget and still want to satisfy the craving for new technology and better speed, there's a relatively new AC1900 router, named TENDA AC15 AC1900, that promises good speed and coverage and a ton of features, all for a cheap price.
It is really uncommon for a router that features the AC1900 technology to have such a low price, so let's see if the Chinese Company cut some important corners in the making of the A15 and if it's a viable competitor to the other more popular AC1900 routers on the market.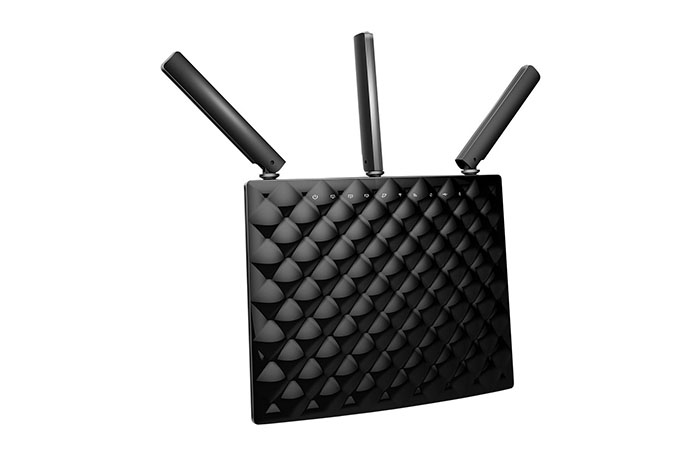 Design
Right now, there is an increasing trend for routers to have a clean, minimalistic design, with less flashy features, but it seems that the AC15 is an exception.
So, yes, the TENDA AC15 AC1900 doesn't have the most aesthetically pleasing design, it features a black case with a glossy finish and a soft bubble-wrap-like pattern that doesn't retain fingerprints. Overall, it's not discrete in any way.
The case is well ventilated, it has three external, 3dBi dual-band antennas (which are kind of flimsy) that cannot be removed and consequently non upgradeable. The router is designed to stand vertically and comes with a detachable stand (it has rubbery pads which help the router to stay in one place). But fortunately, the router can be mounted on the wall, being VESA compatible.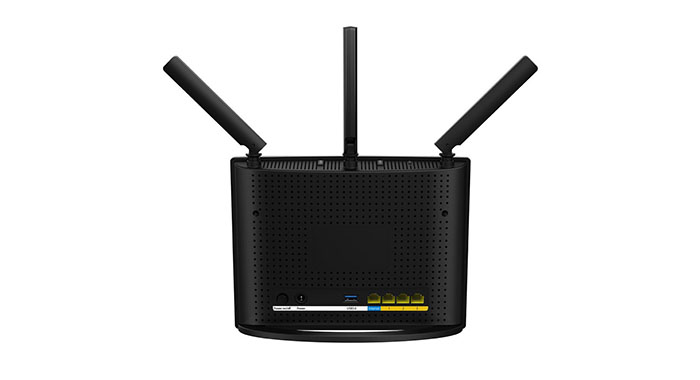 Because it measures 8.90×7.07×3.02 inches and weighs 2.2 pounds means the router is not particularly big and because it stands vertically, finding a place for it is easy, but don't expect it to blend in with the furniture, because it won't.
On the front of the AC15 there are ten blue status LEDs for Power On/Off, LAN and Internet ports, the 2.4GHz band, the 5GHz band, WPS, USB 3.0 and System.
On the back of the router can be found a Power port, an USB 3.0, one WAN port and three wired GIGABIT Ethernet ports (whereas, normally, you get four). On top rests the WPS button, a WiFi button and the RST button (press and hold it with a paperclip for about 8 seconds to reset the router to default settings).
Overall, the design of the router is not really impressive, but it is expected considering the price tag. Still, it has a well placed USB 3.0 and everything any other router can offer.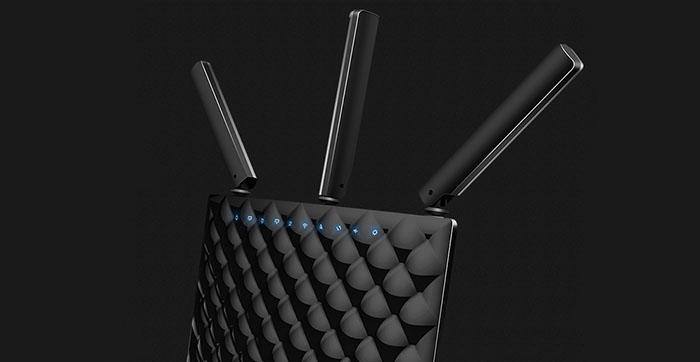 Hardware
Hardware-wise, the TENDA AC15 AC1900 features dual-core Broadcom BCM4708A CPU, backed by 256MB DDR3 RAM and 16MB flash memory storage. The router can deliver a data transfer rate of up to 600 Mbps on the 2.4GHz band and a maximum of 1300 Mbps on the 5Ghz band, using 802.11ac technology.
Attach an exterior HDD to the AC15 using the USB 3.0 port and you get a reasonable NAS server.
Note: TENDA AC15 uses BCM4360 radios for both the 2.4GHz and 5GHz bands, just like ASUS AC-RT68U, NETGEAR R7000, TP-LINK Archer C9 and LINKSYS WRT1900ACS.
Performance and Connectivity
TENDA AC15 has three antennas that, unfortunately, cannot be upgraded, but still help a lot to reach a better coverage. And that's not all, the AC15 features the Beamforming+ technology. This means that the router detects all connected devices and focuses the signal directly to them in order to deliver the best WiFi experience. It also reduces interferences from other devices.
Besides the three external antennas and the Beamforming+ technology, there are high powered amplifiers that ensures a great WiFi range and stability.
In order to test the router we connected another AC15 in bridge mode and we got the following results. Using the 5GHz band and 802.11ac technology, we measured 298 Mbps at close proximity (around 10 feet). At a longer distance (approx 35 feet), the router managed a maximum of 120Mbps. Surprisingly, at close range, this inexpensive router managed to deliver speeds close to the TP-Link Archer C9.
Afterwards, we used the 2.4GHz band and we measured 75 Mbps, in the same room at around 10 feet and 46Mbps at around 35 feet.
Next, we paired the router to an external HDD through the USB 3.0 port and we measured its NAS capabilities. So, we measured a maximum of 37MBps for writing and up to 48MBps for reading.
Yes, the 2.4GHz band speed is a bit on the low side and could have been better. Still, if you consider the price and the really good 5Ghz band performance, you realize that the AC15 is a actually a really capable router.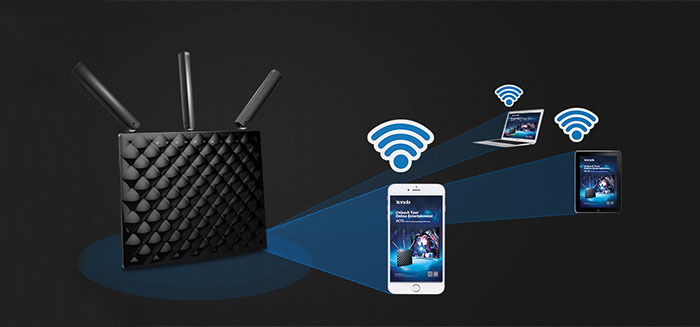 Setup
To setup the Tenda router, you can either use the PC or an app for Android phones or iPhones. On the PC you simply have enter the Tenda router ip address, 192.168.0.1, and afterwards, just follow the wizard, which helps you configure your username and password, as well as PPoE, IP address or DHCP.
Using the phone app is equally simple, you connect the headset to the WiFi connection and simply setup your router in a few short steps.
The Landing Page features a menu on the left: Internet Status, Internet Settings, Wireless Settings, Guest Networks, Smart Power, USB Application, VPN, Advanced Settings and System Settings.
The Internet Status shows if you're connected to the internet and all connected devices. Here you can also blacklist any unwanted device. The Internet Settings allows you to setup the connection type, which can be DHCP, Static IP or PPOE.
Wireless Settings provides a number of choices, including WiFi Name and Password, WiFi Schedule, Wireless Repeating, Channel & Bandwidth, Signal Conditioning (high, medium or low transmit power) and WPS (which is quite basic, you can enable or disable it).
Guest Network allows you to enable or disable it, setup the 2.4GHz and 5GHz WiFi name and the Guest Network Password (one for both bands). Unfortunately, we found no wireless client isolation settings.
Smart Power is quite an interesting feature. What it does is to create a schedule (the default being from midnight to 7:00 am), so the routers remains active only if there is data transmission of more than 3KB/s (also the default). This, obviously, helps save on the power bill.
The USB Application has three tabs, one for File Share (you can access data using FTP, SMB or LAN), one for DLNA and the last one for Printer Service. Next, the VPN has two tabs, the PPTP Server and the PPTP/L2TP Client (for both, there are only two options, enable or disable)
The Advanced Settings features Parental Controls (scheduled Internet access and whitelist options), Bandwidth Control, Smart LED, TENDA Cloud (remotely manage your router using TendaCloud), Remote WEB, DDNS (your options for service provider are dyndns, 3322.org and no-ip.com), Virtual Server (features minimal Port Forwarding), UPnP and IPTV.
System Settings is home to the System Status, Login Password, LAN IP Settings, WAN Settings, Reboot, Firmware Upgrade, Backup/Restore, Reset, System Log, Auto Maintenance and Time Setup.
Overall, it's clear that the UI is designed with ease of use in mind. Settings are clear and easy to find, but as with most routers released lately, the design is minimal and some features are left behind. So, yes, the UI lacks some features, but most users won't really feel the need for more.
Still, if you like to fully configure the router, TENDA AC15 is compatible with Tomato.

Conclusion
It's obvious that TENDA cut some corners on the AC15 AC1900, the design may not the prettiest, there is no USB 2.0 and the 2.4GHz band is not the strongest, but it has a solid 5GHz performance, it features an USB 3.0, an UI with a lot of features and let's not forget, this is an AC1900 router featuring a price tag below what the competition has to offer.
So, if you want a reliable, good performing AC1900 router, without breaking the bank, then TENDA AC15 is the best choice.
Check the product here: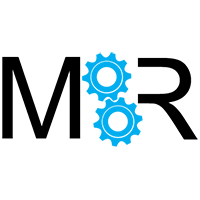 Mark is a graduate in Computer Science, having gathered valuable experience over the years working in IT as a programmer. Mark is also the main tech writer for MBReviews.com, covering not only his passion, the networking devices, but also other cool electronic gadgets that you may find useful for your every day life.