The ARRIS SURFboard SB6183 DOCSIS 3.0 Cable Modem is the successor of one of the best and most popular modem on the market, the Motorola SB6141 and, before deciding to purchase one yourself, let's see why it's important and what role does a modem serve in your network.
Nowadays, having an Internet connection is mandatory, as it's your source for news, entertainment, a way to keep in touch with your friends and family and a way to enhance the performance of every business. But how does the Internet reach all your connected devices? It's simple, everybody knows that you need a router for that. Sure, it's true that a router is used to spread the Internet all around your home, but you can't actually connect a router directly to the Internet. For this, you need a cable modem.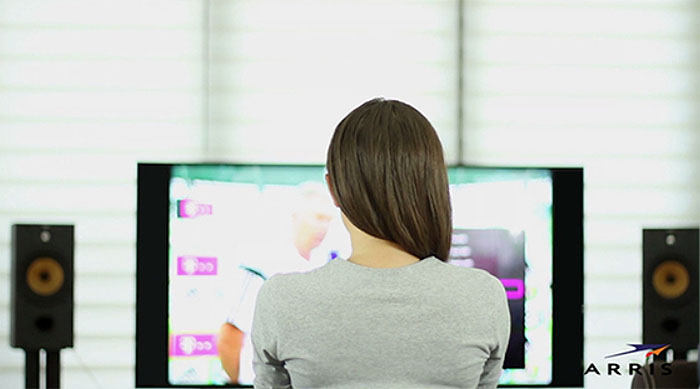 Now that we learned that the Internet Servers connect to the modem, comes the next enigma: should you buy a modem or rent it from you Internet provider? This is a tough question and the opinions are quite scattered. Internet service providers will give you a modem along your data plan, but you will have to pay a monthly fee (which ranges between 5 to 10 dollars) and the modem is more often than not, weak and over-evaluated. Also, between 6 months and a year, you get your money back. But, there are some disadvantages, as you need to know how to install and maintain your network (it doesn't require a steep learning curve) and your modem will be blamed about anything bad that happens with your Internet connection (by the ISP).
CHECK OUT THE BEST CABLE MODEMS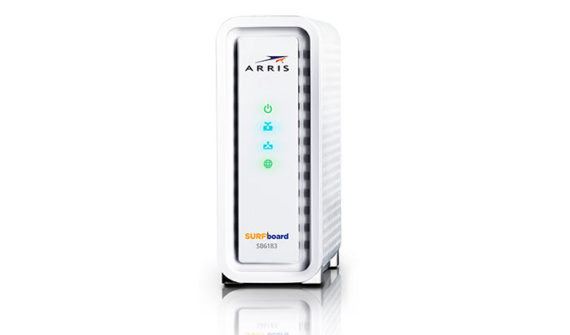 Design
First of all, you will open the box, which contains the Arris modem, a power supply cable, an Ethernet cable (Standard Category 5) and the Software Licence, along with the Regulatory Card (software licence warranty and instructions).
The modem itself looks colourful and fresh, featuring a white plastic case, with soft rounded corners and covered with lots of vent holes (the case looks like it wraps around a main rectangular body). The modem is positioned upwards and is quite sturdy thanks to the rubberised pattern at the end of the four feet. Also, ARRIS SURFboard SB6183 is of rather small proportions, measuring 5.0 x 2.1 x 5.0 inches and weighing 22.4 ounces, so it's easy to find a place to put it without worrying that it will occupy too much space.
The front of the router is home to the Arris logo, the model name and number, as well as four status LED lights responsible for Power, Receive (green means that the Downstream channel is connected and blue means there is a high speed Internet connection with bonded downstream channels), Send (green means that the Upstream channel is connected and blue means there is a high speed Internet connection with bonded upstream channels) and Online.
The back of the router is coloured in four different nuances and is the place where you'll find the Ethernet port (RJ-45 network cable connection), a coaxial cable connector and a Power connector.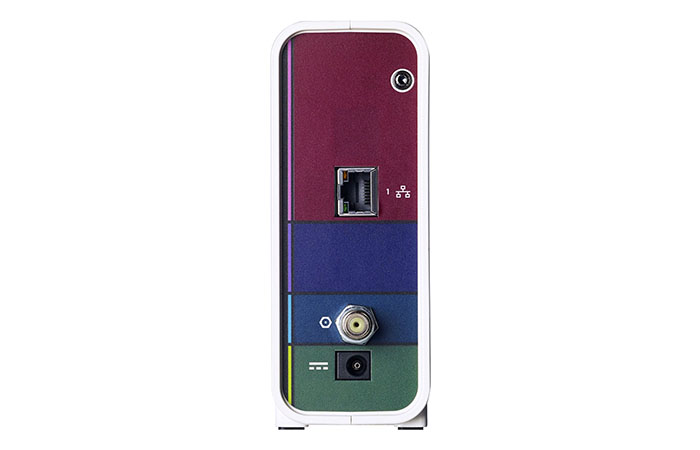 Sure, the router is white, but thanks to the colourful back, along with the LEDs on the front make up for a rather pleasant visual experience, so you don't have to hide the modem after you connect it to the Internet (like you would do with most other modems available on the market).
Hardware
Sure, the case is pretty, but what's on the inside, matters and ARRIS SB6183 doesn't disappoint. It features a 600MHz dual thread processor (Broadcom's BCM33843 SoC, with 16×4 DOCSIS channel bonding), 1GB G-die DDR3 SDRAM and a 64-Mbit 3.0 V SPI Flash Memory.
Arris SB6183 is a DOCSIS 3.0 (Data Over Cable Service Interface Specification), which is an international standard which allows high speed data transfer over existing CATV connections. This way, Arris can handle up to 4 upstream channels and 16 downstream channels.
All this ensures a maximum theoretical downstream speed of 686 Mbps and an upstream speed of 131 Mbps.
Compatibility and Performance
We all know how well received was the ARRIS SURFboard SB6141 DOCSIS 3.0 Cable Modem by the general public, as it was everything you would need from a cable modem: great performance, stability, it was easy to maintain and had a great price. Unfortunately, in a short period of time, some Internet Service Providers will stop supporting the SB6141 (yes, I'm talking about Comcast, and others may follow), so you may want to go with a cable modem that will be relevant for at least two to three years (to recover your investment). That's why the SB6183 may be a better idea, even though it is a bit more expensive (for now).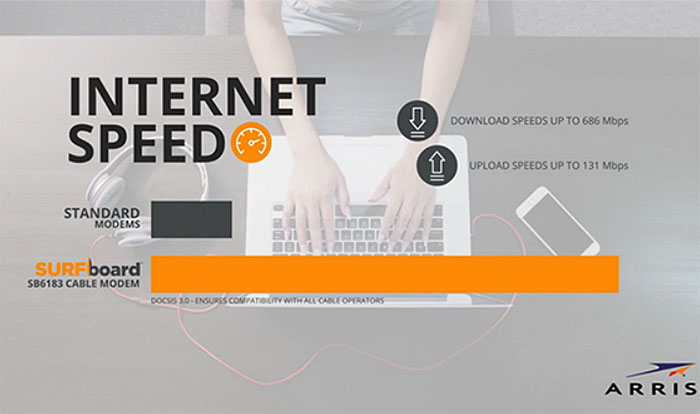 Returning to the ARRIS SURFboard SB6183, the modem is compatible with Time Warner Cable, Cox, Comcast, RCN, Cable One, RCN and Charter. Before purchasing a cable modem by yourself, it is very important to either check your ISP's website to see if the modem is on the list of compatible devices or, to be extra sure, phone them and ask if it is compatible and if there's any speed cap (this is the most unpleasant scenario that happens more often than you would expect).
The ARRIS SURFboard SB6183 is also compatible with most Operating Systems: Windows XP SP3, Vista SP2 or later, 7 SP1, 8, 10, MAC 10.4 or higher, UNIX and LINUX.
As seen before, ARRIS SURFboard SB6183 uses a 16×4 channel bonding, capable of delivering high speed performance, but it is dependant on your ISP. For example, if you use Comcast services (or TWC), it does support 16 bonded downstream channels, so you can get full use of the modem's capabilities. Still, there may be regions or ISPs that will only support 8 bonded channels (make sure you check it out before purchasing the product).
Testing the modem using a 300 Mbps plan data, I was able to actually peak at 300 Mbps and averaged at 257Mbps for downstream performance. The upstream stayed the same as with the SB6141, being capable of a maximum of 131 Mbps (thanks to its 4 bonded channels). In real life, I managed to measure an average of 56 Mbps (dependant on the specific data plan).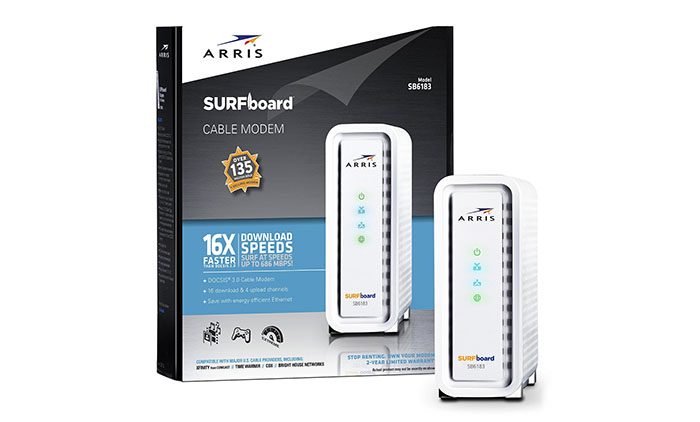 The ARRIS SURFboard SB6183 does not have any WiFi capabilities, so you will need a separate wireless router to spread the Internet across your home. To recommend a few, we had a pleasant experience with Netgear Nighthawk AC1900, ASUS RT-AC68U and TP-Link Archer C9, but there are many others out there (we have reviewed a lot of them, so check them out).
The modem was built to be energy efficient, but it isn't really cool, simply because it is one of the fastest modems around, so high performance usually translates into more heat (make sure you put it in a place where you don't obstruct the air vents).
Interface
ARRIS SURFboard SB6183 allows you to monitor the configuration settings and the status of your modem with the help of the Web Manager, which can be accessed by typing https://192.168.100.1 into a browser.
The Web Manager features six tabs, along the top, for Status (the operational status of the modem), Product info (software and hardware related information), Event log (displays the detected events and the time they occurred), Addresses (serial number and the MAC addresses for the modem and the computer connected to the network), Configuration (network connection frequency and the channel ID) and Help.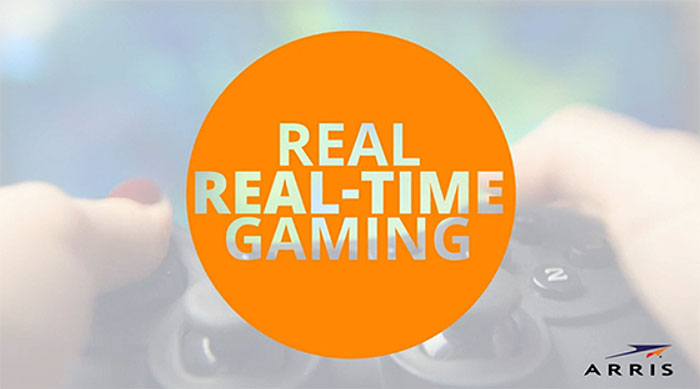 There may be a time when you may want to restore the cable modem to its default, factory settings. This can be done by accessing the Configuration tab and by clicking the Restore Factory Defaults.
Note: If you don't have an Internet connection after installing the modem, you may need to manually configure it. This is usually done by contacting you ISP.
Conclusion
It isn't hard to see that ARRIS SURFboard SB6183 is a future-proof device, capable of delivering high performance and fulfill any kind of multimedia demands you may throw at it, be it Full HD video streaming, online gaming, peer-to-peer apps and so on.
Also, because lots of Internet Service Providers have the habit of giving under-performing modems at an expensive rental fee, getting yourself a high-performing DOCSIS 3.0 cable modem is the best choice on the long run (and cheaper).
Check the product here: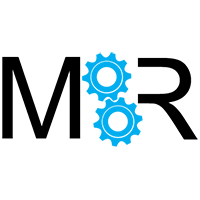 Mark is a graduate in Computer Science, having gathered valuable experience over the years working in IT as a programmer. Mark is also the main tech writer for MBReviews.com, covering not only his passion, the networking devices, but also other cool electronic gadgets that you may find useful for your every day life.