When looking for a new router, it is recommended that you keep an eye for the latest technology, mainly the 802.11ac, but bear in mind that the AC routers tend to be more expensive than the N variants.
So for an inexpensive price, TP-Link presents the Archer C7 AC1750 that promises to deliver the AC technology (up to 1300Mbps on 5GHz and 450Mbps on 2.4 GHz) for an affordable price while trying to retain all the qualities of a premium router.

Design
The Archer C7 features a sleek design with a glossy finish on top (easily covered in fingerprints), a matte base and although it is not a small router, it does look elegant and has a premium feel.
The router has three thick 5dBi antennas (for 5GHz band) that are firmly attached and help providing a large coverage. On the front panel you can see the blue-light status LEDs and on the rear rests two USB 2.0 ports (that offer NAS and printer capabilities), a WPS setup button, four LAN ports, two USB LEDs, ON/OFF button for WiFi, a Power button and the power input port.
Inside the router there are three additional 2.4 GHz antennas.
Note: The Archer C7 can be wall-mounted thanks to some sections on the base of the router.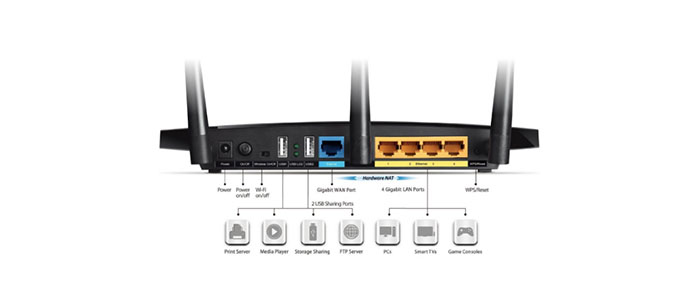 Performance and Connectivity
From the performance point of view, the Archer C7 manages to deliver a good performance, not among the top if you compare it to other AC routers (like Nighthawk) but it does stand above most of its competitors if we consider its price range.
UPDATE: The Archer C7 has been revisited (I used the second version) and tested into a new location, with less interferences. These are the new results.
As the name suggests, the C7 AC1750 features 1300Mbps for 802.11ac and 450Mbps on 802.11n speeds. The 802.11n supports both the 2.4 and 5GHz frequency bands.
Tested on 802.11ac at 5GHz we measured 405 Mbps at 5 feet and 326 Mbps at 30 feet and on 802.11n at 5Ghz we measured 281 Mbps at 5 feet and 205 Mbps at 30 feet.
Tested at 2.4Ghz we measured 120Mbps at 5 feet and 77 Mbps at 30 feet.
The signal strength and stability reminded us of some pricier models like Netgear Nighthawk as we experienced no downtime and no signal loss the entire time we were testing the router.
The C7 is more than sufficient for most users as it has a reasonably good coverage, it streams Full HD movies with ease, has features like VPN and QoS that work seamlessly and it can be a worthy purchase if you don't want to spend too much on an AC router.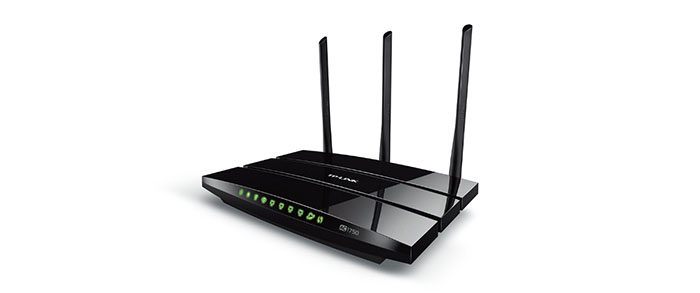 Setup
Setting up the C7 is pretty straight forward. The first and the easiest way is by using the Web setup option as you are guided through every option to get the router ready to run.
The second way is by using the TP-Link Easy Setup Assistant Disc. The instructions on the disc weren't really clear and although you can setup your router with a small amount of effort we recommend the Web Setup as it is fitted for most people.
So, what can you expect when using the Web Setup? From my experience it is pretty generic. After the login you are greeted with a a list of your router stats and moving on with the quick setup tab you are able to setup basic options like network names and passwords and further advanced options like parental controls, diagnostic tools, QoS, VPN, Dynamic DNS, Port Forwarding, USB Sharing, IGMP proxy and more.
Conclusion
All in all, the TP-Link Archer C7 is not the most powerful dual band router, there are a lot of other AC router options on the market that offer better speed and coverage but for the double price of the C7.
So for its price (check it out) and increased popularity this router does deliver a good experience backed by a lot of premium options packed in an attractive designed case.
Check the product here: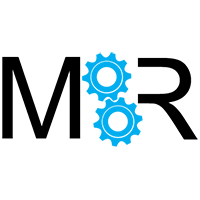 Mark is a graduate in Computer Science, having gathered valuable experience over the years working in IT as a programmer. Mark is also the main tech writer for MBReviews.com, covering not only his passion, the networking devices, but also other cool electronic gadgets that you may find useful for your every day life.