The Asus RT-AC68U is most likely the most iconic wireless router that Asus has released so far and the manufacturer knows it which is why it is still supporting this model even after almost a decade after its release. So why did I decide to test the RT-AC68U now, when WiFi 6 and WiFi 6E routers are already eating up the market share?
A reader asked me a couple of months ago to re-check this still popular router and see how well it stands against the newer routers and if it's actually worth going for the newer tech or if it's best to hold on for a bit more, while still keep using the good ol'reliable tech. But there is a bit more than that because as I already mentioned, Asus did not yet let go of this model and there are apparently several hardware revisions available, the latest being v3.0 which was released last year.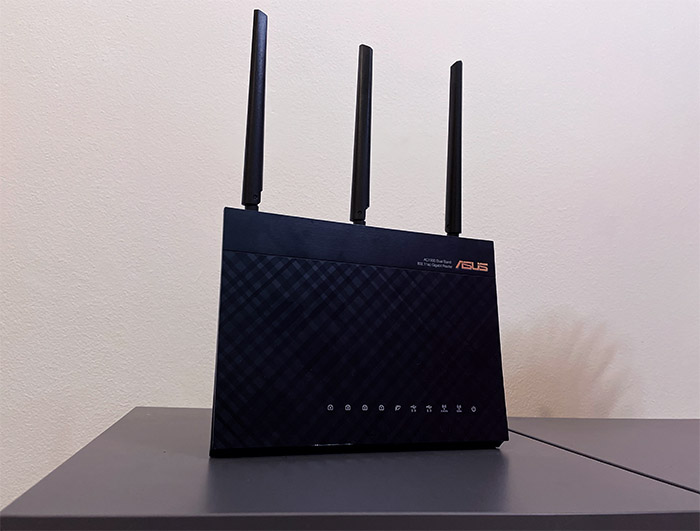 I do not have the v3 available, so I will still be using the first generation of the RT-AC68U, yes, the one that heats up a bit. But even so, it should still paint a fairly accurate picture on whether it's time to fully move towards the new WiFi standards or if the WiFi 6 routers aren't really going to bring that much improvement unless you have a bunch of compatible clients as well. After testing quite a few WiFi 6 routers, I already have an idea about the current state of the home networking devices, but let's still re-test the Asus RT-AC68U and confirm what we all have been thinking off the last couple of years. (That the WiFi 5 routers are still a very much valid option, even today.)
Asus RT-AC68U v1 vs v3
As expected, Asus did not make any changes to the design of the RT-AC68U and they didn't really need to considering that it doesn't occupy that much space due to its vertical case (which actually stood as inspiration to the newer RT-AX86U). The LEDs are positioned on the front (those blue lights that shine through the case) and the ports are easily accessible. The three antennas are detachable, a craft that has been lost to history and on the rear side, there is still that unnecessary, but aesthetically pleasing transparent band with the logo.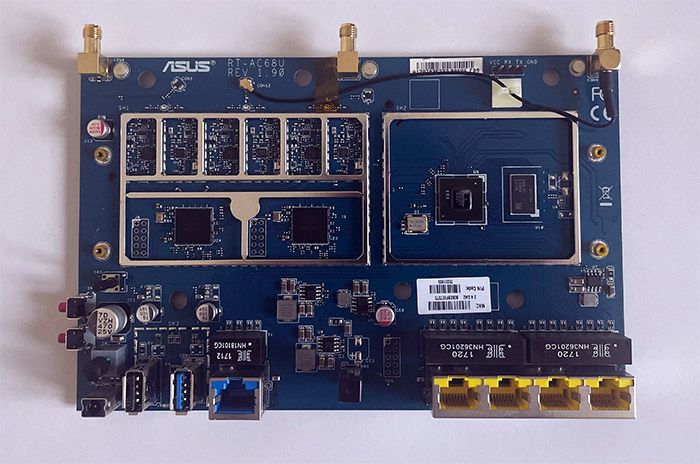 But, while the design remained the same, the internal hardware did not and, since I do not have the newer version, I had to rely on the FCC ID website to reveal the hardware changes. I also opened up my unit to check the internal components and you can see the differences in the following table.

| | | |
| --- | --- | --- |
| | Asus RT-AC68Uv1 | Asus RT-AC68Uv3 |
| CPU | dual-core 800MHz Broadcom BCM4708C0 | dual-core 1.0GHz Broadcom BCM4708C0 |
| RAM | 256MB Samsung K4B2G1646F | 256MB Macronix MXIC MX30LF10189C-TI |
| Storage | 128MB ESMT F59L1G81LA | 256MB Nanya 1945 NT5CC128M16JR-EK |
| Switch | Broadcom BCM4708A0 | Broadcom BCM4708C0 |
| 5GHz Radio | Broadcom BCM4360 802.11a/n/ac 3×3:3 | Broadcom BCM4360 802.11a/n/ac 3×3:3 |
| 2.4GHz Radio | Broadcom BCM4360 802.11b/g/n 3×3:3 | Broadcom BCM4360 802.11b/g/n 3×3:3 |
Features and Performance
The Asus RT-AC68U went through a single major transformation and that's the added support for AiMesh, everything else is the same as almost a decade ago. There's no support for MU-MIMO and, while it's a nice feature to have, it won't really have that much of an impact (if any) considering how few client devices do support it even after all these years. The Beamforming is supported (both universal and explicit) and, as I already mentioned, you can add the RT-AC68U to a mesh network. I have tested an AiMesh system many years ago and it did include an Asus RT-AC68U and an RT-AC86U, but I did have trouble pairing these two routers if I didn't use an older firmware.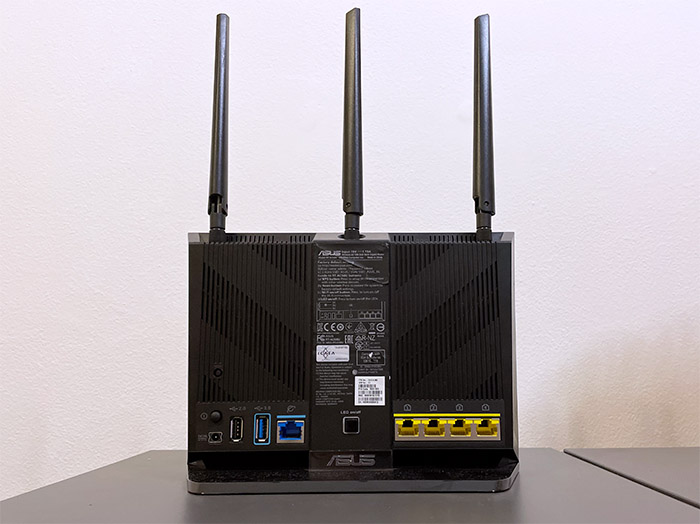 Considering that many users had no trouble adding an RT-AC68U to their AiMesh network, I can only conclude that the hardware changes are more significant that they appear and there is now better support for AiMesh if you go with the newer models – I would avoid the first gen since it's the least performing router. I disregarded my own advice and I did use the Asus RT-AC68U v1 since it's the only I had available, so let's see how it performed in my tests.
Wireless Test (5GHz)
While I usually use two client devices, a WiFi 5 client and a WiFi 6 one, this time, I decided to use four which does include a smartphone, although not a newer one, just an old Pixel 2 XL (the only Android phone I had around). The test involves using two computers, one a server and the other a client and I have measured the throughput that I got over various periods of times (I have also added 40+ minutes long runs to see the changes in throughput). Furthermore, I have also checked the signal strength, since the distance is a clear and nice indicator of how far the router can reach, but it's not really universal, so you may see a different performance at the same number of feet. You will also see that every client device will behave differently at the same signal strength. And this highlights an important factor that is often overlooked and that you're not only testing the router, but the efficiency of the WiFi adapter (or WiFi card) as well. So, if you're getting a bad performance from your router, it can be the fault of your computer, tablet or smartphone as well.
That being said I ran the test with a more generic WiFi 5 client device, which is an Intel 8265 (inside a Lenovo Y520), a better performing WiFi 5 client device (a computer equipped with an Asus PCE-AC88), the aforementioned Pixel 2 XL and a WiFi 6 client device (a PC equipped with an Intel AX200 WiFi adapter). The first test was on the 5GHz band (80MHz channel bandwidth) and, near the router, at about 5 feet, both the PCE-AC88 and the Pixel 2 XL had the best throughput, while the Intel 8265 and the AX200 were farther behind.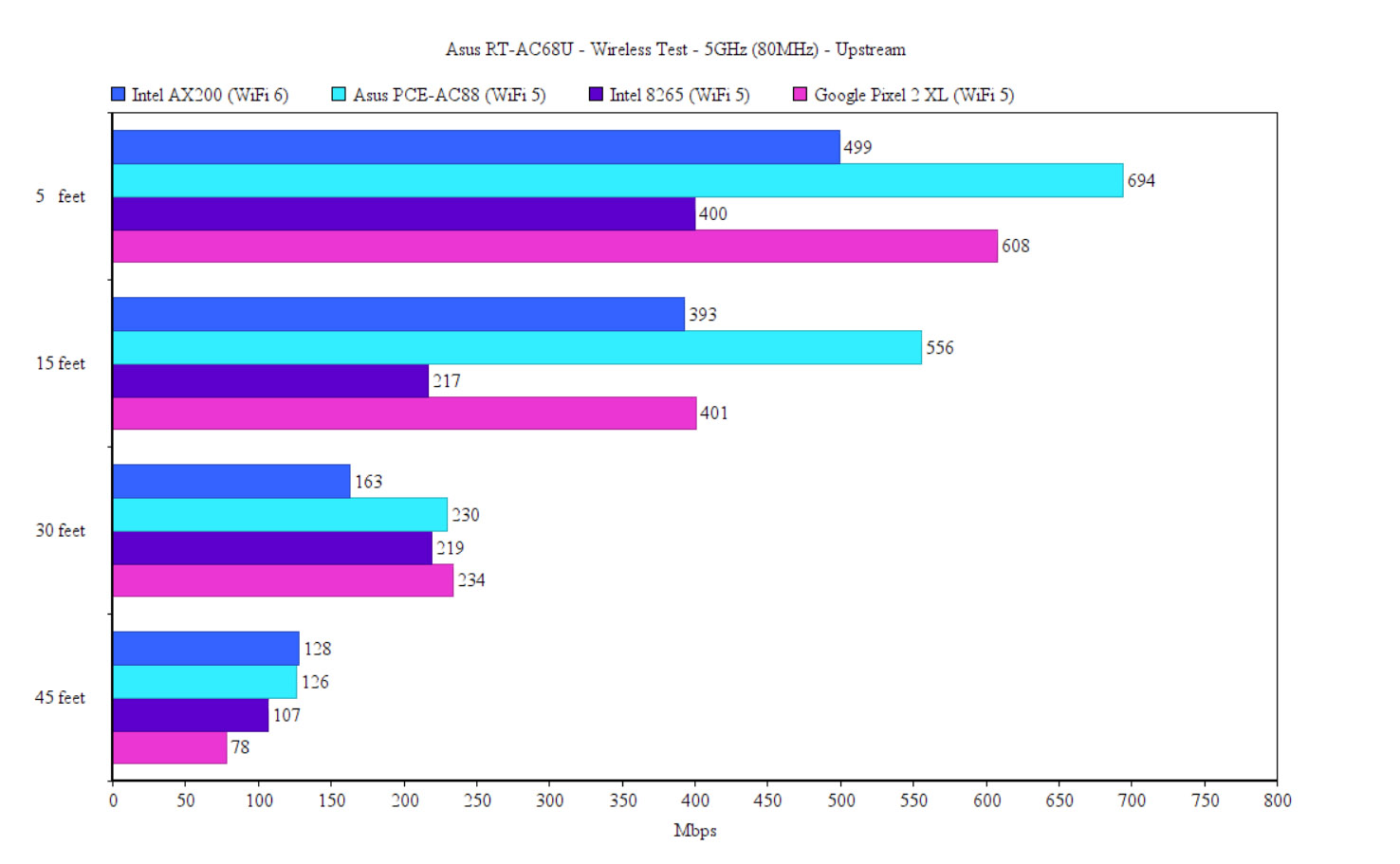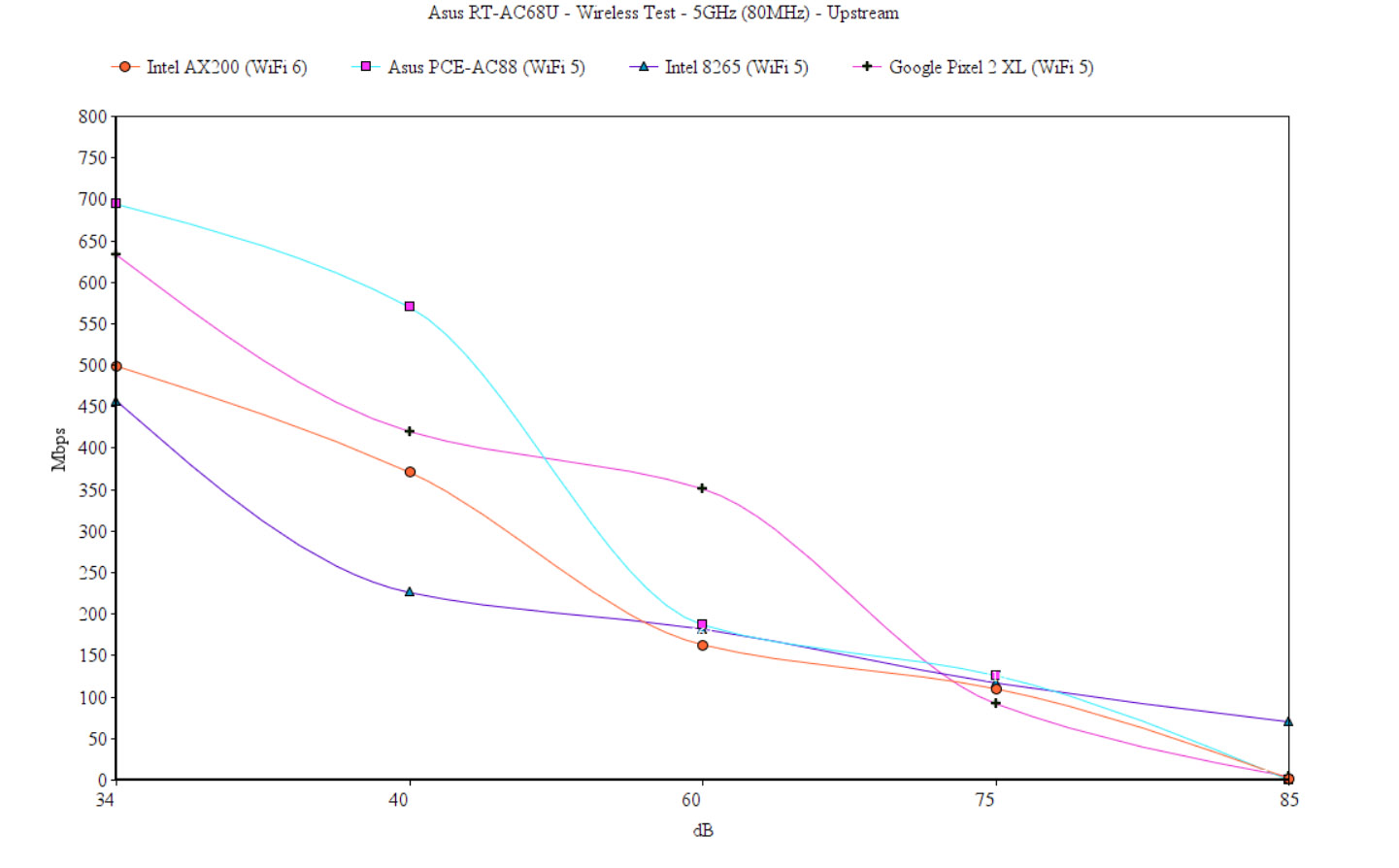 Even so, the backwards compatibility seems to work fairly well since the 499Mbps that I saw are not that bad. Moving to 30 feet, things get more even between the WiFi 5 clients, while the AX200 does perform a bit worse. Lastly, at 45 feet, I saw that the AX200 and the PCE-AC88 performed equally good, while the Pixel 2 XL had trouble with the signal strength. Speaking of signal strength, all four client devices did fairly well up to about 75dB, but, at 85dB, only the Intel 8265 seemed to want to go farther, while all other client devices flatted out to zero Mbps – the distance ranged between 60 to 70 feet and yes, there were lots of walls between the router and the client devices.
Downstream, I was surprised to see that the Pixel 2 XL was the best performer near the router, with the PCE-AC88 a close second, but all four client devices got even out at about 30 feet (at 45 feet, the Pixel 2 XL was the least performing, again having issues with the signal). Furthermore, all client devices could still offer a semi-decent connection when the signal strength was about 85dB, with the exception of the AX200.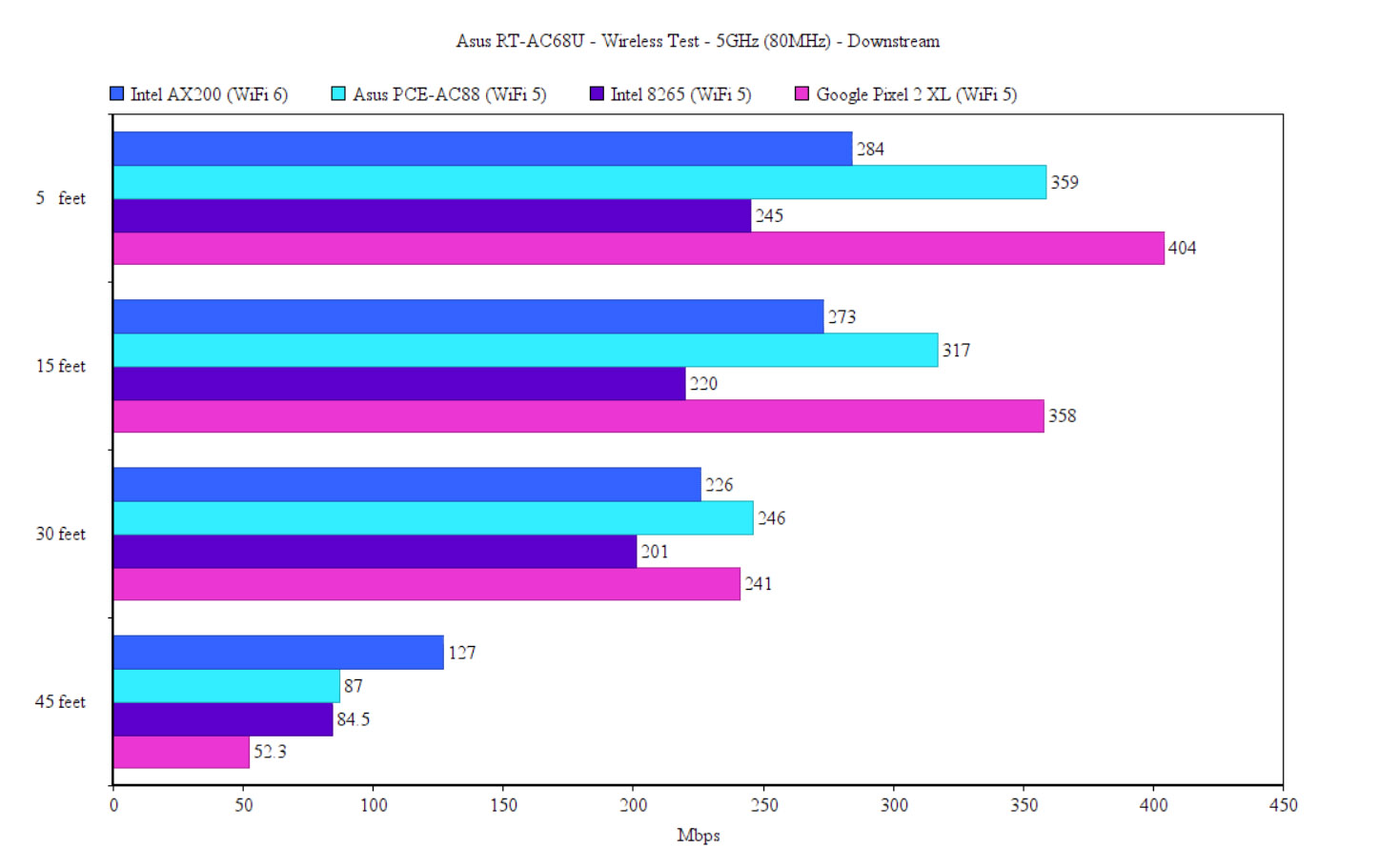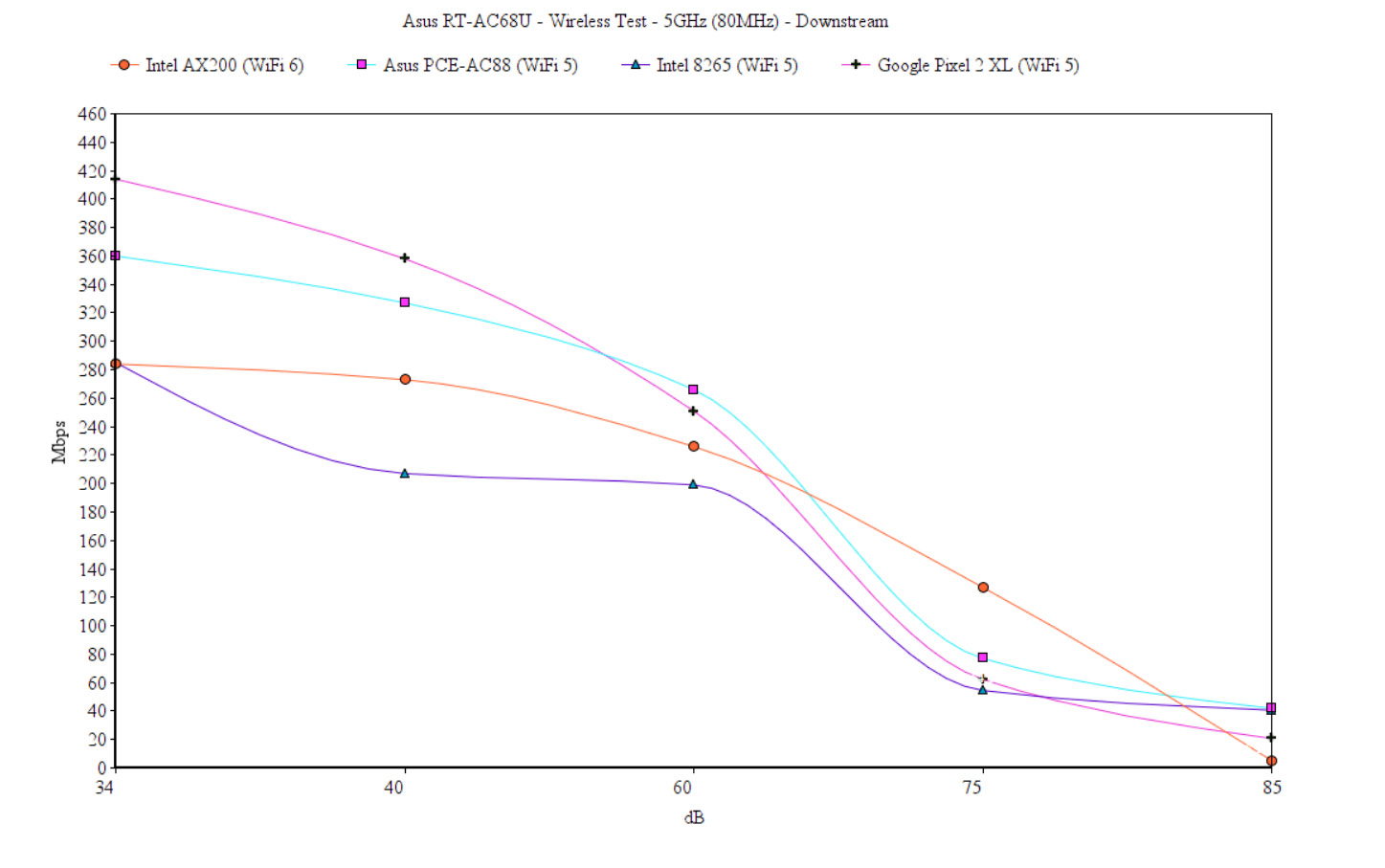 Pros
Has an iconic design
Still performs really well
Will work with both WiFi 5 and WiFi 6 client devices
It supports AiMesh
Cons
Doesn't have some of the latest features that newer Asus routers do
Still a bit expensive considering its age
Gets a bit hot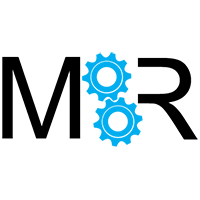 Mark is a graduate in Computer Science, having gathered valuable experience over the years working in IT as a programmer. Mark is also the main tech writer for MBReviews.com, covering not only his passion, the networking devices, but also other cool electronic gadgets that you may find useful for your every day life.