The Taiwanese company, D-Link, has a long, successful history in the networking business, being the market leader in WiFi products shipments all over the world, so most of us had high expectations about their new instalment.
But D-Link waited too long to join the AC1900 party. We got awesome devices from NETGEAR, ASUS and LINKSYS and some time later, D-Link joined the circle of high-end AC1900 routers. In order to still remain relevant and survive in the competition, they came up with a more affordable price tag than its rivals.
Still, its place among the high-end routers is well deserved, the dual band D-Link router has excellent range, good WiFi performance and there are some new improvements to its UI.
That's right, there is a new UI and it may require a learning curve for those who are accustomed to the old black and orange UI from previous D-Link routers. But overall, is it a good alternative to the likes of NETGEAR Nighthawk or ASUS RT-AC68U? Let's find out.
YOU CAN ALSO HAVE A LOOK AT THE BEST WIRELESS ROUTERS AT AN ACCEPTABLE PRICE
Design
The D-Link DIR-880L is a really sleek device, it comes in all-black or all-white (it has a certain flair, but black cables may take away from the general appeal), it has a glossy finish and a carbon fibre-like textured band.
D-Link decided to ditch the cylindrical design of the AC1750 router in favour to the more commonly used flat rectangle shape. This is a good thing because the DIR-880L is quite stylish, the build quality is good and although fully made of plastic (just like any other router), it is solidly put together. The router is also well ventilated.

The DIR-880L is a fairly large router (still not as large as the NETGEAR Nighthawk), measuring 9.75×7.50×1.50 inches and weighing 1.4 pounds; on its back there are three oversized, removable and upgradeable antennas but despite all these, the router doesn't draw too much attention to itself.
Note: In order to get the best performance, tilt the right and left antenna sideways from the centre at a 45 degree angle.
Regardless the colour, white or black, it will fit with most types of furniture and if you don't like it flat on a surface or don't have enough space to spare, the router can be wall mounted (VESA compatible).
On top of the router rests a set of non intrusive, solid blue status LEDs with corresponding icons for Power, Internet connection, 2.4GHz and 5GHz wireless networks and two LEDs for the USB 2.0 and USB 3.0 ports.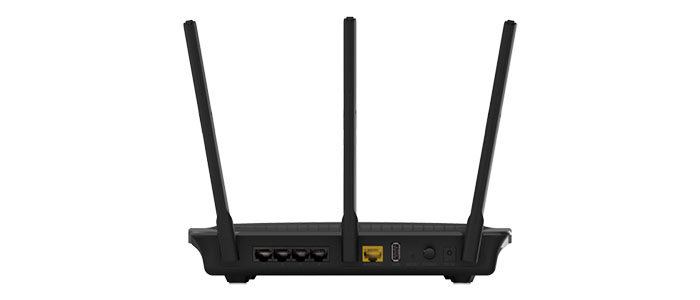 On the left of the router there is the WPS button and on the right rests the USB 3.0 port. The placement of the USB 3.0 port is somewhat better than on some other routers that have it placed on the front (like the ASUS AC2400 RT-AC87U) but it still can create a mess of cables, especially if using it as a NAS. From our point of view, the best position is on the back of the router.
On the back of the D-LINK DIR-880L there are four Gigabit LAN ports, a Gigabit WAN port, a USB 2.0 port, the Reset button (you have to insert a paper clip and wait for a few seconds to return the router to its default settings), the Power button and the power socket.
Overall, we liked the traditional design of the DIR-880L and although a bit bulky, it remains discreet enough to suit most tastes.
Hardware
Under the hood, the D-LINK DIR-880L has a 800MHz dual-core Broadcom BCM4708A0 CPU that features a data transfer rate of up to 600Mbps on 802.11n and 1,300Mbps on the 5GHz band using 802.11ac.
The CPU is backed by 256MB DDR3 RAM and 128MB flash memory. Thanks to the USB 3.0, you can attach an exterior HDD in order to create your own Network Attached Storage.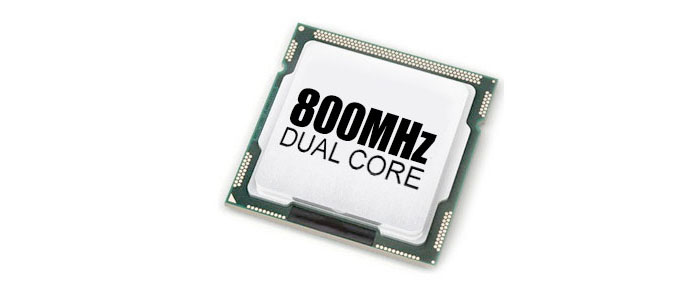 Performance and Connectivity
The D-Link DIR-880L has three external antennas and uses beamforming technology to focus and enhance the wireless signal where it's needed the most. This isn't something new as we saw this technology successfully implemented in all the latest routers.
What we really liked, though, is the concurrent dual band technology that allows us to use both the bands at the same time for different tasks. For example, we could stream movies or games on the 5GHz band, while browsing the web or reading emails on the 2.4GHz band.
The 600Mbps maximum data transfer on the 802.11n is achieved in certain conditions. The DIR-880L uses what is called the Turbo QAM proprietary technology, which boosts the old 2.4GHz band performance. In order for this to happen, one needs Turbo QAM compatible devices (otherwise you are stuck at 450Mbps on 2.4GHz), but fear not, a lot of newly released devices feature this technology.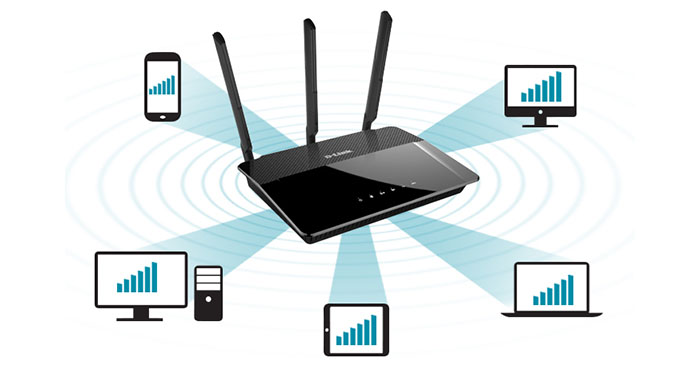 The Turbo QAM is not the only trick, the three large antennas are 5dBi (usually it's 3dBi) and thanks to the beamforming we should see some really good results.
While testing the router on the 2.4GHz band we measured 160Mbps at close proximity (3feet), 140Mbps at 10 feet and it reached a maximum of 95Mbps at at a longer range (65feet). We see that the DIR-880L performs really well at 2.4Ghz but let's see how it fares on the 5GHz band.
So, on 802.11ac, the D-Link DIR-880L managed 410Mbps at three feet, 370Mbps at 20 feet, it decreases to 70Mbps at 35feet and it increases again to 190Mbps at a 65feet range.
We see that although not the best performer on the market, it does deserve a place in the top ten routers.
Next, we coupled the router with a portable device through USB 3.0 and we measured a maximum of 340Mbps for reading and a maximum of 198Mbps for writing. This translates into a reasonable NAS, although not even close to the titanic speeds of Linksys WRT1900ACS.

Setup
The new UI has a minimalistic and clean design, with cleverly placed tabs and sub-menus, making it more compatible with touchscreens, therefore easier to use with tablets and smartphones. Still, although it's easier to work through, it gave us mixed feelings.
To setup the router you will go through the Setup Wizard (after you enter the dlink router ip address, 192.168.0.1, in the browser), which is really simple to use, settings are very intuitive and the approach is minimalistic. You can also register for a my dlink account which will let you access and configure the router remotely, from anywhere in the world using the D-Link's cloud feature.
The DIR-880L simultaneously works on both the 5GHz and 2.4GHz bands and each of the networks has assigned an SSID by default (which are also written on the bottom of the router).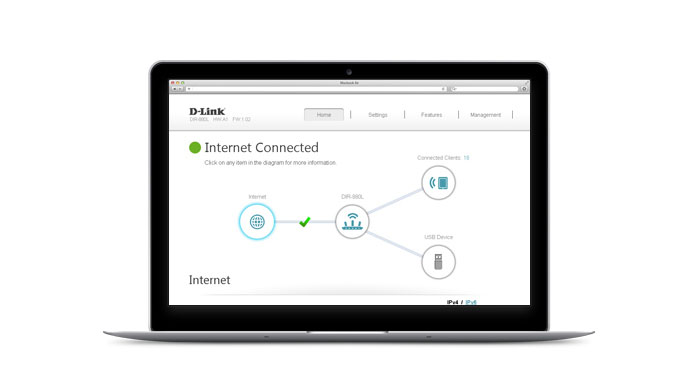 One the Home screen you are greeted with a network map of all the devices connected to the router and there are three tabs which you can access: Settings, Features, and Management.
Settings is where you can configure your router, including Wireless settings, Network settings, access SharePort and mydlink and setup Guest Zones.
Next is the Features tab, which is more suited for advanced users who want a more in-depth management, like the QoS Engine, Firewall, DMZ, VOIP traffic, Quick VPN, RTSP, port forwarding and more.
Management is where you can update the firmware, check system admin, statistics, time and schedule and more.
So, we see that the D-Link DIR-880L features a Quick VPN, so you can create a profile to access a LAN securely, but you also do need a Quick VPN client to be installed on the client.
The SharePort feature is great for streaming movies, music or any other file from an attached USB driver to your computer, TV or smartphone. And we also liked that IPV6 is supported.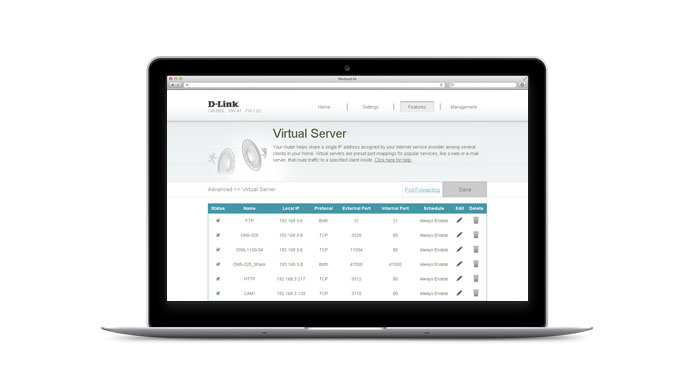 But there are quite a few shortcomings. When we first looked, the Parental Controls seem nowhere to be found. Later, we realised that the it was masquerading under Schedules. So yes, it's quite limited.
You can block particular websites or create schedules for when individual clients are allowed online. There are no filters for content or IP, that's all there is to the Parental Controls.
The QoS is also a bit basic but it does its job properly. You can assign which bandwidth priority (highest, high or medium level) should your connected devices receive on your network.
The firewall is simple as well, you can easily enable or disable it and there is a possibility for you to add your own rules.
Overall, the new UI seems a bit superficial and although will be enough for most users, for those who want to fiddle with every setting and like to configure their router in-depth, the D-Link DIR-880L does not deliver.
Conclusion
The D-Link DIR-880L is a great router, it offers good coverage and speed, it's easy to setup and manage, with good 802.11ac performance and affordable price. And if you can overlook or you're not bothered by the over-minimalistic UI, the D-LINK DIR-880L is the router for you.
Check the product here: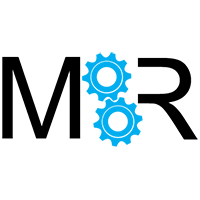 Mark is a graduate in Computer Science, having gathered valuable experience over the years working in IT as a programmer. Mark is also the main tech writer for MBReviews.com, covering not only his passion, the networking devices, but also other cool electronic gadgets that you may find useful for your every day life.