The question on whether the WiFi router stores the browsing history can be seen from two angles. One is the worried parent that wants to know if their children have accessed dangerous or questionable content for their age. And the other may be either a teenager worried that the parents are invading their privacy or some employee that may not be comfortable with sharing their browsing history with their boss.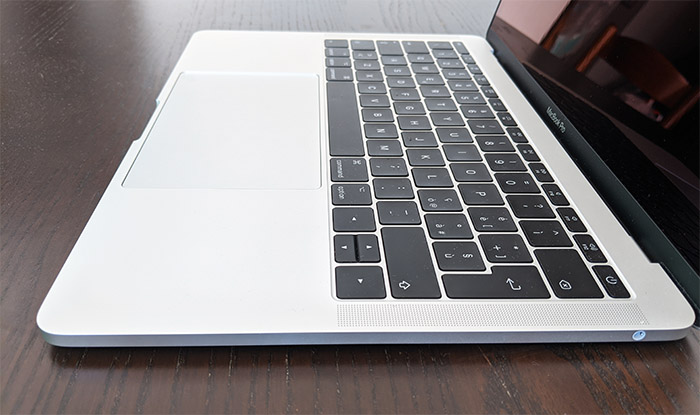 There is also the aspect of connecting to a stranger's WiFi network or public access points. For the former category, I suggest a WiFi router with solid Parental Controls, where it's easy to limit the access to unwanted content, but for the latter, there is little that can be done, except for using a VPN. You're not going to become completely invisible, since there will still be logs for a client device that connected to the network, did something and then went away.
But the entire process will be more tedious and rarely worth it unless there's a (legal) reason to check on your browsing activity. The other great thing about VPNs is that you also blind the ISPs which are legally obligated to keep logs on what the users are doing on the Internet. That being said, let's check some of the most popular WiFi router brands and see if and how they store the browsing history.
Do Asus routers store browsing history?
As every other wireless router out there, the Asus routers do keep logs for every connection that has been made with the client devices, as well as every connection that has been made within and outside the local network. I'll take the Asus RT-AX82U as an example.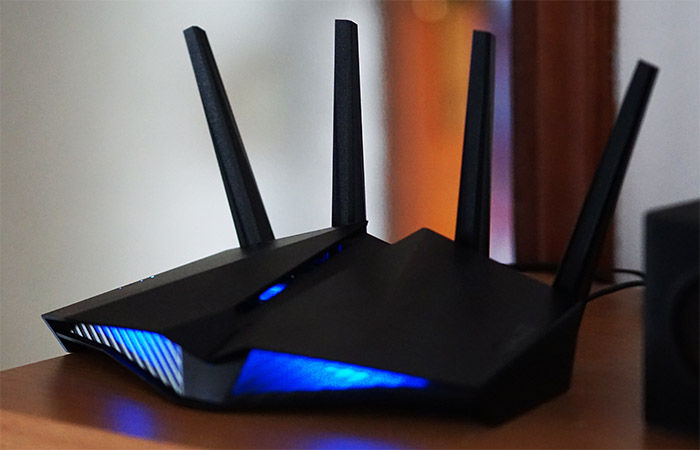 To check the regular logs, go to the web-based interface and, from under Advanced Settings, choose System Log. The first area of interest is the General Log – the displayed info is far from useful for detecting the browsing history or any other more specific info, so you can go to Connections to actually get an idea about which device connected to the network and to what external IP did it communicate with. This can't be hidden by a VPN – I tried – but it's also quite vague enough for most users to not be able to tell apart actual visited websites.
Still it's far from impossible, but there is a better way. If you go to Adaptive QoS, there is a section called Web History. Click on it and, by default it's going to be disabled. This is an important aspect that most routers have adopted since even if there is support for detailed browsing history data, it's pretty much always turned off by default.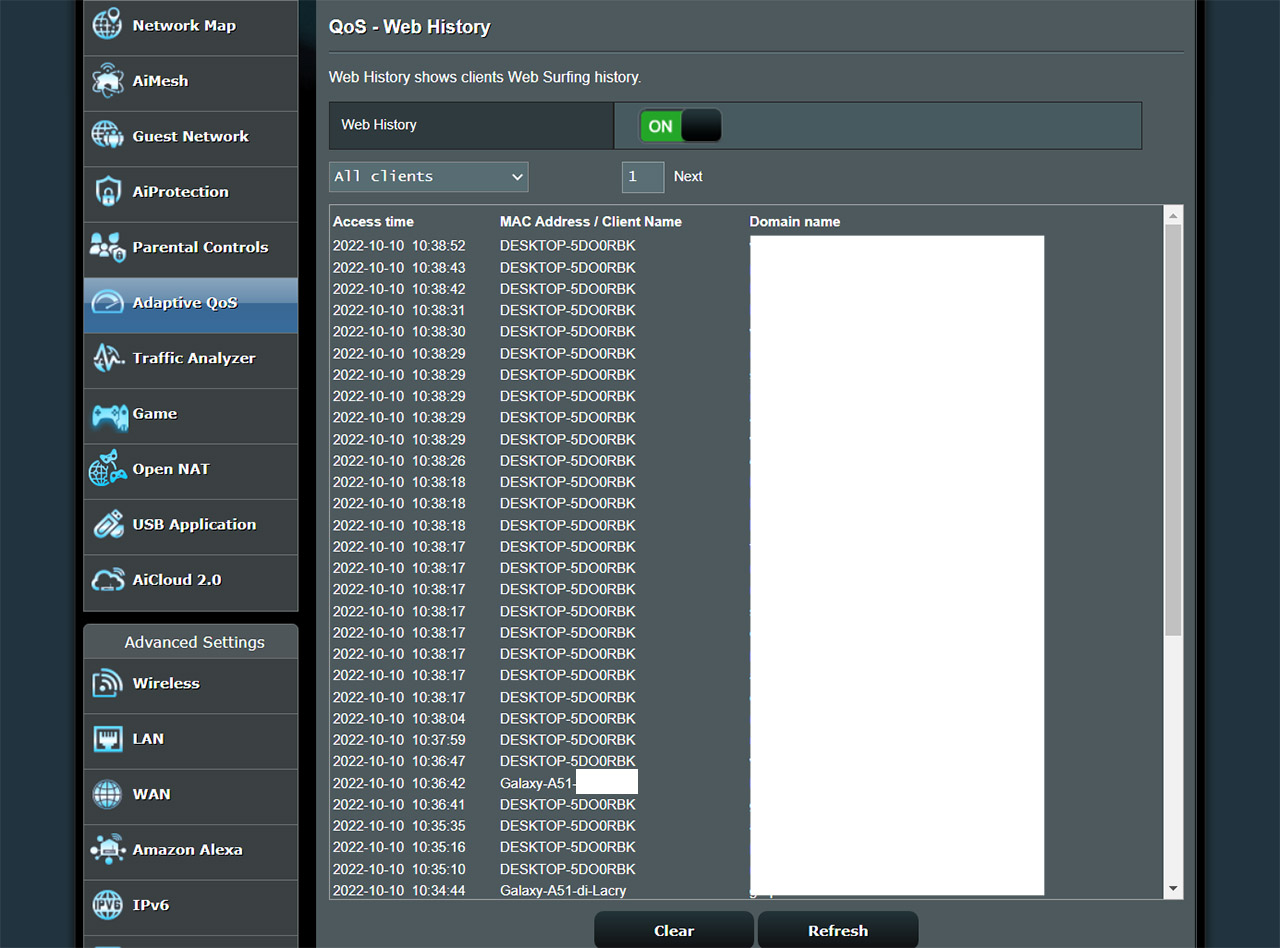 After enabling it, I waited a few minutes and the list started to be populated. And the info is quite detailed because I could see when a specific device accessed an actual hostname (not just the IP address), but of course, the list will also include any automatic callbacks from various devices to some mother servers (a lot of apps like to do so). The question is whether a VPN will hide the browsing history of a user.
And the answer is yes. The previosuly screenshot where two devices were accessing the web (and which websites were accessed), but there was a third device which had ProtonVPN enabled and it's not on that list. And trust me, I was using that device in that period of time, but no info was displayed. It still appeared in the Connection section that we talked about previously, but not here.
How do TP-Link routers store browsing history?
Just like the Asus router, TP-Link routers do keep some general logs divided by category which will make identifying actual connections to hostnames a bit of a pain.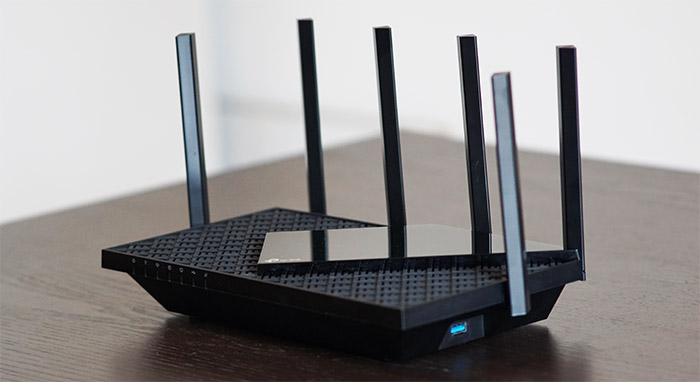 For the purpose of this article, I took the TP-Link AX73 and, to check the logs, I went to Advanced (from the horizontal menu), I scrolled down to System (from the vertical menu) and then I clicked on System Log. Here, it's possible to check all logs or just a specific category which includes the Firewall, NAT, DDNS, UPnP, IP & MAC binding, Access Control, Traffic statistics, Domain Login and so much more. I mean it, there are a lot of categories to choose from, but nothing specific enough to make the browsing history obvious by client device.
I did mention that Asus has implemented the Web Access feature for this exact reason, but has TP-Link include something like that as well? No, because TP-Link thought it would be cooler to make it a part of the HomeShield.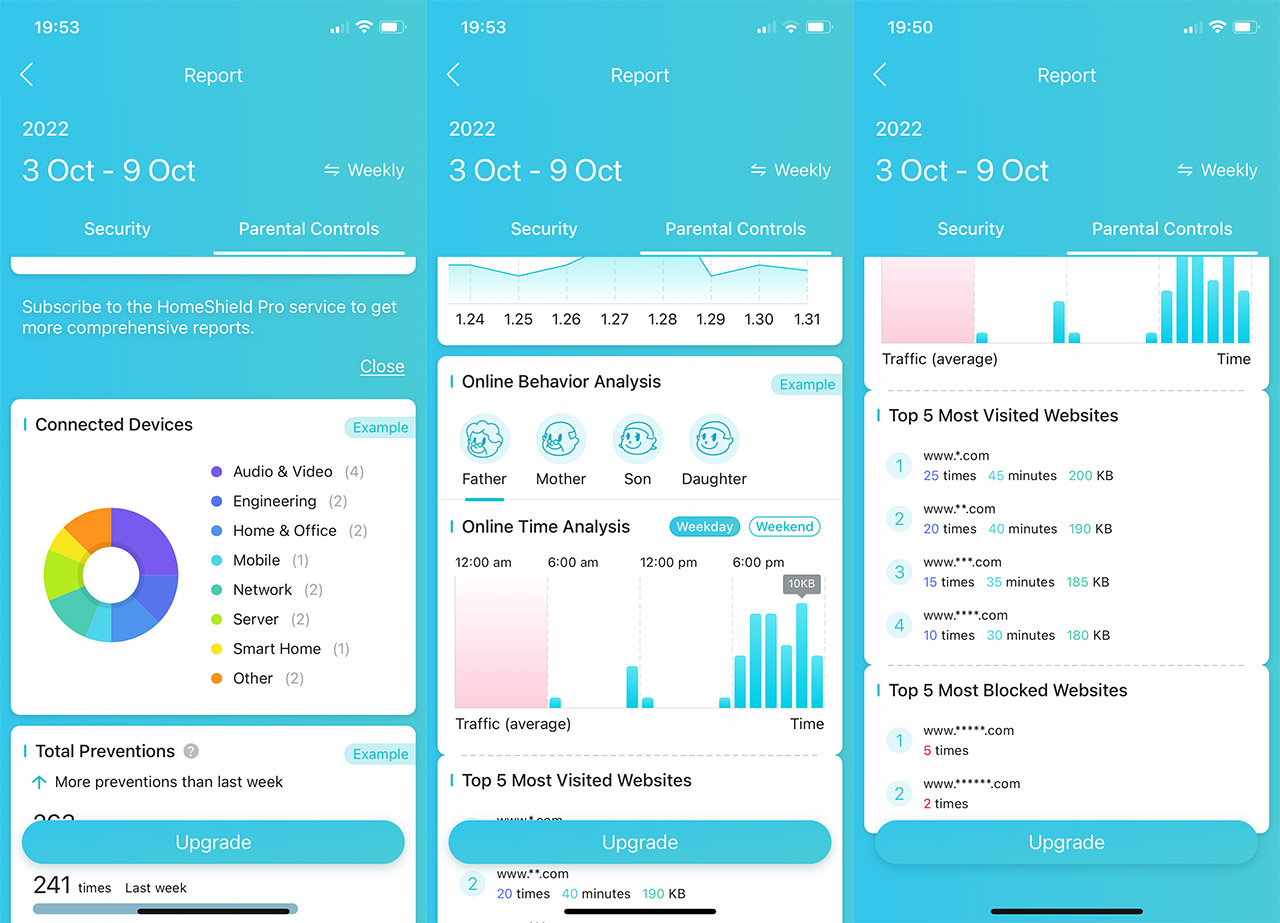 The good new is that you can see some data using the Basic package, which is free, but it's still not as detailed as I would have liked. You essentially get to see the most visited websites, those that were blocked and some other general statistics, so the focus is more towards blocking unwanted traffic and less on the actual analysis of the web traffic.
Do Netgear routers hold web search history?
Yes, just like the Asus and TP-Link routers, Netgear also keeps logs which are needed for diagnosing any particular issue that happens with the device or network. The type of info that's showed is any attempts made to access allowed or blocked websites and services, the connections made to the web-based interface, some general hardware-related info (start-up, LEDs), port forwarding, wireless access and more.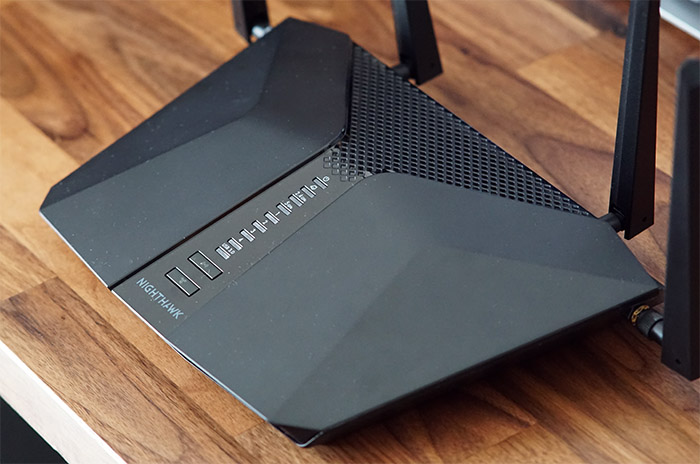 To get a better idea, I took the Netgear RAX43 out of the shelf and, as usual with Netgear hardware, it likes to piss me off every time I power it on, I had to reset it because it would not allow client connection of any type. And it's not just the RAX43, the RAX40 does the exact same thing, but enough of my rant. To see the general logs, you need to access the web-based GUI and then, from the vertical menu, select Advanced.
Scroll down to Administration and click on Logs. In a similar way as the TP-Link AX73, you can choose which type of categories are going to be displayed, but I did not see any obvious connection between client devices and the web browsing history. So, has Netgear implemented such a feature? Unlike Asus, both TP-Link and Netgear used to have a decent Parental Controls section which has now been ported to the app, so the web-based GUI will only give the option to allow or block a client.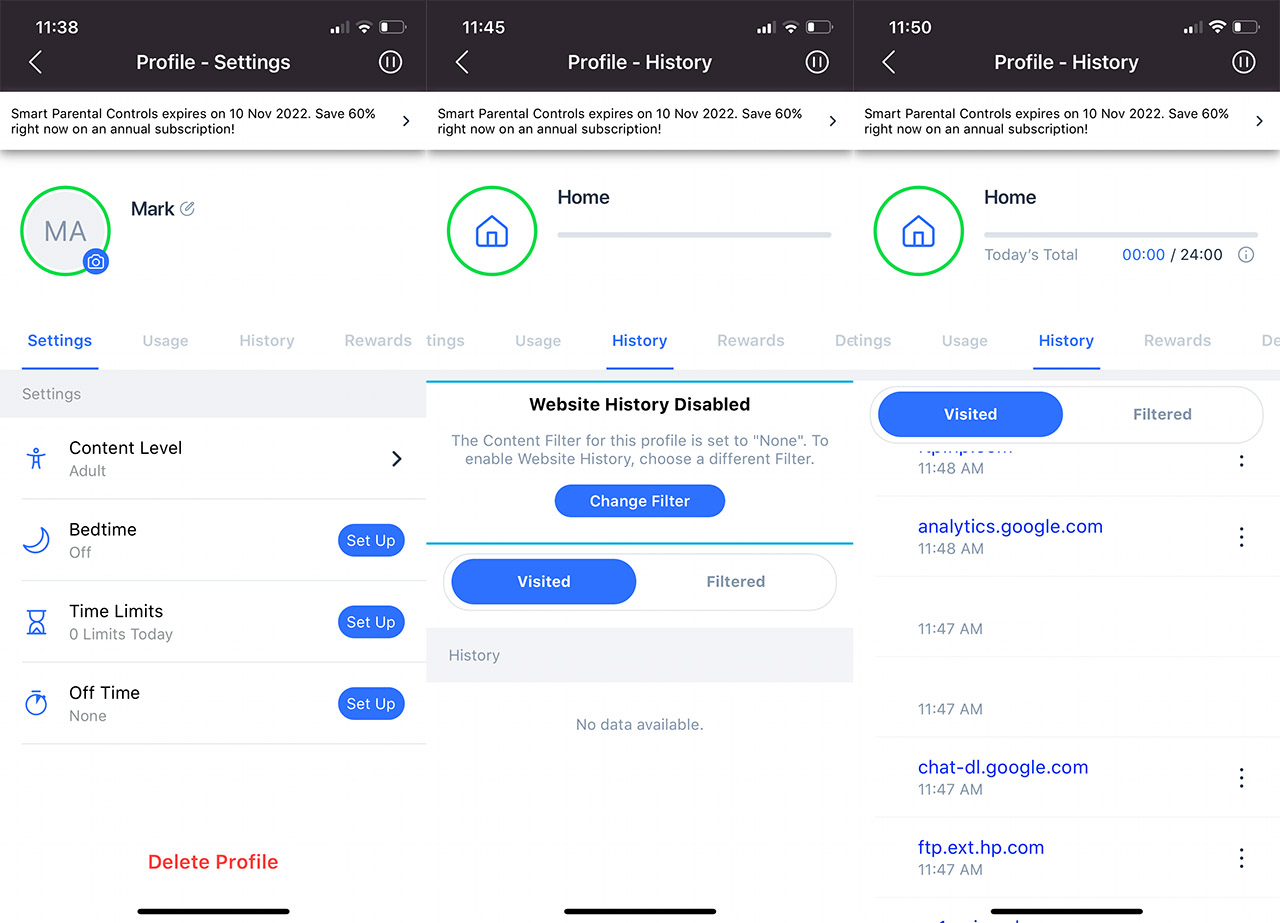 That being said, I opened the Nighthawk app and yes, there was a Parental Control section that added basically nothing in terms of features above the web-based interface. But hey, there is a 30-day trial for the Premium Parental Controls, that's going to satisfy the users' needs. In any case, the new addition does indeed have a web history option that you can check after setting up the Profile.
And it can be found underneath History, showing you the domain name that was accessed and at which time it happened (per client device). It's pretty much as detailed as on the Asus routers, just not free. Enabling the VPN has again, made my device invisible from this feature, so, if you're worried about some nosy person checking your browsing data, just use a VPN.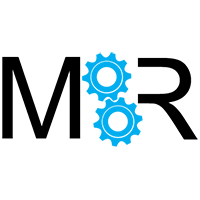 Mark is a graduate in Computer Science, having gathered valuable experience over the years working in IT as a programmer. Mark is also the main tech writer for MBReviews.com, covering not only his passion, the networking devices, but also other cool electronic gadgets that you may find useful for your every day life.