Note: The review has been updated using the third version of Linksys WRT1900AC, the WRT1900ACS.
Seems like yesterday that I received my first router, a Linksys WRT54G and there was this fascination with how to configure it in order to give its best, especially since the software was Open Source.
Now, more than a decade later, Linksys gave us yet another present, a soul successor to the WRT54G, the Linksys WRT1900ACS and when I tested it, I got some really good results. Obviously, it was nothing revolutionary, but it proved to be a strong-performance router.
But how will it stand against another similarly equipped router? So I chose another router-behemoth, the ASUS AC2400 RT-AC87U in order to see how do these routers perform in ideal conditions and how can they really perform in day-to-day use. And most important, which one is the best.
Note: You can check the full review of Linksys WRT1900ACS and the full review of ASUS AC2400 RT-AC87U.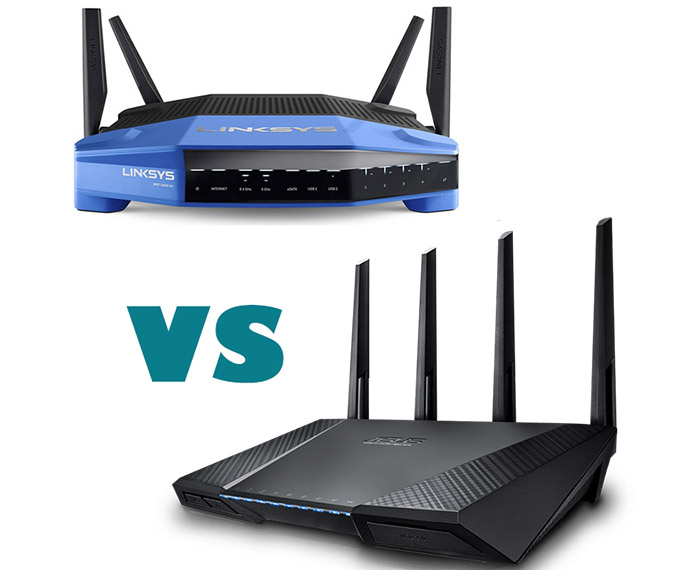 Design
When I first reviewed the Linksys WRT1900ACS, I saw how it was designed to induce nostalgia, following the same colour pattern that the WRT54G used. So what you can expect from the WRT1900ACS is a solid plastic case, coloured in blue and black, with four sturdy upgradeable antennas.
The case is a bit chunky and heavy, measuring 9.8×7.7×2 inches and weighing 2.1 pounds. Overall, the case design can't really be considered premium, because it looks a bit toy-ish and has a beetle-like appearance, but it's a very attractive looking device nonetheless.
The ASUS AC2400 RT-AC87U, on the other hand, has a more futuristic design (opposed to the retro design of the Linksys), being a lot more angular and also featuring four massive detachable antennas.
The RT-AC87U is a lot larger, measuring 11.5×2.0x6.5 inches and weighing 1.9 pounds. The default position is horizontal, but since both routers can be wall-mounted, being VESA compliant, it isn't necessary to make a lot of room for the routers (especially if low on space).
On the front of the RT-AC87U, there are lots of bright LEDs for connection status that are really awkwardly positioned so you can't really see them unless you look from underneath.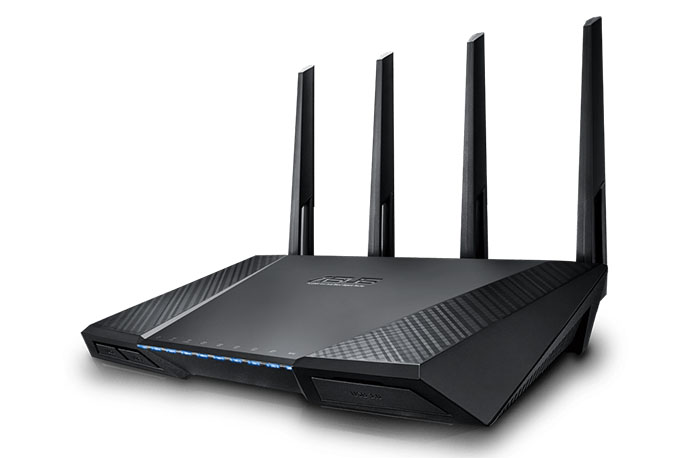 The Linksys WRT1900ACS also features a bright array of LED lights for connections and they are a lot better positioned.
Both routers have almost the same type of ports, but there are some features that can make a real difference between these two. There is an USB 3.0 port on ASUS and Linksys, but while the port is positioned on front on the ASUS, the WRT1900ACS chose to put it on the back. I believe that this is wise, as having it on front may lead to a mess, especially if you intend to use the router as a NAS.
Another significant difference is that the Linksys WRT1900ACS has an eSATA port. This is very rare for routers, but it is a good addition because it's a lot faster than the USB 2.0.
Verdict: The Linksys WRT1900ACS has a retro design that may not be on everyone's taste and may not blend in with most types of furniture. The ASUS AC2400 RT-AC87U has a premium, modern design that may look better in your living room but it is quite huge and requires a lot of space.
Obviously, the WRT1900ACS is more feature-rich, but considering that some may not like its design, we call this round a tie.
YOU CAN ALSO CHECK OUT: NETGEAR NIGHTHAWK AC1900 R7000 VS ASUS RT-AC68U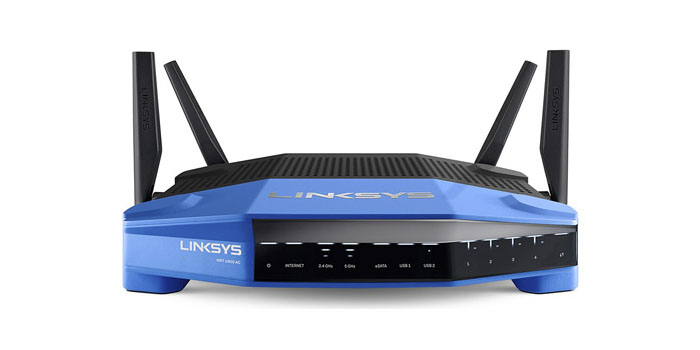 Hardware
The ASUS RT-AC87U features a Quantenna QSR1000 4×4 MU-MIMO chipset (1GHz dual-core Broadcom BCM4709A processor), backed by 256MB DDR3 RAM and 128MB flash memory and it can send and receive up to four streams for a data transfer rate of maximum of 600 Mbps on 2.4GHz and 1,733Mbps at 5GHz using 802.11ac.
The WRT1900ACS is a three stream router and it features a dual-core 1.6GHz Marvell Armada 385 88F6820 CPU, backed by 512MB RAM, 128MB flash storage. All this translates into speeds of up to 1300Mbps on 5GHz and 600Mbps on 2.4GHz band.
Verdict: If we consider the better maximum speeds and the 4×4 MU-MIMO technology, as opposed to the 3×3 from the Linksys, ASUS clearly wins (from a pure technical point of view). But, in reality, these speeds are quite impossible to reach using commonly found technology and MU-MIMO is not widespread. If we look at the difference in RAM and CPU, Linksys also has a slight advantage. So, we'll call this round a tie.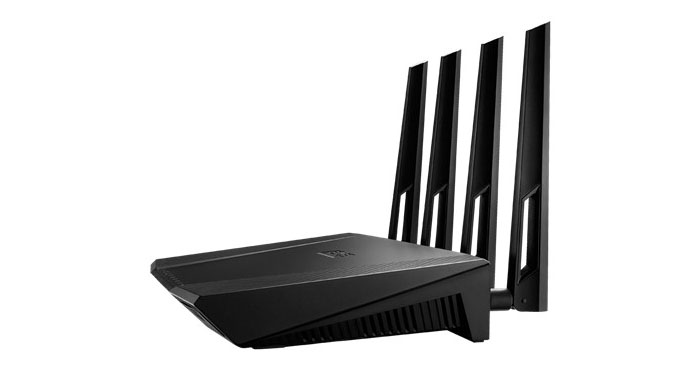 Performance and Connectivity
Performance-wise, both routers are really great. We tested the ASUS RT-AC87U in the full review using a second RT-AC87U in wireless bridge mode in order to get the maximum performance. The router delivered around 1,000 Mbps on 5GHz and at 10 feet, and at 100 feet the router reached 360 Mbps.
We also tested the Linksys WRT1900ACS pairing it with the same Linksys model in bridge mode in order to reach the maximum performance. The router scored 541 Mbps at close range (around 10 feet) and at 100 feet, we recorded about 355 Mbps.
These tests show just how powerful both routers can be if the usual, everyday technology would allow us. But it unfortunately doesn't. So we are going to test both routers using 802.11n compatible devices instead of the 802.11ac.
So, using the 2.4GHz band on 802.11n and at close range (10 feet), ASUS RT-AC87U had an average speed of 220 Mbps and at 100 feet, we measured around 160Mbps. The Linksys WRT1900ACS reached around 166 Mbps at close range and 64Mbps at 100 feet.
Note: There are some Apple products that have 3×3 802.11ac technology incorporated.
Testing the RT-AC87U on 5GHz and 802.11n at 10 feet we measured 225 Mbps and at 100 feet, 156 Mbps. The WRT1900ACS reached around 223 Mbps at 10 feet and 150 Mbps at 100 feet.
Verdict: Overall, the performance is better for ASUS RT-AC87U, so it wins this round, but there is a twist. The WRT1900ACS has a higher chance of being used with 3×3 capable devices than the ASUS RT-AC87U with 4×4 MU-MIMO technology-capable devices.
Setup
As usual, any ASUS router features a simple, intuitive interface with a lot of options and apps. The ASUS RT-AC87U is a perfect example of a well done router software.
Among the main features, there is the AiCloud 2.0 (allows access to data from anywhere around the world) and the AiProtection that monitors all the data that comes into the router for viruses or malware.
Other great features are the Adaptive QoS, VPN, DDNS service, SHCP management, SPI intrusion detection and DoS protection.
Linksys WRT1900ACS, on the other hand, has a more simplistic approach, at least the basic firmware. All I can say is that Linksys decided to let the DD-WRT and any other custom open source firmware to fully take advantage of the router's capabilities and create the best user interface experience.
This isn't a bad thing, as many of us like to use DD-WRT, Tomato or OpenWRT, but you really have to be tech-savvy in order to have the full experience.
Verdict: From a geek point of view, both routers can be used with custom firmware, so it's a tie. But from the usual consumer point of view, they may feel more at home with the ASUS.
So, the final verdict is also in favour to ASUS RT-AC87U.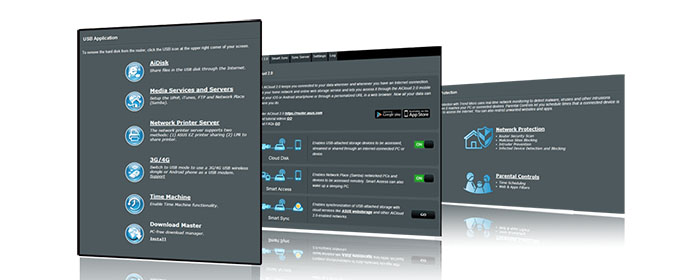 Conclusion
Both routers are really amazing, but we can see that the ASUS has the upper hand. Some of you may ask why put an AC1900 against an AC2400. Well, we actually didn't. The focus of this article was to see how well do these routers perform in usual conditions and not in ideal, close to impossible scenarios.
The ASUS and the Linksys have hardware and capabilities that can't be really put into use right now. Still, Linksys is really close, as some devices have started to use 3×3 adapters, but there might be a long way until it's wide spread or even before the 4×4 MU-MIMO can be seen everywhere.
But, when tested even on 802.11n on 2.4GHz and 5GHz bands, we saw that these routers have fantastic coverage and extremely high speed so it may be a good decision to enjoy one of the fastest routers on the market and be prepared for the future of WiFi at the same time.
Check the products here:
Linksys WRT1900ACS :

ASUS AC2400 RT-AC87U: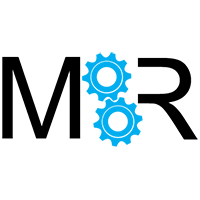 Mark is a graduate in Computer Science, having gathered valuable experience over the years working in IT as a programmer. Mark is also the main tech writer for MBReviews.com, covering not only his passion, the networking devices, but also other cool electronic gadgets that you may find useful for your every day life.