Everybody wants a good and stable Internet connection, either for entertainment and multimedia or for working at home or in an office (where time is money and you can't afford any downtime). In order to do so, you need a good modem to connect to the Internet Services, as you can't connect directly to your ISP using only a router. Sure, you can get a modem with built-in WiFi capabilities, but, from my experience, the performance is nowhere near what a dedicated WiFi router can deliver.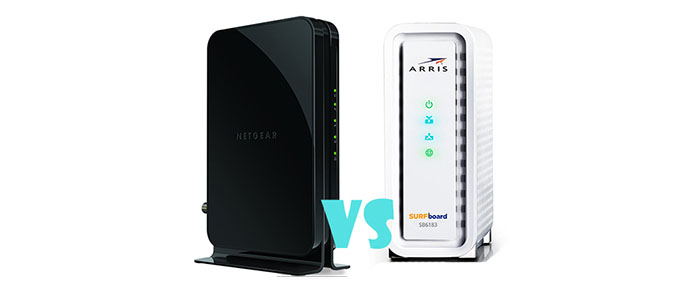 The question of renting or buying your own modem is raised more often than not, especially since the monthly rental fee for a modem is very high for some Internet Service Providers and purchasing the modem may prove to be the better investment choice. Still, there may be some shortcomings, as the Internet Service Providers will put some pressure to rent their equipment and blame your modem if anything goes bad with the connection. But, if you made up your mind and wish for a new, future-proof modem, then know that there is a large variety to choose from and two of the major players are the Motorola SURFboard SB6183 and Netgear CM500, both featuring similar hardware and both being able to deliver a similar performance.
So, let's see which one is the better modem and which to choose between them.
Note: I have reviewed each of these products independently and you can check them out here: Motorola ARRIS SURFboard SB6183 DOCSIS 3.0 and Netgear CM500 DOCSIS 3.0.
ADDITIONALLY, YOU CAN CHECK OUT THE BEST CABLE MODEMS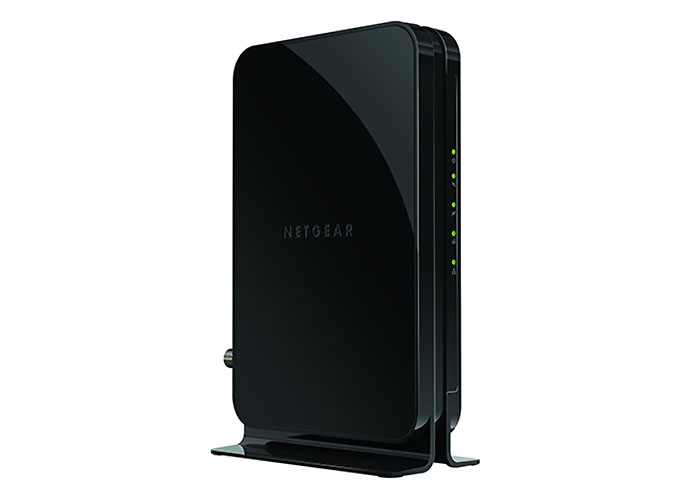 Design
In the networking world, the appearance of the devices won't matter much, as the user, usually will connect, configure and then toss the object in an unseen place, in a corner of the room and the only time you'll remember about its existence is when the device fails and you're left without an Internet connection.
Fortunately, Motorola and Netgear treasure the design aspect and like to visually appeal to the users. So, both the Arris SB6183 and the Netgear CM500 are stylish and good looking modems.
Arris SB6183 features a white plastic case, which gives the impression of wrapping around a smaller main rectangular body. Its corners are rounded and soft and, all around the case there are lots of vent holes which help with the airflow circulation. The SB6183 is not really, fully white, as the back side is rather colourful, consisting of four different nuances. This, along with the front lights give the modem a very joyful appearance.
Netgear CM500 is a bit different, featuring a more elegant design, having a black plastic case, round corners and a glossy finish (it can retain fingerprints, but you won't touch it often, so nothing to worry about). The CM500 can only be positioned upwards and it has some large and sturdy feet along the bottom side, that curve upwards and continue along the main body, creating a recessed zone in the middle of the modem. It's clear to see that Netgear took its inspiration from the Sony PlayStation 4.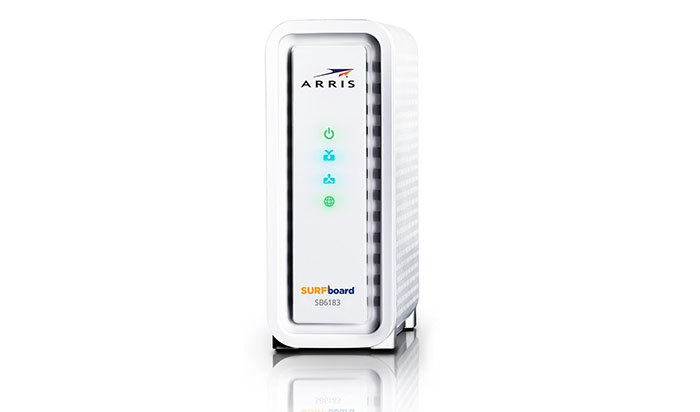 Arris SURFboard SB6183 can also be positioned upwards, but has a slight advantage, as it can also be wall-mounted (this can be a deciding factor, if space is very important, like, for example, in a small office). Another important thing is that both modems are rather small, the SURFboard SB6183 measuring 5.0 x 2.1 x 5.0 inches and weighing 22.4 oz, while the CM500 measures 8.8×3.8×7.2 inches and weighs 24 oz. If space is not of paramount importance, you will still appreciate that neither modems will eat up more space than needed.
The front of the Motorola SURFboard SB6183 is home to the Arris logo and four status LED lights for Power, Receive, Send and Online. On the back, you will find a RJ-45 Ethernet port, a coaxial cable connector and a Power connector.
Similarly, the front of the CM500 is occupied by the status LEDs, which show the condition of the Power (red means overheating), Downstream, Upstream, Internet and Ethernet. On its back, there's also a RJ-45 Gigabit Ethernet port, a Power adapter input, a recessed Reset button and a coaxial cable connector.
Verdict: Some may prefer the fresh look of Arris SB6183, while other may appreciate more, the elegant flair of the Netgear CM500, so, since there are no major advantages of one modem over the other (unless you consider the wall-mounting option as being of utmost importance), then it's a tie.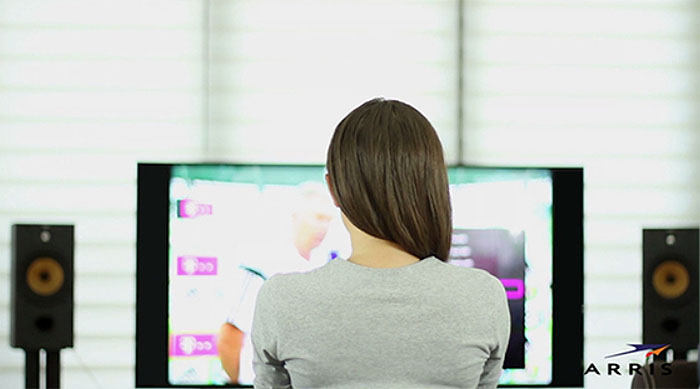 Hardware
On the inside, the Motorola ARRIS SURFboard SB6183 is well equipped, featuring a dual thread processor, clocked at 600MHz (Broadcom's BCM33843 SoC), along with 1GB DD3 SDRAM and a 64-Mbit 3.0 V SPI Flash Memory.
The CM500 is well on par with ARRIS, also having a Broadcom BCM33843 16×4 SoC, which ensures a great performance. Additionally, there are 8 MB NOR flash memory and 128 MB of RAM. Sure, it's a bit behind the 1GB of the SB6183 and this will make a difference.
Furthermore, both Arris SB6183 and Netgear CM500 are DOCSIS 3.0 modems (short for Data Over Cable Service Interface Specification), which is an international telecommunications standard that allows high speed data transfer over existing CATV connections. Also, both modems can handle up to 16 downstream channels and 4 upstream channels at the same time.
Verdict: Since Arris SB6183 has a slight advantage, it wins this round.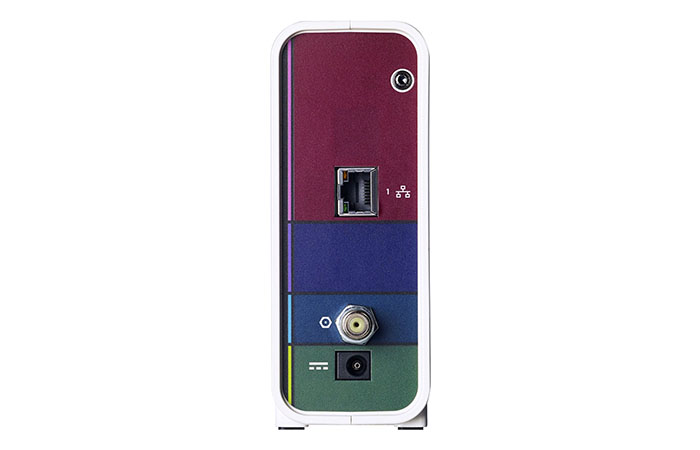 Compatibility and Performance
In terms of compatibility, both routers cover all of the popular Internet Service Providers, being compatible with Time Warner Cable, Cox, Comcast, RCN, Cable One and Charter. But, there are some other ISPs that may have a speed cap or just lack the compatibility with either devices altogether. This is why it's so important to check the Internet provider's website for a list of supported modems and also, to be sure, it's better to ask by the phone.
Additionally, both Arris and Netgear can be used with all the popular Operating Systems (Windows 2000/XP/Vista/7/8/10, MAC 10.4 or higher, Linux and Unix) and any other that can run a TCP/IP network.
Another similarity between the SB6183 and the CM500 is that both feature 16 downstream bonded channels and 4 upstream bonded channels, which translate to a maximum theoretical downstream speed of 686 Mbps and a maximum theoretical upstream speed of 131 Mbps.
Afterwards, I have tested both modems using a 300 Mbps data plan and I got the following results: Arris SB6183 managed to peak at 300 Mbps for downstream and averaged at 257 Mbps. The upstream speed was at around 56 Mbps. Netgear CM500 peaked at 287 Mbps and averaged at 230 Mbps in terms of downstream speed performance and it averaged at 50 Mbps for upstream.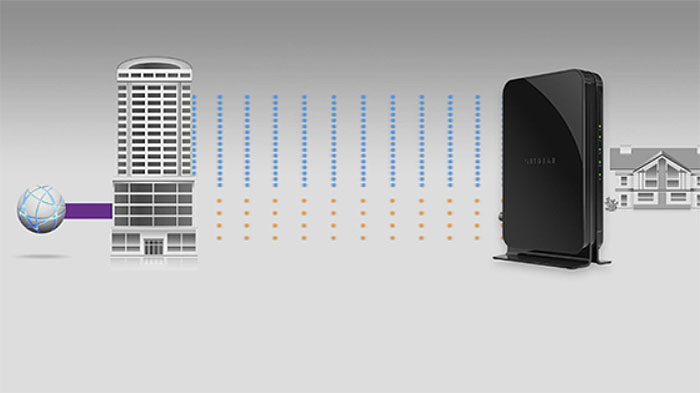 Before purchasing any 16×4 modem, make sure that you can use the modem at its full, as there are some ISPs that can only support 8 downstream channels and, although you will be able to use the device, it's a shame to spend more money than needed (unless you only want it as a future proof modem).
Neither modems possess built-in WiFi capabilities, so in order to connect wireless clients, you need a router (it's very important to choose the proper one, depending on your data plan, so it won't be the bottleneck of your network).
Note: A very important aspect to consider is that both modems can get quite hot and this issue can shorten the life of a device. Just make sure not to obstruct the airflow vents.
Verdict: In terms of performance there are no significant differences, but, although the SB6183 and CM500 are widely accepted by most ISPs, it seems that Motorola modems are much more preferred. So, this round is in favour of Arris SB6183.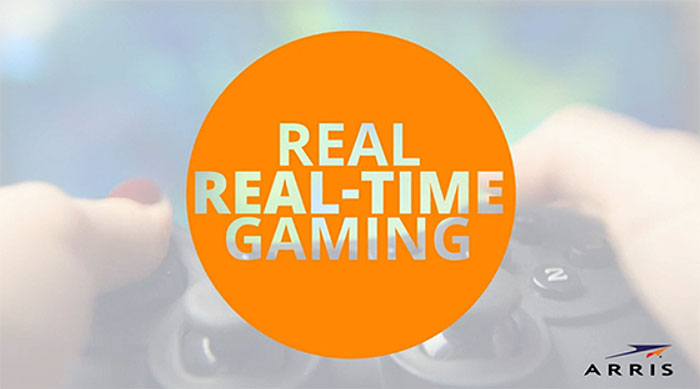 Interface
Both Arris and Netgear deliver a way to configure and maintain the SB6183 and CM500 through a dedicated interface, which can be accessed by opening a new browser tab and typing https://192.168.100.1.
Arris SB6183 features the Web Manager Interface, which has six tabs for Status, Product Info, Event Log (all events that have occurred and the time when they happen), Addresses (serial number and MAC address), Configuration (the network connection frequency) and Help.
Netgear CM500 features the NETGEAR Genie Interface, which is divided into Basic and Advanced. The Basic section shows the Cable connection (with Frequency, Bonded Downstream and Upstream channels) and the Advanced section shows the Hardware and Firmware Version, the CM MAC and Certificate and the Serial Number.
The CM500 also offers an easy way to configure the modem if you are using Comcast, using the Xfinity's self-activation process (which is very easy and straight forward). Otherwise, you may need to contact your ISP, which will guide you through the installation process.
Note: If you cannot connect to the Internet after the setup process, you need to contact your Internet Service Provider.
Verdict: Since both modems have a clear interfaces, being user-friendly and easy to use, this round ends in a tie.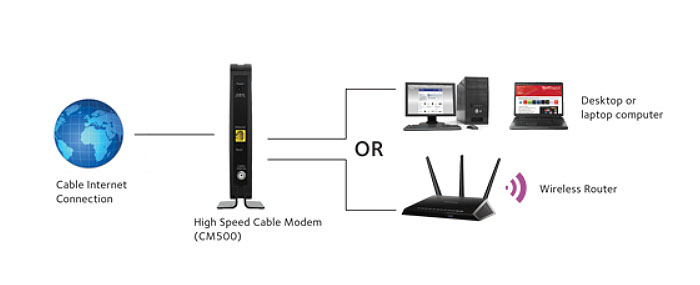 Conclusion
As you can see, there aren't many differences between these two modems, both featuring a great upstream and downstream speed performance and both having capable hardware and an easy way to maintain and configure the network through browser interfaces.
The design won't necessarily make a difference, since most won't put the device in the centre of attention, but, if this is an important aspect, know that the cheerful appearance of Arris SB6183 and the elegant aspect of Netgear CM500 will satisfy your taste for finer things.
As a final verdict, it seems that Motorola ARRIS SURFboard SB6183 may be the preferred modem, but, at the same time, the Netgear CM500 is a bit cheaper. So, if the price is not of paramount importance, you should go with the future proof SB6183, otherwise, The CM500 is the better choice.
Check the products here:
Motorola ARRIS SURFboard SB6183 :

Netgear CM500: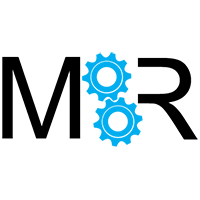 Mark is a graduate in Computer Science, having gathered valuable experience over the years working in IT as a programmer. Mark is also the main tech writer for MBReviews.com, covering not only his passion, the networking devices, but also other cool electronic gadgets that you may find useful for your every day life.