The SOOCAS Spark is one of the most inexpensive members of the electrical toothbrushes developed by Xiaomi's sub-brand and in a sense, it's a return to the basics. I know that Xiaomi was brazen enough to add an app to one of its prior electric toothbrush models, but in the age of almost complete data collection, a no-frills device that does its intended job without too many complications is becoming a breath of fresh air.
Even so, the SOOCAS Spark toothbrush wants to punch above its weight by offering a suite of interesting features, considering the price tag, obviously. There are two modes, one with gentle vibrations and the other with higher frequency vibrations, there is zone switch reminder, so you don't hang too much on a single area and there is a built-in two-minute timer.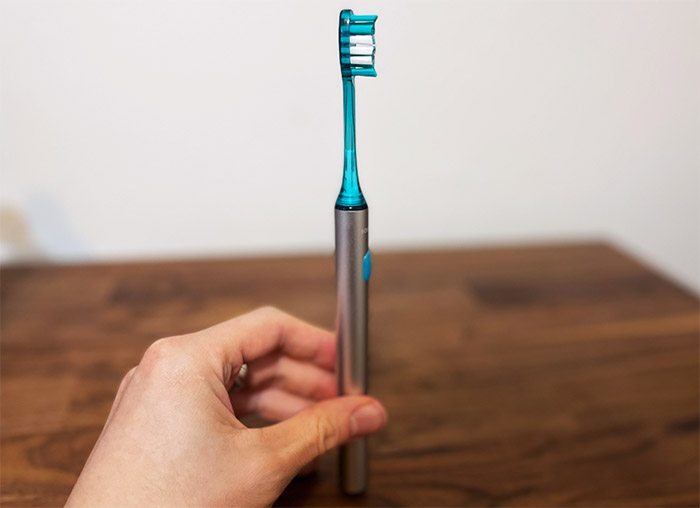 There is an LED ring to let you know the status of the battery plus the SOOCAS Spark has added a USB-C port for charging up the battery. The manufacturer claims a 40-day battery life which is impressive if true and another highlighted feature is the DuPont bristles. If you can, you could go for better bristles, preferably without nylon (or any other plastics), but again, the SOOCAS Spark is built to be as inexpensive as possible, so any upgrade is up to the user. That being said, let's put it to the test and see if it's worth the purchase or whether you should get a more expensive option.
Build Quality and Design
I always associated the electric toothbrush with a large plastic body and a small rotating head with soft bristles, but it seems that the traditional brush head is also quite commonly used. And that's the case of the SOOCAS Spark which comes with a fairly long, but narrow main body and a detachable brush head that resembles what we get with a manual toothbrush. I would have liked to see some spare pieces in the package, but I guess it was too much to ask considering the price tag of the device.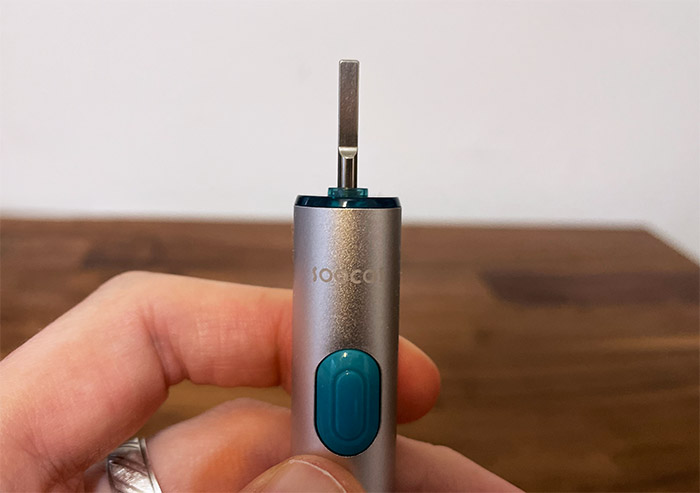 I did mention the long and narrow base, but I didn't say that it has an aluminum shell covered by a gray matte finish (not brushed) and there is a cut-out at some point to allow the button to break through. I say the button because it's the only one on the entire toothbrush and its role is to turn on and off the SOOCAS Spark, as well as to switch between the two available modes. The base of the toothbrush measures about 6 inches (15.2cm) and, after attaching the head, it does gain an additional 3.2 inches (8cm), which may not be that much of a big deal considering that the device is lightweight and easy to maneuver.
But things can get complicated when you're traveling. The manufacturer has added a plastic cover inside the package that allows you to carry the entire SOOCAS Spark (with its head still attached) which I suppose could keep things cleaner, but I think it may be better to carry the device disassembled.

At the bottom of the base, it's possible to detach a plastic cover, exposing the USB-C port and yes, there is a fairly short USB-C cable inside the package as well. Before attaching the brush head, you can see the metallic piece that vibrates when the SOOCAS Spark is on and surrounding it, there's an LED which lights up green when the electric toothbrush is in Gentle Mode. If it's in Cleaning Mode, then the LED will be solid blue. Furthermore, the LED will flash red when the battery level gets low.
The head of the toothbrush uses DuPont bristles which seem to be made of a form of nylon. And I suppose they're somewhere between soft and hard, which should be enough for most people. I know that this is common and very much expected on an entry-level electric brush, but I am not a fan of DuPont products, so, I would have preferred to see some actual boar hair or alternatives.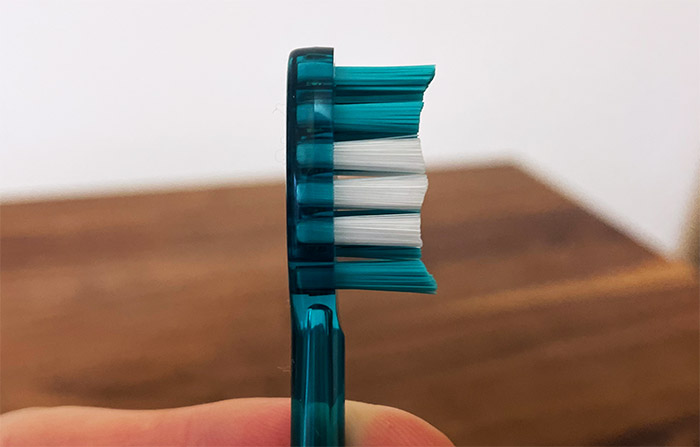 But again, at this price point, it's actually better than the common nylon offering. As expected, the SOOCAS Spark is built to be water resistant, and it is IPX8-rated which means that it should survive lengthy immersions under water. So, it's a bit overkill for a toothbrush, but I am not complaining.
The SOOCAS Spark Performance
Before anything else, let's talk about the most important aspect of any toothbrush, the hardness of the bristles, since that's the only piece that gets in contact with your teeth. I did mention that they're somewhere between soft and hard, and I stand by that remark, so for sensitive teeth and gums, they could have been a bit softer. Which takes us to the next aspect, how easy it is to find head replacements? Well, a quick web search revealed countless options, from Xiaomi themselves to third parties, so we're well covered in regard to this aspect.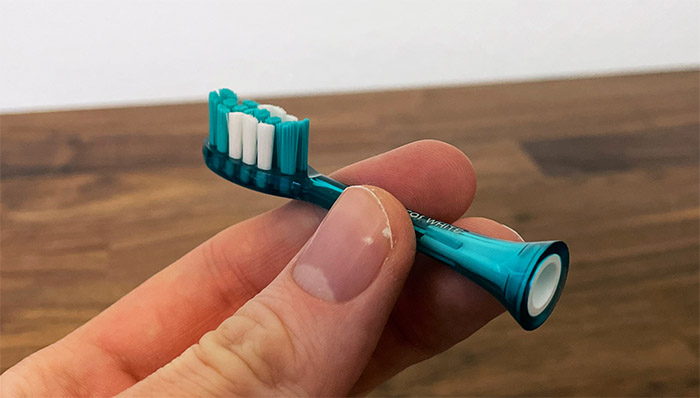 Next, let's have a look at the actual cleaning performance. The ideal electric toothbrush should be able to remove the plaque not only from the front and back of the teeth, but also in-between them. All that in two minutes or less. The SOOCAS Spark is not going to be above devices that cost close to $200, but it should still provide a far better result than the manual toothbrush. That's because the bristles can easily enter in-between teeth and even at the Gentle mode, the toothbrush still feels fairly abrasive, so it can clean the teeth fairly in-depth (which is also why it may not be the best option for very sensitive teeth and gums).
The motor is capable of reaching up to 30,000 vibrations per minute which can be felt when using the Cleaning mode and it can be useful for teeth whitening, but it is a bit aggressive for anything else.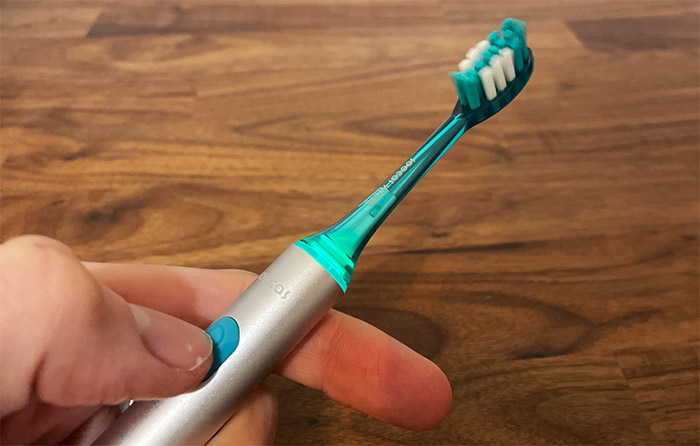 I don't think you can just lazily move the toothbrush from one side to the other (like you may on some other far more expensive options) since for a proper cleaning you need to be a bit more engaged on where the toothbrush is going in order to cover all the surfaces of the teeth.
I do need to mention that you do get notified by the SOOCAS Spark that you need to move to the other quadrant every 30 seconds. And yes, there is a timer of two minutes for each sensor. What I would have liked to see was a pressure sensor to temporarily pause the vibrations if I pressed too hard on the teeth, but I suppose that's something that the developers can take into account for future iterations.
The Battery Life
As I mentioned in the intro, the manufacturer says that you should get up to 40 days on a single charge.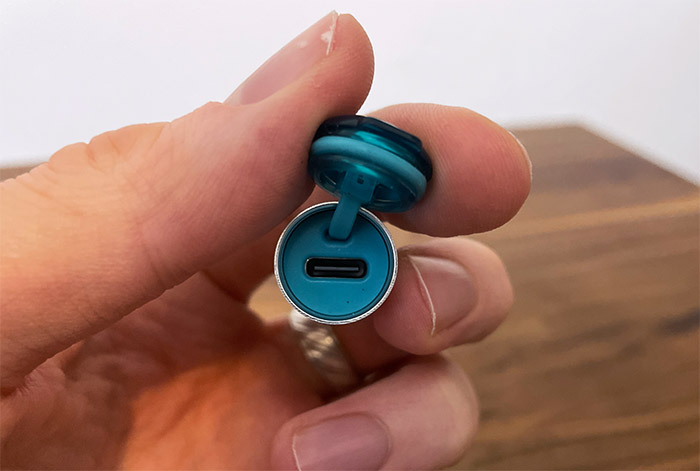 I didn't test the SOOCAS Spark for that long, but I did use it for the last week three times a day and so far, no sign that the battery may soon need to be recharged. So, I suppose that a month on a single charge is very much achievable. Also, know that it needs about 2 hours to go from 0 to 100% (it's a 600mAh battery).
The Conclusion
The SOOCAS Spark is exactly what it claims to be. It's an inexpensive electric toothbrush that has a very good build quality, it can survive being immersed into water and it also offers a lot of features that are commonly bundled together on far more expensive options. But is it actually good? For the price, it is. There are two vibration modes that you can use, there is a timer and a switch-sides notification, plus you get a very long battery life. Are there better options out there? Sure, but at this price point, you're most likely not going to find anything better.
Pros
Long battery life + USB-C port for charging
Two vibration modes + 2 minute timer
Notification to switch sides every 30 seconds
The brush head can be replaced
IPX8-rated
Cons
The bristles are a bit hard (especially for people with sensitive teeth and gums)
The device is very tall
No pressure sensor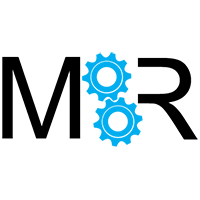 Mark is a graduate in Computer Science, having gathered valuable experience over the years working in IT as a programmer. Mark is also the main tech writer for MBReviews.com, covering not only his passion, the networking devices, but also other cool electronic gadgets that you may find useful for your every day life.