CHECK THE PART 1 OF THIS ARTICLE
Tesco Hudl 2
In the first part of our best cheap tablets we took a look at the Nexus 7 . Even though there are a lot of great tablets for this budget, none seemed to be on par with the Nexus 7, until now. Enter the Tesco Hudl 2!
For a surprisingly low budget, the British tablet, Tesco Hudl 2 offers a great display, smooth design and a powerful processor. But is it the best budget tablet? Lets's have a look.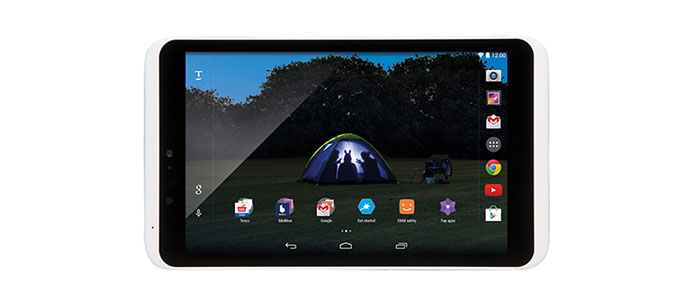 Design
While it does bear some similarities with its predecessor, the Tesco Hudl 2 is better looking, larger and more stylish. It is dressed in a soft matte plastic, has rounded corners and a rubbery grip. Also, it comes in a large array of colours: orange, blue, red, purple, turquoise, pink, white and black.
Tesco Hudl 2 measures 5.0×8.8×0.35in and weights 14.4 ounces (heavier than its peers). On the bottom edge, there is a microSD slot card for up to 32GB and a micro-HDMI connection (a surprising addition!). The microUSB port is on the right edge and the headphone jack is positioned on the left edge of the tablet.
Note: The speakers are no longer like thin slits (from the original Tesco Hudl), but two arrays of large circles.
Display
The Hudl 2 features a 8.3in, 1920x1080p IPS LCD display with 273ppi (slightly lower than Nexus 7) and really good viewing angles. The brightness is a little low, trying to read or watch a movie under direct sunlight is a hassle, only indoors the display will show what is capable of.
When watching movies or playing games, the display was able to render sharp images with crisp colours, the scenes were detailed, the whites were clean, the black levels were good and the contrast ratio is about 1000:1. So, for its price, the display is able to deliver high quality pictures.
Performance and Software
Tesco Hudl 2 is equipped with a 1.83GHz quad-core Intel Atom Z3735D processor backed by 2GB of RAM, an Intel HD Graphics GPU , 16GB internal storage and a possible addition of 32GB through the microSD. As for connectivity, this tablet supports 802.11 a/b/g/n both 2.4 and 5GHz and Bluetooth 4.0.
Most of the time, the processor will use only 1.33GHz and can reach 1.83GHz if needed. Opening apps were quick and smooth, multitasking can cause some slowdowns (though nothing unbereable) and when playing a medium to high-end games like Asphalt 2 there was little to no stutter.
Overall, the Hudl 2 is pretty powerful and it copes very well with browsing and gaming.
Tesco Hudl 2 runs a really basic, almost stock version of Android 4.4.2 KitKat but it is loaded with a bunch of Tesco's own apps (no surprise here). You will be able to find apps like Blinkbox video, music and e-book, Clubcard app and a screen carousel called My Tesco. These apps are all revolving around easier access to the Tesco store (just like Amazon does for its Fire tablets).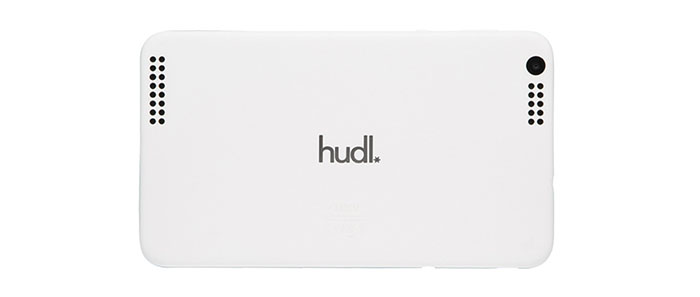 Camera and Battery Life
Tesco Hudl 2 features an improved 1.2-megapixel front camera and a 5-megapixel rear camera. The 5MP camera can record 1080p videos and did shoot some really good pictures.
On medium use, the Hudl 2 managed about 6 hours before needing recharging and on light usage the battery did hit about 30 hours.
Weaknesses: Short battery life and a bit heavy.
The Tesco Hudl 2 is one of the most attractive budget tablets on the market as it does have a stylish look, a FullHD display, HDMI, good performance and since is mostly available in UK it can be considered the best inexpensive Android tablet in Europe.
Amazon Fire HD


On October 2, 2014, Amazon released the third generation of Fire HD (part of the Fire Tablet's fourth generation). Being simpler than the usual Android tablets, the main characteristics of the Fire HD are affordability and accessibility. But let's see if is it on par with other big names, like Nexus 7 or Tesco Hudl 2.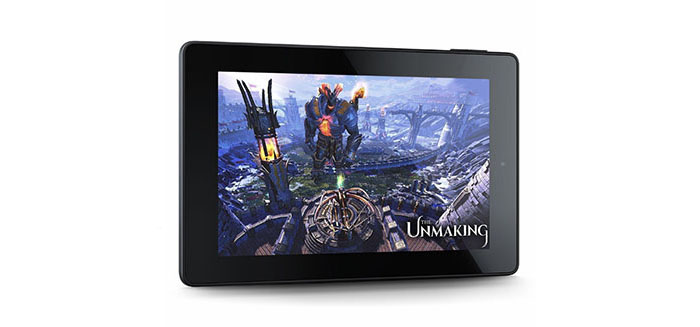 Design
Fire HD feels sturdy, is a bit bulky and although similar to Fire HDX, the covering material has a toy-like feeling. The tablet has a wide bezel around the display and on the back, a smooth plastic finish that may have an impact on gripping. The tablet comes in white, black, magenta, cobalt and citron variants.
Note: The screen has Corning Gorilla Glass, so it is resistant to scratches.
Fire HD measures 7.5×5.0x0.4 inches and weights about 11.9 ounces. On the left side we can find the volume controller and on top, the power button and headphone jack sits along with the microUSB port.
Although the Fire HD has a bulky build and it is a bit heavy it looks like it can take a few drops to the floor without suffering any visible damage.
Note: Despite the size, the speakers provide a clear sound that is loud enough.
Display
Amazon Fire HD features a 7 inch, 1280x800p IPS LCD display with 216 ppi and reasonable viewing angles. The display is bright enough so we could read an e-book and could watch a movie outdoors even on sunny days.
The colours are warm (with nice saturation) and reasonably sharp, the black levels are good, but we observed a bit of a yellow tint on bright white background. Overall, the display did feel a bit washed out but for reading a book or watching a movie it was effective enough.
Performance and Software
The Fire HD comes equipped with a 1.5GHz quad-core MediaTek MT8135 CPU (two 1.5GHz cores and two 1.2 GHz cores) backed by 1GB RAM, a PowerVR G6200 GPU and 16GB internal storage. In terms of connectivity, this tablet supports 802.11 b/g/n 2.4GHz and Bluetooth.
Performance-wise, the Fire HD manages to deliver a good experience when running non-demanding tasks, like playing movies or some light games.
The operating system the Fire HD is running is called the Fire OS 4 Sangria. This OS is obviously heavily geared towards the Amazon store, you can access with ease different categories but a let down was the lack of the Mayday feature that you can find on the HDX.
An interesting service is the FreeTime that parents can use in order to better manage how their children use the tablet. Basically you create a profile for yourself (the parent) and a profile for your children, just like admin and users privileges on Windows OS.
Another service that we enjoyed is the Amazon's Kindle Unlimited that for a small fee it let's you have access to over 700000 e-books and audiobooks.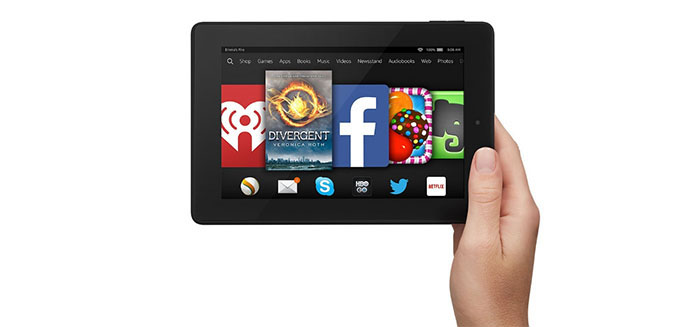 Camera and Battery Life
The Fire HD has the usual front and rear cameras. In the front is a 0.3 megapixel camera and on the back a 2-megapixel camera but there isn't much to tell about them.
On medium to extensive use, the Fire HD was able to last about 8 hours and on light to medium usage you can get by 1 to 2 days before needing a recharge.
Weaknesses: No microSD slot, no Mayday feature and weak cameras.
The Fire HD 7 is a good tablet, great for reading ebooks and capable for light gaming, browsing the internet and streaming videos and if you're not bothered by the 'subtle' Amazon intrusion, then this is a great budget tablet choice.
LG G Pad 7


Almost all the tablets offer similar specs in this price range and it can be quite hard to pick the best one. So what does the LG G Pad has to offer that the competition can't? The dual-windows feature? The IR-blaster? Yes and maybe more, so let's have a better look at the LG G Pad 7.

Design
The G Pad 7 has a nice, clean, non-intrusive design, with rounded edges and a matte finish plastic back that can retain fingerprints. Overall, the design feels a bit plain and the only thing that will attract attention is the LG logo. This tablet comes in black, blue, white and orange variants.
The G Pad 7 measures 7.45×4.48×0.4in and weights 10.48 ounces. On the top edge, you can find a microSD slot and a headphone jack. On the bottom edge sits the microUSB port and on the right side, you can find the volume controller and the power button.
Also, the speaker can be found at the rear end of the tablet.
Display
The LG G Pad 7 has a 7 inch, 1280x800p IPS LED display with 216ppi. Although not really sharp, the display does have good contrast and reasonable black levels. The display is reflective and has low brightness levels so it's best to use it indoors.
Also, the IPS display allows for wide viewing angles without any wash out effect.
Performance and Software
The LG G Pad features a 1.2Ghz quad-core Qualcomm Snapdragon 100 SoC CPU backed by 1GB RAM, an Adreno 305 GPU, 8/16GB internal storage, and a possible addition of up to 64GB from the microSD. In terms of connectivity, this tablet supports both 2.4 and 5GHz (802.11 a/b/g/n), GPS and Bluetooth 4.0.
However you look at it, the G Pad 7's backbone is not the performance, but while running the Android KitKat it does manage to deliver a smooth, fluid experience.
Some light to medium games did run without stuttering or lag, a large number of apps loaded quick but if trying more complex, resource-heavy apps or games, the G Pad 7 did not do so well.
The G Pad's Android 4.4.2 OS features a light, modern Optimus UI, that offers a large variety of customizations (most budget tablets do not allow for such an extensive level of customization).
What we liked about this tablet is the split-screen multitasking feature (you can watch a YouTube video while browsing the web). This is a really neat feature that you don't really find on 7 inch tablets and definitely not in this price range.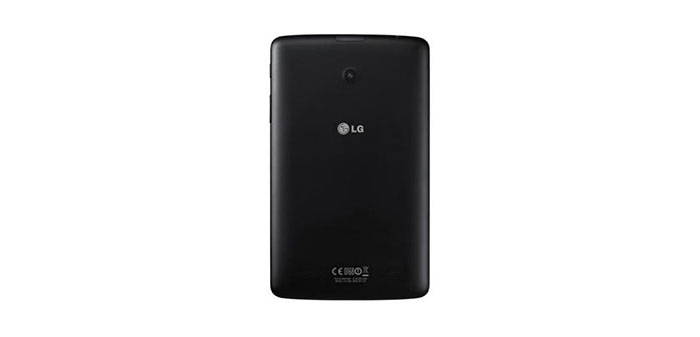 Camera and Battery Life
The G Pad has a a 3.15-megapixel back camera and 1.3-megapixel front camera. Both cameras are decent, but not really impressive.
The LG G Pad 7 has a really impressive 4000mAh battery. If used extensively, it did reach about 11 hours and on medium use, the tablet is capable of reaching more than two days before needing recharging.
Weaknesses: Limited internal storage, average performance and weak cameras.
The LG G Pad 7 is a good tablet that offers a lot for its price (with an impressive battery life, split-screen feature and a decent overall performance).
Toshiba Encore 2


In a world were Android and Apple tablets are dominant, tablet manufacturers try to push the Windows OS as an alternative. One of the tablets that runs Windows 8.1 is the Toshiba Encore 2.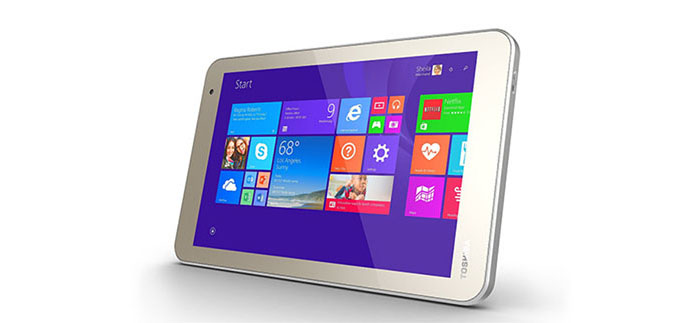 Design
Toshiba Encore 2 feels solid, sturdy, it has a silver aluminium look, although the back and sides are made of plastic. Also, around the screen there is a large bezel (making the tablet seem bigger). Thanks to the curved back the tablet felt comfortable in hand.
The tablet measures 8.30×5.20×0.37in and weights 13.4 ounces (which is kind of heavy). On the left you can find the microUSB port, a headphone jack and a Home button. On top, the volume controller sites next to the Power button and a microSD slot.
Display
Toshiba Encore 2 features a 8inch, 1280x800p IPS LCD non-reflective display with 189 ppi and good viewing angles. Under moderate sunlight, the screen delivered a good image quality, the colours looked accurate and when playing a movie, the scenes were reasonably detailed (as much as they can be at HD resolution).
Performance and Software
Encore 2 has a 1.4 GHz quad-core Intel Atom Z3735F CPU backed by 1GB RAM, a Mobile Intel HD GPU, 32GB internal storage and a possible addition of up to 128GB (this is a lot!). In terms of connectivity, the tablet supports 802.11 b/g/n 2.4GHz and Bluetooth 4.0.
Browsing the internet was smooth, responsive and reasonably fast, most apps and casual games ran smooth, with no stuttering, but as expected for a budget tablet, it struggles a bit with more high-end games or heavy multitasking. Another thing that we noticed is that the tablet does tend to become warmer after a while, enough to be uncomfortable.
Like said before, the Encore 2 is running a version of Windows 8.1 (with one year subscription to Office 365 and 1TB of One Drive storage). If you're familiar with the Windows OS, you know what to expect from Windows 8.1, it is responsive, though awkward at times, apps opened fast and browsing the web felt comfortable (Bing is the default search engine).
A downside for some and an upside for others is the Windows 8.1 OS which just doesn't feel fully optimized neither for PC, nor for tablets. But if you're comfortable with using Windows and don't want to try a new OS, like Android or iOS then this tablet does deliver the full Windows experience.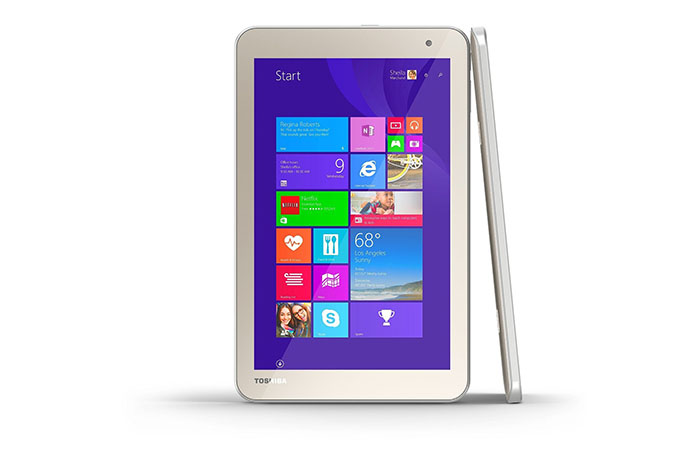 Camera and Battery Life
Toshiba encore 2 features a 1.2-megapixel front camera and a 5-megapixel rear camera. The 5MP camera shoots surprisingly good photos, with sharp, accurate colours.
If used extensively, the tablet ran for about 8 hours and a half (which is good) and if on light to moderate usage, you will have to recharge after about a day.
Weaknesses: Prone to scratches and the performance is a bit low.
As a conclusion, we can say that the Toshiba Encore 2 is a good compact tablet and despite its weaknesses (which you would expect from a budget tablet), it does deliver a good browsing and gaming experience and if you want a Windows tablet, this is a good choice.
HP Stream 8
The last tablet that we are going to review is also a Windows tablet, the HP Stream 8, which is an attempt to make Windows 8.1 OS as touch friendly as possible while offering a compact, affordable tablet.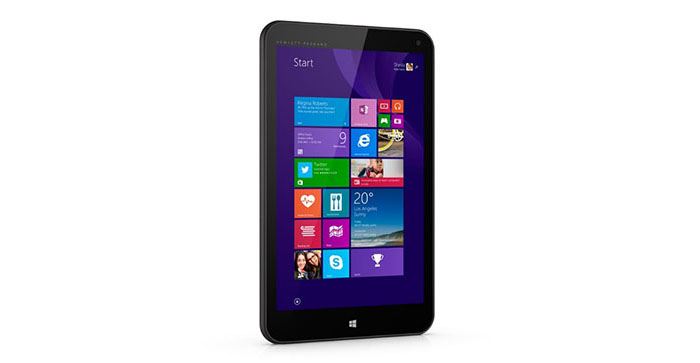 Design
HP Stream 8 is slim and solid (nothing fancy), with rounded corners and a smooth matte finish on the back (it feels comfortable in hand but it does show fingerprints). The bezel around the display is relatively slim and well placed.
The tablet measures 8.23×4.88×0.35 inches and weights around 12 ounces. On the top edge of the tablet rests a headphone jack and the microUSB port and on the bottom you can find two speaker grills. On the right edge rests the power button and the volume controller.
What we found weird is the position of the microSD slot as you have to open the back of the tablet to access it.
Display
HP Stream 8 features a 8 inch, 1280x800p WVA IPS LCD display with 188ppi. The display is average, with a panel contrast of 557:1, around 65% sRGB and medium black levels, but the IPS panel does deliver great viewing angles and reasonably rich and vibrant colours (especially indoors).
Performance and Software
HP Stream 8 is equipped with a 1.83GHz (1.33GHz base clock) quad-core Intel Atom Z3735G CPU backed by 1GB RAM DDR3, an Integrated Intel HD GPU, 32GB flash memory and a possible microSD addition of up to 32GB. Also, HP Stream 8 supports 2.4GHz (802.11 b/g/n) and Bluetooth 4.0.
The tablet comes with the 32-bit version of Windows 8.1 (along with a one-year MS Office 365 and 1TB could storage). The 1GB Ram does make a difference when using the tablet as it gets a bit sluggish if a lot of programs are opened and there are some delays when loading applications.
However we felt that the system was smooth and fast when running the touch interface and playing light games. Also, streaming HD videos is a pleasant experience, no stuttering or delays.
Note: HP Stream offers 200MB of free 4G data each month.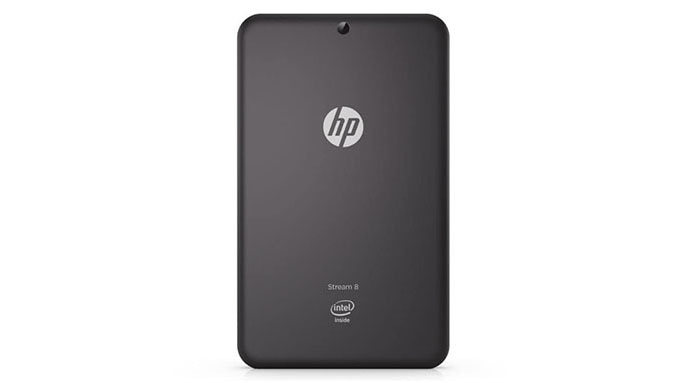 Camera and Battery Life
The Stream 8 comes with a 2-megapixel front camera and a 5-megapixel rear camera that are best suited for Skype conferences.
The 4000mAh battery can deliver up to 6 hours of extensive use and almost 2 days of occasional use.
Weaknesses: The 1GB RAM is not enough, slowing down the whole system; weird placement for the microSD.
Overall, the HP Stream 8 is a reasonable priced tablet, with a good design, perfect for people who don't want a laptop but still want to experience the immersion of the Windows OS.
CHECK THE PART 1 OF THIS ARTICLE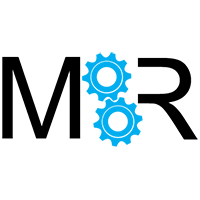 Mark is a graduate in Computer Science, having gathered valuable experience over the years working in IT as a programmer. Mark is also the main tech writer for MBReviews.com, covering not only his passion, the networking devices, but also other cool electronic gadgets that you may find useful for your every day life.