TRENDnet is a Californian company specialized in networking devices, like modems, routers, and IP security cameras. It is relatively well known for its inexpensive routers but it actually went in the centre of attention (infamously) when a simple IP camera exploit left a lot of people open to hacker attacks.
Well, that was in 2012 and the company claims that the problem has been fixed. Unfortunately it has left a lot of doubt and allowed a dose of skepticism to accumulate on the consumer side. But, our main focus isn't on the cameras but on the company's wireless routers.
The AC1750 TEW-812DRU has been welcomed by the public as it features a good wireless performance, a clean, simple design and a really cheap price tag. Following on the footsteps of the TEW-812DRU, TRENDnet released (a few years ago) the TRENDnet TEW-818DRU AC1900. We've seen great AC1900 routers, like NETGEAR Nighthawk R7000, ASUS RT-68U or Linksys WRT1900ACS, that offered great value and managed to remain relevant after many years since their release, so what can TRENDnet bring new to the table?
Well, TRENDnet TEW-818DRU is a dual band router that comes at a really cheap price and promises to offer similar performance to what the competition has to offer. Let's see if it delivers.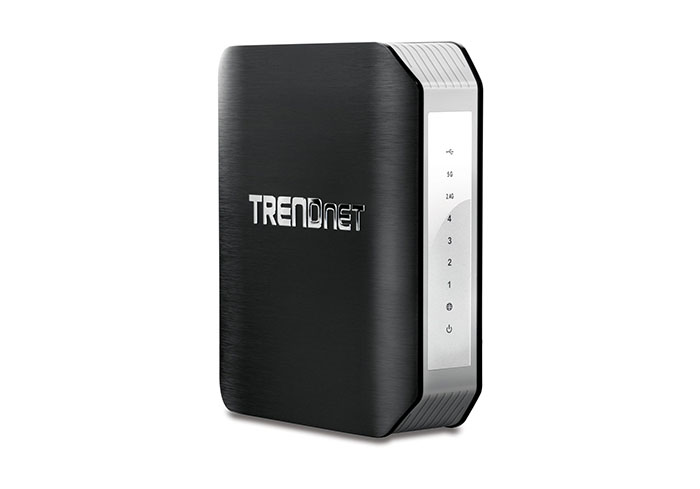 Design
TRENDnet TEW-818DRU AC 1900 has a similar appearance as the TEW-812DRU, featuring the same book-like design, with a black soft metallic finish on the sides (doesn't retain fingerprints) and a grey middle with recessed lines, similar to the pages of a book, where you can find small vent holes.
The case is small and lightweight (measures 8.9 x 7.07 x 3.02 inches and weighs 13.9 ounces) and it doesn't feature any external antennas. Instead, TRENDnet has opted for three internal antennas (6 dBi for both 2.4GHz band and 5GHz wireless bands).
The router can be positioned horizontally, but it isn't recommended, the best position being upright (using the included stand). Unfortunately the router cannot be mounted on the wall.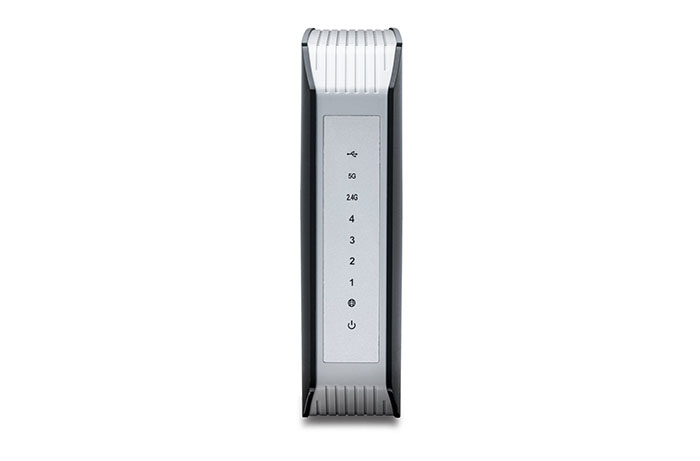 It's clear that the router won't win any beauty contests and it isn't really suited to be in the centre of attention, but, thanks to it's book-shaped appearance, it will sit nicely on a shelf.
On the front of the 818DRU (on the silver band) you can find the usual array of status LED lights for Power, Internet, Wireless 2.4GHz, Wireless 5GHz, four for LAN and one for the USB ports.
The back of the router is home to a vertical array of ports, one for USB 3.0, one for USB 2.0, a tiny WPS button, four Gigabit LAN, one Gigabit WAN, a ON/OFF button and a Power port.
If you connect lots of cables on the back of the router, because the TEW-818DRU is really lightweight, it looks like it could easily fall off, lacking a bit in terms of stability.
Inside the package you get an installation disk, the power adapter and a LAN cable.
It's clear that the design isn't premium, but this doesn't mean it takes away from its rather unique flair (in a world of vase-like or menacing-robot-like routers).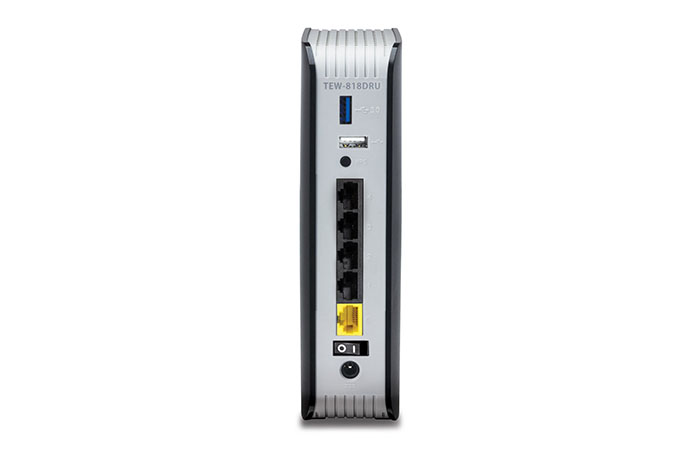 Hardware
Inside the case, TRENDnet has equipped the 818DRU with a Broadcom BCM4708A chipset (a dual-core ARM Cortex A9 CPU clocked at 1GHz), backed by 128 MB and 16 MB flash memory. The same chipset can be found inside ASUS RT-AC68U, so theoretically we should see some impressive results.
The wireless chip for the 2.4GHz band is a Broadcom BCM4360 (with Skyworks SE2623L amplifier) and the chip for the 5GHz band is a Broadcom BCM4360 (with Skyworks SE5003L1 amplifier).
The Broadcom BCM4708A chipset features the Turbo QAM technology which should translate into a maximum of 600 Mbps for the 2.4Ghz radio and up to 1300 Mbps for the 5GHz band.
Performance and Connectivity
TRENDnet TEW-818DRU AC1900 is a 3×3 SU-MIMO router (the awesome MU-MIMO technology came a bit later) and with the help of Turbo QAM and the Beamforming technology, the 818DRU promises good results.
In order to test the full potential of the TRENDnet 818DRU we connected another 818DRU and configured it in wireless bridge mode. So, using the 5GHz band (and the 802.11ac technology), we measured a maximum of 370 Mbps at close range (10 feet), up to 310 Mbps at a distance of 30 feet and the router reached up to 185 Mbps at long range (around 100 feet).
Next we used the 802.11n technology, the 5Ghz band and we got an average of 210 Mbps in close proximity (no more than 10 feet), up to 180 Mbps at around 30 feet and at 100 feet, the router managed a maximum of 124 Mbps.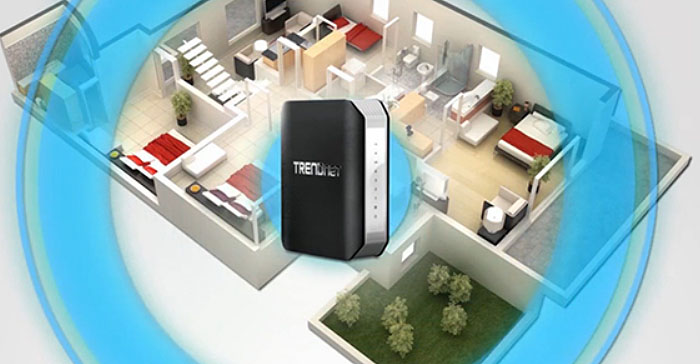 To conclude the wireless testing, we used the 2.4Ghz band and the 818DRU delivered an average of 150 Mbps at a maximum of 10 feet, up to 120 Mbps at 30 feet and a drop to 37 Mbps at 100 feet.
Like most AC1900 routers, the TRENDnet 818DRU has a really good range, we could still browse the web even after 150 feet and it could reach more if there are less to no interferences.
Since the router has a USB 3.0 port, it's only natural to test its NAS capabilities. So, we connected an external storage device to the router and we read and wrote a 2 GB file. We measured around 6MBps for writing and no more than 10 MBps for reading. These aren't great results (some of the lowest we measured on a router so far) and it's surprising since the router is relatively well equipped.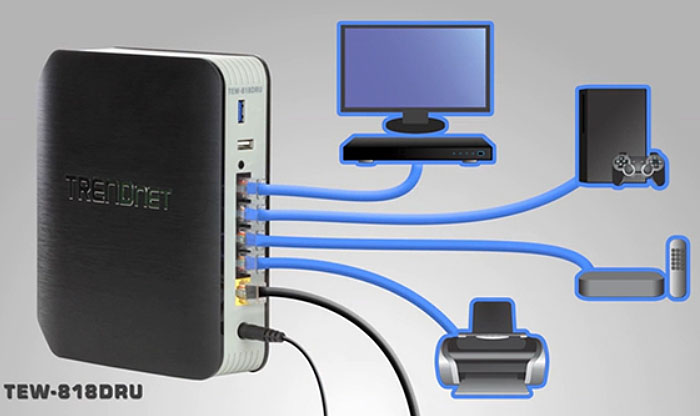 Setup
TRENDnet 818DRU features a relatively straight forward setup, all you have to do is to open a browser tab and go to https://192.168.10.1 (the TRENDnet router IP). From here you will be prompted to insert the username and password (written on a label on the bottom of the router) and lastly you will be asked to choose the type of connection (most will use DHCP, but you can also choose PPTP or Static IP). And you're all set to navigate the web.
From here on you can access the interface and further configure the router. Unfortunately, the interface is far from perfect, it sometimes acts sluggish and the settings aren't properly explained, so you'll find yourself often checking the user manual (especially if you're not tech-savvy). But, there are also some good things. The interface has been completely redesigned from the previous version, now featuring two main sections, Basic an Advanced.
The Basic section covers the Network Status, Wireless, Guest Network and Parental Controls. The Network Status shows if the Internet is connected, the Guest Network status, USB and Wireless status and all connected devices. Unfortunately the connected devices map doesn't show if the client is connected via WiFi or if by wire and also, you can't interact with the clients by clicking on them.
The Parental Controls is rather simple, you can filter the traffic by URL, by IP and by MAC address. The Advanced section is where you'll find the Administrator subsection, Setup, Wireless 2.4GHz, Wireless 5GHz, Security, Firewall and USB.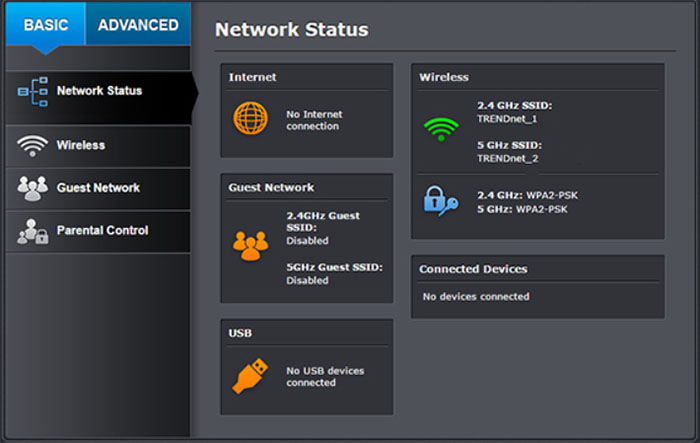 Overall, TRENDnet has all the features you would expect. You get port forwarding, WMM QoS, IPv6, Firewall, DMZ virtual servers, WDS and more. An interesting aspect is that TRENDnet 818DRU doesn't let you choose between 802.11ac or 802.11n, instead in allows you to choose the channel width.
Another, not often found aspect is the ability to setup up to eight WiFi networks (three for each radio band and two for guest networks).
Note: TrendNet offers support for DD-WRT open source router firmware, so you can upgrade from the standard TrendNet firmware.
Conclusion
There aren't many cheap AC1900 routers, except maybe for TENDA AC15 and TP-Link Archer C9. And TRENDnet TEW-818DRU AC1900 also fits in this price range and wants to be a bargain, if you compare it to the likes of Netgear Nighthawk, Linksys WRT1900ACS or ASUS RT-AC68U. And it may have succeeded, to a certain degree anyway.
It features a clean, nice design, a good wireless performance, but it has some shortcomings, the storage performance was a bit of a disappointment and the interface felt a bit outdated and not really user-friendly, but it does have all the features you would expect from an AC1900 router.
Check for the latest price here: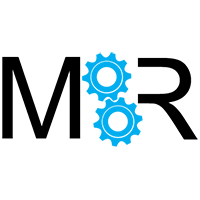 Mark is a graduate in Computer Science, having gathered valuable experience over the years working in IT as a programmer. Mark is also the main tech writer for MBReviews.com, covering not only his passion, the networking devices, but also other cool electronic gadgets that you may find useful for your every day life.