The ez Share WiFi SD card has been around for a while as a means to connect a camera to a mobile device (or to any WiFi network) and it has gone through several generations, culminating with the current 4th gen which is currently about 2 years old. Yes, most cameras (even DSLRs) now have some native wireless capability and you can transfer data via WiFi, but this was not always the case especially before the era of the mirrorless cameras where the display screen was not a pretty much mandatory component.
If you wanted to preview a photo or to send a bunch of files to your computer or phone via wireless, you needed to use a WiFi SD card and, for a while this need was satisfied by EyeFi, but ever since the manufacturer kind of abandoned its product series (along with the support), I found that not many players have remained in this market.
There still is Toshiba with its FlashAir series and the ezShare to fill in that EyeFi shaped hole. The problem is that even the aforementioned manufacturers show signs that they may abandon ship, but for now, they're the best we can currently get.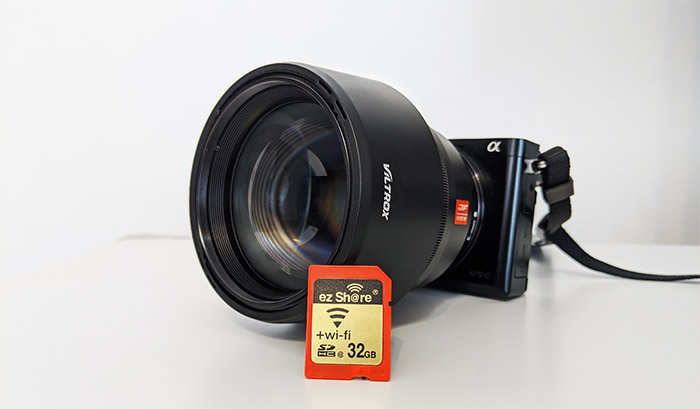 It's worth mentioning that this article was supposed to be about the fourth gen ez Share, but, despite ordering the latest generation, I got the third gen because why not (thanks Aliexpress!), so a few features will be missing. That being said, the 3rd gen ez Share WiFi SD card promises to offer a transmission speed of about 1.5MB, an acceptable connection range (up to 30 feet indoors and up to 165 feet outdoors), as well as reliable app for photo sync, while the fourth gen prides itself with simultaneous connections (up to five devices), so let's have a closer look and see if it's worth using it with your older camera.
Design and Functionality
Like I said, I didn't get the 4th gen for reasons unknown to me, but the third generation of ez Share has pretty much the same design – well, all WiFi SD cards look similar considering that they have to fit inside the camera slot. The WiFi SD card is as big as the adapter that usually comes with the TF card, so take that into consideration before purchasing one (as far as I know, there aren't any mainstream cameras that lack this slot) – you don't have to use it only with a camera since a lot of people saw promising results when connected to 3D printers as well. The card itself measures 1.25 x 0.94 x 0.08 inches, so it's the same as any other regular SD card adapter and it's also made of plastic (in my case it was red – the fourth generation is white).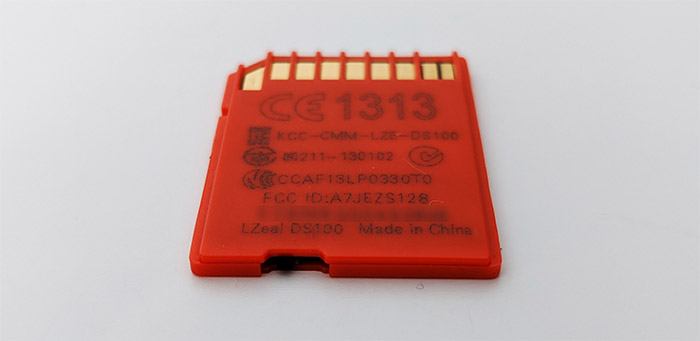 As expected, there is no slot for a microSD card and instead, in that area, you'll find what looks like a lock switch which, when enabled, it will simply turn on the sharing capabilities of the SD card (don't mistake it for the write-protected mode). Other than that, if it wasn't for the sticker on the front which has '+wi-fi' written, you wouldn't guess that this isn't just a regular old SD card.
The model that I purchased has a storage capacity of 32GB (at least they got this right) and the card is SDHC (so, a lot of older camera will be compatible with it – the SDXC is a bit more picky when it comes to old hardware) and it features the UHS-I interface SDR104 mode which means that the device supports a clock frequency of 208 MHz, therefore being able to transfer up to 104 MBps; at the same time, the speed class is C10 which means that the minimum sequential write is 10MBps (a bit less impressive than the Toshiba FlashAir, but we'll see how it holds in real tests very soon). I know that anything under 128GB looks like a joke in 2020 when you can easily fill it with a few raw photos, so why did I go with the 32GB model? Because it's the only one that has a resemblance of affordability – I don't know why, but the ez Share WiFi cards are extremely expensive especially when going past the 32GB point, so this model will suffice to get at least a basic understanding of how it functions and whether it's worth investing in this brand.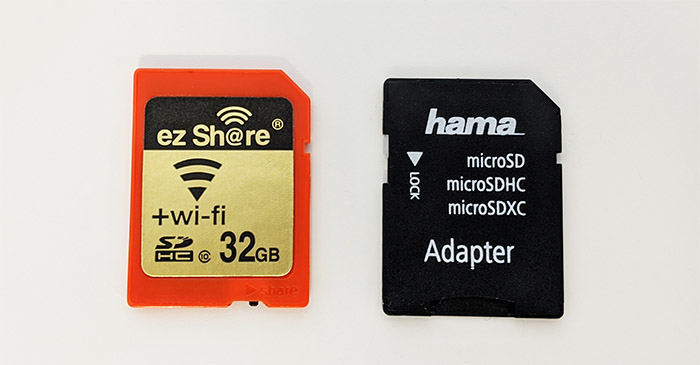 Since you do get the ez Share WiFi SD card with some basic installation steps written on the back of the packaging, let's have a look at the installation process. Hardware-wise, you have to put the card inside the camera and turn it on, but the software side is a bit more complicated since you get two options: either access the card via a web browser or through the dedicated App. First, I tried the browser option, so after inserting the SD card, I searched for the hotspot SSID – it's going to be ez Share and the password is 88888888 – Windows OS initially said that it can't connect to this network, but immediately required an Action for the ez Share application.
Clicking on the small pop-up window opened a new browser tab where I could immediately see all the photos and videos that were stored on the SD card: you can either download each file independently or the entire folder to your computer (you can also download only selected photos/videos). I know that most of you shoot in RAW, so you may wonder how long will it take for the photo to arrive to your device – in my case, it took 12 seconds to download a 24MB RAW photo and about 2 seconds to download a 5MB JPEG photo, so, yes, if you plan to download 100+ RAW files, it will take a bit before it will be done (and yes, the battery is also going to suffer).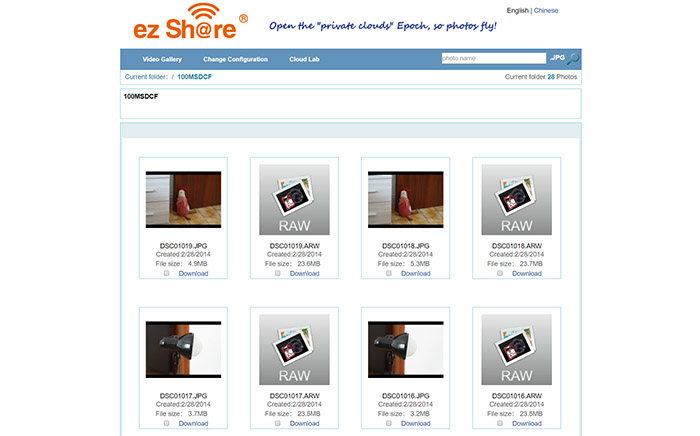 One annoyance which is not really the fault of the SD card is that some cameras will temporarily turn off in order to preserve the battery life and that will also terminate the WiFi connection between the card and the computer (or a mobile device). The user interface also allows you to Change the current Configuration (the administrator password is admin). You should visit this area to change the default admin and WiFi passwords and you also get the option to change the WiFi channel in case the default one is used by other networks in your house or area (the 2.4GHz band is usually crowded). The last area of interest is the Cloud Lab, but I couldn't find any way to enable this service except for sending an email to the manufacturer (?).
Like I said before, you can also use a dedicated app to transfer your photos and videos which is compatible with both Android and iOS. I chose the former so, after installing the 'ez Share Android app' (it will ask permission to access your photos, media and files), I connected my phone to the ez Share network and opened the app (make sure to also disable the Mobile data, otherwise, the app will not be able to detect the SD card).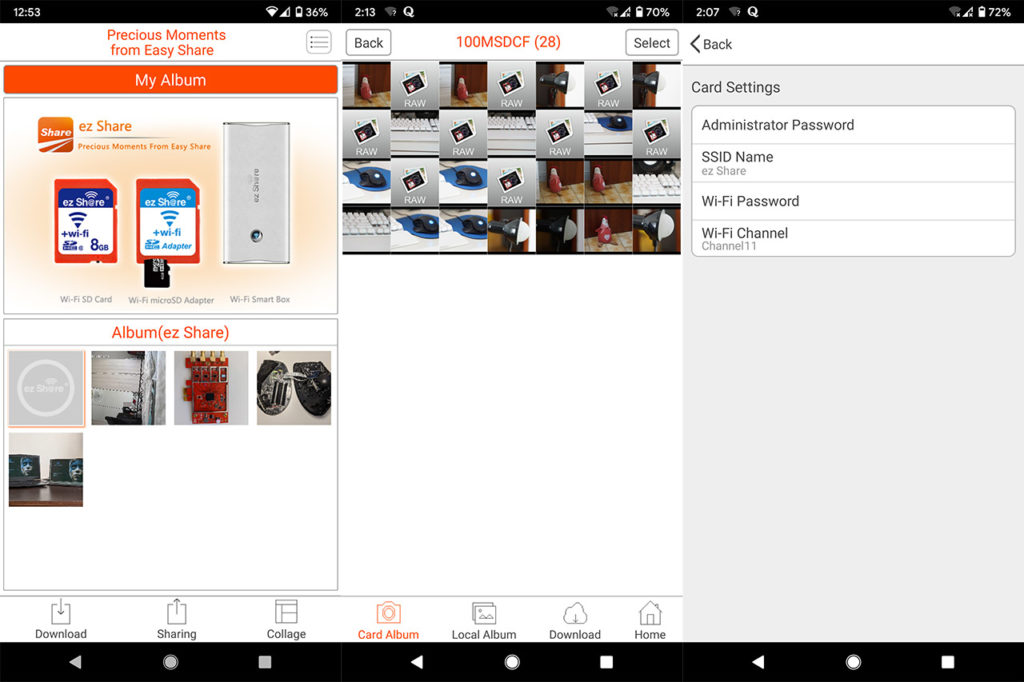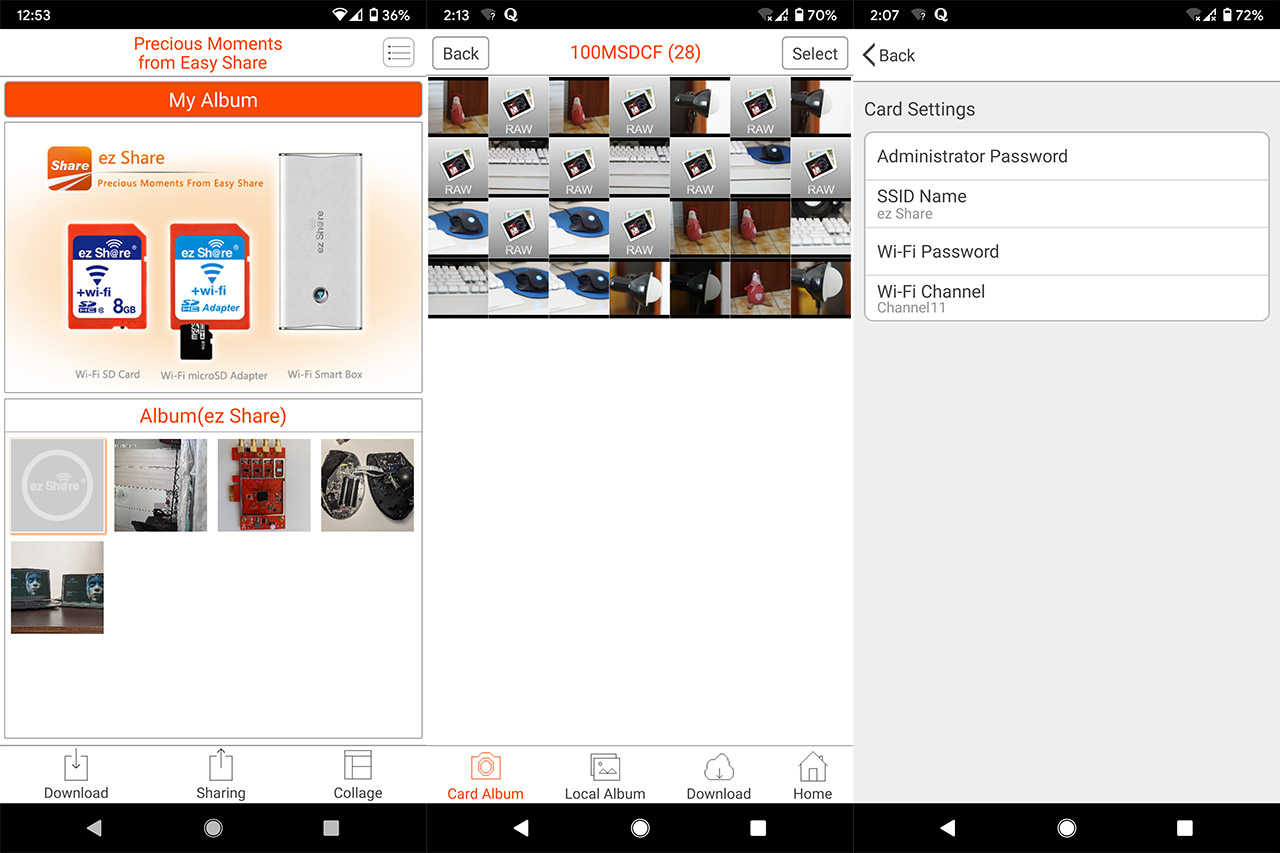 The Home page will load some Albums from the phone and to access the content of the SD card, you need to press on Download (from the bottom side) and select Card Album – again, you get the option to download the entire album or individual files. The app also allows you to create collages or stitch photos together and, if you click on the top right corner, a new set of options will appear on the bottom, allowing you to change the Settings of the card (the same functions as on the web-based utility). Since the ez Share is an SD card, let's run some synthetic benchmarks. First, there's the CrystalDiskMark v.6.0.2 where the sequential read speed was 9.96 MBps (Seq Q32T1) and the sequential writing speed was 6.76 MBps (Seq Q32T1) and the second benchmark was ATTO which displayed an average of 5.5 MBps for writing files from 512KB to 64MB and around 9.2 MBps for reading files from 64KB to 64 MB, so it is seriously below the performance of the Toshiba FlashAir W-04 WiFi SD card.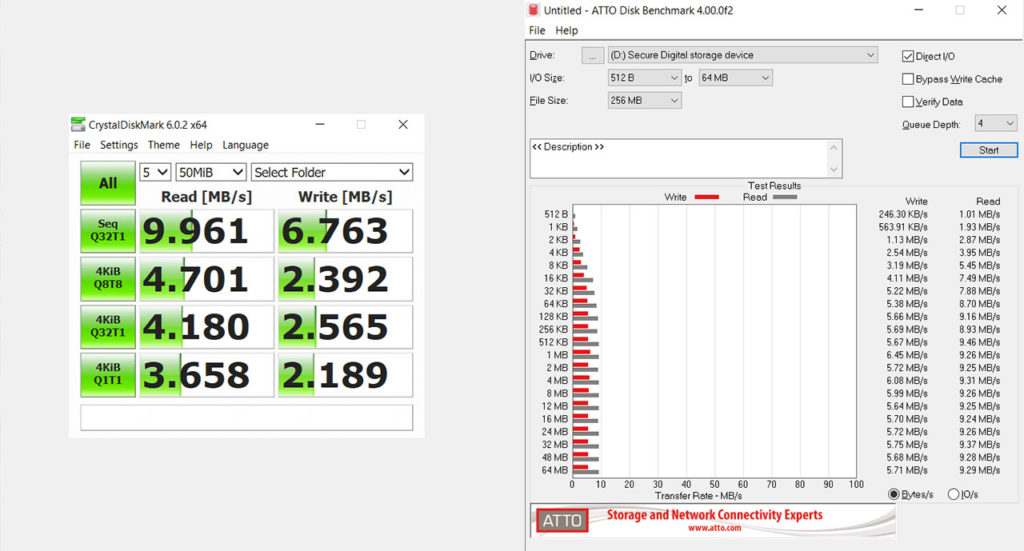 Conclusion
You clearly won't replace a reliable camera every couple of years, so if you're stuck with a great device that lacks a native WiFi connection, the ez Share WiFi SD card can give you this feature, but be aware that you won't be able to quickly transfer a large amount of photos (especially in the RAW format) and that the camera battery will be affected. I did like that both the app and the web-based utility functioned properly and overall, I have to admit that I was pleasantly surprised that it functioned as intended, so, if you're looking for a replacement for EyeFi, the ez Share is able to offer a decent experience.
Check the product here:

Pros
Can transfer data through either a mobile app or a browser-based utility
Provides a wireless connection to your camera
It's very easy to use
Cons
The transfer speed is slow
Eats up the battery life of your camera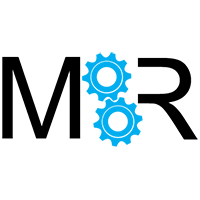 Mark is a graduate in Computer Science, having gathered valuable experience over the years working in IT as a programmer. Mark is also the main tech writer for MBReviews.com, covering not only his passion, the networking devices, but also other cool electronic gadgets that you may find useful for your every day life.