The FS Mini media converter is a small box that has the role of interconnecting fiber optic cabling with twisted pair cables, essentially converting the light waves from the fiber optic cables into the electric signal that's used with copper twisted pair cables.
If you're familiar with the networking equipment, you know that these compact devices are essential for creating a larger infrastructure and, due to their size and price, they're pretty much ubiquitous now. But, for people that aren't that familiar with them, know that using an FS mini media converter can help link two Ethernet switches (or other devices that support SFP) over very large distances, where fiber optic is the only type of cable that can keep the transmission of data interference-free and without any impact on the speed.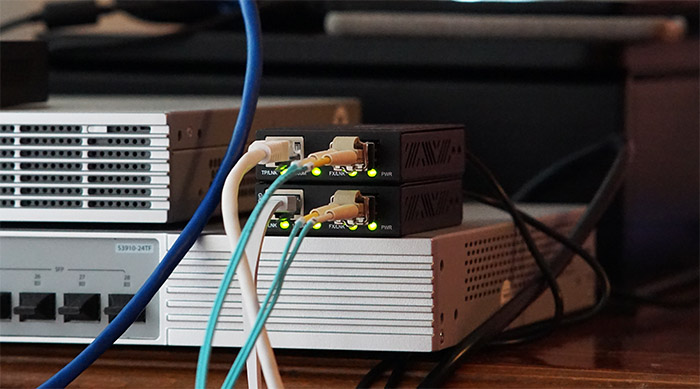 You also get to inter-connect networking devices that support different media formats and some people rely on a media converter to protect their in-house equipment from surges, including those from lightning strikes. And they're quire reliable in this regard considering that fiber optic has no electrical conductivity, so the lightning strike will not pass through the cable – it will most likely destroy it though. That being said, FS has made available multiple types of media converters, but, for now, let's have a closer look at the MMC-GASFP-V mini media converter and see why you should choose it over its competitors.
Design and Build Quality
The FS mini media converter (MMC-GASFP-V) comes in a small box and, besides the compact device, FS also provides a lightweight power brick (that's as large as the converter itself) and the user manual, so no cables or transceiver, which is to be expected considering the price tag. The media converter is called mini for a reason and that's because we are dealing with a very compact device, measuring 3.7 x 2.3 x 0.8 inches (or 9.5 x 5.8 x 2.0 cm). This means that you can essentially put it anywhere without creating any inconveniences, but you can also use it in a 1U 12-slot converter chassis and mount it in a rack, along with other media converters. The device itself is entirely made of metal (with the exception of the PCB) and it's covered by a black matte finish, so the point of the mini media converter is to be as unobtrusive as possible.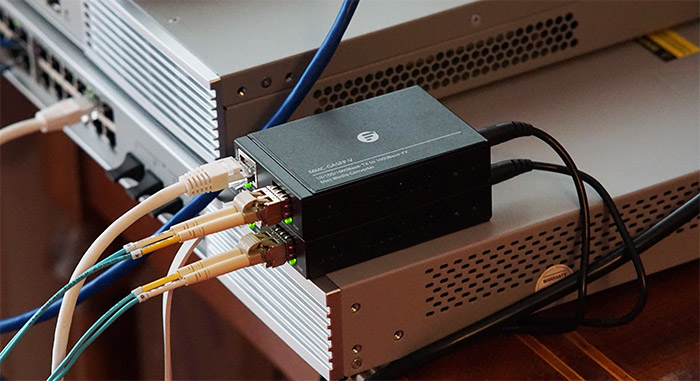 I have tested a few years back the EnGenius SkyKeyI which was a small network controller that was about as big as the FS mini media converter and it had a magnetic case, allowing you to easily attach it to an Ethernet switch.
And I do hope that FS will follow a similar approach with at least some of its media converters as well since it's far easier to slap it on the side of a networking device, than to purchase a large converter chassis. That being said, on the front of the FS mini media converter, you can find a 10/100/1000Base-T RJ45 Ethernet port and next to it, there's a hot swappable SFP slot that supports 1Gbps fiber connections.
I know that there are some media converters that have the ability to directly connect to the fiber optic cable, but FS decided to go with a more flexible approach, allowing you to connect any transceiver you prefer (from whichever brand you want). Underneath these ports, there are four LEDs, the first two being responsible for the copper port: if the TP/LNK LEd is green, then the connection is successful (it will flash when data is being transmitted) and the 1000M LED will be solid green when the Ethernet port has established a connection at 1Gbps. The next LED shows the status of the SFP port, so the FX/LNK LED will be green when the connection is done successfully (flashing means that data is transmitted).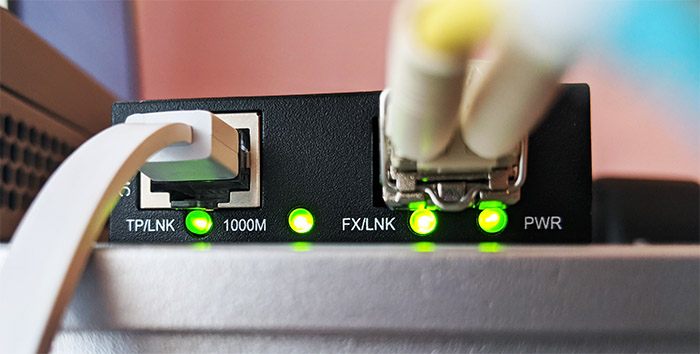 The PWR LED will be solid green when the mini media converter is powered on. The FS mini media converter is not a software managed device, but it does have a small control area at the bottom with four switches to give you the ability to configure its behavior to a certain degree. The first switch will enable the LFP function (Link Fault Pass Through) and it's a way to tell the converter that in case the RJ45 Ethernet port loses link, then it will also disconnect the data transmission on the fiber port. The second switch is for enabling the ALS function (Automatic Laser Shutdown) and it's a useful way to shut down the SFP transmitter power in the event that the fiber breaks.
The third and the fourth switches are related to the FX link (from the SFP port + fiber optic cable), so, the third switch (FX Reset) will shut down the power to the SFP port if the FX link is down, but will restart the power automatically a few seconds later. The last switch will allow you to enable the 100/1000M mode on the FX port.
What's inside an FS media converter?
If you plan to open up the small case of the MMC-GASFP-V, know that you need to remove a single screw which is covered by a small warranty void sticker (which breaks easily), so be aware that you will lose the warranty. Since I don't need such 'inconveniences' with my electronic devices, I pushed the screwdriver right through the seal and, after sliding the top side of the case, I could see the PCB with some of its components.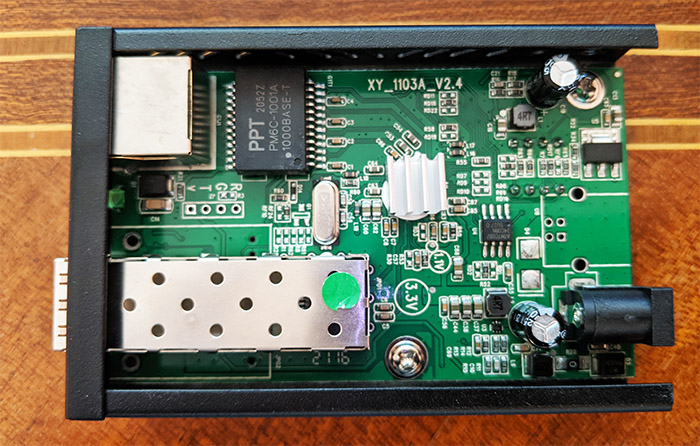 This way, I was able to identify a PPT 2052Z PM6C-1001A 1000BASE-T magnetics module, a GH23H 721649 IC chip and a ATMTC087 24C08N 2-wire serial EEPROM. Afterwards, I switched the board upside down (after removing two screws) and I saw that there's a thermal pad that pushes the heat towards the metallic enclosure. Additionally, I could identify a STC15W204S 35T-SOP16 2105H2BK75XA microcontroller, as well as a Toshiba 74HC04D CZA74570 and a 74HC08D CYY50828 semiconductors.
Applications
The most common application is to use media converters in order to connect two networking devices over higher distances. It's obvious that not all network devices support SFP, so, where only RJ45 copper ports are available, you can hook up two FS mini media converters + transceivers and use a long fiber optic cable to go over miles and not lose anything in terms of performance. You may know that the CAT cables will lose signal after about 328 feet and they are sensitive to interference. The fiber optic cables have neither of these weaknesses, so, if you wish to inter-connect the networks of two buildings that are fairly far apart, then a fiber optic cable is your best option. There is obviously the cost aspect and, if you don't have Ethernet switches or gateways that have SFP slots, using these small media converters are going to save you a lot of money.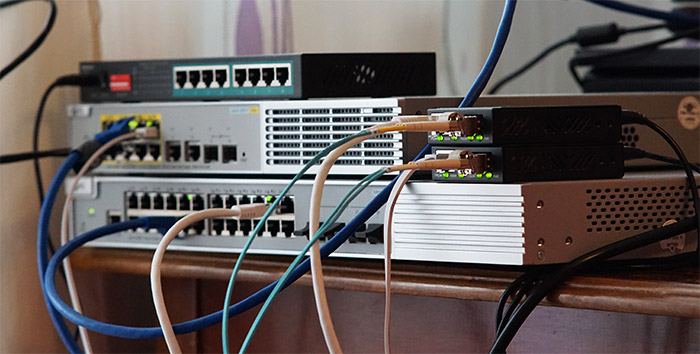 To check whether there's any performance loss, I first inter-connected two FS Ethernet switches using two FS transceivers (Generic compatible 1000Base-SX) and an FS fiber optic cable (Duplex OM3).
It's worth mentioning that the Ethernet switches are the FS S3910-24TF and the FS S3410-10TF-P – obviously both supporting SFP transceivers up to 1,000Mbps. Afterwards, I connected one computer to the first switch using a CAT 6 cable and another computer to the second Ethernet switch, again, using a CAT 6 cable. This way, I ran a quick LAN to LAN test (of about an hour each run) and, upstream, I saw an average of 908Mbps, while downstream, I saw an average of 934Mbps.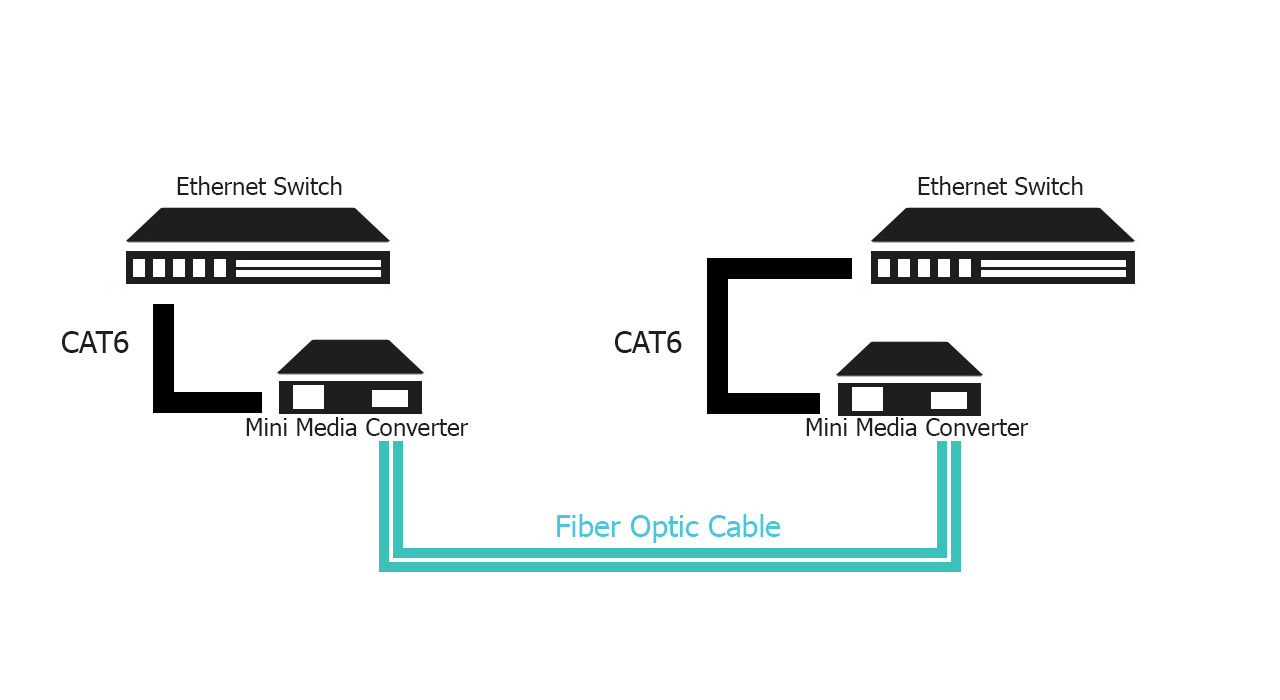 Next, I disconnected the transceivers with the fiber optic cable from the switches and connected them to a couple of FS mini media converters. Afterwards, I took two Ethernet cables and connected the media converters to the switches – one media converter per Ethernet switch, with only the fiber optic cable connecting the mini media converters (therefore the switches as well). I immediately ran another LAN to LAN test and it seems that it even did a bit better than before. It's essentially the same performance though, so zero loss: upstream I saw an average of 910Mbps and downstream, I saw an average of 936Mbps.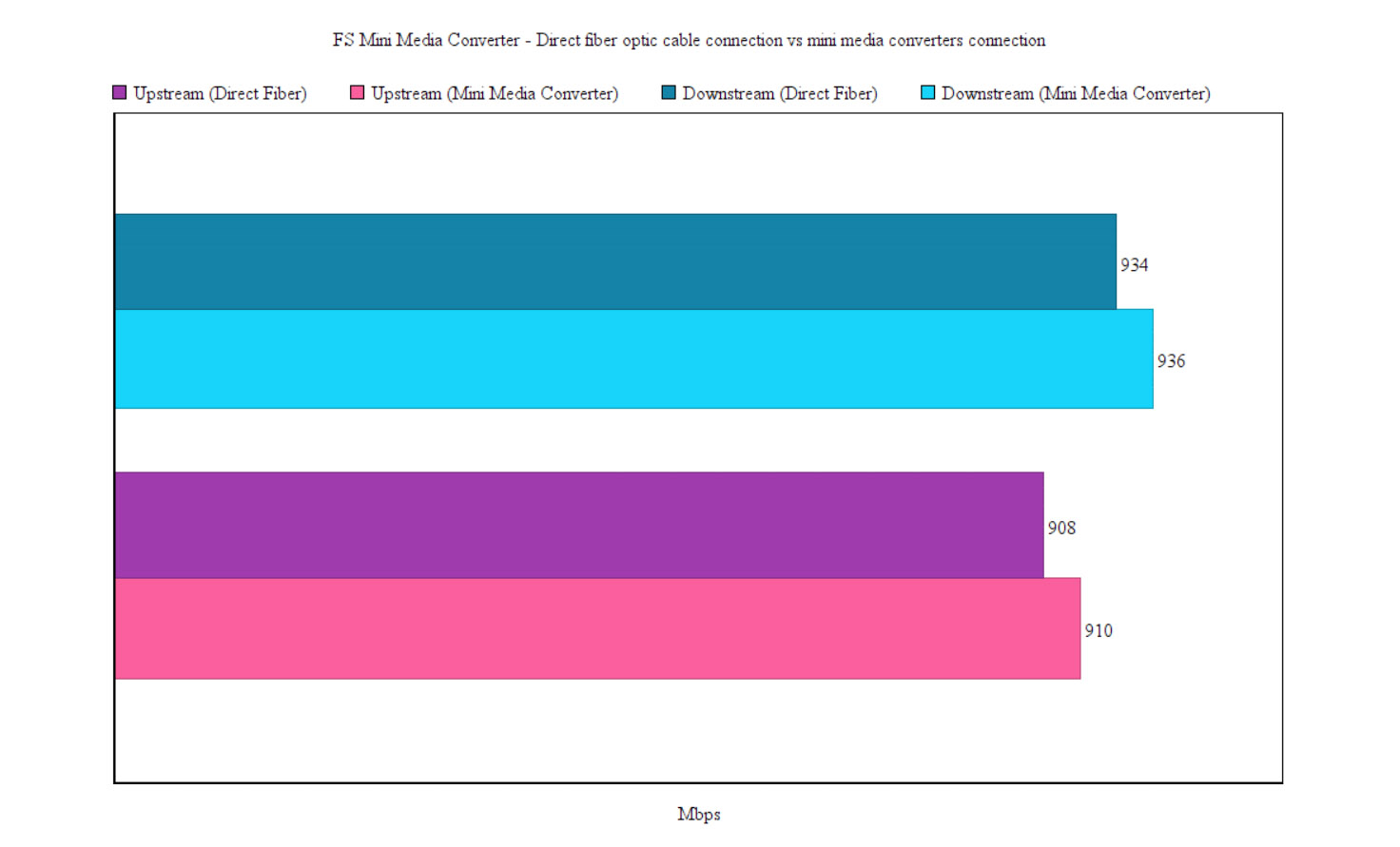 The two FS mini media converters did get hot after I started the tests, but running these tests for so many hours showed no throttling, which is great. Others applications include using two FS mini media converters to protect your devices from lightning strikes and other types of power surges. For example, you could connect one media converter to an Ethernet switch (via CAT cable), which is then connected to another media converter using a fiber optic cable and then the last media converter will connect to an external access point or camera. In the event of a lightning strike, it will only fry the external device and most likely destroy the fiber optic cable, but leave everything else unscathed.
Another more basic application could be to connect two network devices, one using an SFP slot with a transceiver and the other an Ethernet port – not sure how often this situation can occur, but I suppose it's possible to run out of other ports to use.
Lastly, some of you may ask whether it's possible to use the FS mini media converter to connect a PoE device to a non-PoE Ethernet switch and, unfortunately, that's not possible, but you can use this SFP Slot to Gigabit Ethernet PoE+ Media Converter for this exact purpose, leaving out the need to rely on the PoE adapters (which don't cost that much less and are clearly not as flexible in implementation).
FS Mini Media Converter
-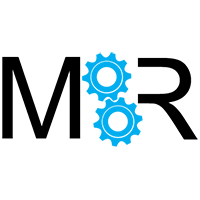 Mark is a graduate in Computer Science, having gathered valuable experience over the years working in IT as a programmer. Mark is also the main tech writer for MBReviews.com, covering not only his passion, the networking devices, but also other cool electronic gadgets that you may find useful for your every day life.