I wanted to also see how well the projector can handle darker scenes and what other movie to choose for this than LOTR Fellowship of the Ring. While the Halo Plus handles very well brighter scenes, the black levels are not that deep. Don't get me wrong, it's still a good movie watching experience and in a somewhat unexpected turn of events, when disconnecting from the power socket, the lowering of the brightness actually help with the darker scenes.
What about during the day? It's usable, but forget any dream of good image quality because everything will be under-saturated. The higher brightness still does help – those 900 lumens are put to good use.
I did mention that the Horizon Pro was very noticeably suffering from the rainbow effect which is common for DLP projectors. I think that the XGIMI Halo Plus handles it a bit better because I could only see it when there was a rotating white circle (loading screen icon).
Should you calibrate the projector?
I did find the Movie mode a bit too green-focused for my taste, so I did create a Custom profile which paints a warmer picture and with some focus on reds. It's actually very similar to the Office profile, but you can simply adjust the colors, brightness and other features to your liking – the defaults are not bad, but I guess they can be better.

I asked how important is color accuracy when I tested the Horizon Pro and I will ask it again in regard to the Halo Plus. And the answer, at least in my opinion is that it does not matter that much considering that this is not a device developed for image or video editing – unless you're only working during the night or always with the shades closed.
Gaming with XGIMI Halo Plus
You can definitely use the XGIMI Halo Plus as a gaming display, but bear in mind that there are a few limitation which a dedicated gaming monitor would not have in the same price range. First of all, there's the 60Hz refresh rate limit which is fine if you're not accustomed to higher rate-monitors, but it will be seen as a step back otherwise. Then, there's all the FreeSync/G-Sync support aspect and the VRR, motion blur reduction plus other extras that do help improve the gaming experience.
That being said, if you're a fairly casual gamer and the 60Hz rate is just fine for you, then the XGIMI Halo Plus is actually a decent performer. I did play some games while my PC was connected to the projector and a Dell U2515H (also limited at 60Hz) to see if there's any latency difference between the two devices.
And I couldn't see anything out of the ordinary, both reacting at the same time even in more demanding scenes. I tried both an RPG (or whatever Assassin's Creed is nowadays) and NFS to get an idea, and you can check the video that I attached to get a better idea about what to expect (know that I did enable the Game mode on the XGIMi Halo Plus).
The Audio Quality
The XGIMI Halo Plus uses the same 5W speakers as the Halo projector and, while I am kind of skeptic about big brand names, it seems that the collaboration with Harman Kardon has paid off. Indeed, the speakers are loud without distorting the sound and, depending on the position, they're well enough for a good sound experience. If you put the Halo Plus in front of you, then you pretty much don't need a sound system, especially if the room is not huge. But, when positioned behind the couch, the sound imaging is just weird, so I assume that in that case a dedicated system would be better.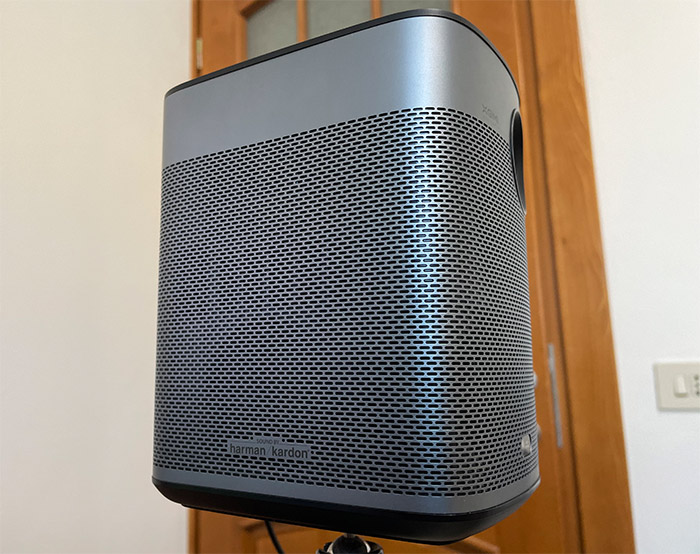 The Battery Life
Based on the FCC ID photos, it seems that Halo Plus is equipped with three 5,400mAh batteries (connected in series) which should be able to deliver about 2.5 hours of continuous footage time. You do need to be aware that after disconnecting from a power source, there will be a reduction in brightness – it's somewhere about 30 percent, so, while noticeable, it's not going to ruin the movie watching experience. Then, after getting close to 2 hours, the brightness will get even lower for about 20 minutes before the projector turns off.
The Conclusion
I admit I had some high expectations after being very impressed by how well the Horizon Pro performed and it seems that XGIMI Halo Plus has met pretty much all my expectations. The device is very compact and portable, the sound is decent and most important, the image quality is very good despite not being a native 1080p projector. Furthermore, running on battery did not have a dramatic impact on the viewing experience, unlike other brands (Nebula Capsule 3) and you can watch a full movie (of average length) on a single charge. So, overall, the XGIMI Halo Plus is definitely one of the best portable 1080p projectors available on the market.
Pros
Compact and portable
The image is very bright
Good image quality, even in battery mode
Intelligent Screen Adaptation
More than two hours on a single charge
Cons
The black levels don't go that deep
Netflix needs to be a part of the default software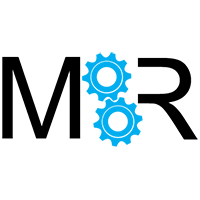 Mark is a graduate in Computer Science, having gathered valuable experience over the years working in IT as a programmer. Mark is also the main tech writer for MBReviews.com, covering not only his passion, the networking devices, but also other cool electronic gadgets that you may find useful for your every day life.