Three years ago, the first wave routers were the next big thing, featuring data rates of up to 1.3 Gbps, three spatial streams and explicit beamforming. It was an obvious improve to the usual 802.11n routers and it was awesome. But technology never stops evolving and sooner than we expected came the 'second wave' routers. And they brought 4 spatial streams, MU-MIMO technology and 160 MHz channels.
It was an obviously huge improvement and two of the main representative models were the ASUS AC2400 RT-AC87U and the NETGEAR Nighthawk X4 AC2350.
ASUS always impressed with its high quality routers, from the iconic models, RT-N66U and RT-AC68U to the more recent AC2400 model, the RT-AC87U. And while ASUS routers are some of the best on the market, NETGEAR was always close-by. The influential NETGEAR Nighthawk AC1900(R7000) is proof that NETGEAR is a great company.
So, we have the RT-AC87U from ASUS going against the Nighthawk X4 AC2350 from NETGEAR. Which one is the better option? Let's find out.
Note: You can check the full review of ASUS AC2400 RT-AC87U and the full review of NETGEAR Nighthawk X4 AC2350v2 (we will be using the latest version of Nighthawk X4 in this article).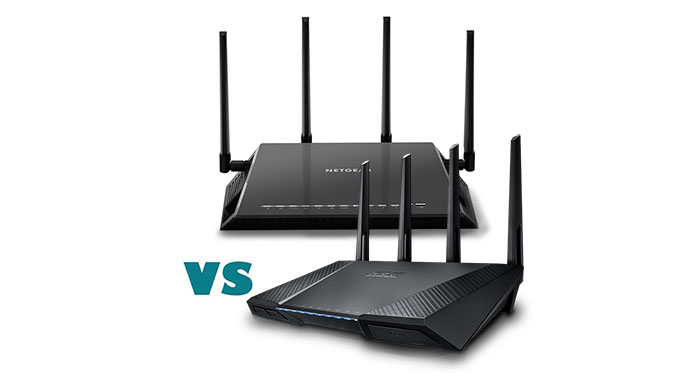 Design
Funny enough, both routers seem to have the same source of inspiration, the NETGEAR Nighthawk 'stealth plane' R7000 router.
So, the Nighthawk X4 continues the legacy and features the same, sturdy, angular case, with a black matte finish (which is finger-print repellent). The footprint is the same, measuring 11.22 x 7.26 x 1.97 inches and weighing 1.65 pounds.
The ASUS AC2400 RT-AC87U, on the other hand, looks like it was born from the NETGEAR Nighthawk R7000 and ASUS RT-AC68U, sharing design elements from both parents. Meaning, it has the same angular design as the Nighthawk and two slices of matte diamond pattern on the top left and right side of the router (it doesn't retain fingerprints), similar to the top of the RT-AC68U.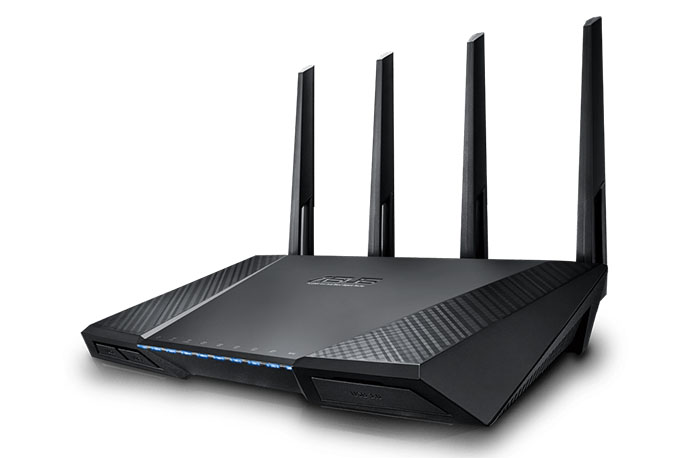 The RT-AC87U's footprint is really similar to the Nighthawk X4, it measures 11.5×6.5×2.0 inches and weighs 1.97 pounds. Also, both routers can be wall mounted and are VESA compatible.
Because they are quite big, it is obvious that you won't be able to 'hide' them, any of these two routers will attract attention, but if you have a modern-type furniture, any of them will fit in without a problem.
The Nighthawk X4 has four antennas, labelled from 1 to 4 and each has to be attached into its specific, designated spot, otherwise they will face the wrong way. The ASUS RT-AC87U also has four, big, detachable antennas.
On front of both routers, there is an array of status lights responsible for Power, 2.4GHz and 5GHz band, four LAN LEDs, Internet and WPS. The Nighthawk X4 has an addition of two USB 3.0 and an eSata LED. Also, the last two LEDs are actually buttons, one responsible for WiFI ON and OFF and the other for WPS Push N Connect.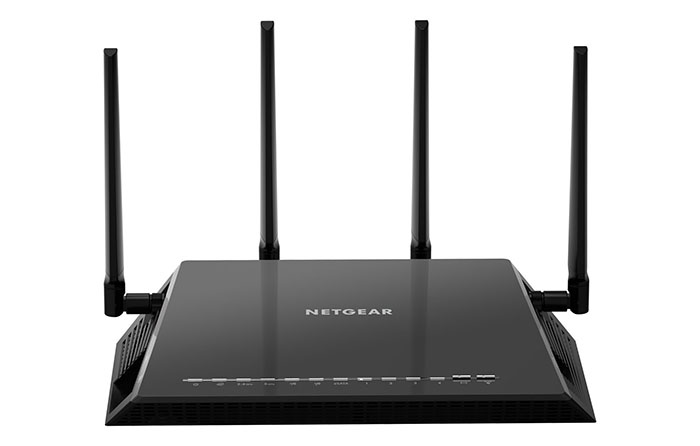 In terms of ports, both routers aren't lacking, featuring the usual four LAN ports, a WAN port and an USB 3.0 port. The Nighthawk X4 went even further and added another USB 3.0 port and an eSATA port.
The ASUS RT-AC87U has the USB 3.0 port positioned on the front, underneath a cover, so if you want to add an external storage device, it may create a mess of cables.
Verdict: Both routers have a premium design, fit for modern homes, both are feature-rich and both are inspired by the same router. So we call this round a tie.
Hardware
The NETGEAR Nighthawk X4 features a 1.4GHz dual-core Qualcomm IPQ8064 CPU, backed by 256 MB RAM and 128 MB flash memory. Furthermore, the X4 uses a Qualcomm QCA9980 4-stream MU-MIMO which delivers up to 600Mbps on the 2.4GHz band and up to 1733Mbps for the 5GHz band. The MU-MIMO feature is enabled with the new version of X4, NETGEAR deciding to change the chip altogether (prior to this, they used a Quantenna QSR1000 "MU-MIMO ready").
The ASUS RT-AC87U is equipped with a 1GHz dual-core Broadcom BCM4709A processor, backed by 256MB DDR3 RAM and 128MB flash memory. ASUS also uses a Quantenna QSR1000 4×4 MU-MIMO chipset that has received a firmware upgrade to enable the MU-MIMO capabilities. Similarly to NETGEAR, the RT-AC87U features a data transfer rate of up to 600Mbps on 2.4GHz and a maximum of 1,733Mbps on the 5GHz band.
Verdict: The Nighthawk X4 v2 is a bit better equipped, so it wins this round.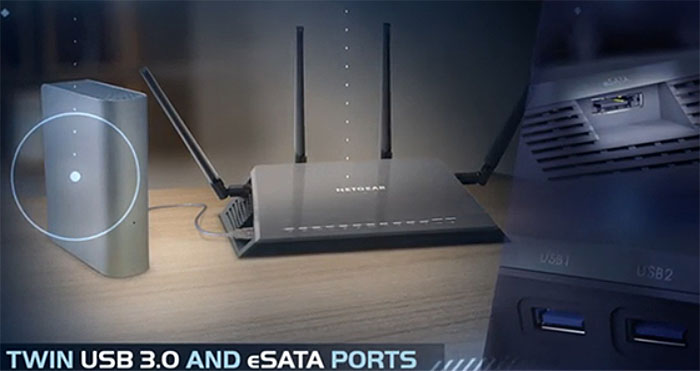 Performance and Connectivity
In the full review, the NETGEAR Nighthawk X4 did really well, especially with the new hardware (although the original version had mediocre performance). So, to test its full potential, we connected another X4 in bridge mode and using the 5GHz band, with MU-MIMO enabled, we got up to 870 Mbps at 5 feet, 720 Mbps at 20 feet and at a longer range (100 feet), the X4 managed 314 Mbps.
Using the 2.4GHz radio, we measured up to 137 Mbps at close proximity (5 feet), a maximum of 130 Mbps at 20 feet and at longer range (approx 100 feet), we measured 104 Mbps.
In order to test the ASUS RT-AC87U at its full power we also connected another RT-AC87U in wireless bridge (with MU-MIMO enabled) and we got a fantastic 1000Mbps at close range (5 feet), up to 840 Mbps at 20 feet and a maximum of 375 Mbps at longer range (100 feet).
Later, we used the 2.4GHz and we got 225 Mbps at close range (5 feet), about 195 Mbps at 20 feet and a maximum of 160 Mbps at 100 feet.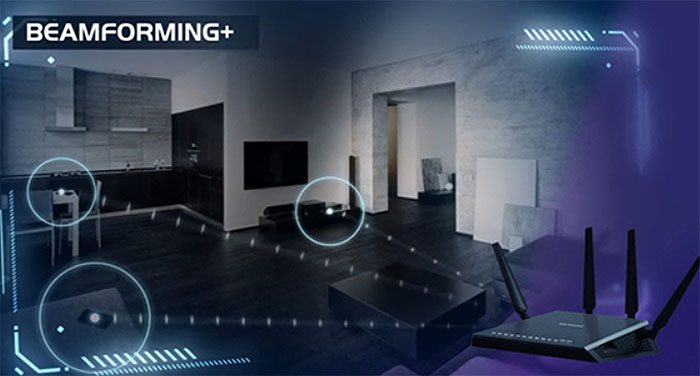 Now, since both routers feature USB 3.0 ports, let's see how do they fare when we connect an external storage device. The Nighthawk X4 performed really well, featuring 78 MBps when reading a 2GB file and 43 MBps for writing it.
The ASUS RT-AC87U did great as well, reaching 62 MBps when reading the same 2GB file and 36 MBps for writing the file. So both routers are reliable NAS servers, although not on the same level as LINKSYS EA8500 AC2600.
While it's clear that both devices were constructed for 4×4 streams of data and they perform stellar using the MU-MIMO technology, there aren't any devices that support four streams of data. But, if you have a larger house and don't want to fill your house with routers and WiFi repeaters, either the Nighthawk X4 or the RT-AC87U will do a great job, both routers reaching up to 300 feet in terms of coverage and let's not forget that the speeds are great and the signal is stable.
Also, both routers passed the stress test, so you don't have to worry about connecting too many devices.
Verdict: Although both routers have great coverage, the signal is stable and both have working MU-MIMO technology, ASUS RT-AC87U was a little faster, so it wins this round.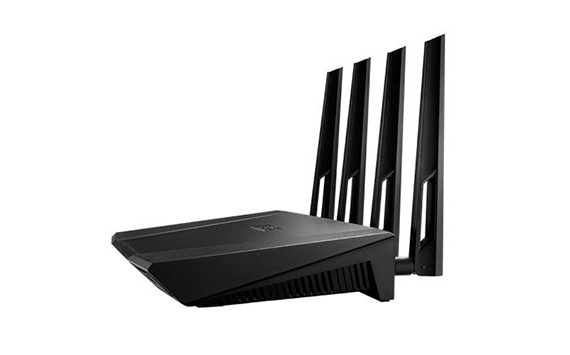 Setup
As we have come to expect from ASUS, the RT-AC87U's interface is simple and easy to use, while being feature-packed at the same time. You can setup the router in minutes and afterwards, you can navigate the ASUSWRT interface for further configuration.
So, you can use the AiCloud 2.0 (allows access to your data from anywhere around the world) or AiProtection (a great data filtering tool), the DDNS service, SHCP management, Adaptive QoS (one of the best implemented QoS we have seen so far), VPN, Printer server and more.
It's clear that ASUS has set the bar quite high, but how does Nighthawk X4 fare at this chapter? Not so well apparently, because NETGEAR stubbornly refuses to upgrade the outdated Genie User Interface.
Don't get us wrong, we enjoy very much the amount of configurability NETGEAR offers, but it just isn't user-friendly. Setting up the router is done quickly and pain-free, but afterwards, if you want to change something, there is an unnecessary learning curve.
Anyway, among the best features of the X4 are the Port forwarding, Dynamic DNS, FireWall, OpenVPN server, Dynamic QoS (which rivals the Adaptive QoS) Parental Controls, DoS attack prevention and more.
Verdict: While ASUSWRT is one of the best interfaces you will find on a router, NETGEAR's Genie is in need of an upgrade, so the winner is again, ASUS RT-AC87U.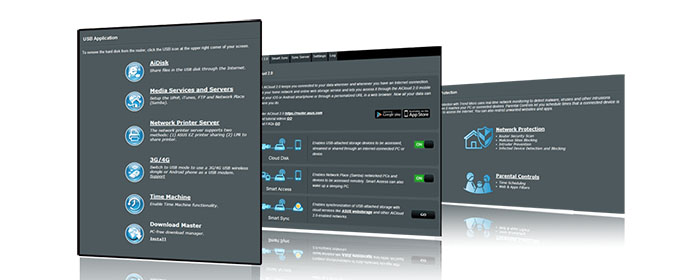 Conclusion
Both routers performed well, both take full advantage of the new MU-MIMO technology, which will undoubtedly become a lot more widespread, so having any of these routers means you will be one step closer to the future.
By the looks of it, ASUS RT-AC87U won, but let's not forget another very important factor, the price. Well, right now, NETGEAR Nighthawk X4 is a bit cheaper than ASUS RT-AC87U, but there isn't a big price difference .
So, if you're not sure which is better, we hope that now it's a lot more clear which of the two routers fits your needs better.
Check the products here:
NETGEAR Nighthawk X4 AC2350:

ASUS AC2400 RT-AC87U: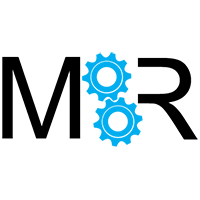 Mark is a graduate in Computer Science, having gathered valuable experience over the years working in IT as a programmer. Mark is also the main tech writer for MBReviews.com, covering not only his passion, the networking devices, but also other cool electronic gadgets that you may find useful for your every day life.