I'm sure most of you would love the idea of living in a smart house or even a smart city, where you have a way to interact with every device inside your home (and outside of it) and all device interacts between each other wirelessly. Imagine telling your thermostat to heat up your house to a certain temperature before arriving at home, while at the same time, monitor security cameras, turn ON the garage lights, preheat the oven, change the colour of the lights and even the tell the house to call you when there is someone at your door.
All this is already possible (and even more) and it is better explained by the concept of Internet of Things (IoT).
If you're curious about the Internet of Things definition, know that it's a network of physical devices, vehicles and even buildings (in the future, there could be cities?) that feature the necessary hardware (which includes sensors) and software to allow the communication between them (collecting and exchanging data).
This means a better integration between the physical world and the virtual one, rendering almost endless possibilities, from the basic examples we gave before (remotely access parts of your house) to a bigger and more complex network of smart cities, with an Internet based infrastructure (since we already have autonomous cars, I think we're ready – but this is a discussion for another time).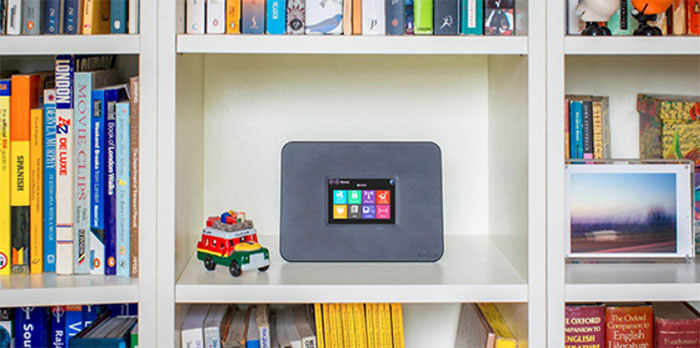 The problem right now is that this technology is in its infancy, a lot of smart devices have appeared on the market, but are often confusing and don't offer enough security. And right now there is a problem with IoT and security, because neither some manufacturers, nor the customers know how to really operate and maintain such a complex network. But, even if there are some setbacks (and it's natural), this is definitely the future.
Now, you may have heard about the new ZigBee or Z-Wave technology and how it is implemented more and more with newer electronic devices. Well, if not, I'll give a short description. ZigBee is a high level communication protocol (IEEE 802.15.4-based specification) used to create networks which require low data transfer rate. In other words, it's a much more simple and less expensive wireless language (than Bluetooth or Wi-Fi) that devices will use in order to connect to one another.
Devices using the ZigBee technology will be able to transmit data over long distances and it works great with intermittent data transmissions from sensors or other input devices.
Z-Wave, on the other hand, works best with battery-powered devices, being able to provide a lower latency transmission of small data packets, while avoiding interference with other transmissions from the 2.4 GHz band (WiFi, Bluetooth). This technology is being implemented in security sensors, remote controls and smoke alarms (so far).
It's quite clear that you will need a network where you'll connect all these devices, delivered by a router. The problem is that the usual router won't operate with either ZigBee or Z-Wave, so you will need a separate hub in order to fully take control of your smart house.
Fortunately, there are already some devices on the market that attempt to unify the router you use for your PC and smartphone/tablet and the hub for other smart devices. One of the first we had a look at (and we reviewed it some time ago) is the GOOGLE OnHub born from the collaboration of GOOGLE and TP-Link and it wasn't a complete success because, although it had the needed technology, it wasn't activated (?).
So we shifted our attention to another promising little device, the Securifi Almond+.
Securifi is known for quite some time for its intention of creating the best router for a smart house and it has undergone a rather successful campaign on KickStarter from which resulted the first Securifi Almond router in 2013. But unfortunately it was an undercooked device and it received a lot of negative criticism.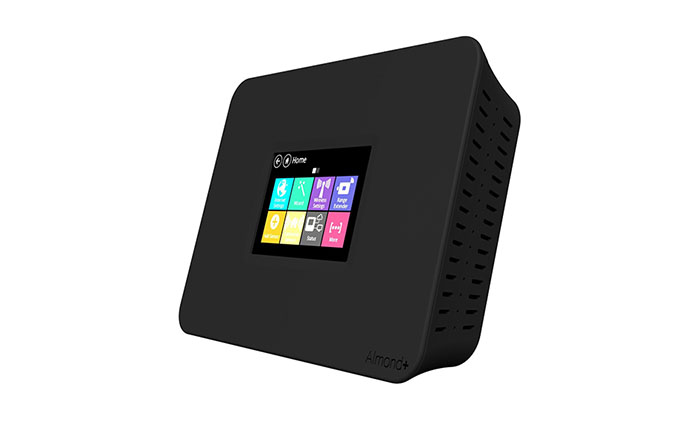 Fortunately, they kept going and last year they released two new devices, the Securifi Almond+ and a cheaper variant, the Securifi Almond 2015 (which lacks some of the Almond+'s features) and both devices promise to be the router you were looking for all this time. Let's see if they rise up to the expectations.
Design
The Securifi Almond Plus features a solidly built, rectangular case, with a matte finish, making the device fingerprint repellent (the original Almond was glossy and a fingerprint magnet). Similarly to OnHub, Almond+ has no external antennas, so it will fit right in anywhere inside your home.
Also, it's half the size of the usual routers (just have a look at the size of NETGEAR Nighthawk R7000), measuring 7.3×5.4×1.3 inches and weighing 1.4 pounds. This makes the Almond+ lighter than OnHub and, while the former claims it belongs in the centre of your room, the Almond+ actually deserves to be the centre of attention, because, while the vase shape of OnHub is a lot better than the insect-inspired usual routers, Almond features a really attractive touchscreen display.
This isn't something you see implemented often (it has been done before with the Amped Wireless TAP-EX) and it gives the router a more attractive flair. Securifi went even further and added a kickstand that can be snapped with two tabs, which allows the Almond+ to be tilted back at different angles so you have a better, more comfortable access to the touchscreen display.
The LCD display is 3.5 inches, it has a resolution of 320×240 pixels and it's actually of high-quality, featuring clear, radiant colours. Also, the touchscreen is surprisingly easy to use and although it bares some resemblance with the Windows Metro design, fear not, because Securifi made the software a lot more intuitive.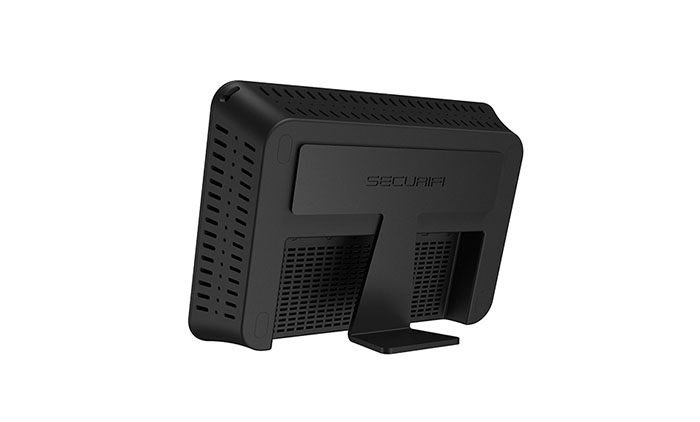 The screen is 0.1 inches recessed, making it sometimes hard to use the touchscreen, so Securifi has included a Stylus along (it slides out of the concealed slot in top right corner).
While most routers will have an array of status LED lights, Securifi opted these out and instead went for status icons on the display (4×2 arrangement), which can be turned OFF manually or automatically.
Seeing that GOOGLE decided to ditch a lot of commonly found ports out of its OnHub, we were a bit sceptical if Securifi won't adopt the same position. Fortunately, it didn't. You get the usual four Gigabit LAN ports and one WAN port on the back of the router, as well as two USB 3.0 ports. This is how most manufacturers usually equip their routers, so were content about it.

On top of the router there's a button which allows you to do a factory reset. A rather odd omission is the ON/OFF button, meaning you'll have to use the touchscreen to turn the router ON or OFF. Also, in order to plug in or remove cables you have to remove the kickstand. But these are all minor complaints.
Note: If you don't want to keep the Almond+ on the furniture or just don't have enough space, you can mount the router on the wall, being VESA compatible.
Hardware
Securifi has equipped the Almond+ with a 750 MHz Cortina Systems CS7542 dual-core ARM Cortex (with a QCA8337 switch), backed by 512 MB DDR3 RAM and 512MB flash memory storage.
Since there are no external antennas, Almond+ has three WiFi internal antennas and two separate ones for Z-Wave and ZigBee home automation system. The Almond+ is a 3×3 router, featuring a QCA9880-BR4A 3×3 chip for the 5GHz band (with RFAxis 5 GHz power amplifier) and an Atheros AR9580 chip for the 2.4GHz band.
The ZigBee radio uses the Silicon Labs EM357 and the Z-Wave radio uses the Sigma Designs 3-series module. The theoretical speed limits of the Almond+ are 1300 Mbps using the 5GHz band and 450Mbps using the 2.4Ghz radio band.
Unfortunately, the router lacks the MU-MIMO capabilities we've seen on the newer routers (ASUS RT-AC87U, NETGEAR Nighthawk X4 and LINKSYS EA8500).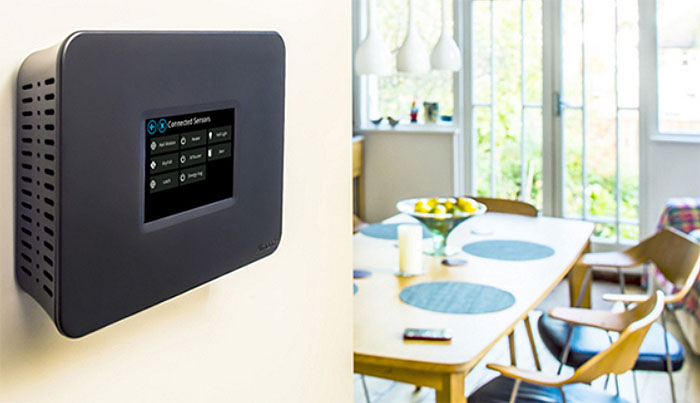 Performance and Connectivity
Testing the Securifi Almond+, we got some pretty decent results. We have connected the router to a 3×3 compatible device (a MacBook) and, using the 5GHz band, we got 345 Mbps at close proximity (5 feet). If we moved a bit further, at around 30 feet we measured no more than 127 Mbps and at 100 feet we got 36 Mbps.
Switching to the 2.4GHz band at 5 feet, we got 75 Mbps. At a longer range (30 feet) we measured 54 Mbps and at 100 feet, the speed dropped to about 15 to 17 Mbps (so this is as far as you want to go).
Depending on your home and interferences, the router has a rather large coverage, managing to reach almost 160 feet.
Furthermore, we connected a larger amount of devices and after about 2 days of continuous use the connection remained stable and no device disconnected, so it passed the stress test without problems
Now, what about the two USB 3.0 ports? Is Securifi Almond+ capable of delivering a reliable NAS performance? Yes, and it's quite good actually. For NTFS, the writing speed reached 28MBps and for reading we measured about 15MBps. Unfortunately, it can't compete with the likes of LINKSYS EA8500 in terms of NAS performance, but the router is definitely reliable.
It's obvious that it isn't a very powerful router and for its current price, you definitely have better options (ASUS AC2400 RT-AC87U), but this isn't all the router can do. The Securifi Almond Plus was created to also be a Smart Home Hub, a medium to interact with all your compatible home devices.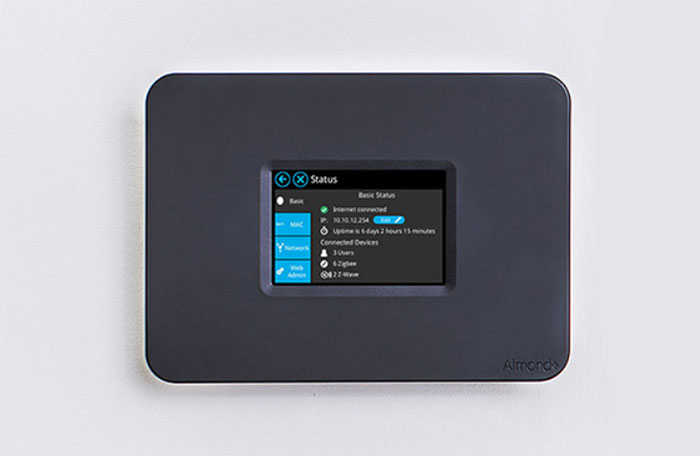 Setup
Securifi claims that anyone can finish the WiFi router setup in no more than three minutes, using the touchscreen. In reality you can add a minute or two, but this is still acceptable, because that's how long it will take to setup most other routers.
You won't receive any CD so you'll have to rely on the touchscreen or you can type 10.10.10.254 on your browser to access the router (so you can do a more in-depth configuration). On your touchscreen you'll go through the setup wizard, where you'll be prompted with the choice of using the Almond+ as a router or using the router as a wireless extender.
Choosing the router option, Almond+ will create a secured WiFi network, but choosing to use the router as a repeater, the router will extend your current WiFi network. In router mode, you can further configure the router, such as changing the SSID name and you can create an Almond account which will allow you to remotely access your Almond+ router.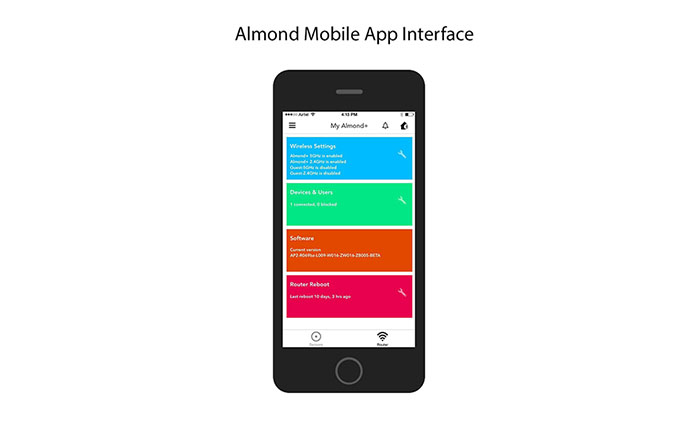 Furthermore, you can use the Almond app with either an Android phone or an iOS one. We found the basic configuration (done by most users) to be fast and the approach is really user friendly.
The interface is really cool looking, being similar to the tabs layout of Windows Metro. So you get an Internet tab (which will let you configure the PPPoE, PPTP or L2TP connections and use DNS servers), the Network tab (where you can configure the DHCP) and the Management tab (here you can change the administrator password, set the Screen TimeOut or the Screen Lock Pin).
Further to the right you get two tabs for the Wireless bands, one for 2.4GHz and the other for the 5GHz band. Here you can configure the Guest Network, MAC Filtering, Mode Channel and more. You also get a Status tab, a Software tab (where you can update the firmware) and a Logout tab.
Besides the router option, the top menu is also home to Sensors (all your installed sensors), Rules (where you create rules for your connected devices) and Advanced.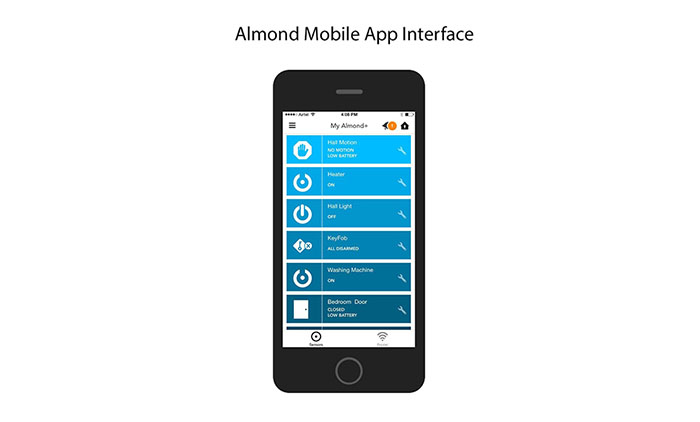 The Advanced tab is where you'll find the DLNA Server, FTP/SAMBA, the VPN Server, Diagnostics, DMZ, Forwarding (not found on the touchscreen), Mount Points, Routing, OpenWRT (gives you access to a whole new user interface and it gives you access to additional options not found in the original UI), System Log (not found on the touchscreen), Kernel Log and Support.
Unfortunately, there's no QoS and there is no way to interact with the connected USB devices from the touchscreen.
But, in the end, the interface layout works as intended, it's easy to use, intuitive and we liked it.
Smart Home Hub
OK, we've seen how Almond+ performs as a router and how you can interact with it, but as seen before, Almond+ isn't just a router, it's also a smart home hub.
So, if you like to be connected with every device you own, know that Almond+ is compatible with everything that has the ZigBee and Z-Wave implemented. We've tested several of this devices and it works great.
For example, we tested the included Peanut Plug which allows you to remotely control an AC outlet (turn ON and OFF a lamp), the SmartSense Motion Sensor, the PEQ thermostat and a Philips Hue LED bulb.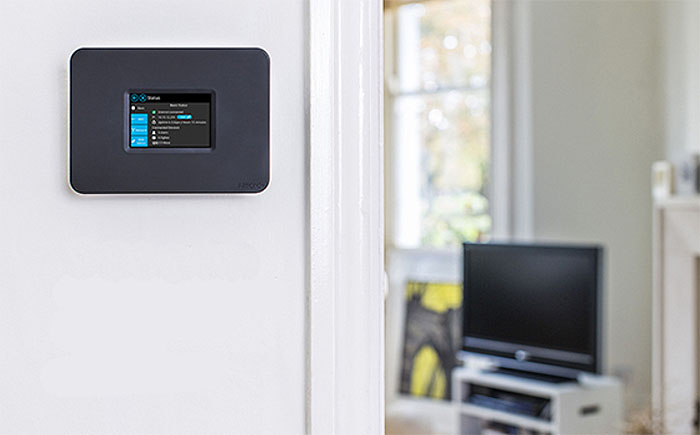 In order to add a new sensor, all you have to do is select Add Sensor and follow the instructions. Immediately, the Almond+ detects the sensor and you can start creating IFTTT (IF THIS THEN THAT) rules.
So, for example you can create a rule for when the motion sensor detects movement, to dim or brighten the light or if it's too hot outside close the shades and start the air conditioner.
The beauty of this system is that it runs locally, so even if you lose the internet connection, everything still works as intended. It also can be configured from outside the home, using the aforementioned iOS or Android app, so you can turn on the lights and adjust the thermostat before arriving home.
Conclusion
It's clear that the main targets are the people who fancy the idea of a smart home, the ones that like to have the ability to stay connected with all the physical things in their home and to be able to control every aspect of it.
And it does a great job, negating the need of a separate hub and integrates it in the commonly found router. It looks good (the display is definitely the main attraction), it performs reasonably well as a home router and excels at being a smart home hub (the IFTTT is extremely easy to use, featuring a really simplistic way of writing new rules for your smart home devices).
Check the product here: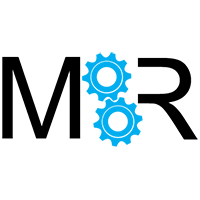 Mark is a graduate in Computer Science, having gathered valuable experience over the years working in IT as a programmer. Mark is also the main tech writer for MBReviews.com, covering not only his passion, the networking devices, but also other cool electronic gadgets that you may find useful for your every day life.