I know that you have been bombarded by VPN ads on most YouTube videos and there has been a slight normalization of using one, while people have been chanting the same list of advantages again and again. But, there is actually a point to using a VPN beyond just simply being able to check out content that has been geo-blocked. And that's the privacy aspect. The point that pushed me beyond entertaining the idea of permanently using a VPN to actually going with ProtonVPN was the news about how the major ISPs in the US handle our data and yes, it's a proper study conducted by the FTC and you can read it here. It's an interesting read and it shows that we are essentially leaking data from all over without seemingly a way to stop it. A VPN can at least stop some of the tech entities from invading our privacy without proper consent and it does so by hiding our IP address.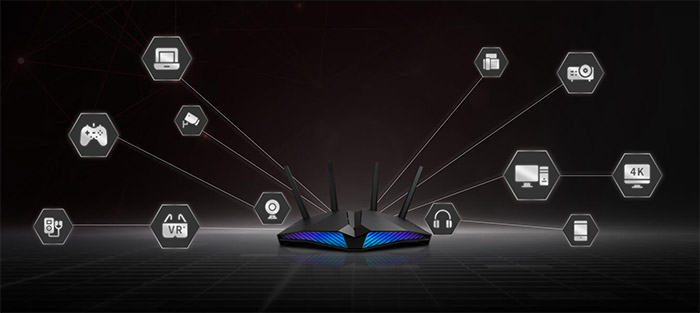 The VPN will stand between your network and the webpage that you need to access, and yes, the connection is indeed encrypted. This way, the ISP will not longer be able to see specifically what you're doing (and what you access), just that you are only an active client of their service and nothing more (as things should be).
Can you trust a VPN with your data?
That's a seemingly tough question and the general answer is yes, but you do need to check who the company that you're paying for the service is and whether it has a history of being reliable. There are always news about how a specific VPN has exposed the user data to the government or other third-parties, but that can only happen if they keep logs of their users. A good VPN will not keep user logs, so they have nothing to offer to any of the entities that may force them even in court. What's interesting is that apparently a court can force a provider to start keeping logs of a particular user (see this case with ProtonMail), so we're not really completely safe with a VPN, but it's still a step forward towards regaining some semblance of digital privacy. The general idea is to not use free VPNs since these services are usually not well kept by their providers and may lead to data leakage.
Why did I choose ProtonVPN?
Mainly because it's open-source. There are other VPNs that have proven their value when the court forced them to provide something they did not have (user logs), so check IPA, ExpressVPN or other reliable VPN as well since they work great. But, since I got ProtonVPN and an Asus router, I decided to do this quick guide on how easy it is to configure everything at the router level.
How to install ProtonVPN on an Asus router
I use an Asus RT-AX82U (you can judge all you want, but, yes, it's because I liked the RGB lights) and the process is the following:
1. Create a ProtonVPN account – I can't really help that much in this regard, but you do need to create an account using a valid email address and then you should get access to the user page (the first window being the Dashboard).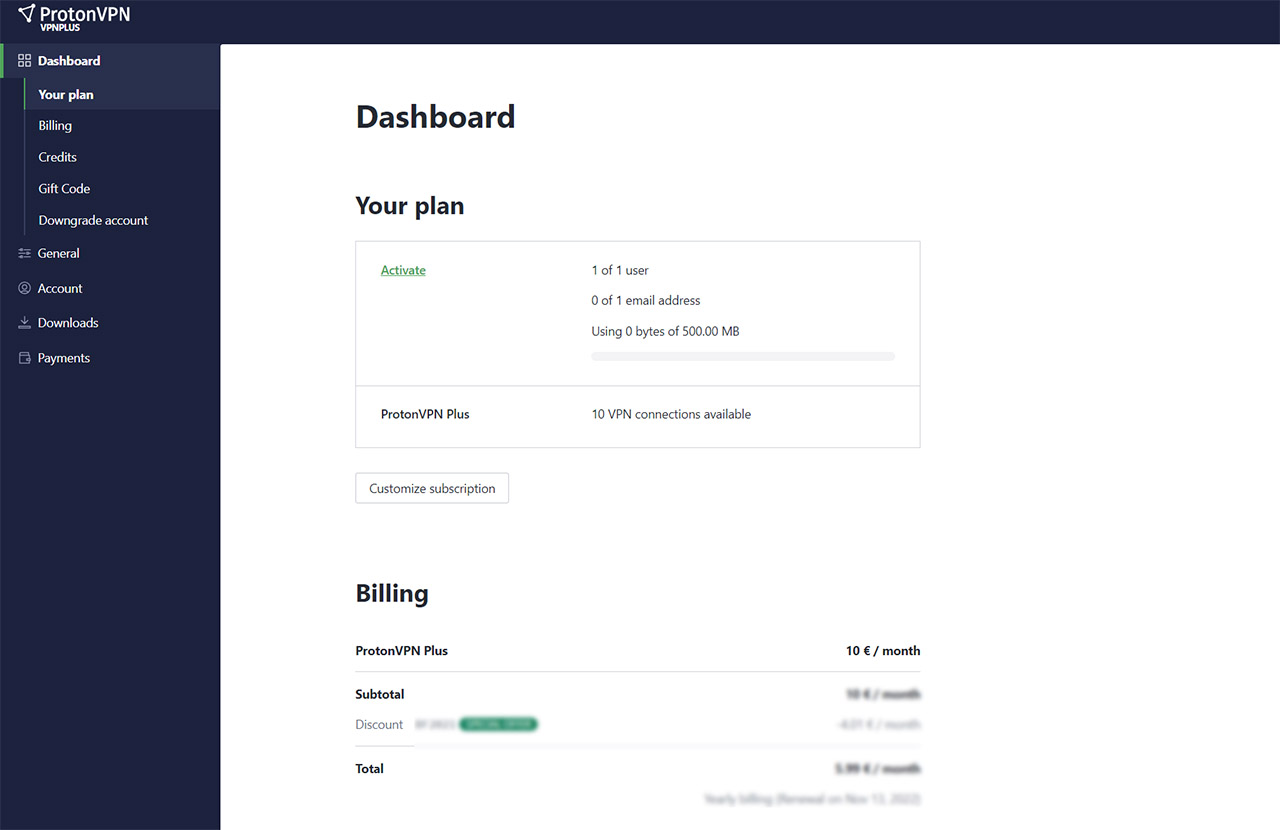 2. Download the configuration files – To do so, you need to head over to the Downloads section and scroll down until you reach the OpenVPN configuration files. Be aware that your Asus router needs to support OpenVPN clients to be able to work with ProtonVPN (also, the provider says that it does not support versions earlier than OpenVPN 2.4 due to being considered unsecure). That being said, here, you can view the installation guide of every platform, select the Protocol (UPD or TCP) and, lastly, you will see available the Download links for the Secure Core configs of every supported country. You can download just a few or all configuration files (scroll to the bottom of the page).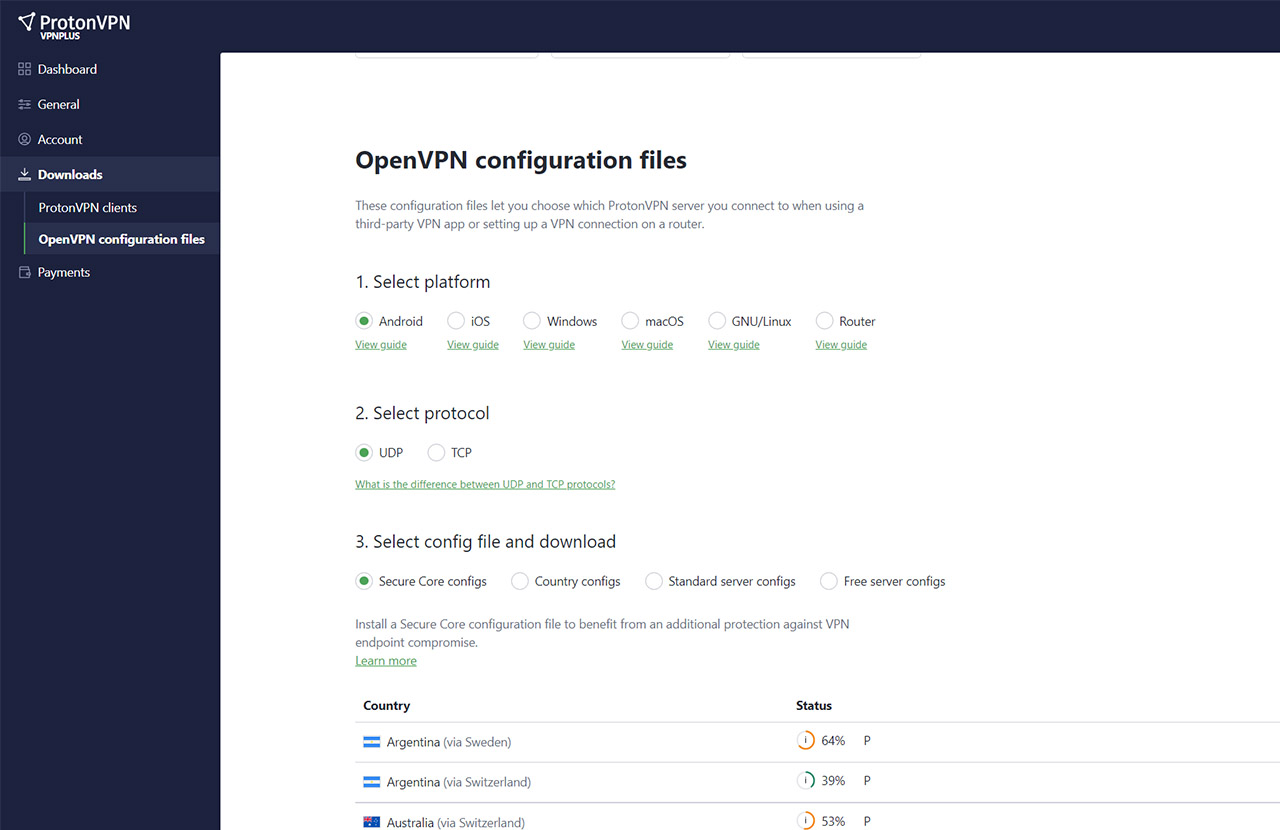 3. Gain access to the Asus web-based interface – As much as I like the AsusWRT app, they left out the VPN config option, so you do need to open a web browser and then enter 192.168.50.1 or http://router.asus.com/. Insert the user name and password and you should see the GUI.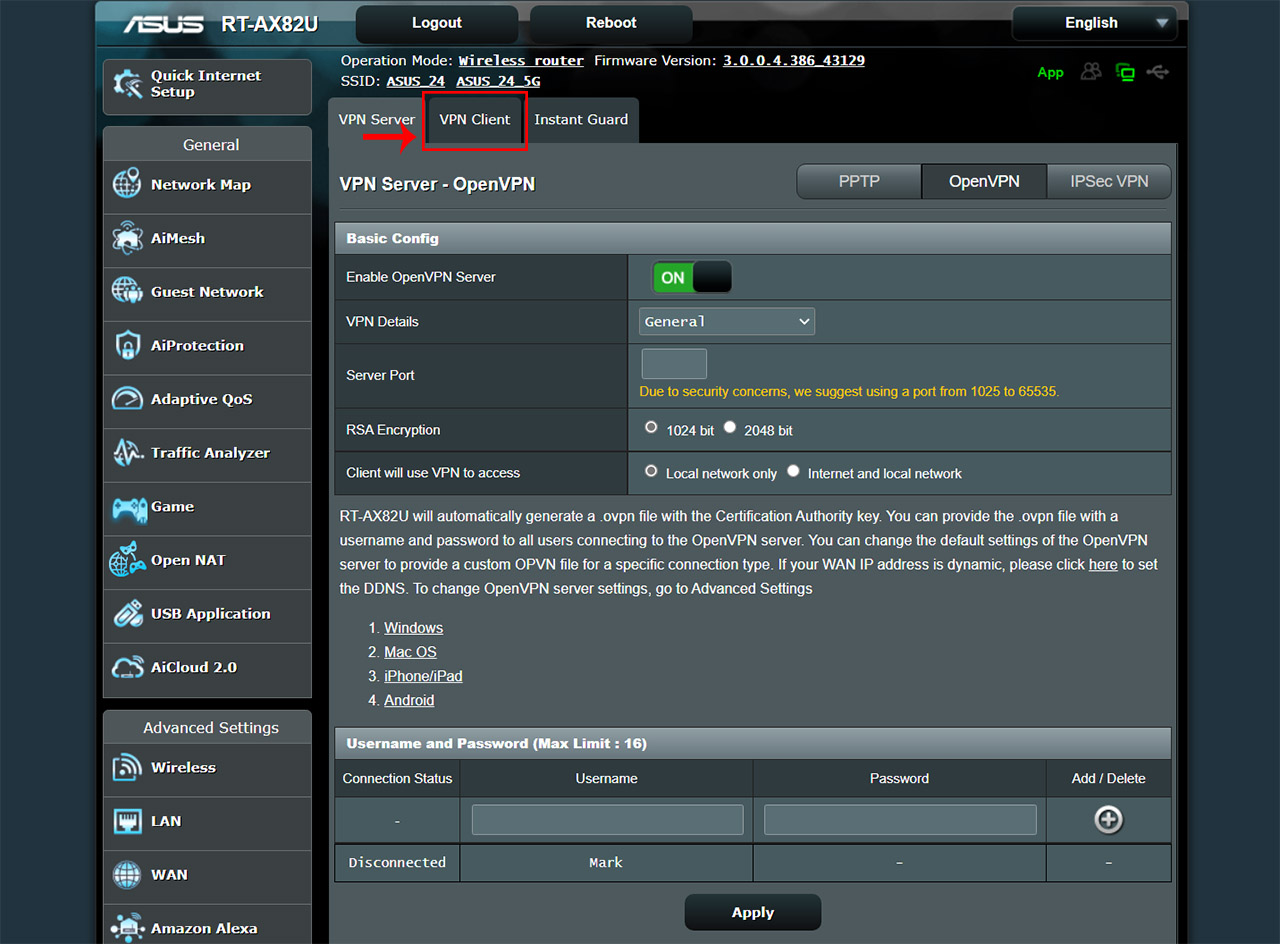 4. Create a VPN Client – From the main page, identify the VPN option on the left menu, underneath the Advanced Settings and then click on the VPN Client. Click on Add profile and select OpenVPN from the horizontal menu in the new window. Insert the desired Description (I entered the name of the VPN) and then you will have to head back to the ProtonVPN user page.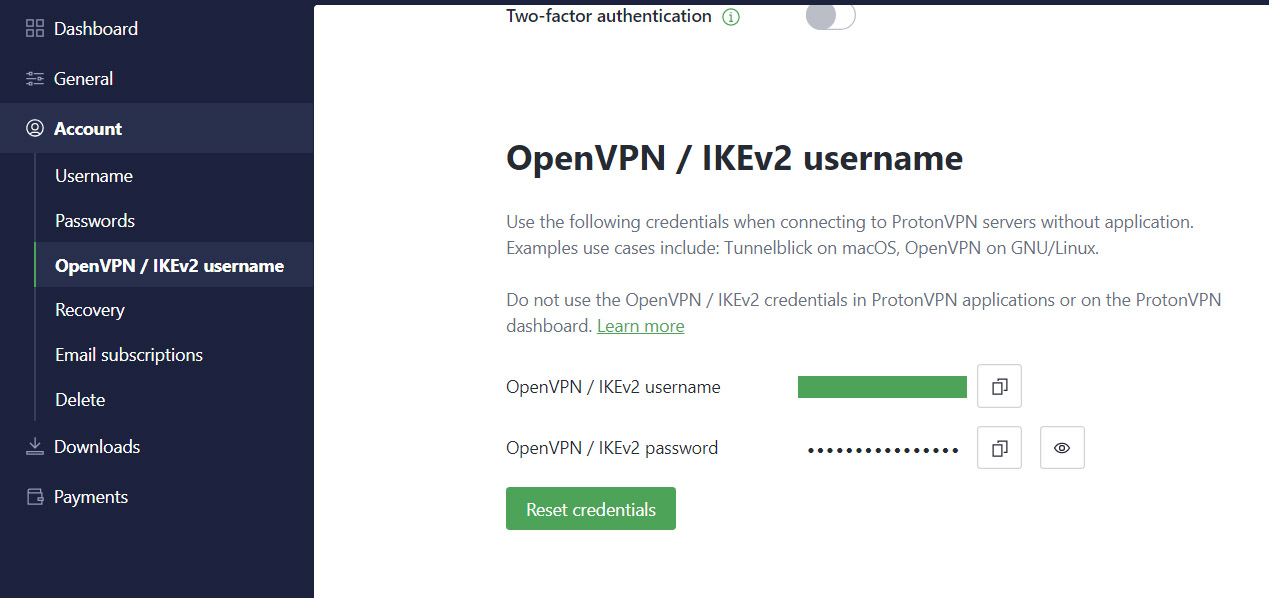 Here, go to Account and, under the OpenVPN/IKEv2 username, copy the username and password. Return to the Asus GUI and enter the copied user name and password, and, next to the Import .ovpn file, click on Choose File and select one of the files you previously downloaded (for the countries that you want to connect). Click on Upload and OK.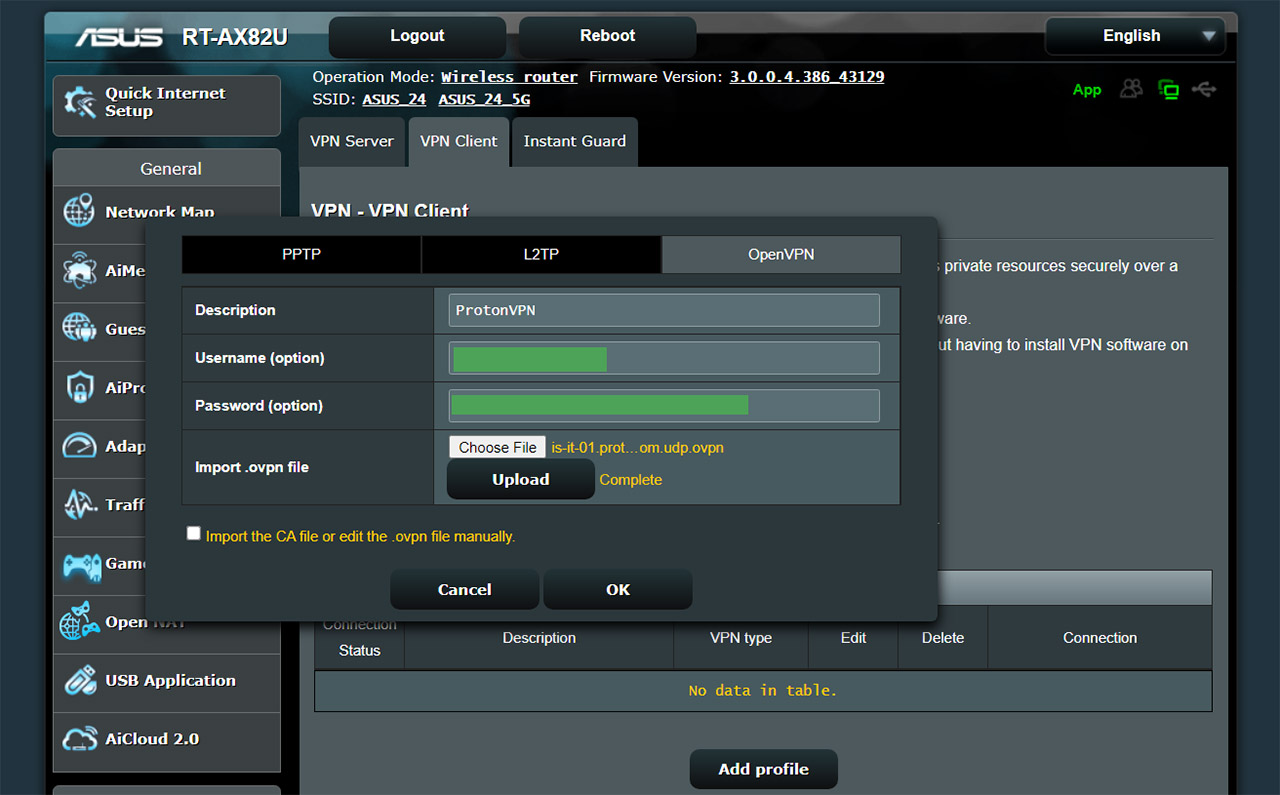 5. Activate the service – You should now see the VPN Client under the VPN Server List and you can now click on Activate under the Connection. The Connection Status should display a checkmark and under the Connection, you should get the option to Deactivate the service.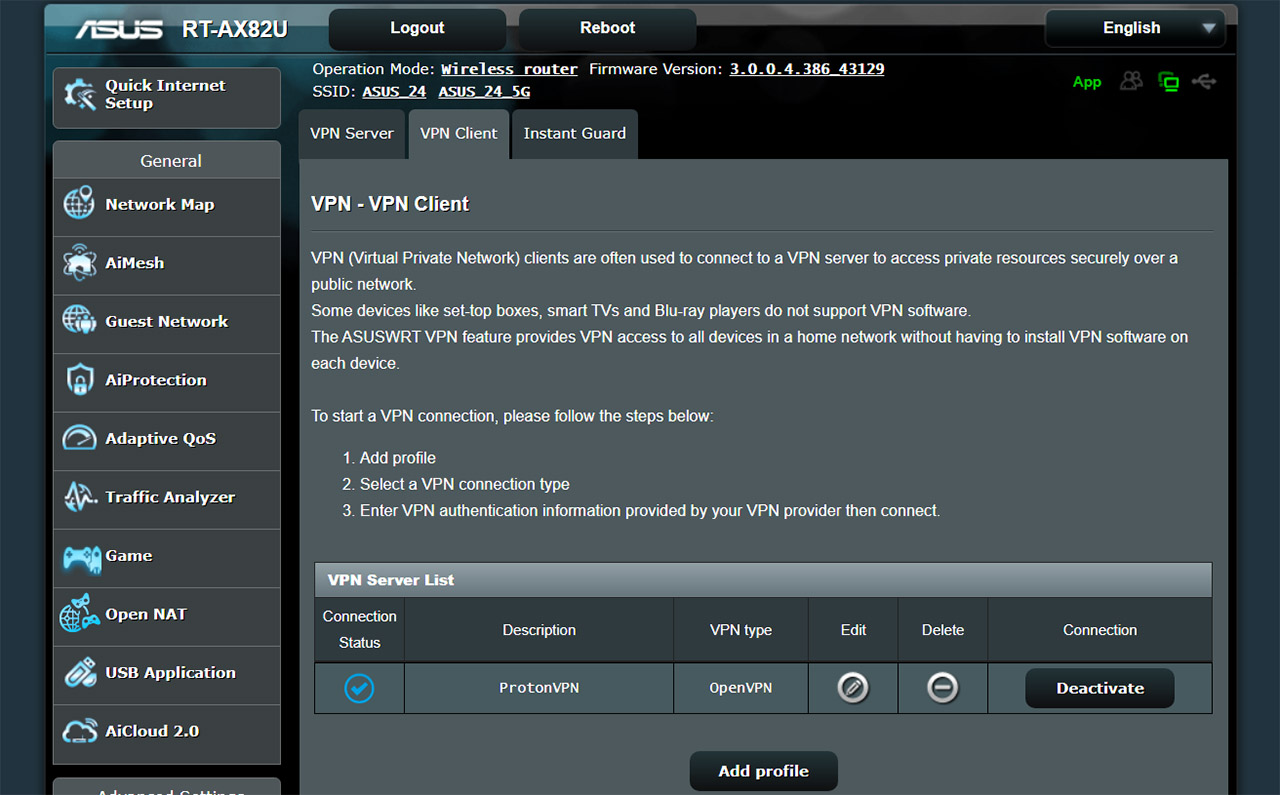 To be sure that everything work properly, head over to your favorite search engine, enter 'what's my IP' and most sites should be able to tell you your new location.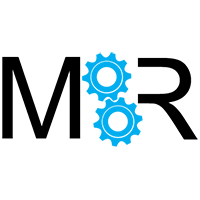 Mark is a graduate in Computer Science, having gathered valuable experience over the years working in IT as a programmer. Mark is also the main tech writer for MBReviews.com, covering not only his passion, the networking devices, but also other cool electronic gadgets that you may find useful for your every day life.