Lepow is a 15.6-inch portable monitor that can be powered through a USB-C port and, if you have ever had a dual-monitor setup, well, the concept behind it pretty much the same, but with some fundamental differences. First of all, the Lepow portable monitor doesn't need a dedicated power source when it's connected via USB-C to either a laptop or even a phone (yes, it will connect to some smartphones as well) and secondly, it's very lightweight, therefore very easy to carry around.
So, in essence, this is a second monitor for your laptop or a bigger screen for your smartphone for that productivity gain. But, it's also compatible with gaming consoles, such as the Nintendo Switch, which means that when you travel, you can just take the console out and plug it to the monitor to get an instant bigger screen for your games.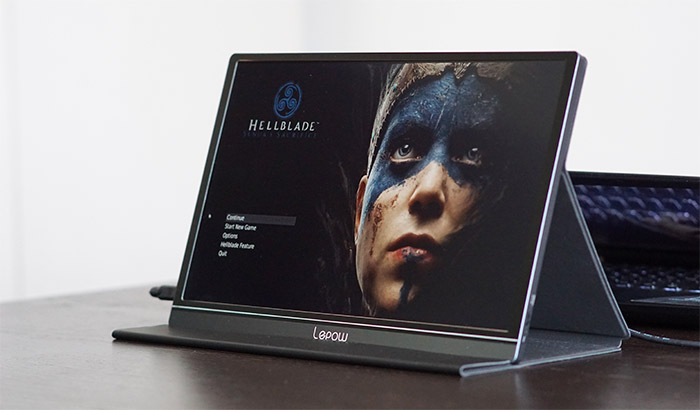 Of course, the portable monitors have been on the market for a while now and some of the big brands have already accustomed the public with their offerings, but there is always room for a new player and the Lepow portable monitor does offer a bigger screen than most of its competitors, there's both USB-C and mini-HDMI inputs and the included case does support multiple adjustments (well, minus the portrait orientation), so let's put it up to the test and see if it's worth purchasing or if you should not wander outside the more known brands.
Design and Build Quality
A quick look over the available portable monitors on various websites suggests that there really isn't that much variety in terms of design: they're all featuring a rectangular case with a large display in the middle (some had shrunken bezels and some didn't). The Lepow portable monitor has pretty much the same look, resembling an oversized tablet, well, specifically an iPad because it decided to go (almost) full metal and glass. Indeed, the rear panel is made out of aluminum (covered by a dark gray matte finish) and it curves around to meet the (unfortunately) plastic front bezels, but I did like the chrome dividers which do help give the device a more premium look.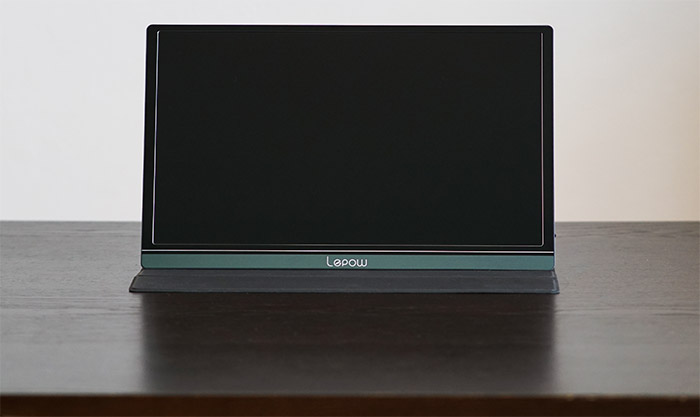 Underneath the display (and the bottom bezel) there is another metal plate which includes only the Lepow logo – devices such as ASUS ZenScreen have preferred to put its buttons on the front, but Lepow decided to keep them on the sides (we'll see soon if this was a better idea).
Being made out of aluminum doesn't necessarily mean that the rear panel and the frame are solid, but in this case, it does make the device feel a lot more rigid; still, if you put some amount of pressure on its sides, it does flex a tiny bit (I didn't overdo it since I am sure I could break it). The Lepow portable monitor is not a small device and at its 14.5 x 8.8 x 0.34 inches, it's also not the thinnest in the world (this award goes to the C-Force portable monitor), but it's still a bit thicker than a regular laptop's display, so you won't have any trouble carrying it around.
Speaking of portability, the device weighs 1.69 lbs which means that you can put it in any bag (that can fit it) and move it around with one hand – the manufacturer got away with making it this lightweight by not adding an internal battery or a Corning Gorilla Glass protection, so I would make sure not to hit it on anything or drop it since there is no screen protector (although you can purchase a separate one from various online retailers) – there is a screen protector inside the package which I missed when I took the monitor out.
There still is a protective cover inside the package which is quite versatile, doubling as a foldable stand and it attaches magnetically to the bottom and the rear side of portable monitor: it does offer a couple of positions (both horizontally), but you will need to consult the manual to figure out how to do it (I didn't get it right by myself either). The monitor can be set in portrait view and I was surprised to see that the cover can't be adjusted to support this mode.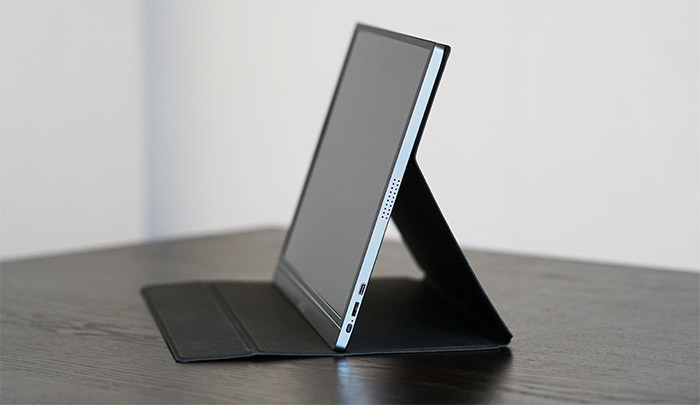 I did notice that there are some portable displays out there that come with mounting holes on the rear panel (the Uperfect is an example), but the Lepow doesn't have them and truth be told, I don't really miss such a strange feature for a device that is supposed to be portable. The Lepow monitor prides itself with a dual speaker system and I have to admit that you rarely see such an addition on the portable monitors – you can see the grills on the left and right side of the device, towards the middle of the metallic frame.
The sound does come from two 1-watt speakers and they're a bit weak, sounding tiny even by a tablet standard, so, unless you are in a very quiet room, you're not going to be able to properly enjoy a movie (I suppose it would be fine for gaming) – I suggest to use a pair of good headphones or an external speaker and there is a 3.5mm audio jack on the left side just for this reason. Next to the jack, you'll be able to find a USB Type-C port that can be used for connecting the monitor to a phone, a tablet, a laptop, a Nintendo Switch or any other device that supports video output (the port will also allow for the power to flow towards the monitor, so you don't need to use a power adapter or a power bank).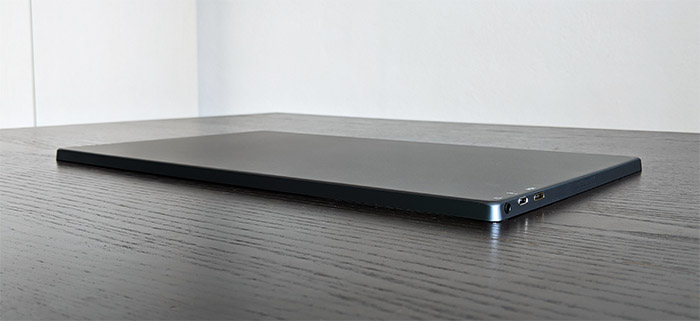 This can definitely give a real sense of productivity when using a phone, but, as I said before, you need to make sure that your smartphone supports USB-C video output – apparently, my Pixel 2 XL is not among the supported devices, so good job Google! Next to the USB Type-C port, there is a mini-HDMI that allows video input from supported sources – I did try it with my Desktop PC and a laptop, and it worked perfectly fine, just make sure to also connect the monitor to a power source at the same time.
On the other side, there is another USB Type-C port which can only be used for power delivery (it is compatible with PD 2.0, it supports 5-20V input and it can also recharge additional devices) and next to it there's a Roll Key and a Power/Return button. The Roll key was designed as a do-it-all sort of button and it gave me mixed feelings since on one hand, it works really well for its intended purposes (it take a bit of practice to be really precise), but on the other hand, I'm not entirely sure it will survive for a long time, especially if you need to constantly adjust the settings (for example, the Brightness has to be adjusted every time your power on the device).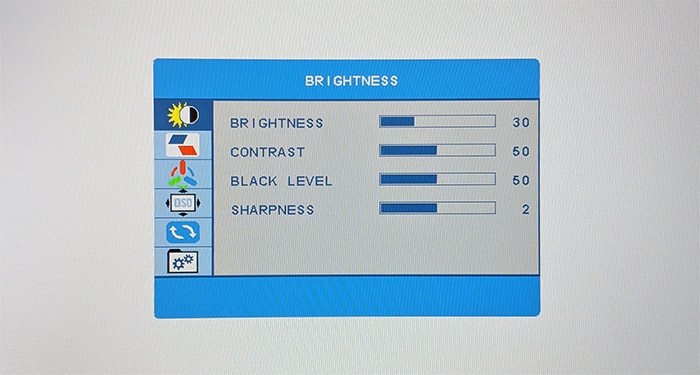 That being said, in order to access the OSD menu, press the Roll button and to navigate it, move the switch up and down: when you want to enter a specific subsection simply press the Roll button again and, if you want to turn back, press the dedicated button which sits lower than the Roll switch. Among the adjustable sections, there's the possibility to increase the Brightness, the Aspect ratio, the Color Temperature, the Language and there's even the possibility to enable the HDR mode, although I didn't like the huge amount of contrast.
The Display
The build quality is most definitely above average, but what about the display? It's fine for general media consumption, but nothing to brag about: it's a 15.6 inch IPS panel with a resolution of 1920 x 1080 pixels (141ppi pixel density) and with a little bit of adjustment from the OSD menu, I got it to look almost identical to the monitor on my Lenovo Y520. And that doesn't really say much considering that the Y520 is hardly suitable for photo editing or any other professional use that involves color accuracy, but it was acceptable for gaming. Well, kind of, since the panel (on the Y520) has only a refresh rate of 60Hz, but the response time is quite fast on both gray to gray and black to white.
The Lepow portable monitor's display also has a refresh rate of 60Hz when connected via USB-C (the mini HDMI can only go up to 59Hz) and the response time is comparable, sitting at about 30ms GTG (I did see a delay before reaching the password window at the startup, but afterwards, both monitors were pretty much identical in reaction time). I'm not a competitive gamer, so this was more than enough for me, but some of you may want to check something faster (although the price will skyrocket as well, so maybe a normal monitor may be more suitable for fast pacing games).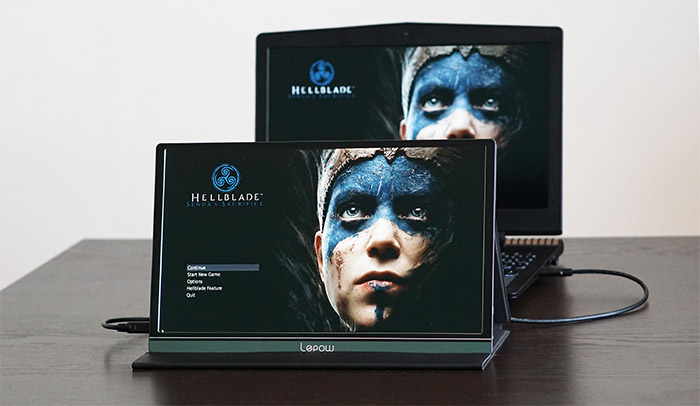 I also think that the Lepow monitor is going to work great with the current gen consoles instead of a PC that can easily surpass 60fps even if it's a budget build. Moving on with the image quality, it's alright for watching a movie, a YouTube video or for some programming since the colors are not really accurate (it covers about 64 percent of the sRGB color spectrum – still better than some laptop displays and I tend to think that it may actually better than the Y520's display).
Furthermore, I noticed that the color tone is warm and there is a subtle yellow tint to the whites that I just can't get rid of regardless of the adjustments I made in the OSD menu (it's not very noticeable, unless you put another display that has a more cooler color tone), but the blacks were fine (with deep enough levels) and the brightness levels are advertised as being able to reach 300 nits. In reality it's more about 180 nits which is not that much depending on where you're going to use the monitor: indoors, you will most likely not need more, but if the sun shines directly on your panel, even though it's not glossy, it will show some amount of reflections. The viewing angles are also decent and there was no color shifting when looking from the top or sideways.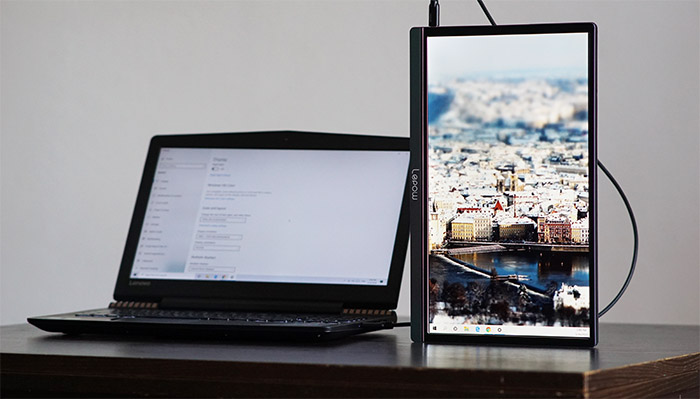 I also did enjoy the portrait mode quite a bit up to the point of debating whether the Lepow monitor should a remain a permanent part of my system. What if you're trying to do some photo editing? Like I said, it's not that great and it seriously pales in comparison with my daily driver, the Dell U2515H – still, if you have no other option at hand, it's doable, but it's a gamble whether the colors actually look right (I did try using only the Y520 for a month while editing some photos and the results were underwhelming – better to use a MacBook Pro as your main monitor and the Lepow as the secondary display when traveling).
Conclusion
The portable monitors were created to satisfy the overwhelming need to have more screen real-estate when you're using a laptop and not only when you're home, but also while traveling, allowing you to quickly take out the thin display and continue working when you're in a train or a plane. Of course, there are other applications, such as getting a way bigger display for your phone or using it for gaming on the go (using a Nintendo Switch). The Lepow portable monitor is fully capable of providing the aforementioned experience thanks to its multiple connection types, it does have a pair of speakers which are not that powerful, but reasonably clear if you're next to the device, there is portrait mode support and the build quality is also excellent, the monitor being quite solid and thin enough to fit in pretty much all laptop backpacks.
Check the product here:

Pros
Excellent build quality
Adjustable cover inside the package
Both Type-C and mini HDMI connections
Support for portrait mode
Supports Power Delivery
Cons
The Brightness level has to be adjusted every time you power on the display
The speakers aren't very powerful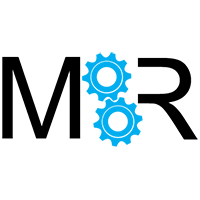 Mark is a graduate in Computer Science, having gathered valuable experience over the years working in IT as a programmer. Mark is also the main tech writer for MBReviews.com, covering not only his passion, the networking devices, but also other cool electronic gadgets that you may find useful for your every day life.