Routers are one of the most widespread devices right now, everybody has one (or more) inside their home. But, if your Internet provider offers high speeds, a conventional, cheap router may not be enough (you don't want it to be the bottleneck of your network). Thankfully technology evolves year by year and new networking devices are released (some with features way ahead of their time).
Having an AC3200 or AC5300 router may seem overkill, these being more suitable for companies than for home use. But, if you have a larger house and don't want to cover it with repeaters, a proper AC1900 router with good coverage will certainly suffice. Sure, but which one?
Unfortunately you won't see many new releases of AC1900 routers in 2016 (and even 2015 was a bit scarce, only worth mentioning being the TP-LINK Touch P5 AC1900, Tenda AC15 and Google OnHub). But, surprisingly, some older routers still offer some of the best speeds and coverage and have managed to remain relevant even after two or three years. That's why we will focus on two of the best AC1900 routers, the NETGEAR Nighthawk AC1900 R7000 and Linksys WRT1900ACS (you can also have a look at the ASUS RT-AC68U, a very reliable AC1900 solution). Why not go for something more technological advanced you may ask. Simply because while routers evolve a lot with each instalment, the WiFi clients do not. Most of them still rely only on the ancient 802.11n technology.
UPDATE (12.21.2016): Netgear has released a new firmware update (v. 1.0.7.6) to fix the recent arbitrary command injection vulnerability that affected the Nighthawk AC1900 R7000.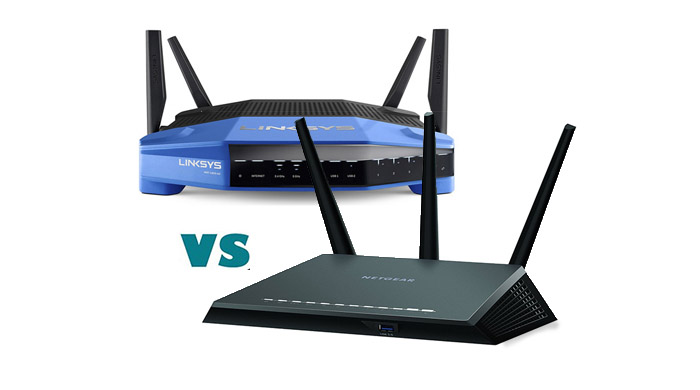 Note: You can check the full review of NETGEAR Nighthawk AC1900 and the full review of Linksys WRT1900ACS.
Design
We won't delve too much into history, but Linksys is a legend in the networking department, most of us looking with nostalgia at the great times when we had the WRT54G. Linksys had some issues afterwards but fully recovered and gave us a successor, the Linksys WRT1900ACS, a terrific AC1900 router. The Linksys WRT1900ACS is the third improved variant of the previous two versions of Linksys WRT1900AC.
As expected you won't get a subtle, elegant design, but a bulky, black and blue, solidly built case that resembles the body shape of a beetle. It has four detachable and upgradeable antennas and it can be wall-mounted, being VESA compatible.
Netgear Nighthawk R7000 won't be considered subtle as well, because just like Linksys, you won't be able to hide it in a corner, like it or not, it will stay in the centre of attention. But, unlike Linksys, the design of the Nighthawk is a bit more elegant, featuring sharp, angular lines and a black matte finish.
While Linksys has four antennas, Netgear Nighthawk only has three detachable antennas that compliment the plane-like appearance.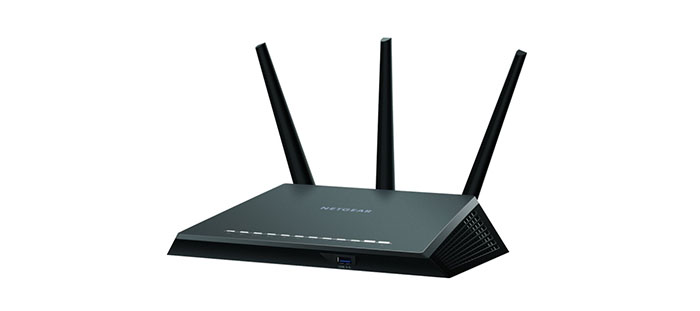 An important thing to know is that NETGEAR Nighthawk R7000 is really big, but not necessarily heavy, measuring 13.7×10.1×3.1 and weighting 1.8 pounds. Fortunately, if the footprint is just too big for your home setup, you can always mount it on the wall (VESA compatible).
Linksys can also be considered bulky, but it doesn't have the large footprint of the Netgear, measuring 9.8×7.7×2.0 inches and weighing 2.1 pounds.
On the front of both Linksys WRT1900ACS and NETGEAR Nighthawk AC1900 you can find the usual status LED lights for Internet, Power, Ethernet, WPS, for the 2.4 and 5GHz WiFi bands and USB. Linksys also has a LED for eSata.
The back of the Netgear Nighthawk is home to the four Ethernet ports, a WAN port, one USB 2.0, On/Off button, Reset button and the power input. On front of the router there is a USB 3.0 port and in the status LEDs array two buttons masquerade as LEDs, one for WPS and the other for WiFi On/Off.
The ports and buttons array on the Linksys is pretty much the same, all of them being found on the back of the router, including the USB 3.0. The only notable difference may be the eSata port.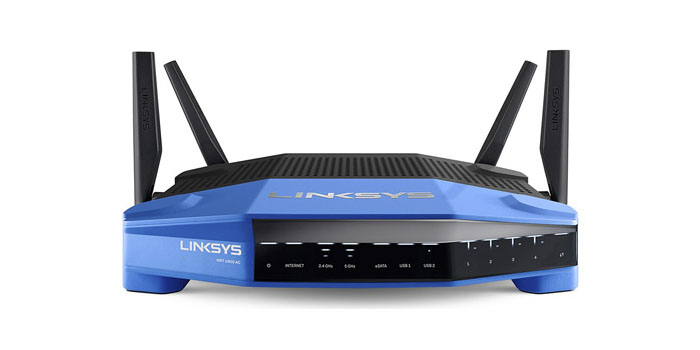 Now let's talk about vents. Netgear Nighthawk R7000 has good airflow and it's unlikely you will have any overheating problems. The same can be said for the Linksys WRT1900ACS, as they got rid of the fail-safe fan and have also adopted a passive cooling solution.
Verdict: Neither of the routers can be considered boring, Netgear Nighthawk may be considered better looking and may have a premium flair but, Linksys is more lively and colourful (modern vs retro, so it's a matter of taste). At the same time, both routers have pretty much the same ports and features, so we consider this round a tie.
Hardware
Hardware-wise, Linksys WRT1900ACS features a dual-core 1.6GHz Marvell Armada 385 88F6820 chipset, backed by 512MB RAM (SK hynix H5TQ2G63FFR-PBC x 2), 128MB flash storage (Spansion S34ML01G100TFI00). The router delivers speeds up to 600Mbps using 2.4GHz band and a maximum of 1300Mbps on the 5GHz band. The Marvell chipset is 4×4, but, in the case of Linksys WRT1900ACS, it only supports three spacial streams.
Netgear Nighthawk, on the other hand, features a Broadcom BCM4709A0 WiFi chipset with TurboQAM boosting technology (dual-core 1GHz ARM Cortex A9 CPU), backed by 256MB DDR RAM and 128MB flash memory. The Nighthawk also features speeds up to 1300Mbps on 5GHz and 600Mbps on 2.4GHz.
Verdict: In terms of hardware, Linksys has a clear advantage (and is newer), so it wins this round.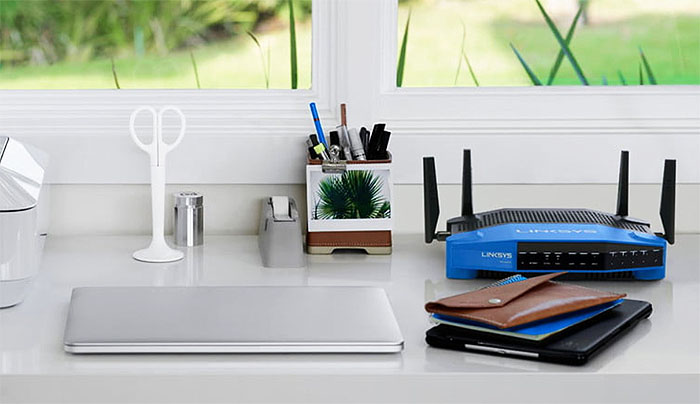 Performance and Connectivity
In order to test the true power of both routers, we connected them to the same model using the wireless bridge mode.
So, we connected Linksys WRT1900ACS to another WRT1900ACS in bridge mode and we got some good results. An important note is that Linksys uses explicit and implicit beamforming, meaning an optimized wireless performance.
Testing at close range, at about 10 feet, using the 5GHz band (802.11ac), we measured 541 Mbps. At 100 feet, Linksys managed to reach a maximum of 355 Mbps.
Using the 2.4GHz band, at 10 feet, the router reached up to 166 Mbps and at long range (100 feet), we recorded 64 Mbps. Also, the range is really great, Linksys managing to reach up to 300 feet on the 2.4Ghz band.
Afterwards, we connected Netgear Nighthawk to another R7000 in wireless bridge mode. Using the 5Ghz band (802.11ac), we measured 446 Mbps at 10 feet and we got up to 300 Mbps at a longer distance (around 100 feet).
Using the 2.4GHz band, Nighthawk R7000 managed to reach 122 Mbps in close proximity (10 feet) and it reached 60 Mbps when at 100 feet.
Now, since both routers feature a USB 3.0 port, let's see how good are the read/write speeds.
We connected an external storage device to the Linksys WRT1900ACS and we measured 87 Mbps for writing and 111 Mbps for reading. These results show that Linksys WRT1900ACS can even rival dedicated NAS servers.
Netgear Nighthawk reached a maximum of 60 MBps for reading and up to 40 MBps for writing.
Verdict: Seeing that Linksys WRT1900ACS did better overall, it's the winner of this round.

Setup
The interface of the WRT1900ACS is the same as on the Linksys WRT1900AC: you get a very simple and straightforward UI and setting up the router won't take you more than 5 minutes. In terms of features, Linksys isn't as feature-rich as you would expect, but it doesn't lack the important stuff.
You get a great Network Map, DLNA media server, ftp and smb servers, Parental Controls, OpenVPN, a simple QoS and very simplistic Guest accounts.
But, all these features can be enhanced and it's possible to even add some new ones by using an Open Source firmware. Linksys WRT1900ACS is actually specifically created so developers can take advantage of and develop better software. You can install OpenWRT, DD-WRT or Tomato.
Netgear Nighthawk R7000 may not be as user friendly as Linksys but it doesn't lack any features, be it basic or advanced. Setting it up is simple and fast, but the advanced configuration requires a learning curve.
Among the most important features, we can name the built-in VPN server, a Network Map, openDNS, Parental Controls, enhanced QoS and DLNA media.
If you want a better interface experience and you are tech-savvy, an open-source firmware will definitely do wonders.
Verdict: Linksys WRT1900ACS is simple to use and user-friendly, but some features lack substance. Netgear Nighthawk's interface feels outdated but it doesn't lack any desired feature. Both routers can be better if an Open Source firmware is installed, so it's a tie.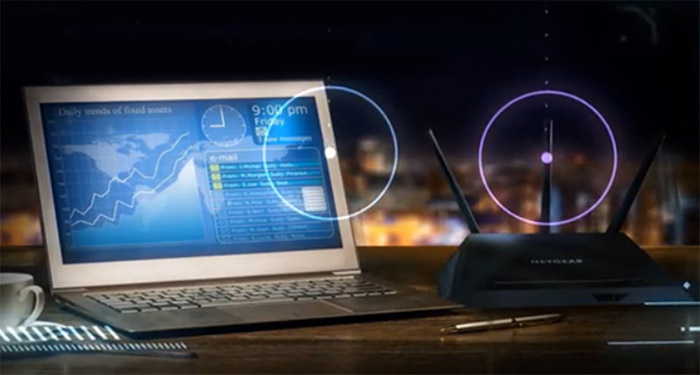 Conclusion
Both routers are fantastic performers, but Linksys WRT1900ACS has some advantages (although not really in a radical way). So what about the price? Well, it seems that both Netgear Nighthawk R7000 and Linksys WRT1900ACS are really similarly priced, with little difference between them.
Since you saw how well they fare against each other in terms of design, performance and interface, we hope that it's easier to choose which router is better suited for your needs.
Check the products here:
NETGEAR Nighthawk AC1900 R7000:

Linksys WRT1900ACS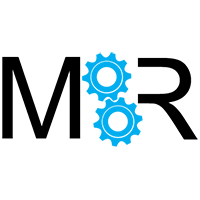 Mark is a graduate in Computer Science, having gathered valuable experience over the years working in IT as a programmer. Mark is also the main tech writer for MBReviews.com, covering not only his passion, the networking devices, but also other cool electronic gadgets that you may find useful for your every day life.