There is no doubt that smartwatches have become a lot more popular in 2015 than ever before, we now have a large variety to choose from, with different shapes and features, suitable to every pocket. The fact that these little gadgets have gotten in the mainstream is a really good sign, but smartwatches are still into the infancy phase.
There have been some breakthroughs with the Apple Watch, Android Wears and the stable continuity of Pebble watches show that smartwatches are ready to become more mature and target a larger type of consumers.
So now that people have started to understand what a smartwatch is and how can it help them, we are going to have a look at two of the most popular smartwatches, the Pebble Time Steel and the Apple Watch and see which is better.
You can have a look at the full review of the Apple Watch and the full review of the Pebble Time Steel.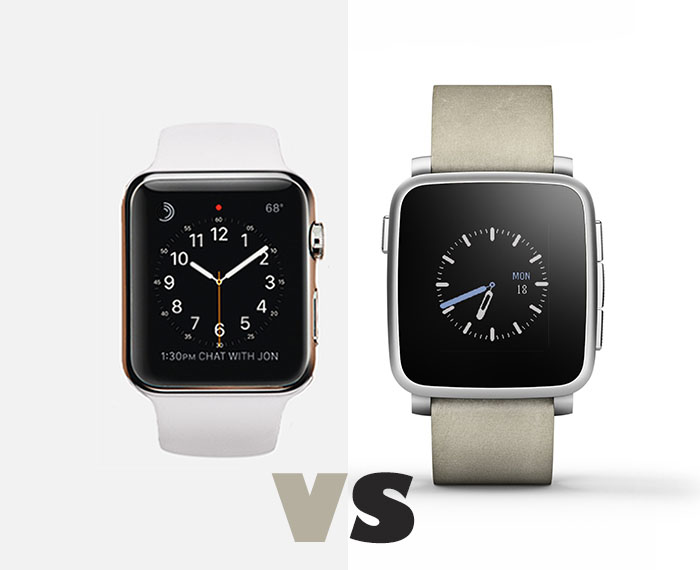 Design
Pebble has been about small steps and it have been quite shy with their latest instalment, the Pebble Time Steel (while previous models had more radical changes). Apple, on the other hand went ahead with their full strength with their first smartwatch, therefore the Apple Watch is a lot more extravagant than the Pebble Time Steel (especially in features).
Pebble Time Steel features a soft, slightly curved metallic case made from marine-grade stainless steel. The case feels solid and comes in silver, gold and black finishes.
Apple Watch is a bit more discreet, featuring clean lines, curved glass and curved metal. The metallic case can be stainless steel, aluminium or rose gold. At a quick glance both the cases look similar, but a second look will reveal that the Apple Watch is more luxurious and has a more minimalistic approach (also costs a lot more, especially the rose gold variant).
The Time Steel measures 0.4×1.47×1.6 inches and weighs 0.13 pounds, while the equivalent Apple Watch measures 0.4×1.45×1.65 and the lightest one weighs 0.17 pounds. Although the Apple Watch is heavier, it also feels more solid than the lighter Pebble. But at the same time, the way the Time Steel curves around your wrist makes it more comfortable than the seemingly bulkier Apple Watch and also less prominent.
Note: The Pebble Time Steel took an unisex approach, while Apple Watch decided to use two different variants, a one inch and a half and a 1.3 inches case (the larger one has longer battery life).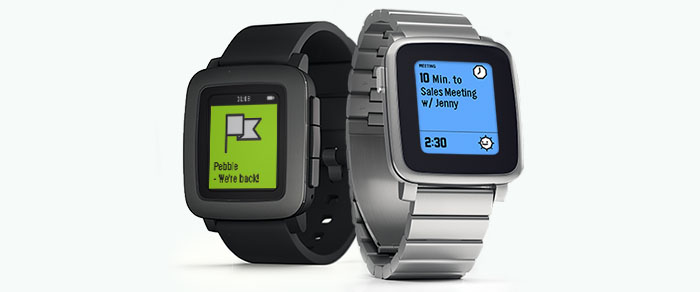 Apple Watch's display is touchscreen, but it does have physical buttons to interact with it. On the right there is the Digital Crown and underneath, a button responsible for accessing Apple Pay, for turning the watch ON/OFF and show/hide friends.
The Digital Crown serves as an way to access the Home Screen, Siri, Zoom/Scroll and return to the last app you used. The Crown is very responsive and you may need to get used to its sensitivity. The part of the case that touches your wrist is home to the heart rate sensor (which is covered by ceramic) an the magnetic inductive charging system. On the left of the watch there's also a microphone and a tiny speaker, both subtly placed so you won't really notice them.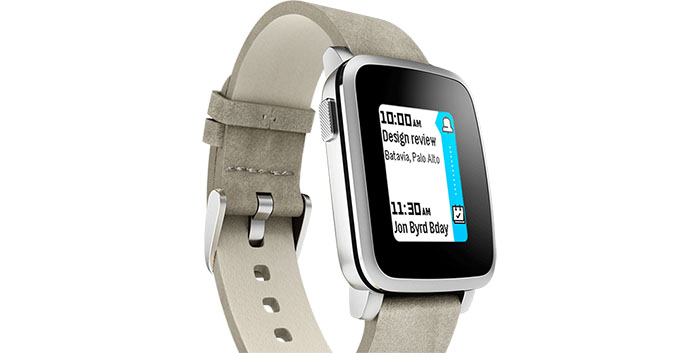 Pebble Time Steel does not have a touchscreen and the only way to interact with the display is through the physical side buttons. The right side of the watch is home to the microphone, the up, down and activate buttons and on the left side sits the power button. The buttons feel solid and have a textured surface for easier manipulation. On the rear you can find the magnetic charger (which is compatible with the Time Steel).
To further enhance the metallic case of the Pebble Time Steel, you can use stainless steel straps (which come in silver, black or beige) or use leather straps (red, silver or gold). Both choices are very comfortable and are very easy to replace.
The Apple Watch has three main type of straps, the Leather Loop, the Milanese Loop and the Black Sport Band (there are other type of straps, for example the Apple Watch Hermes which comes with single tour strap, a double tour strap or a cuff strap).
All the straps are a bit pricier than the straps from Pebble and all of them have a certain particularity. For example, the sport band has an unique clasp mechanism, the mesh-like Milanese Loop is quite flexible and easily adjustable, especially thanks to the magnetic clasp, and the Leather Loop bracelet uses magnetic segments which attach to each other and keep the strap tightly shut.
Just like the straps from Pebble, the Apple Watch straps are comfortable and easy to change.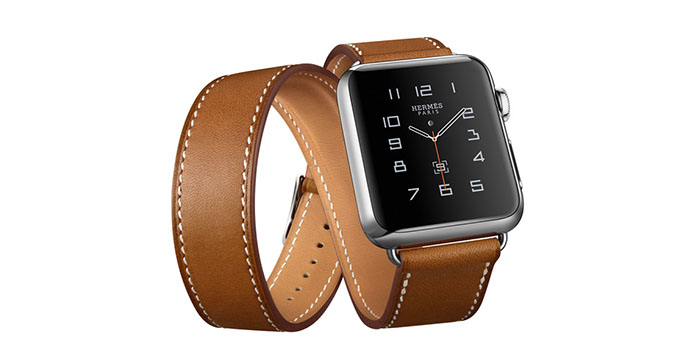 Although the straps from Apple are more unique and better looking, unfortunately, they are extremely expensive. Obviously, lots of third party straps have emerged but not in the same number and configurations as from the Pebble Time Steel. And let's not forget about the smartstraps from Pebble, which are unique hardware extensions and will add a lot of functionality to the Time Steel. There were some rumours about a possibility of smart bands for Apple Watch, but unfortunately nothing was released so far.
Now, let's talk about waterproofing. Both watches are considered water resistant, but there are some differences. The Pebble Time Steel can be submerged underwater down to 100 feet, while the Apple Watch only has a IPX7 water resistance rating. This means that it's suitable for jogging in the rain or really quick showers. Obviously, you shouldn't use any watch underwater if you're wearing a leather band because it will deteriorate very fast.
Putting together both the watches, we immediately notice that the design is quite similar ('Don't tell me that your Pebble Time Steel has never been mistaken for an Apple Watch'). Still, while Pebble Time Steel is a good looking watch, it lacks the premium flair of the Apple and this will be noticeable at the second glance.
Verdict: If there something to reproach the Pebble team is the bezels. They are huge and should not have been there, especially since the competition has become so fierce. And to conclude, although it could have been a tie, especially because of the price difference, the Apple Watch wins this round.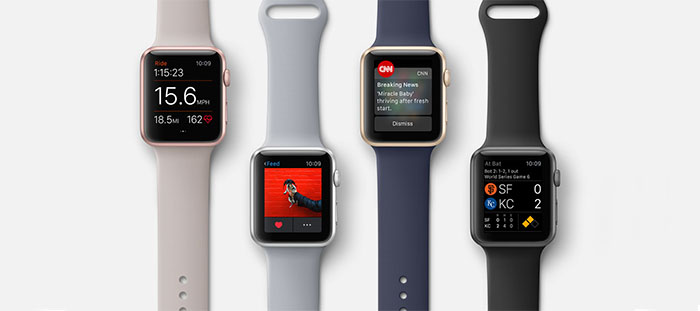 Display
The display is each watch's most important asset, especially since that's what you'll see most of the time.
So, the Pebble Time Steel has a 1.25in colour e-paper display, protected by Gorilla Glass 3 and with a resolution of 144×168 pixels. The display is limited to 64 colours which aren't really vivid.
The Apple Watch, on the other hand, has two display variants, the first is 1.5 inches and the other is 1.3 inches (both protected by toughened Ion-X glass). It's an OLED display with a pixel density of 326 ppi and a resolution of 312x×390p (or 272x340p for the smaller one). Although it still uses Retina display, it's not the same as on the iPhone, Apple choosing a flexible OLED in favour to the usual LCD technology.
The screen is very colourful, very vibrant and with accurate colours. It has deep black levels, reasonable whites and overall it's a very enjoyable display.
So far, it seems that Pebble Time Steel is at a disadvantage, but there is a very special reason why Pebble has steered clear of AMOLED or LCD displays and that's battery life. So, the display may not be as sharp as the competition, but will give you 10 days of battery life.
But Pebble's display also has some good particularities, it performs very well under direct sunlight, better than the Apple Watch. It also features a backlight for night time viewing and it has really good viewing angles. Oh, let's not forget the fact that the display is always on. Yes, you heard that right, the display stays on always, displaying time like any other watch and still offers great battery life.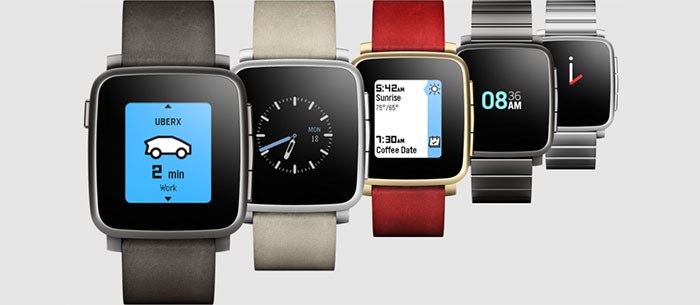 Apple has focused on other directions and it has implemented something that is unique in the smartwatch world, the Force Touch technology. What it does is it distinguishes between hard and light presses on the display and therefore adds a lot more functionality to most apps without overcomplicating things or adding more buttons.
In the end it's quite hard to pick the best display, especially since each watch uses completely different technology, meaning it's easy to fall in love with the colourful Apple Watch display, but at the same time we adored the simplicity of the Pebble Watch display (and it helps a lot with battery life).
Verdict: Both manufacturers focused on different aspects and they managed to create the best in their own direction, so since it's a matter of taste and preference, we will call it a tie.
Hardware
Inside the case of the Pebble Time Steel you will find a 100 MHz ARM Cortex M4 CPU, backed by 64KB of RAM and 16MB of internal memory. This may not seem much but it's quite enough for what the watch can do.
Apple Watch, on the other hand features a 500 MHz Apple S1 processor, backed by a PowerVR SGX543 GPU, 8GB of storage and 512MB RAM. The watch has a Heart Rate Sensor, a Gyrometer and an Accelerometer.

Pebble Time Steel lacks the heart rate sensor, featuring only a Gyrometer, a Magnetometer, an Accelerometer and an Ambient Light Sensor. But, as said earlier, there are wristbands that can enhance and add sensors to your Time Steel.
In terms of connectivity, both watches feature Bluetooth 4.0, but the Apple Watch has 802.11b/g/n 2.4GHz WiFi capability and NFC.
Verdict: Having better hardware and being better equipped makes the Apple Watch the winner.
Battery Life
This part is going to be pretty straight forward. Apple Watch has a 205 mAh (or 246 mAh) Lithium Ion battery, which promises 18 hours battery life on normal use, 6 hours of music playback or working out with the heart monitor and 3 hours of talk time.
Pebble Time Steel also has a Lithium-ion battery that delivers up to 10 days of use.
Verdict: The winner is clearly the Pebble Time Steel.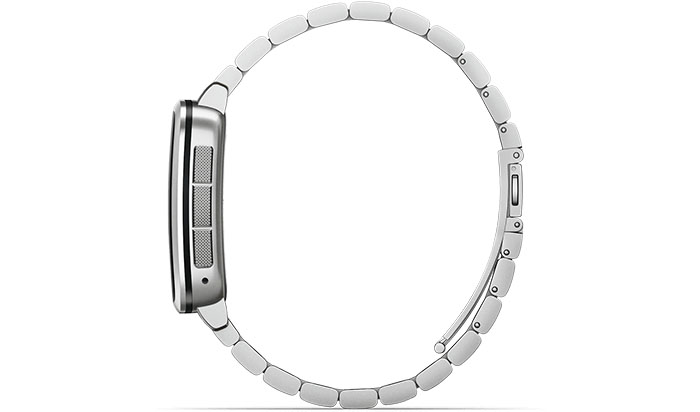 Software
There is a lot that can be said about the software of both watches, but we'll try to keep it as short as possible. To read a more in-depth analysis you can check out the full review of the Pebble Time Steel or the full review of the Apple Watch.
Pebble Time Steel is compatible with both Android and iOS and it works well with both (the connection to both Android and iOS is strong and stable). The Apple Watch is only compatible with Apple devices.
The interface of the Time Steel is simple and clean, it has two main areas, one for the TimeLine and the other for the menu. The TimeLine delivers information (calls, weather, calendar events, and so on) at a given time. These bits of information can be from the past or future. Besides the TimeLine, there's a Notification List and fitness apps like Jawbone, Strava or Misfit. You can further assign buttons, so you can go from the Watch face to your favorite apps, you can reply to messages or dismiss notifications, there's a StandBy mode which disconnects the watch from the phone if you're stationary for more than 30 minutes and reconnects when it sense movement.
There's also the Pebble App Store which hosts more than 8000 apps and watch faces.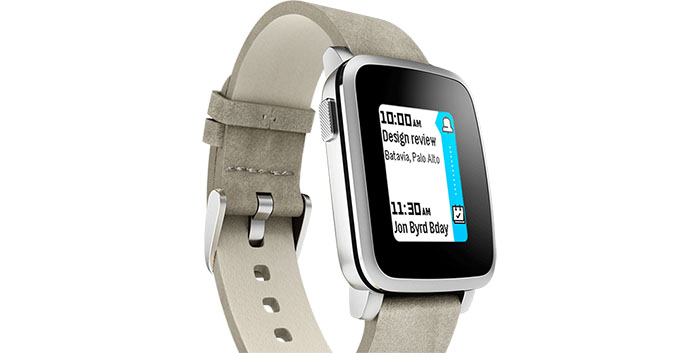 Thanks to the WatchOS 2.0, Apple Watch has seen a lot of improvement and what once was annoyingly laggy is now stable and works smoothly. The interface of the Apple Watch is a bit more complicated and it requires a learning curve in order to use it with ease.
The Apple Watch interface features watch faces with notifications, Glances and allows access to apps. The watch faces can be customized to a certain degree (colour, add new elements), you can also use the so called 'complications' which are bits of data that can be displayed with the watch faces (Hotwire, Dark Sky). The Glances are quick summaries of info from apps you access frequently, they can be about battery, calendar or weather, or you can choose from third party developers.
Besides the glances and watch faces you also get the Taptic Engine, which taps you on the wrist when something important happens on the phone (email, text message, call). Another interesting feature is the Digital Touch which allows you to send your heart rate, sketches or taps to your friends or your loved ones (only works between Apple Watches)
Some other cool apps and features are the Activity and Workout apps (uses the heart rate sensor and works really well while jogging or cycling), the Apple Pay (it works even if you don't have an iPhone nearby) and there's an improved Siri app. With the help of Siri you can accurately dictate messages, open Glances, start a workout and more.
You can also take and make calls, but it will be a bit awkward to speak to your wrist in public places (at least for now). There are a ton of other apps and features (you can see some of them in the full review), but the main thing is that the Apple Watch apps are a lot more complex than the Pebble Time Steel ones and in time, of greater number.
Another important aspect is that while the Pebble Watch can't do much on its own because it relies heavily on the phone, the Apple Watch can be used without an Apple device in some situations (and some apps don't require it to be connected to an iPhone).
You can find a decent selection of free apps from Pebble's App Store but like said before, Apple Store is better in both quantity and quality.
Verdict: This round goes to the Apple Watch.
Conclusion
The final verdict is a tough one, both watches are really different, both have features that the other lacks, so each one addresses a different type of consumers. So, the Steel's water resistance makes it a great choice for swimmers, the heart rate monitor makes the Apple Watch a better choice for people who live an active life and so on.
But if you want a long battery life or you're concerned about the price tag, Pebble Time Steel is the choice for you. If not, then the Apple Watch is the better option.
Check the products here:
 Pebble Time Steel :

Apple Watch: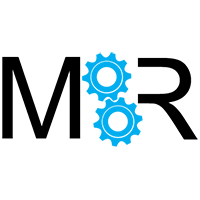 Mark is a graduate in Computer Science, having gathered valuable experience over the years working in IT as a programmer. Mark is also the main tech writer for MBReviews.com, covering not only his passion, the networking devices, but also other cool electronic gadgets that you may find useful for your every day life.