I'm sure most of you have heard about smartwatches by now, especially since the last gadget from Apple has been out on the market, but even after more than six months after the Apple Watch launch, most of you may wonder if it's worth having a lighter wallet and just buy an Apple Watch, or just wait until smartwatches becomes more mature and better products appear on the market.
We've seen some breakthroughs with Pebble Watches and later with Android Wear and Samsung Gear. They have made smartwatches more desirable and actually gave them a purpose. These companies tried to blend fashion with function and some got really close to achieving it, while others failed miserably.
Unfortunately, all of the smartwatches on the market (yes, including Pebble) failed to define what a smartwatch should be and they had the opportunity, without doubt. Don't get us wrong, Pebble Watches are really good at what they do, Android Wear or Samsung Smartwatches also scratched the surface but none of them really brought the smartwatch out of its toy-zone and although some of them addressed the mature audience (Pebble Steel), it didn't have the impact it could have had.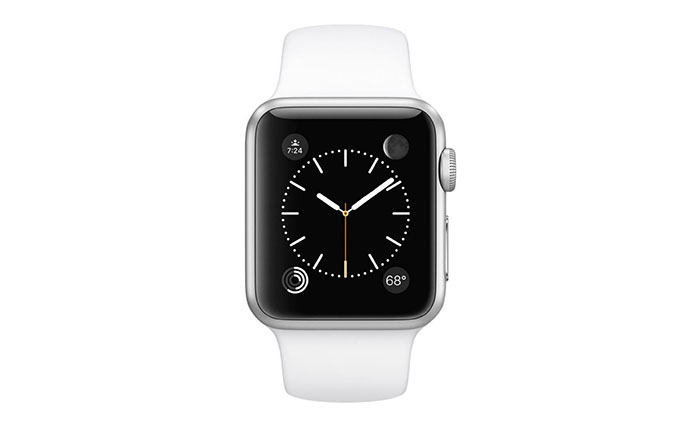 So, at the beginning of the year, after many Apple Watch rumors, the Apple company attempted to fully open the gates and put the smartwatch into the must-have zone, therefore actually generating significant interest towards this new device.
Note: Since the Apple Watch's release date on 24.04.2015, it has become the most sold smartwatch worldwide.
While Pebble is all about functionality and simplicity, the Apple Watch feels a lot more friendlier and it attempts to engage people, not just be a passive gadget that you remember about it only when checking time or emails.
But did it actually manage this, is the Apple Watch worth buying? Yes and no. Smartwatches can be the future of smartphones and Apple Watch does have a lot of interesting features that do give us a glimpse into the things that may come.
Besides this, it works like a wonder right now, especially thanks to its updated software. So if you like a gadget that monitors you heart rate, tracks your steps, you can play music wireless, send people animated emoji, dictate messages, view notifications, send your heartbeat to your loved-ones and more, then you will appreciate owning an Apple Watch.
It helps you to look at your phone less, while keeping you connected, but don't forget, it's not a standalone device. In order to enjoy all of its functions you need to have it connected to an iPhone (you need to be at a range of around 30 feet of your phone or you can connect through the WiFi to further extend the range).
Oh, and let's not forget the new technology, first implemented in the Apple Watch (and later you saw it on the iPhone 6s), the new pressure-sensitive display, which reacts and does several things depending on the different levels of pressure you apply.
So yes, Apple Watch is a lot of fun, offers some cool features and it's full of new ideas about how this fashion accessory should intersect with new technology, but no, it's still not a must-have device.
But, hey, the experience with Apple Watch is very subjective, some may love it some may not. From our point of view, the Apple Watch is a great device, it offers a lot more than its competition, but we don't think the price is justifiable for the sole reason of owning a new piece of technology.
So, if you like a more expensive watch that besides showing time, packs a lot of features and you don't like to keep looking at your phone, then the Apple Watch is for you. If you still want to experience the smartwatch technology, but don't have too much money to spend on or just don't want to, then Pebble does offer a lot of inexpensive, but still cool gadgets.
So now let's get a more in depth view of what the Apple Watch has to offer!
Design
The Apple Watch is without a doubt an attractive watch, featuring a discreet and elegant look, with clean lines and a curved glass that unites with the curved metal. Yes, you won't find a single sharp edge.
The case is made from stainless steel (also rose gold or aluminium) and it's rather thick, but because it curves inwards, it looks thinner than it actually is. Most smartwatches are plagued by this issue and unfortunately, right now, we have to accept that the smartwatch technology hasn't evolved as much as we would like yet.
Still, the Apple Watch feels reasonably balanced (weighing 1.5 pounds and measuring 0.4×1.4×1.6 or 0.4×1.3×1.5 inches) and if you wore a watch before, you most likely won't feel that the thickness is much of a compromise. The watch comes into two variants, a one inch and a half and a 1.3 inches case. This differentiation has been made in order to please both males and females, but the bigger one does have better battery life.
On the right side of the Watch you'll find the Digital Crown and a button which you can use to show or hide friends, access Apple Pay with a double click and turn the watch ON or Off.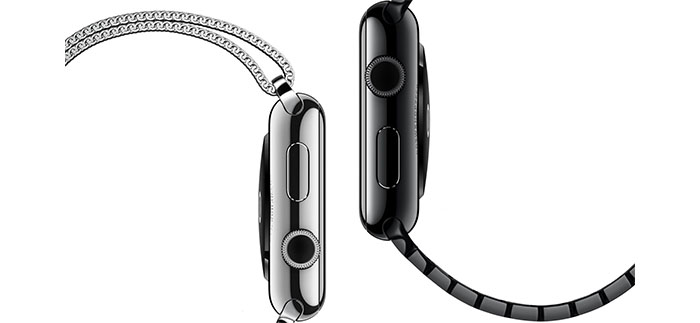 The Digital Crown is very responsive so it may feel too sensitive at first and although it looks like a normal watch's crown, it serves a different purpose. Press once to see Home screen, press and hold to activate Siri, turn the wheel to zoom or scroll and double tap to be taken to the last app you used.
At the base of the watch you can find the heart rate sensor and the magnetic inductive charging system (Qi compliant). There's also a tiny speaker and microphone on the left of the Watch for calling, but you will barely notice them.
Yes, the Apple Watch may be better looking than most smartwatches on the market, but it does cost a lot more. Right now, there are several variations of the Watch: the standard Apple Watch, with a 38mm or a 42mm stainless steel case, available in black or polished and with a sapphire crystal front. The Watch Edition available in 18-Karat Rose Gold or Yellow Gold costs a whole lot more; the Watch Sport is a bit less expensive.
And the last and more recent addition, the Watch Hermes, a collaboration that further enhances the style of the Apple Watch, but still remaining a bit too pricey, featuring a single tour strap, a double tour strap or a cuff strap.
No matter the choice, the only difference is the materials used outside, there are no changes in neither the interface nor its features.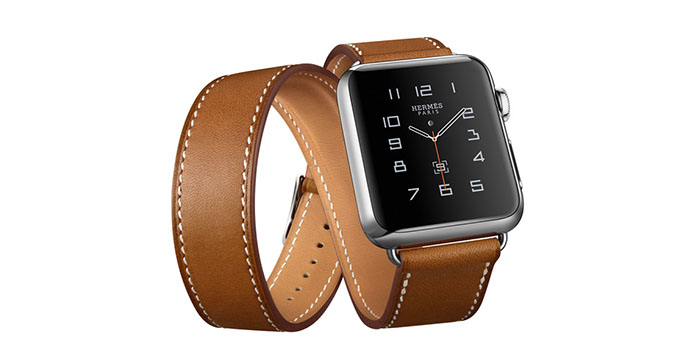 Our Apple Watch came with three straps, a Black Sport Band, the Milanese Loop and the Leather Loop. The sport band is very comfortable, but similar to other plastic bands on other smartwatches and it has a unique clasp mechanism that you'll get used to in not time.
The Milanese Loop has a mesh-like texture and it nicely complements the metallic case, but it does feel a lot more feminine than any other strap option. It's quite flexible, feels comfortable, is easily adjustable and it is suitable for either casual or more classy clothing. The clasp is magnetic and stays shut (because the bracelet is really lightweight it may be better to leave the band looser so it balances with the weight of the watch itself).
The Leather Loop bracelet also closes magnetically, it uses magnetic segments that attach to each other. But there are a few shortcomings, as we noticed some scratches on the clasp after a few days of use and you may find yourself in the position to adjust the strap throughout the day as it tends to slip a link or two once in a while.

The straps can easily be changed and we don't suggest you get the white band because it gets dirty really quick.
Note: The Apple Watch has a water resistance rating of IPX7, meaning you can jog in the rain or quick drops in water, but nothing more. Also, the leather bands will deteriorate faster if kept underwater.
Yes, the Apple Watch is a good looking watch, but how does it fare to other similarly priced normal watches? Unfortunately, a similarly priced watch will most likely look at least a bit better than the Apple Watch, but hey, you will miss out on a lot of features a traditional watch won't offer.
Display
The Apple Watch features a 1.5in (or 1.3in for the 38mm) OLED display with a resolution of 312×390 pixels (or 272x340p) and a pixel density of 326ppi (just like the iPhone 6). The Retina display is a bit different than the one found on iPhones because Apple has chose a flexible OLED from LG rather than the usual LCD technology.
The display is covered by a toughened Ion-X glass (for Apple Watch Sport) or a sapphire glass, both meant to protect it from scratches or minor bumps into furniture.
The OLED screen is bright and colourful, with high colour accuracy and overall it is one of the most vibrant displays we've seen from any smartwatch, but still it isn't as sharp as the one from Samsung Gear S (which also has a much larger colour palette).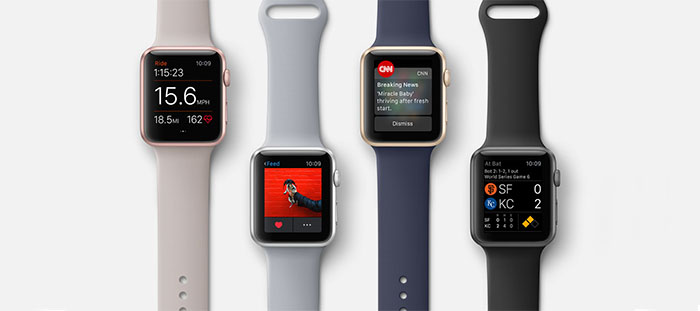 There are good black levels, the whites have a blue tint, but it's almost unnoticeable from such a small screen, reading text is a pleasant experience thanks to its sharpness and because it copes reasonably well under sunlight.
Also, let's not forget about the Force Touch technology (something new in the smartwatch world) which senses the level of force, distinguishing between light or hard presses, thanks to its tiny electrodes around the display.
It is an interesting addition that adds some more options and functionality to some apps without adding more buttons or over-complicating things.
When showing a darker screen, the display uses less battery (that's why watch faces are darker and also helps other colours to better emerge). It is more colourful than the Pebble Time Steel, but it comes at the expense of battery life.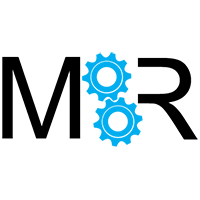 Mark is a graduate in Computer Science, having gathered valuable experience over the years working in IT as a programmer. Mark is also the main tech writer for MBReviews.com, covering not only his passion, the networking devices, but also other cool electronic gadgets that you may find useful for your every day life.