A power distribution unit (PDU) is an electrical device which is equipped with multiple outputs and has the role of distributing the electric power to different types of networking products (it will also be suitable for sensitive audio equipment), but the best power distribution unit should also provide as many features as possible (such as switched outlets or remote monitoring), have an increased level of efficiency and maintain an affordable price tag.
The main difference between an uninterruptible power supply and a PDU is that an UPS continuously provides input voltage to your devices in case of a blackout, while a PDU distributes the received power (usually, from an UPS) and also creates a centralized way of shutting down, power cycling and overall, managing the electric power that your equipment will receive.
UPDATE 03.03.2021: I have added the Tripp Lite PDUH30HV to the best power distribution units list.
BEST BASIC POWER DISTRIBUTION UNITS
BEST INTELLIGENT POWER DISTRIBUTION UNITS
ALSO CHECK OUT: THE BEST UPS (UNINTERRUPTIBLE POWER SUPPLIES)
CyberPower PDU15B6F8R Basic PDU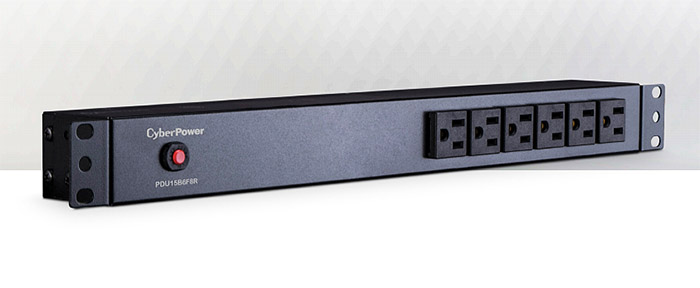 The CyberPower PDU15B6F8R is the PDU in one of its most basic forms, lacking any of the attractive features of the intelligent PDUs (such as environment monitoring, remote power cycling, power management or the use of a web-based utility), but being fully capable of distributing electric power to all connected devices (it is a single-phase device). Of course, depending on your needs, this no-frills device may be more than enough to handle your equipment.
The basic power distribution units aren't really that much different than the intelligent-type of PDUs in terms of design, both featuring compact to very long cases (up to the larger cabinet-style type of PDUs) and, depending on the number of outlets, some can be positioned vertically, horizontally or even mounted on a rack. The CyberPower PDU15B6F8R is a fairly compact rectangular device (it measures 17.5 x 1.75 x 2.25 inches), it's reasonably lightweight (it weighs 3.7 lbs) and in terms of positioning, you can mount it on a rack horizontally (1U) or vertically (in the latter case, it won't take any rack unit, so it's going to be 0U), but it also supports under-counter installation.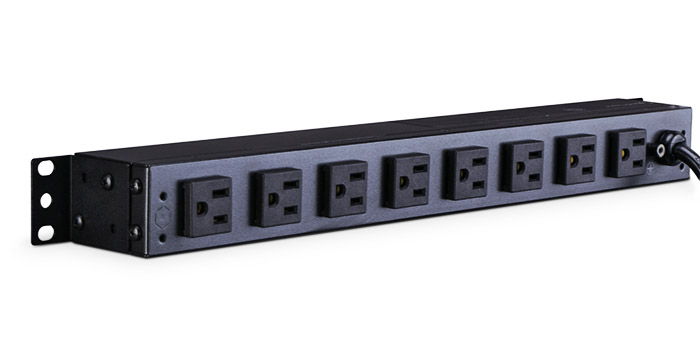 The case is metallic (industrial grade), therefore, it's sturdy and robust (this highlights one of the advantages of a basic PDU over the usual plastic power strip) and it is covered by a black matte finish. This is a networking device, so aesthetics have little to no value, while functionality and ease of use are the most valued factors. The PDU15B6F8R fits the bill since it's a simple, practical PDU, featuring a circular red button (the 15A Circuit Breaker) on the front side along with six three-prong Front Outlets (NEMA 5-15R, 100 to 125V nominal output with overload protection when it reaches 15A), while the back side is home to the other eight three-prong NEMA 5-15R Outlets (which protrude significantly from the case – also have an 100 to 125V nominal output with an overload protection at 15A), the External Site Ground, the AC Power Cord (which is 15 feet long; 50Hz/60Hz) and the Cord Retention Tray Screw Holes (two on the right and two on the far left side).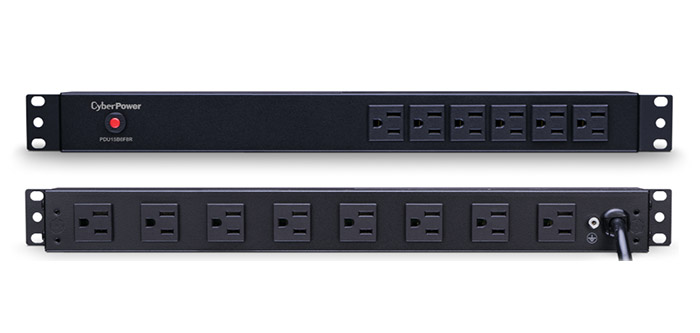 Note: The package contains the CyberPower PDU15B2F8R PDU unit, the mounting brackets (vertical and horizontal), bracket mounting screws M4 x 8, cord retention tray (along with the mounting screws M3 x 6), the ground screw M4 x 6, the cord retainer clips, the User Manual and the Product Registration Card.
Since we are dealing with a basic PDU, there are no additional features or a management software, but the PDU15B6F8R will help a lot with clearing up any wiring clutter (especially because of its long cord) and it will work perfectly with Data Closets, Servers, Surveillance Systems, Office Desktops or Data Centres (just be aware that the operating temperature is between 32 and 95 degrees F, the relative non-condensing humidity is between 0 to 95 percent and the operating elevation should not be more than 10,000 feet). Because there is no surge protection incorporated into this PDU, you should plug it directly to an UPS (or generator or any other utility power).
Note: The device gets a lifetime warranty.
Tripp Lite PDUH30HV Basic PDU


My first encounter with a Tripp Lite product was with the SMART1500LCDT UPS, a reliable line-interactive uninterruptible power supply which could handle a 900W-max system. Of course, the next logical addition for distributing the alternate waveform UPS current (or the generator power) is to use a PDU and this is where one of the most popular basic power distribution units from Tripp Lite (called the PDUH30HV) comes into play. Since we're dealing with devices that are built to be mounted in a rack, the aesthetics aren't really the focus, so an ergonomic case, which allows you to easily access the ports and the buttons (if applicable) is what you're going to get.
Indeed, the Tripp Lite PDUH30HV features a simple, but practical rectangular case, made of sheet metal and covered by a black matte finish (which does not retain fingerprints, if this is something you value). On the sides, there are two rack mount ears which are removable and can be attached in various number of ways to allow 0U horizontal rack-mounting (19-inch rack), 1U rack mounting, wall-mounting and under-counter mounting (the flanges also allow for more creative positions to make the device fit into most spaces at a proper angle).

Since it has only ten C13 outlets, the case is relatively compact (measuring 1.75 x 17.5 x 3.75 inches and weighing 3.54 pounds), but, unlike the RS1215-RA (another PDU from Tripp Lite that I had a look some time ago and which was very generous space-wise), the outlets are bit more crammed together, leaving little space in between them for larger cable connectors; this is available on both the front and the rear side (two outlets on the front and eight on the back). The PDU has ten C13 receptacles (50/60 Hz frequency capability – the outlet receptacles only slightly protrude outwards), but I saw no C19 receptacles (the PDUH20DV has a couple). The great news is that the receptacles are reversible (you can move them around).
There's also a C20 NEMA L6-20P Power Inlet which sits next to a nut-and-bolt grounding lug (unfortunately, the 12-foot power cord is not detachable, but it does support a nominal input voltage of 120V). The PDU is rated at 20A, and I noticed that unlike the PDUH20DV, which had no built-in circuit breaker, there are now two circuit breakers to trip in case you overload the PDU. There is no On/Off power switch, but this decision has been taken to prevent any accidental shutdowns (although, I doubt it happens that often).
Note: Inside the package, you can find the Tripp Lite PDUH30HV unit and the Instructions Manual, along with the Warranty Information.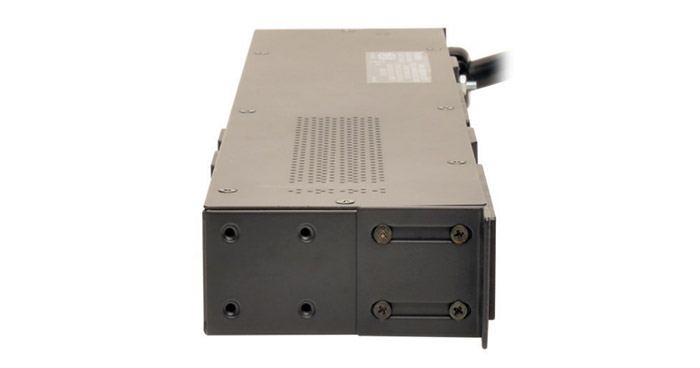 The Tripp Lite PDUH30HV is a basic PDU, so you won't get any of the advanced features which are reserved for the intelligent power distribution units (such as outlet power management, temperature monitoring or a web based utility), but the device will work just fine with any multi-mount cabinet (such as servers, data closets, but it's also suitable with surveillance and professional audio systems). The PDU is running cool, it's completely quiet, it features an operating temperature between -22°F to 122°F (inside a storage) and it will remain functional if the relative non-condensing humidity is between 5 to 95%.
Note: The PDUH30HV has a 2-year limited warranty (it will become void in case of damage resulting from accidents, misuse or neglect).
APC AP9562 Basic PDU


APC (by Schneider Electric) is one of the leading manufacturers of power protection products (next to CyberPower and Tripp Lite), mainly known for its uninterruptible power supplies (both consumer-oriented and suitable for server and network equipment), but also for its PDU solutions, from which, the APC AP9562 Basic power distribution unit, designed to distribute 120V power to its 10 outlets and being suitable for rack mounting – at the same time, it lacks any of the features of the smart PDU (APC does have metered and metered by outlet PDU lines available, as well as switched and metered by outlet with switching PDUs).
In terms of appearance, the basic PDU doesn't differ that much from its intelligent siblings, both featuring long rectangular cases, usually featuring a metallic housing and they're covered by a black powder coating, with the main differences being some additional LED displays which show various stats (such as the amperage).

The APC AP9562 is a basic rack-mountable power distribution unit, so it comes with a 1.76 x 17.6 x 2.26 inches case and it's heavier than the regular power strip (weighs 5.5lbs). It doesn't seem like the manufacturer cut any corners, so the device feels solid, the materials used are high-quality and the outlets are high-grade, tightly attached to the case and with enough space in-between them (a PDU is definitely more costly than a power strip, but, besides the better power distribution, the high-quality build is sometimes enough reason to give these device a try).
On each of the two lateral sides, the AP9562 has four holes to attach the rack-mount brackets (included in the package) to allow for an easy way to mount the PDU on a rack (it can be installed in a NetShelter or in a regular 19-inch EIA/ECA-310 rack) – APC has included both horizontal and vertical mounting brackets in the box (as well as 8-32 flat head screws).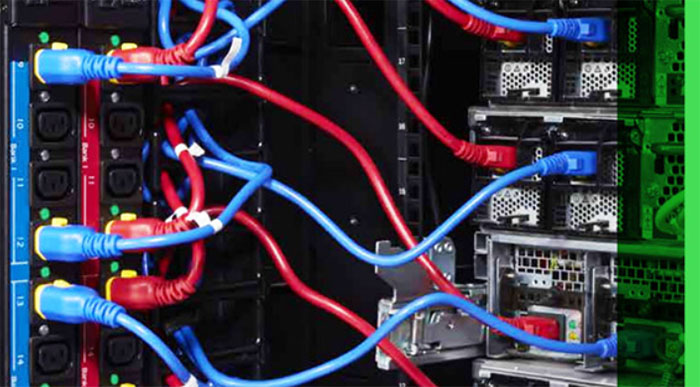 The rear side of the device is completely flat, with only the APC logo (along with the type of PDU), while the front side is the point of interest, featuring a 12-feet NEMA 5-15 power cord attached to the case, a Circuit Breaker (15 amp) and 10 NEMA 5-15 outlets with enough distance between them, so you can easily attach various types of plugs (curved or straight), but it lacks the convenient ON/OFF switch.
Furthermore, the maximum current draw of the APC AP9562 is 12 A and, the device is strictly indoors-suitable and it will remain operational when the temperature ranges between 23 and 113 degrees Fahrenheit, when the relative humidity ranges between 0 to 95 % (non-condensing) and when the elevation is between 0 to 10,000 feet.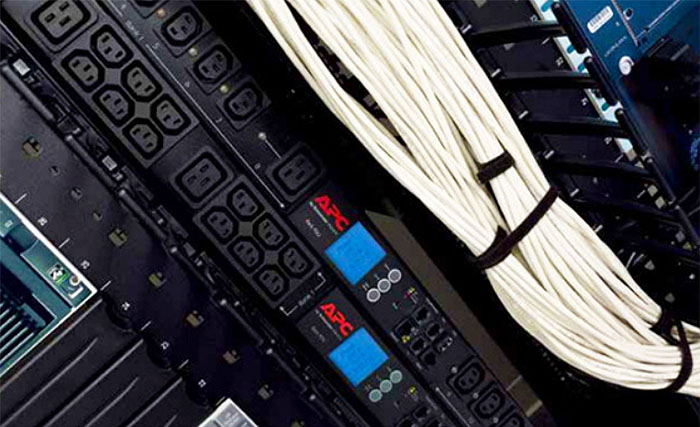 These are pretty much the main highlights of the APC AP9562, so you shouldn't expect a LED Load Indicator or Remote Management Capabilities since this is a basic PDU after all, but this no-frills device should be enough for basic applications (that don't require outlet switching or any type of monitoring) and the AP9562 provides multiple ways of positioning, including within a data closet.
Note: The PDU comes with a 2-year manufacturer warranty.
CyberPower PDU15M2F12R Metered PDU


CyberPower is a recurrent name in the networking world especially when dealing with power protection products (which help keeping your equipment safe from any power-related anomalies), simply because it often manages to provide a better features to price ratio than its competitors. This way, it is kind of the go-to manufacturer for consumer-type products and it's ideal for small offices or start-ups which can't yet afford any enterprise-type equipment. The CyberPower UPS line is highly valued (especially the line-interactive CP1500PFCLCD) and I already had a look at a basic PDU (PDU15B6F8R), so let's take a step forward and enter the metered power distribution units line with the CyberPower PDU15M2F12R.
In terms of appearance, the PDU15M2F12R follows the same generic, but practical design pattern which allows the PDU to be mounted on a rack horizontally (some PDUs are really long – with lots of outlets – and can only be positioned vertically). So, the PDU features a rectangular industrial-grade metal housing (which should survive even in challenging environments), covered by a smooth black finish and on the left and right sides, there are two rack-mount ears.

The device is reasonably compact for a 14-outlet PDU, measuring 17.5 x 1.75 x 2.25 inches and it's surprisingly lightweight (it weighs 4 pounds). As I already said, the PDU15M2F12R can mainly be positioned horizontally in a 19-inch rack (1U), but it can also be installed vertically in a rack (0U) and it supports under-counter installation.
The front side of the single-phase PDU is home to a round Circuit Breaker (colored red) on the left and towards the right, there's a LED Meter Readout (displays the amperage) and two NEMA 5-15R Outlets (120 V – the outlets are protruded from the case and they are a bit too close to each other – may prove to be difficult when using cords with right-angle plugs). On the rear side, you can find two sets of cord retention tray screw holes (on opposite sides), 12 NEMA 5-15R Outlets (120 V nominal output voltage, 15 A overload protection) which are very close to each other (again, it may pose some problems for some types of plugs), an External Site Ground and a 15-feet AC Power Cord (120 V, 15 A maximum current, a frequency of 50/60Hz). As you can see, the PDU15M2F12R lacks an On/Off switch and while CyberPower claims that it's the better decision to avoid accidental shutdowns, the switch can be protected by a cover (as Tripp Lite did with its RS1215-RA PDU).

Note: Inside the package, you can find the CyberPower PDU15M2F12R unit, the user manual, the product registration card, a cord retention tray (along with cord retainer clips), the screw kit (M4 bracket mounting screws, a ground screw and keyhole mounting pegs with M4 screws), the cord clip kit and the horizontal and vertical mounting brackets.
Unlike the basic PDUs, the CyberPower PDU15M2F12R has the advantage of displaying the amperage of the connected devices in real time (down to the tenths), which should prove useful for preventing any possible overloads. Furthermore, the PDU15M2F12R will remain functional at a maximum operating elevation of 10,000 feet, an operating temperature between 32 to 95 degrees F and an operating non-condensing humidity between 0 to 95 %. All these, along with the fairly solid exterior construction makes the PDU ideal for data centers, server closets or surveillance systems, but also in industrial environments.
Note: The device comes with a limited lifetime warranty.
Raritan Dominion Monitored PDU PX3-1802V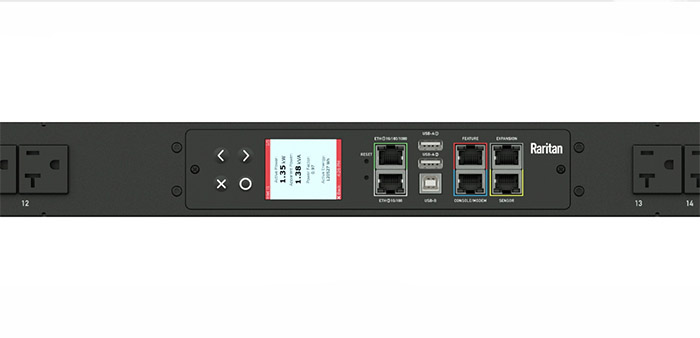 Raritan is not that well known in the consumer market, but it is a well-established manufacturer of enterprise-level products and it became known world-wide for its line of KVM switches (which can control multiple computers using one or more sets of peripherals), as well as for its intelligent, feature-packed power distribution products. I previously have added the Raritan Dominion PX2-1802 to the best PDU list, but, considering that it has reached EOL, we need to have a look at its replacement, the PX3-1802V. Of course, we're still dealing with an intelligent power distribution unit that's built on the Xerus platform, which means that besides distributing electric power to all connected equipment, it also offers a user-selectable display, granular environmental monitoring (relying on optional plug-and-play sensors) and multiple surveillance options (including dual network access and there's even WiFi connectivity supported – using a USB modem).
Just like the PX2-1802, the Raritan PX3-1802V is slightly different than the other power distribution units in this list, since instead of adopting the fairly compact, rectangular case which can be horizontally mounted on a rack (taking only one unit), it went for the long form factor, with 24 NEMA 5-20R output connections spread across one side of the device. As expected, because of its size (it measures 2.1 x 1.7 x 51.1 inches, same as the PX2-1802), the PX3-1802V can only be mounted vertically in a rack (0U). The area of interest is going to be the front side which is home to the 100-120V single-phase NEMA 5-20P Power Input connectors (the power cable is about 10 feet long and is detachable – a nice change from the cheaper PDUs) and the maximum input current is 16A (on the PX2-1802, it was 20A), while the power capacity is 1.9kVA at 120V.

From the left, you get the first set of 12 NEMA 5-20R 16A outlets (has a nominal output voltage of 120V – you can use retention clips), followed by a small area with the compact display and some ports and connectors, and lastly, there's the second set of 12 NEMA 5-20R 16A outlets.
Within that central area, there are two Ethernet ports, one supporting a 10/100Mbps connection and the other a 10/100/1000Mbps link (used to connect the PDU to the local network – mandatory if you want to take advantage of the advanced features of the PX3-1802V) which sit next to a USB type B port (useful for connecting to a computer or to cascade PX devices in order to share a network connection), two USB-A ports (similarly to the USB-B port, it can be used to cascade PX units or for connecting a simple USB device) and a Sensor port (this PDU is compatible with the following types of Raritan environmental sensors: temperature, humidity, air flow, differential pressure, water leak and contact closure).
Furthermore, there's also a Feature port (this port is used for connecting an external beeper, an asset management strip from Raritan or a Raritan access product), a Console/Modem port (use a DB9 RS-232 connector to connect to a computer or an analogue modem in order to configure the network via CLI) and a small recessed Reset button (if a serial connection is available, the device will reset to factory default settings, while if there is no serial connection, pressing the button will just restart the PDU without losing the power to outlets).
Next to these ports, there is a LED display and a few buttons to operate it. The color display has an auto-flip orientation feature and will show the active power, the current, the voltage or active power of the selected line, when the firmware upgrade is being performed or if the circuit breaker has been tripped, as well as the alarms and some other networking info.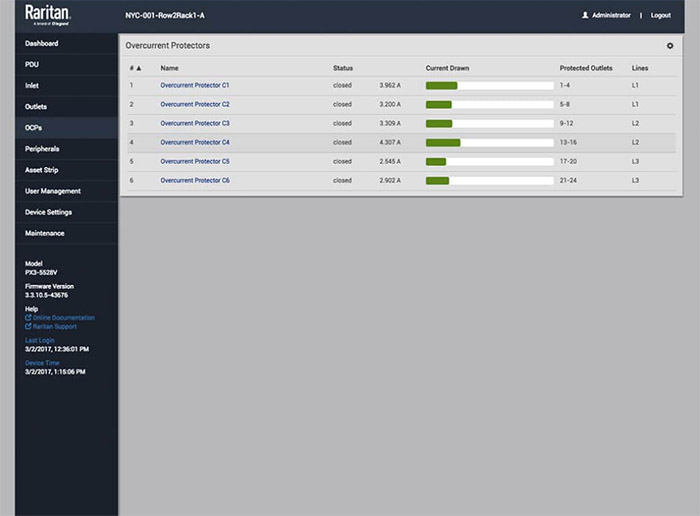 The PX3-1802V allows the monitoring of the network through a web-based utility which can be accessed by inserting the IP address of the PDU in the URL bar and logging into the interface (don't forget to change the password). The Raritan interface is divided into four sections: the top bar (which displays the device name, the Login name and the Logout button) and the left vertical menu. This menu has the following options: PDU, Inlet, Outlets, OCPs, Peripherals, Asset Strip, User Management, Device Settings and Maintenance.
Note: Inside the package, there's the Raritan Dominion PX3-1802V power distribution unit and the tool-less button mount.
DLI Universal Voltage Smart Switched PDU


The DLI (Digital Loggers Inc) is an American company which mainly specializes in manufacturing enterprise and military-grade digital voice logging equipment (suitable for emergency services, for air traffic control, in correction facilities and courtrooms, as well as for ISP, ILEC and cellular sites monitor equipment or for enhancing homeland and military security). Furthermore, DLI has also developed an interesting line of smart power distribution units, from which I'm going to focus on the DLI Universal Voltage 120-240V PDU that, besides providing the advanced features of a monitored power distribution unit (such as the ability to monitor and manage your network via a web-based interface), it takes additional steps and also delivers the auto-ping reboot functionality, has switched outlets, MOV surge suppression and more (therefore, making it ideal for data centres).
Since this is an enterprise-type device, the focus was less towards the aesthetics and more on the functionality and the practicality side (it's likely it will wind up in a closet anyway). So, the DLI PDU features the same rectangular metallic case covered by a black matte finish as the other compact PDUs on the market, but it does have some yellow accents all around the body (it doesn't add much to the design and it actually reinforces the industrial feeling).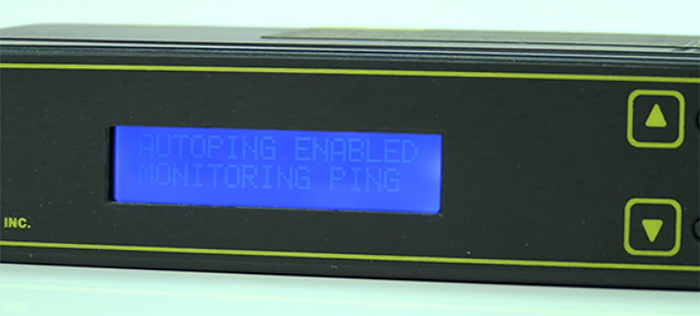 By default, the unit can be mounted horizontally on a 19-inch rack (1U) thanks to its mounting ears on the left and right side, its dimensions are 1.75 x 4.5 x 17.0 inches (so it's no bigger than the average PDU) and it weighs 4.2 lbs, which makes it relatively lightweight. As you add more features (something normal with smart PDUs), these devices tend to run hotter than their more basic counterparts (the heat has the nasty habit of shortening the hardware's life, so the more complex the devices, the less years the warranty will cover), but I have noticed some vent cut-out on the top of the device, which should ensure a better airflow.
Furthermore, on the rear side of the device, there's a recessed Cont. button, a LAN 10/100 auto-sensing 8-pin RJ-45 Ethernet port (with internal FCC filtering, static IP, TCP port selectable), a recessed Reset button (press and hold the button for 2 seconds to reset the user name, password and network settings – it does not affect the outlet names and links), a C-19 Input Power Socket (85-240VAC, 40-400 Hz input frequency – it will typically operate down to 50VAC in brown-out conditions), a red Circuit Breaker On/Off switch and eight UL/CSA C-13 switched outlets (580J 25,000A MOV surge protection). The front side is home to a small rectangular display (which shows the status of each outlet, but you can also set custom messages using the scripting language), two round Up and Down buttons, a Power On button, a Cycle button and a Power Off button.

Note: Inside the package, you can find the DLI Universal Voltage Smart Switched PDU, a C19 14AWG 6-feet standard cord, the registration card and the user manual.
The PDU allows you to monitor the network through a web-based controller, which can be accessed by IP address of the device (by default, it's 192.168.0.100) and when prompted to insert the user name and password, enter admin and, respectively, 1234. The interface is pretty basic, featuring a vertical menu on the left, divided into two sections.

The first block has the following options: Outlet Control (here, you can control individual outlets to be either switched off or power cycled, but you also get the option of turning all the outlets Off, On or cycle them), Setup (here, you can change the controller and every outlet's name, configure Delays (Wrong password lockout, so, after three failed attempts you can disable the access for a given period of time; ON sequence delay, so, it prevents any possible power surges and blown circuit breakers which can appear when more than one devices are switched on simultaneously; Brown-out re-latch interval; Refresh screen every given minutes and Enable screen refresh), setup the Power Loss Recovery Mode (turn all outlets off, on or return to the pre-power loss state), insert the User Defined Links, configure the Network (MAC Address, HTTP port, IP address, Subnet mask, Gateway, Syslog Server, Same subnet access only and Whitelist), insert the Administration credentials, configure the Access Control (set permissions, restrict users access to certain outlets), change the Access settings and set the Power monitor), Scripting (Scripting settings, User strings and Script listing – the user can customize the controller using a relatively basic scripting language), Date/Time (change the Date, Time and Time Zone), AutoPing (configure AutoPing (monitor specific devices and, in case it stops responding, this feature will automatically power cycle it), Add an IP Address to AutoPing and change AutoPing Properties (change the Time between pings, the number of Ping failures before reboot, the number of Ping responses to enable autoping, the number of reboot attempts and the Device reboot delay)), System Log, Logout, Support (Registration, Technical Support, Maintenance, Firmware update and Contact) and Help.
The second section includes Turn on router / AutoPing, FAQ, Product Info and linux.
Note: This product features a five year limited warranty.
TYPES OF POWER DISTRIBUTION UNITS
The power distribution units can be categorized from the form factor point of view and these are the main types: PDUs that can be rack-mounted horizontally (1U and above) or vertically (0U), PDUs that can be attached under a counter and the more complex cabinet-type PDUs (which are self-contained units). But, most manufacturers will divide their PDUs into two main categories: basic and intelligent (or smart) power distribution units.
The basic PDU is not very different from the generic power strip and both will simply power up all the connected devices and provide no other additional functionality. But, the advantage of a basic PDU is that it is built of higher quality materials (they, usually, feature metallic cases) so these types of devices are more suitable in a harsher, industrial environment.
The intelligent PDUs also distribute the electric power to the connected devices, but, unlike the basic-type of power distribution units, they also gather environmental data to better improve the power efficiency, give you access to monitoring tools to have a better understanding of your network and are packed with features for a full control over every PDU outlet. Of course, the intelligent power distribution units aren't a homogeneous group and are also divided depending on the amount of control and insight these devices give to the users.
The intelligent power distribution units can be classified as follows:
1. Metered PDUs
This type of power distribution unit has a digital LCD display which shows the load level in real-time, therefore giving a helping hand on avoiding any possible overloads.
2. Monitored (Managed) PDUs
Similarly to the metered PDUs, a monitored power distribution unit features one (or more) LCD displays which show real-time data about the status of the power distribution, but it adds an important factor: the ability to remotely monitor the PDU using a web-based interface or controller via a RJ45 Ethernet port (or Console).
3. Switched PDUs
A switched PDU retains the LCD display and it can also be remotely monitored, but, it adds the ability to control the way outlets and connected clients would behave (individually or as a whole).
4. ATS (Automatic Transfer Switch) PDUs
This type of power distribution unit connects to a primary and a secondary power source and, in case the first fails (or if it exceeds the upper or lower limit), it automatically switches to the second source, therefore ensuring a continuous operation and zero downtime. When the primary source returns to normal parameters, the PDU will switch back from the secondary power source.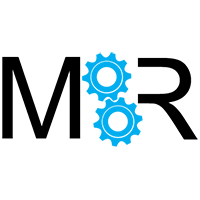 Mark is a graduate in Computer Science, having gathered valuable experience over the years working in IT as a programmer. Mark is also the main tech writer for MBReviews.com, covering not only his passion, the networking devices, but also other cool electronic gadgets that you may find useful for your every day life.