As its name suggests, the UGreen 100W Mini MagSafe is a GaN power station that's able to output up to 100W towards multiple devices, but it does have one particularity which manages to push it above its competitors. That's the implementation of a MagSafe wireless charging coil that's capable to charge up the battery of those pesky iPhones at the maximum 15W.
It's not that the other wireless chargers can't output 15W or more, it's just Apple that has made sure to limit the input at 7.5W if the device detects third-party hardware. We've unfortunately become accustomed to expect this type of behavior from Apple, so it's nice to see that UGreen decided to include 15W wireless charging as an option for iPhones.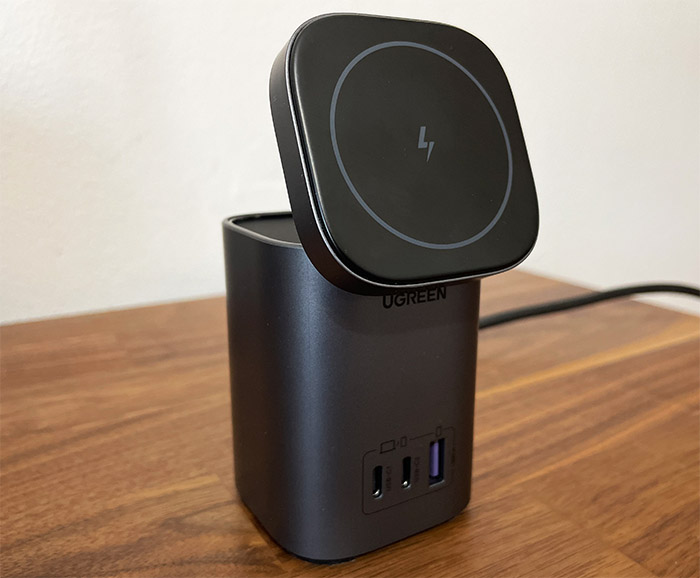 And I've noticed that UGreen has acquired a (good) habit of adding more variety to its GaN chargers, including a 300W unit that was capable to keep alive multiple laptops even at a higher load. Obviously, the UGreen 100W Mini MagSafe station will handle one laptop and a few other lighter devices (smartwatch, phone) and that's more than enough for a single-user office. That being said, I did expect the UGreen 100W Mini MagSafe to look a bit different than the regular chargers and indeed it does.
The manufacturer went with a cylindrical case completely made out of plastic covered by a dark gray matte finish, with the the top and bottom being black. The device measures 3.5 x 2.4 x 2.4 inches (9.0 x 6.0 x 6.0cm), so it's a bit bulkier than your regular 100W GaN charger – as a comparison, the GaN X is almost half its size. But there's a good reason for it: the MagSafe wireless charger needed to be embedded in a proper way. Indeed, about half the device (the upper side) is occupied by the wireless charging components, but the heavier portion is at the bottom, which means that even if the upper section is put at an angle, the charger remains stable.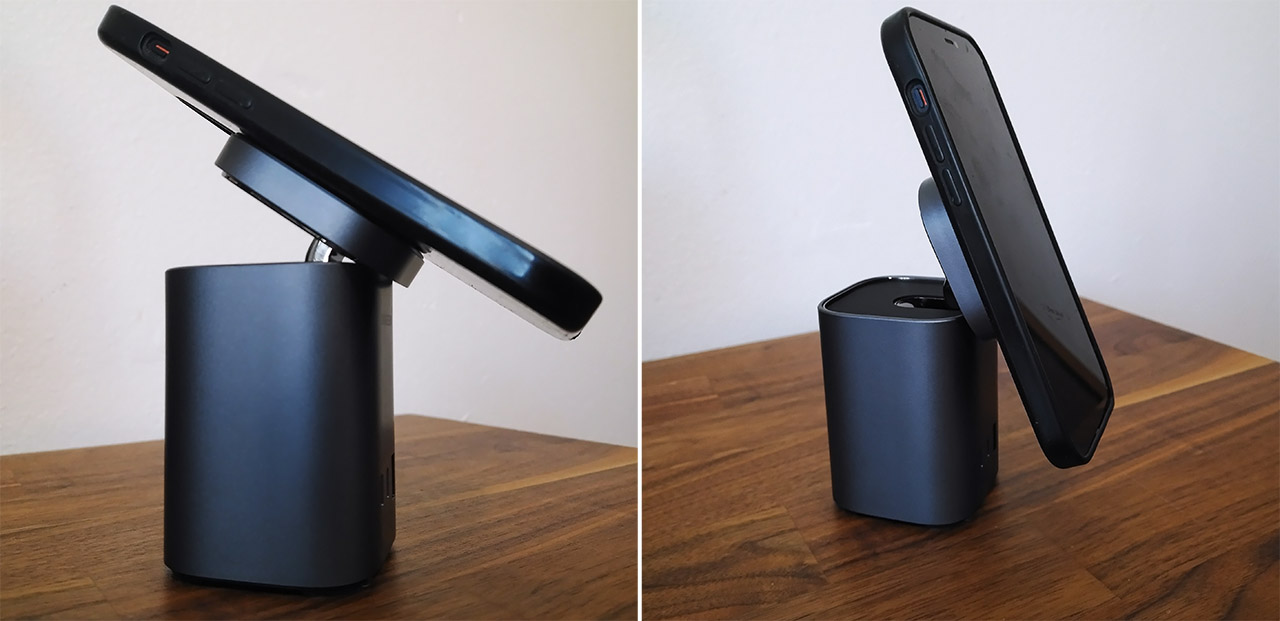 And yes, as I mentioned, it is possible to 'open up' the upper part in a similar fashion to a lid, allowing you to put the iPhone at an angle or you can just leave it flat. Since it's a MagSafe charger, it is magnetic and it is powerful enough to keep my regular iPhone 12 attached with no chance for it to fall off. The angle can be adjusted the way you like it, so you don't really need to put it almost vertically. The bottom of the charger has four silicone feet to keep the device steady even if multiple cables are connected.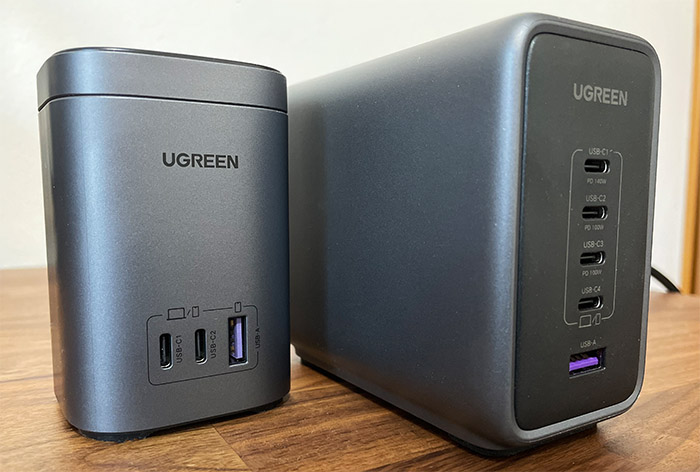 And, on the rear side, there is a two-pin connector for the Power cable – the provided one is quite long (6.6 feet). On the lower front section, the manufacturer has added the three USB ports. One is USB-A port which can output up to 22.5W (10V / 2.25A), while the other two ports are USB-C. Both of them are capable of outputting the max 100W (21V / 5A) as long as only one is in use, otherwise, the output will be limited to 65W and 30W per USB-C port, depending on which is the first that is connected to a device.
If you decide to also use the USB-A port to its maximum, the output will be limited to 45W for the first USB-C, 30W for the second USB-C port and 22.5W for the USB-C port. There is, of course the wireless charging aspect that we need to take into account and if you decide to add it into the mix alongside all three USB ports, then the output will be limited to 45W and 25W for the USB-A – the wireless charging will remain 15W. There are some other variations, so I have added a photo with all the possible combinations for the simplicity sake.

I do need to mention that there is no LED and, while it's far from a deal breaker, it's nice to know if the device is powered. And this also takes us to the question on whether the UGreen 100W Mini MagSafe charging station uses any power when it's in idle mode (no device connection). To check it out, I used a multimeter (gave up on the smart one that I used from Gosund and went with an offline tool) and the result was an average of 0.3W. So no, it's not flat out 0W, but it's very close to negligible.
If you don't want to waste any energy whatsoever, then simply detach the cord from the outlet as soon as you're done charging up a device. After that, I had to check the output of each port to see if the advertised values are accurate. Unfortunately, I don't have a device that can be charged at 100W using a USB-C cable, but I still have the 13-inch MacBook Pro which does get above 50W when pushed to the limit. The MacBook Pro was almost to 0%, so it quickly drew an average of 58W (20.21V, 2.88A) and I connected a smartphone which was at 0% to the USB-A port.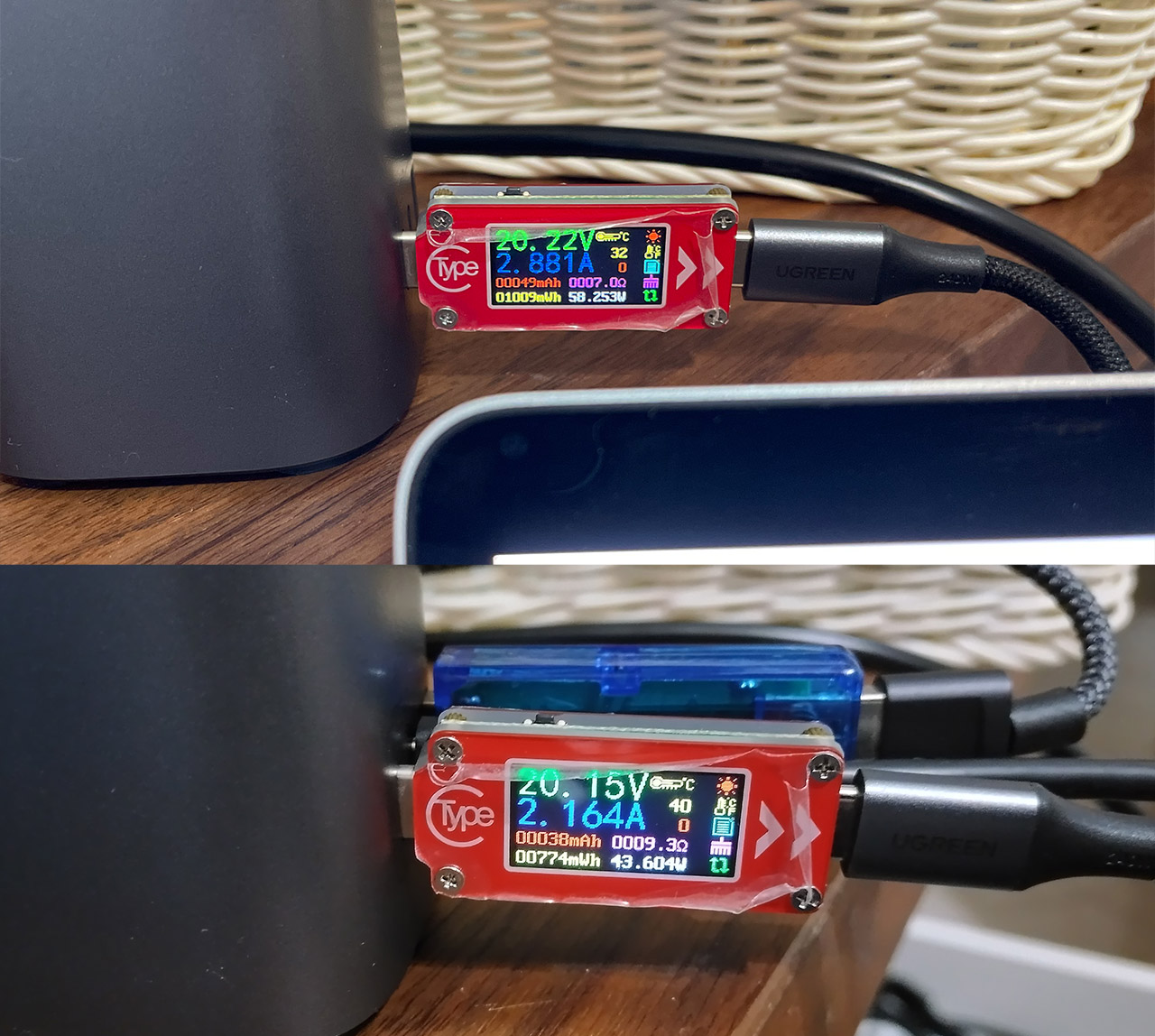 I saw that it drew an average of 15W (7.33V, 2.06A) which is below the 22.5W limit, so it was interesting to see it stay there (perhaps a imitation of the multimeter?). In any case, I connected a secondary smartphone to the other USB-C port and I could see that the multimeter for the first USB-C port turned off and then turned back on.
Yes, the UGreen 100W Mini MagSafe charger has that power redistribution feature implemented and it seems that it isn't affected by the USB-A port, but it does react as soon as the second USB-C is connected to a device (when disconnecting it as well) and it does react to the wireless charging. Connecting all ports and putting an iPhone at the top, we can see that the multimeter for the USB-C port showed that the output went from 58W to 43.6W. This shows the 45W limit in action.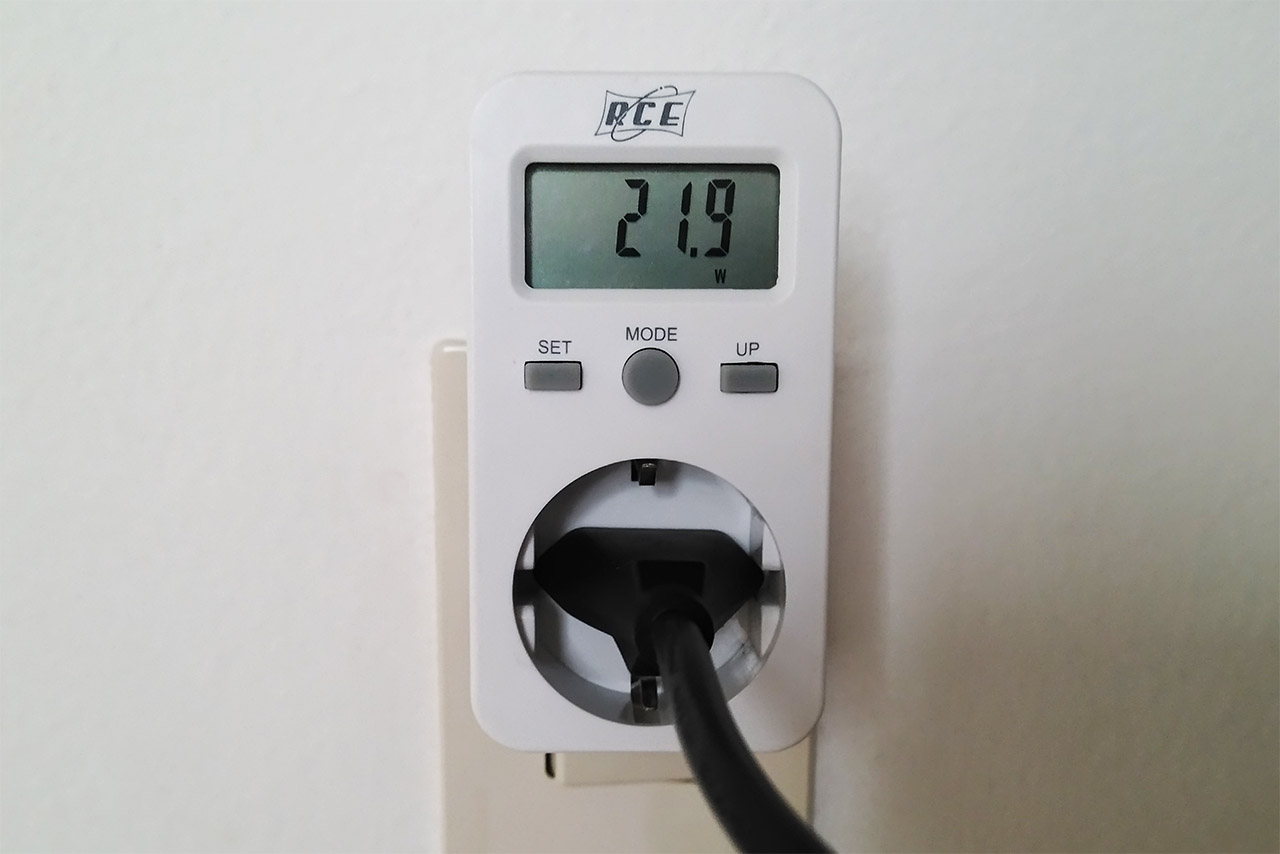 I also wanted to see if an iPhone would indeed be charged at 15W, so I allowed my phone to get close to 0% (not a difficult task, unfortunately) and I put it on the UGreen 100W Mini MagSafe power station. Afterwards, I used the multimeter to check how much power the charger would draw from the outlet.
At its maximum, it was 21.9W, way above the 15W, but I assume that it's just to push the phone quickly above the 10% because a few minutes later, the multimeter showed 15W and, about 20 minutes after that, it went lower to 8W. It's not a consistent 15W, but that's an observation I made with other MagSafe chargers (Benks InvisiBoost), so it seems to be normal to prevent battery wear.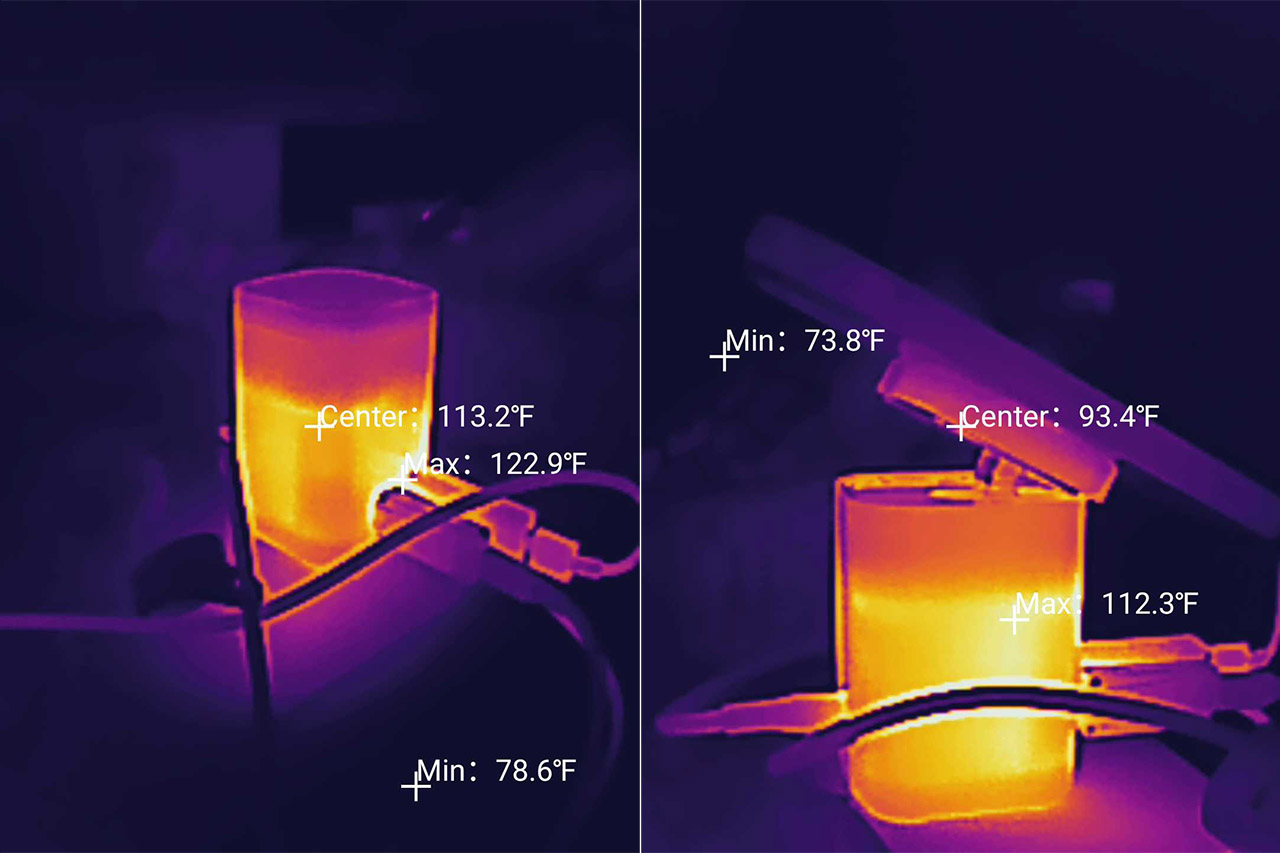 As for protection, the UGreen 100W Mini MagSafe does have what's called the Thermal Guard safe charging feature which takes 6000 temperature readings per minute to ensure that the device won't overheat. Then again, GaN tech already keeps this possibility in check. As for the wireless charger, you do need to be careful not to put any metallic piece in between it and the phone (smartwatch or earbuds) to limit the risk of malfunction.
UGreen 100W Mini MagSafe
-
Pros
Good implementation of a MagSafe charger
Multiple ports available: USB-C and USB-A
Adjustable angle for the magnetic section
100W total output budget
Long power cable (6.6 feet)
Cons
The device pauses charging a device when you connect or disconnect a new device
A bit bulky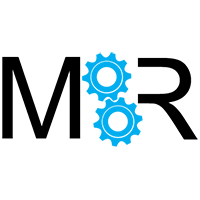 Mark is a graduate in Computer Science, having gathered valuable experience over the years working in IT as a programmer. Mark is also the main tech writer for MBReviews.com, covering not only his passion, the networking devices, but also other cool electronic gadgets that you may find useful for your every day life.