If you're still sporting that great vintage camera and want to know which would be the best WiFi SD card to bring your beloved device to the current technological standards, you will be surprised that there aren't that many manufacturers that still believe it's worth pursuing this market. And you can't blame them because the newer cameras, mirrorless or DSLRs have upgraded their set of features and added the one missing component: a built-in WiFi adapter.
Of course, these cameras also come with an app to allow you to easily transfer the photos and videos to your computer or mobile device. Prior to this era, what we now see as an obvious feature could only be accomplished by adding an external WiFi-enabled SD card and no, a good camera is not going to lose its value as quickly as a smartphone, so a 10-year old or more (vintage) Canon DSLR is still able to capture some gorgeous shots.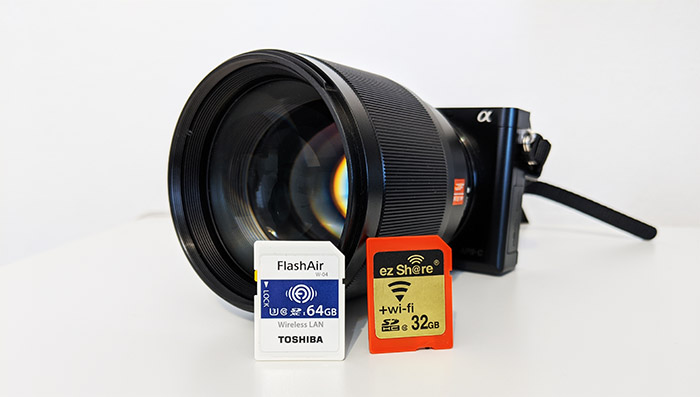 For a while, Eye-Fi was the go-to manufacturer for photographers and the device was clearly the best WiFi SD card for the longest time, but the period of seemingly forced transition towards modernity pretty much ended after EyeFi exited the market and some may argue that there aren't any suitable replacements available for it anymore. This can only happen when the competition is lacking and indeed, EyeFi has left a sour taste in the mouths of many loyal users, but after checking the market a bit, I noticed that some manufacturers are still producing WiFi SD cards.
The problems is that most don't come from well-known brands and I won't judge anyone for not wanting to throw tens (or even hundreds) of dollars for an obscure product that most likely will lack any form of support. But, this article wouldn't have existed if I couldn't single out at least a couple of decent WiFi SD cards that could help connect your camera (or 3D printer) to your computer or mobile phone, so, the nominees for the best WiFi SD cards are the Toshiba FlashAir W-04 and the ez Share 3rd and fourth generation.
UPDATE 03.21.2023: I noticed that a lot of people are still searching for WiFi SD cards and, unfortunately, in 2023 the market shrunk even more since Toshiba not only discontinued the FlashAir line in 2019, but it stopped updating the cards in 2021. The good news is that it's still a working solution, so, as long as it's available in stores, it remains a viable WiFi SD card.
I don't think I have to tell you who Toshiba is, but the fact that the Japanese manufacturer decided to let some vintage camera lovers enjoy a modern experience for a bit more is definitely praiseworthy – when I tested the FlashAir W-04, everything went fast and smoothly, unless you tried using the dedicated app (since it's all downhill from that point), so it's not the perfect device, but it manages to do its job.
ez Share is less known to the general public, but the Chinese manufacturer has been around for a very long time and it went through multiple generations of WiFi SD cards – when I tested the ez Share third generation (because it was sent to me by mistake instead of the fourth gen), I saw a decent performance and, although it was less speedy than Toshiba FlashAir, the app worked flawlessly, so it definitely deserves a place at the top.
What happened to Eye-Fi?
I know that some of you expected to see Eye-Fi as the best WiFi SD card, but that's not an option since the services surrounding these cards are now defunct – I have no idea why some people still keep these cards in their recommendation lists. Eye-Fi was indeed the best WiFi SD card before the company was acquired by Ricoh and it's interesting to see that lots of camera models (the older ones) do include Eye-Fi firmware within their software in order to control various options of the cards. Furthermore, a lot of people argue that EyeFi offered a better software experience than the built-in solutions from some major camera manufacturers.
But, in 2016, after the acquisition happened, the users immediately received notifications that their models are obsolete (due to some security vulnerability) and that the proprietary software would no longer receive support after a few months. And that's how lots of users were left with some overpriced SD cards that could no longer provide their main reason of existence: the WiFi connection. Obviously, you could get new WiFi cards and the Eye-Fi Cloud was immediately rebranded as Keenai. Funny enough, Keenai is now also defunct (as of two years ago) and the Eyefi Mobi is shut down.
So yes, Eye-Fi has made some uninspired decisions and alienated its audience due to its unorthodox practices and to be honest, Eye-Fi's handling of things is what makes me be skeptical of the Cloud-only networking hardware since the manufacturers make you dependent on their service and then you're pretty much at their mercy.
Note: If you insist on using Eye-Fi, there are third-party software out there that allow you to access these seemingly bricked cards using Linux (but they're less than ideal to set up).
Which is the best WiFi SD card in terms of performance
The model of Toshiba FlashAir that I use has a storage capacity of 64GB (SDXC) USH-3 with the bus interface speed rated at up to 104 MBps and the U3 class indicates that the minimum sequential write speed is 30MBps. Like I said in the introduction, I got the third gen ez Share, despite ordering the fourth gen, but, thankfully, hardware-wise, there is no difference between the two cards. The model that I used has a storage capacity of 32GB (SDHC) and it uses the UHS-I interface (SDR104 mode), indicating that it supports speeds up to 104 MBps, while the C10 speed class suggests that the minimum sequential write is 10 MBps. I know that the storage capacities are different, but ez Share WiFi SD cards come with a very high price tag and the 32GB model is the best one that I could find without torturing my wallet.
That being said, there are two types of files that you will be transferring between your camera and your computer (or mobile device), RAW and JPEG, so I measured how long it takes for each WiFi SD card to reach your devices.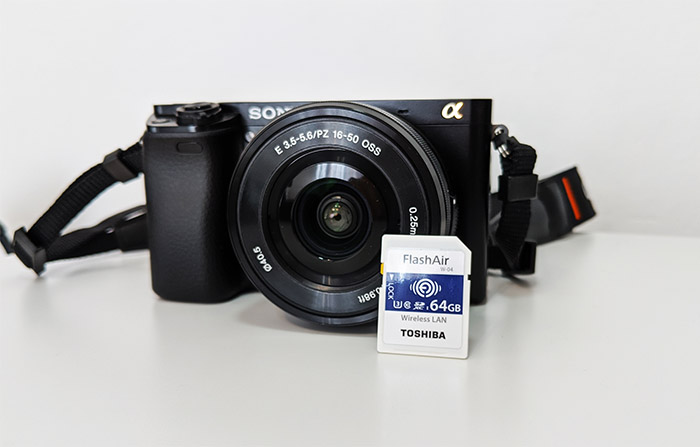 I took a few shots with a Sony A6000 camera (yes, it has integrated WiFi, but I used the WiFi card for this test) and after accessing the contents of the Toshiba FlashAir W-04, I moved a few JPEG photos and the transfer was almost instantaneous (1 second), but moving a RAW file will take a bit longer (it took me 10 seconds for a single photo). It's important to know that the photos were transferred to a Samsung T5 SSD, so no bottlenecks here.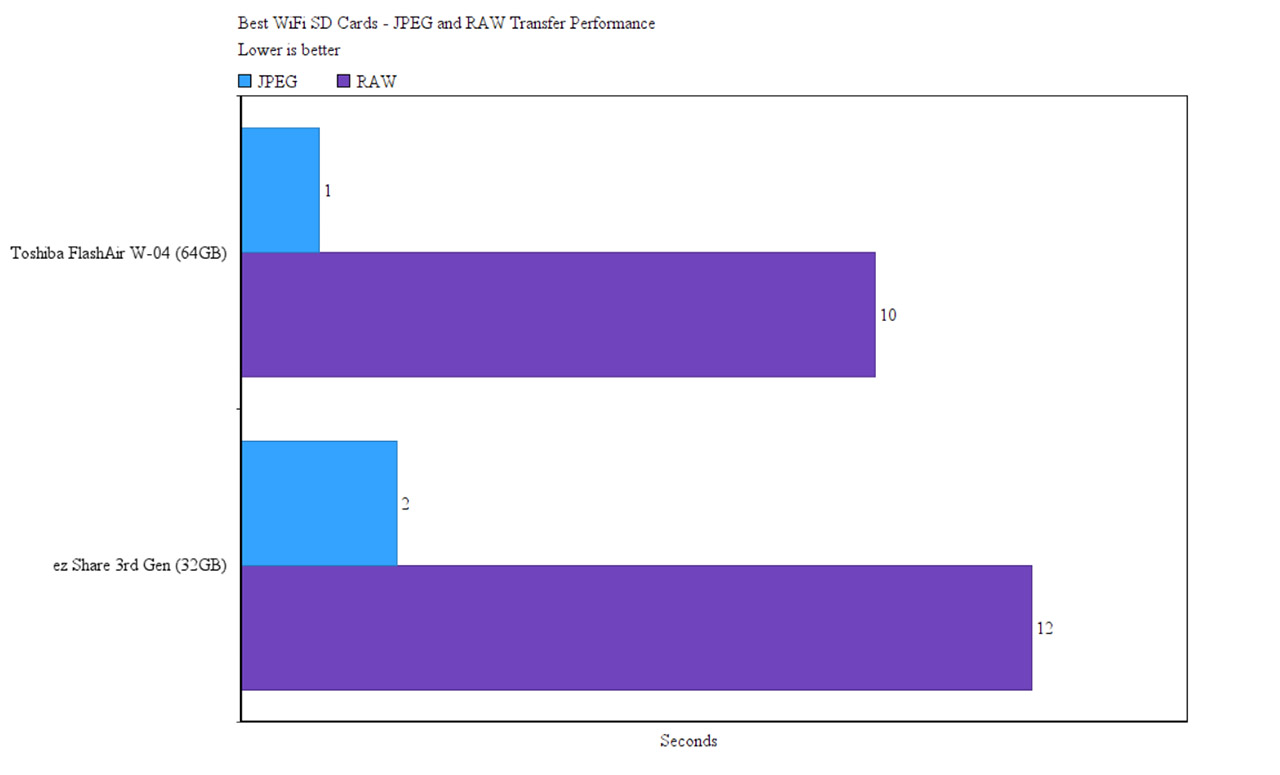 Next, I inserted the ez Share and again, took a few shots; after accessing the content of the WiFi SD card, I moved a few JPEG photos to my computer and I saw that it required an average of 2 seconds for a file to arrive at its destination. When transferring RAW files, things were a bit slower and it took about 12 seconds for each photo to arrive on my computer. I know, if you shoot 100+ photos (which a professional will casually do), you will have to wait a few tens of minutes until being able to view a folder filled with RAW files – for quickly previewing photos, these WiFi SD cards should do fine.
What about the software?
Both the ez Share and the Toshiba FlashAir W-04 will broadcast their own SSID which you can connect from either your computer (Windows OS or MacOS) or your mobile device (Android or iOS) and, using a browser-based utility, you can quickly view the captured photos – the FlashAir displays the photos as you take the shot (similarly to how the Eye-Fi functioned), but I noticed that the ez Share required for me to refresh the folder in order to see new photos or videos.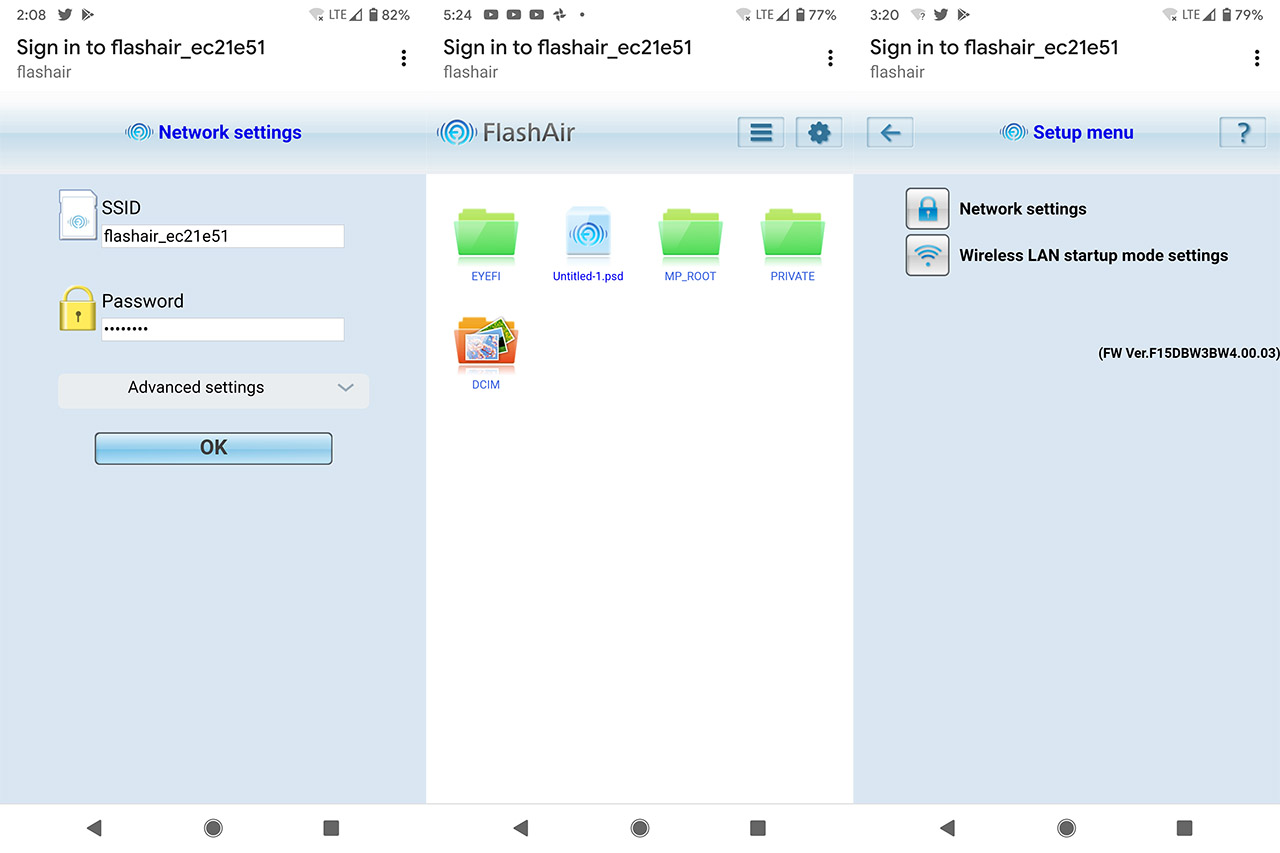 I have not had any problems opening this utility with most currently available platform (I have not tested it on iOS), but the dedicated apps were a very different experience. The Toshiba FlashAir W-04 WiFi SD card can be paired to the FlashAir app and, while using an Android phone, I could never connect to it, no matter what I tried. Maybe it's an Android thing and iOS works better, I don't know since I don't currently have an iPhone available to test it (let me know in the comments if you did manage to get it to work).
ez Share comes with the 'ez Share Android app' and I was pleasantly surprised to see that everything worked flawlessly: the app doesn't offer that much over the browser-based utility, but there is the possibility to create collages and stitch pictures together.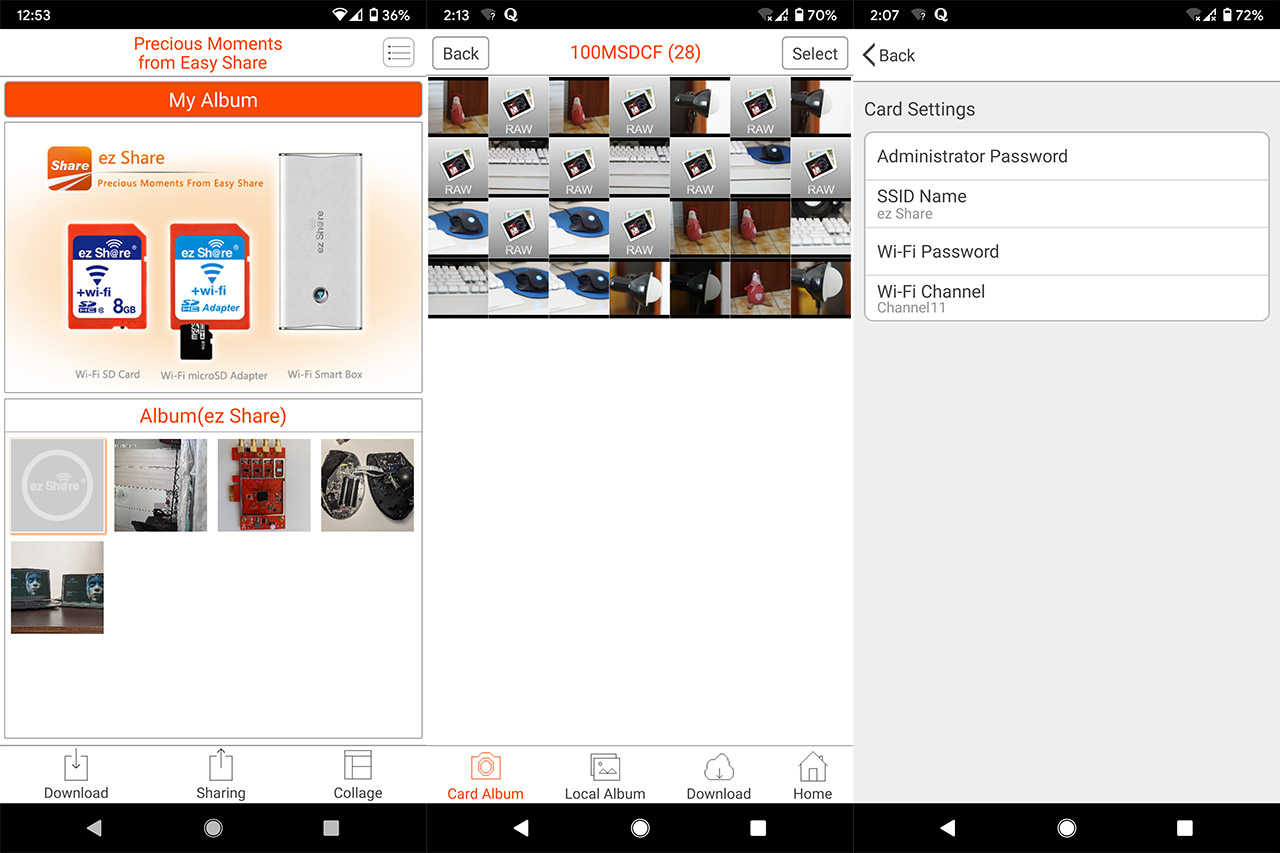 As for the Cloud options, ez Share wants you to email them (?) and apparently, the photos and videos can be saved in Dropbox, Picasa, SkyDive or Google Drive. The Toshiba FlashAir SD card can also sync with some external services, such as Dropbox, Google Drive and even Facebook (PhotoSync) – again, I could not get access to the app, so this is just gathered info from people that swear on the fact that it works for them.
Bibliography:
Wikipedia.org on Eye-Fi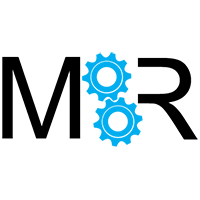 Mark is a graduate in Computer Science, having gathered valuable experience over the years working in IT as a programmer. Mark is also the main tech writer for MBReviews.com, covering not only his passion, the networking devices, but also other cool electronic gadgets that you may find useful for your every day life.