Asus has recently released the RT-AX68U WiFi 6 router and with it, a new feature was added called the Instant Guard which comes in the form of a separate app on the mobile device and as integrated part of the web-based user interface, but only for the status info. The idea behind the Instant Guard is to simplify the IPSec VPN setup and I know that I called it a new feature, but it was actually always a part of the Asus routers, just not automated. Considering that most people are intimidated by such features (and I know for sure that the large majority of options are left untouched regardless the price tag of the router), a simple way to accomplish a seemingly complex operation is definitely praiseworthy on a consumer networking device.
The IPSec VPN provides a way for two computers to have an encrypted communication over an usually public Internet Protocol (IP) network. The protected communication can be established between two hosts, two networks or between a network and a host. Furthermore, as the name suggests, in order to securely communicate, the two entities will create an IP Security tunnel (IPSec connection). Why exactly would you need to rely on an IPSec VPN connection? Imagine you're in an airport, park or any other public place where you do have access to the Internet, but it's a public WiFi which comes with some serious risks.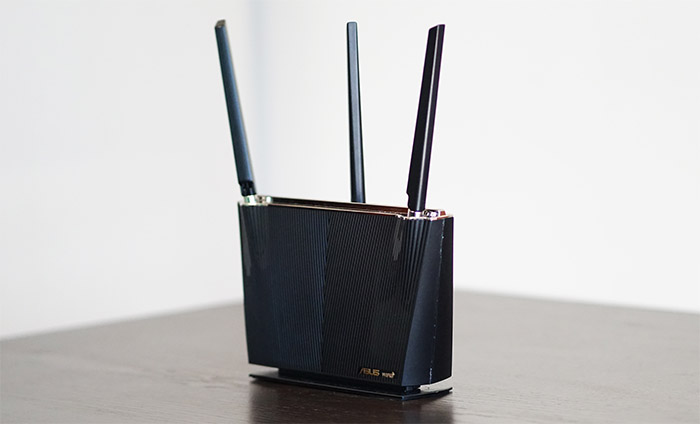 Depending on the type of data that you're sending or receiving, you could expose your sensitive private data (such as credit card numbers or various authentication passwords) and you could also get your devices infected with malware which means that besides opening up your current device to hackers, is can also infect other devices from your home network, when you connect back to your LAN. So, if you configure the IPSec VPN on an Asus router, you can safely connect to the home network (which will host the server), exposing no data and ensuring your privacy.
There are, of course, other types of VPNs available on all Asus routers, such as PPTP or OpenVPN, but the Instant Guard is currently only related to the IPSec VPN. It's worth mentioning that you can find this new feature/app on all of the Asus AX routers (including the RT-AX55) and I've seen it on the high end models from the last generation (which includes the RT-AC88U and the RT-AC86U). And I doubt that it's not possible to port this feature to essentially all older Asus routers, but it's a typical marketing strategy when you have to give users a compelling reason to move to the new (WiFi 6) routers series, especially when the throughput or bandwidth may not be persuasive enough.
How to set up the Instant Guard?
Like I previously said, the Instant Guard is simply an automated way to enable the IPSec VPN and at the moment, it isn't an integrated part of the Asus Router application which means that you will have to install a separate app. You could simply search for it on the Apple or Android store, but it's easier to just open the Asus Router app, open Settings and then identify the Instant Guard option.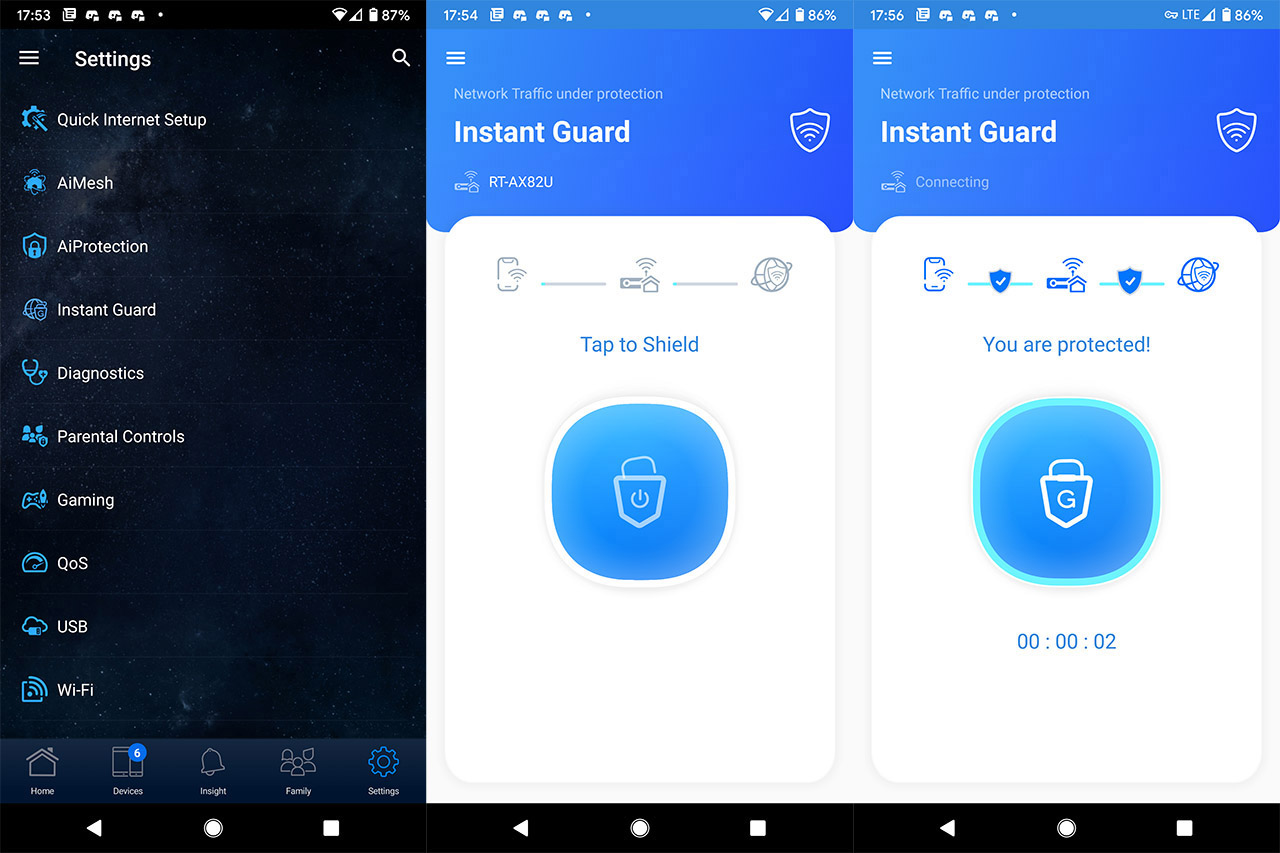 This way, you automatically are guided towards installing the app and afterwards, you should be greeted by the large 'Tap to Shield' button. Tap on it and in two to three seconds, it should say 'You are protected' and a timer should start towards the bottom to show you for how long the VPN has been active. And you don't have to worry about any payment or subscription since the server is your router which means that as long as it functions and there's a working Internet connection coming from your modem, you should be good to go.
So yes, kudos to Asus for creating such a incredibly simple way to gain an IPSec VPN connection and I do look forward to seeing it available on Windows or MacOS clients as well. Yes, I did say that it's an integrated part of the web-based interface, but it's there just to check on devices that have created tunnels towards the network. To access this info, log into the GUI (either enter 190.168.50.1 or router.asus.com in the URL), use the set credentials and then head up to Advanced Settings and click on VPN. You should see three options, VPN Server, VPN Client and Instant Guard, so click on the last one.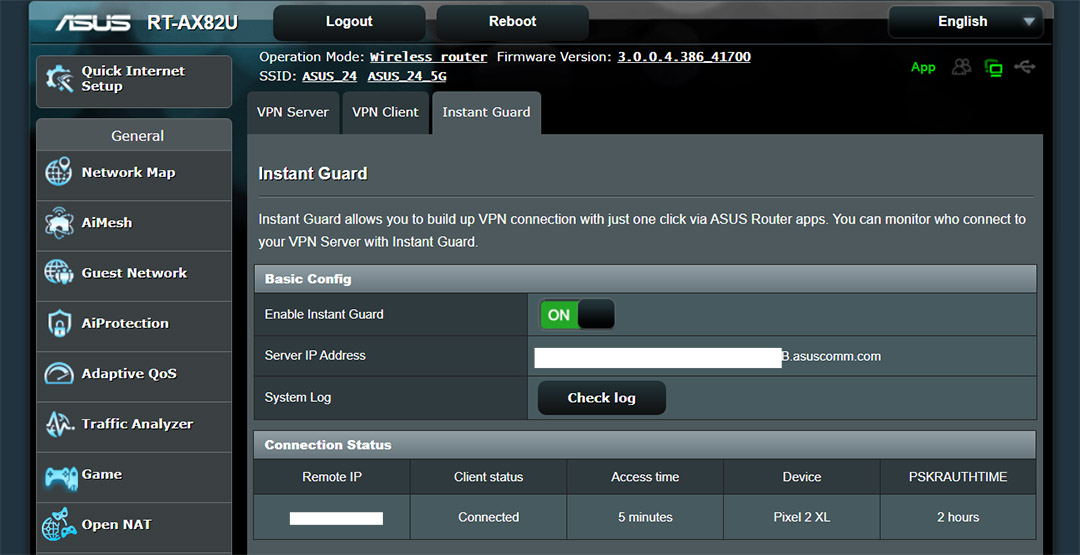 Doing so will open a separate window where you can check the status of the Instant Guard (if it's enabled, you can disable it), you can Check the log to see what happens between the router and the mobile device (client) and you can also see the Connection Status (the IP of the remote device, the name, the time and for how long the authentication remains valid).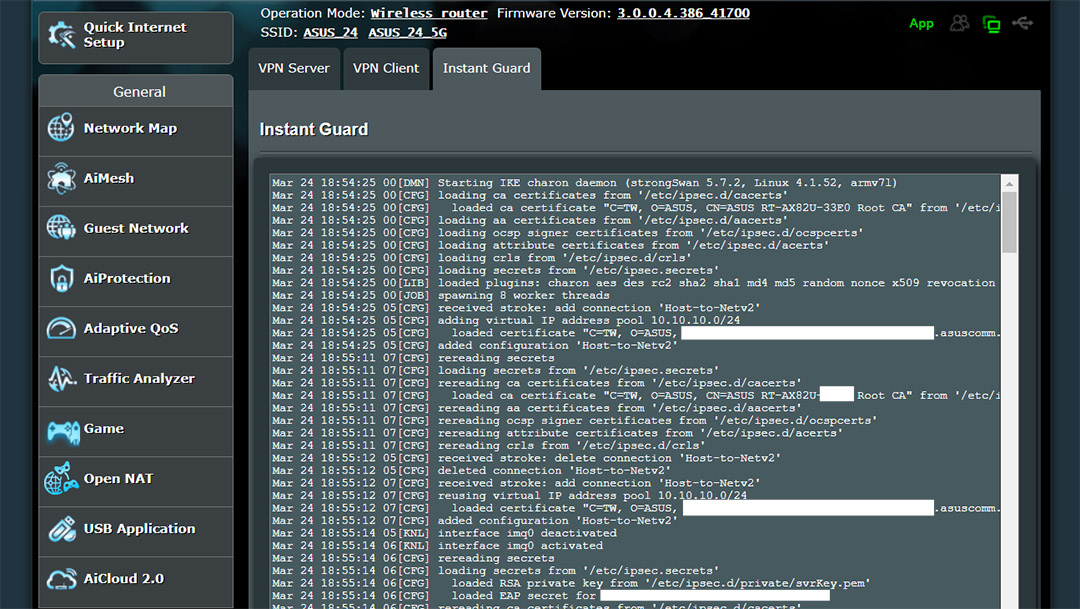 I noticed that enabling the Instant Guard from the web-based interface is doable, although there won't be any connected devices – you need to manually connect each device that you want to use with the VPN using the app that each has to have installed (obviously). Before going forward, it's important to know that the IPSec tunnel cannot be created unless both the router and the mobile device have Internet access – it can be the default LTE or even the public WiFi. Also, I noticed that even if the 'Enable Web Access from WAN' feature from under the Remote Access Config is set to No, I could still make use of the Instant Guard, so that's great.
Is it safe to use the Instant Guard?
Yes. It's just as safe as using IPSec VPN without relying on the app – that's the point of IPSec, to keep your private data secure when it's being transmitted using a public WiFi network. But if you're worried about what data Asus or its partners may get from your network, that's a totally different topic that you can check here: Does Trend Micro collect web browsing history through the AiProtection from Asus routers?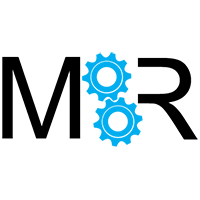 Mark is a graduate in Computer Science, having gathered valuable experience over the years working in IT as a programmer. Mark is also the main tech writer for MBReviews.com, covering not only his passion, the networking devices, but also other cool electronic gadgets that you may find useful for your every day life.