The Vebach JW33 is a fairly inexpensive 20W wireless charger (Qi technology) that was designed to magnetically attach to your phone and charge it up as quickly as most regular wall adapters could. Certainly, there are some powerful fast chargers as well (such as the Kovol Sprint 120W), but they don't really beat the convenience of using a wireless charger.
And 20W is fairly enough to recharge a smartphone with a larger battery in less than two hours. I won't deny that the wireless chargers have gotten more powerful as well, reaching 30W and even 50W (from Xiaomi), but, unlike the cable chargers, there are some trade-offs when charging your phone wirelessly. And they mostly revolve around the heat that's generated which has a negative impact on the battery, especially if it's not a larger one from the start (the case with iPhones). Then again, avoiding using the phone while it's charging wirelessly should remove this issue almost entirely.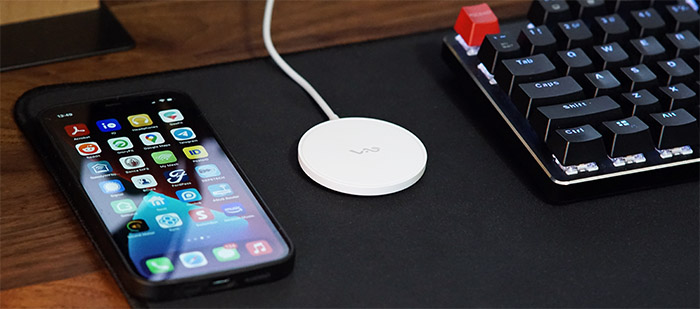 The Vebach 20W wireless charger is focused more towards iPhones and that's because it has a magnetic plate which attaches to the rear side of the phone ensuring that there is no deviation. And this solves the common misalignment problem that plagues other wireless chargers where the battery would only continue to get depleted over the night, to the despair of the users. So it's nice to see that the third-party manufacturers manage to take some good design elements and improve them, especially in the case of Apple which is stubbornly stagnant on adopting new technologies.
Design and Build Quality
It's clear that Vebach was inspired by MagSafe in regards to the magnetic attachment mechanism, but it's also great to see that they went past the 15W limitation, pushing 20W. But can an iPhone truly be charged wirelessly above 15W? Not at the moment. The iPhone 12 lines, as well as the newer iPhone 13 can only go up to 15W, which will change obviously as soon as Apple makes available a better MagSafe charger. Got to love the Apple ecosystem. I do need to mention that the iPhone 12/13 Mini are limited to 12W wireless charging power input because why not punish you for not spending for the top models. Samsung smartphone that support wireless charging can only go up to 15W, but the Pixel 6 Pro can reach up to 23W, so there's progress.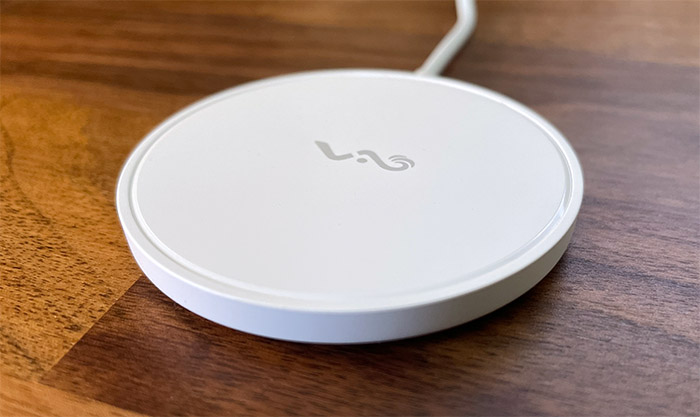 In terms of design, the Vebach (JW33) wireless charger is compact and elegant, sporting a circular base that sits flat on a desk. The entire device is covered by a white matte finish and, if it wasn't for the cable that's connected to the circular case, one would easily mistake it for a small cup holder.
The cable is permanently attached to the Vebach wireless charger and to be honest, I would have preferred it to be connected to a USB-C port, but I won't complain too much because at the other end of the fairly long cable (3 feet), we do get a USB-C connector.
And there's also a 20W charger in the box as well, something that Apple didn't bother to add with its newer iPhones (neither did Samsung with its handsets). I would have liked to see a silicone bad at the bottom of the charger to keep it in place, but it still works as intended and, when attached to the rear side of an iPhone, it sticks really well to it, blocking any potential movement (more so from the weight of the phone). I had an iPhone 12 that had the magnets built-in, as well as a case that allowed the magnetic attachment of the Vebach charger. But not all devices do, such as a rugged smartphone that I tested recently, the AGM Glory Pro, which has various ridges on its rear panel. So, I had to be very careful how I positioned the charger so to align it properly with the smartphone.
Note: Although the JW33 looks fine in its minimalist design approach, I did like more the aluminum charging pad of the other Vebach model which is less powerful. Hopefully, Vebach will port this design to the 20W model as well.
Charging Performance
I do need to put some emphasis on how easily an iPhone attaches to the Vebach wireless charger and how this should become a standard for smartphones that support Qi charging, as well as for the chargers themselves. As for the testing, I decided to use an iPhone 12 and check how long it takes for it to get from 0 to 100%. I didn't have any other wireless charger to compare it to, so, for the comparison sake, I also just used a 30W charger from Quntis. And yes, it's not really a fair comparison, but at least we do get an idea on what we can expect from the Vebach 20W wireless charger. As you can see from the graph (where I measured the battery percentage every 10 minutes), the data shows that using the Vebach 20W wireless charger, the iPhone 12 needed 2 hours and 30 minutes to go from 0 to 100%.

But be aware that it took less than two hours to reach 90%, so, as we are already accustomed to, the last percents usually take the longest since the charging is done intentionally slower as to not damage the battery and ensure that it has a long life.
The 30W Quntis charger + Apple cable did as good as expected since it needed two hours to go from 0 to 100%. This doesn't really tell the whole story because I know that the Quntis 30W charger can actually recharge the iPhone 12's battery at a bit below 15W, so how come the Vebach 20W charger which should be supposedly capped at 15W didn't behave in the same manner as the cable charger?
It's simple, actually, the wireless charger was in fact limited to 7.5W. And the problem is not the Vebach charger, it's Apple that's apparently limiting it to 7.5W, otherwise how would they justify selling their MagSafe wireless chargers? I checked the AGM Glory Pro which was supposedly limited to 10W, but it turned out that it will charge up at 15W wirelessly just fine, as you can see in the photo.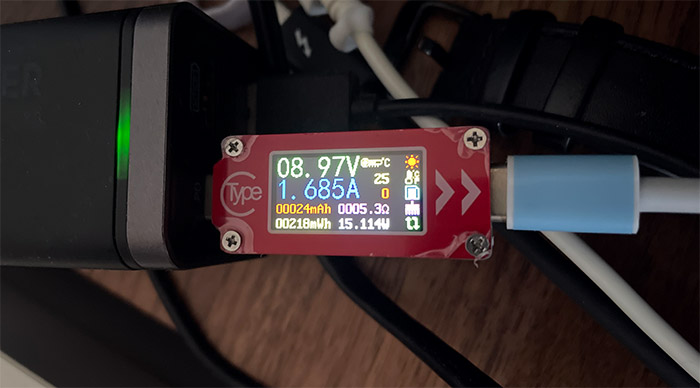 So at least the smartphones outside the Apple ecosystem will be able to push the Vebanch wireless charger close to its true potential. Since I was using the AGM Glory Pro, I decided to use its thermal camera and check out how hot the charger can get while it's attached to the iPhone 12.
Don't expect either the charger or the smartphone to be completely cool and as you can see, there are some expected warm spots, but nothing to complain about.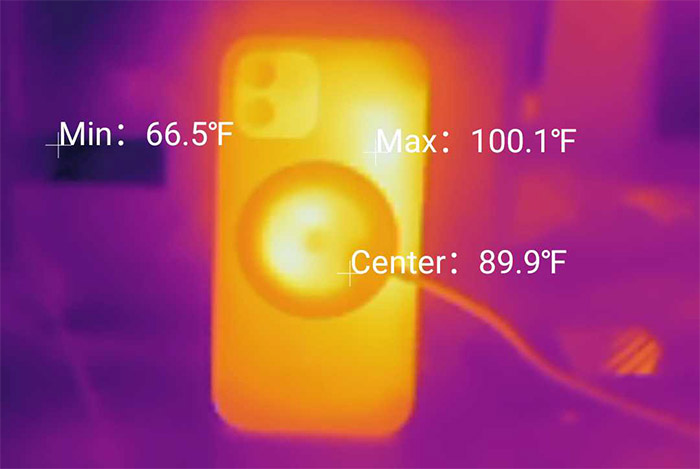 What problems you can expect while using the Vebach wireless charger?
As I mentioned in the intro, you need to be careful with the battery life since a higher temperature can decrease the health of the battery. But you don't need to worry about it when using it with an iPhone because Apple made sure to bottleneck it as much as they could without completely pissing off third party manufacturers. Then there's the precautions that you need to take as you would with any wireless charger. Don't put anything between the phone and the charger because it can melt and even catch fire (a card can also become invalid).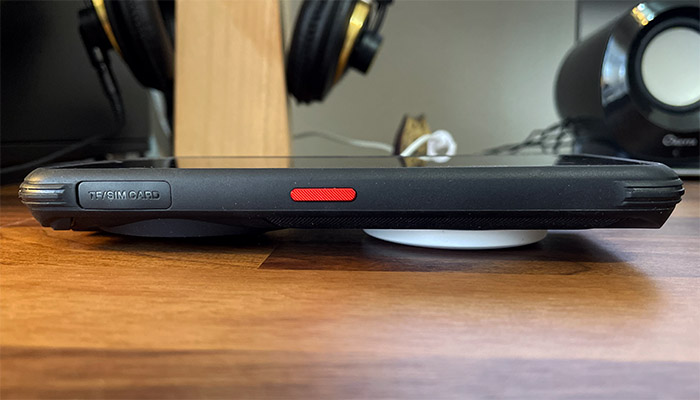 Conclusion
The Vebach 20W magnetic wireless charger is a small and stylish device which can work wonders with your phones (can charge them fairly quick), but it's being held back by Apple. The 7.5W may not persuade people to go with third party chargers when using iPhones, but then again, I did like the convenience of carrying around such a small device and the way it simply snaps to the back of the phone is so satisfying. If you're using an Android phone that supports wireless charging, the Vebach JW33 is a good choice, but for iPhones, it's up to you if you want a slower charging speed.
Vebach 20W Wireless Charger
-
Pros
Compact case and elegant design
It magnetically attaches to the back of some phones (mostly iPhones)
USB-C
20W with compatible devices
Cons
Although not really the fault of Vebach, it won't go above 7.5W when charging iPhones (by Apple design)
The cable is permanently attached to the charger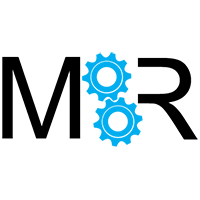 Mark is a graduate in Computer Science, having gathered valuable experience over the years working in IT as a programmer. Mark is also the main tech writer for MBReviews.com, covering not only his passion, the networking devices, but also other cool electronic gadgets that you may find useful for your every day life.