The BlitzWolf BW-TH5 is a portable USB-C hub which offers the possibility of connecting multiple types of devices to your computer, as well as streaming 4K videos (at 30Hz) using the built-in HDMI port. The USB hubs and dongles have gotten really popular recently and for good reason since the manufacturers decided that we don't need that many ports anymore.
And it's not only the USB ports, some laptops have stripped their video output ports (including the HDMI, DisplayPort or the older VGA) and even the Ethernet port (Apple has left its newest MacBook Pro only with a couple of Thunderbolt ports and nothing more). I understand that everything is moving towards wireless, but you still need those small dedicated dongles to connect your wireless peripherals and a small amount of USB ports is just not going to cut it.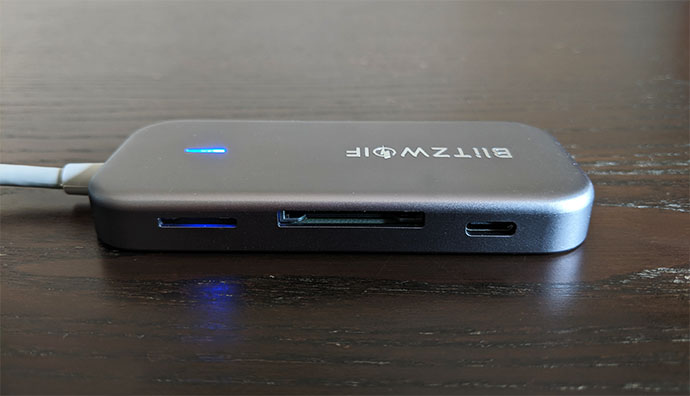 The gaming laptop has been mostly unaffected by this issue due to its larger and heavier build, but the slim and portable ultrabooks do require the use of additional USB hubs, which come in various shapes and with very different price tags. The BlitzWolf BW-TH5 tries to enter this overcrowded market with a relatively inexpensive solution, while offering as many features as possible (although their implementation will require a closer look).
The BW-TH5 is advertised as a USB-C hub, but it leans more towards the dongle territory, having a small form factor case (measuring 3.74 x 1.77 x 0.43 inches), so it's very portable and you can easily slip it into the pocket of your pants – it also has its corners rounded, so it's comfortable to hold. Except for the bottom side which is made out of soft plastic, the rest of the case is made out of a single piece of aluminum alloy which means that it is sturdy and will do fine even if it takes a few tumbles to the floor but, be aware that the dark gray matte finish does scratch very easy. On the top surface, besides the glossy embossed BlitzWolf logo, there's a narrow LED indicator to show you when the device is powered off or on (it will be solid blue) and, next to it, a bit to the right, there's an attached cable (6.3 inches long) with a USB Type-C connector at the end (the connector has a metal housing).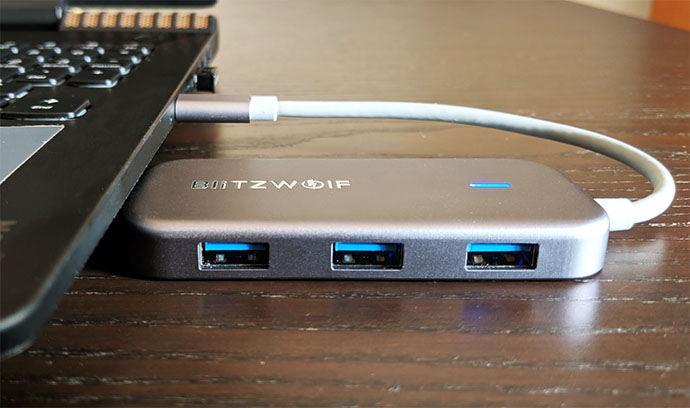 Since the cable cannot be detached from the main body (one of the reasons why I consider the device more like a dongle than a hub), the BlitzWolf BW-TH5 will most likely end up hanging from the edge of your desk, so its weight is an important factor that can dictate the longevity of the device. Fortunately, despite having a mostly metallic casing, the BW-TH5 weighs only 0.11 lb, so it is lightweight enough to not damage the cable and to be easily carried around.
There are also two silicone pads attached to the bottom which will keep the device from budging (if you decide to keep it on your desk). One side of the device is occupied by three USB 3.0 Type-A ports which allow you to charge your devices; it also supports Power Delivery Charging which is supposedly a fast charging feature, but, after I connected my Pixel 2 XL, it charged the battery at a normal pace. Since these type of devices are small and inexpensive, a handful of manufacturers have cut some corners and, despite having multiple USB ports, their hubs couldn't power up a couple of SSD drives.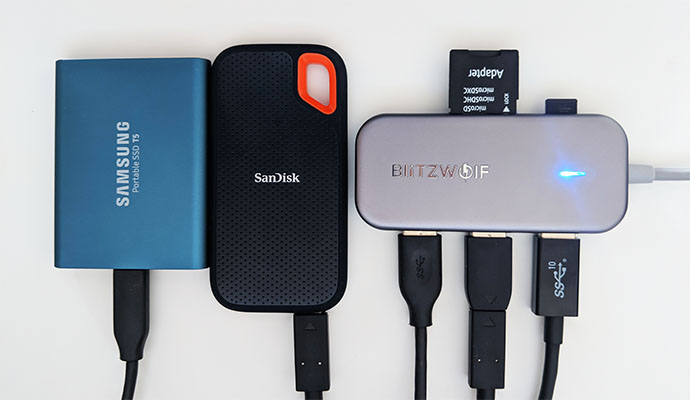 The BlitzWolf BW-TH5 has a total power budget of 100W, so it should have no problem with handling multiple external storage drives and indeed, after I connected a Samsung T5 SSD, a SanDisk Extreme SSD and a Pixel 2 XL, they all could be accessed from my laptop without experiencing any connection problems. I also decided to test the storage performance of the SanDisk Extreme SSD drive (256GB) by first connecting it to the laptop directly and afterwards through the BlitzWolf hub. As expected, the BW-TH5 didn't have a heavy impact on the storage performance and I only saw a degradation of less than 5% using the CrystalDiskMark 6 benchmark.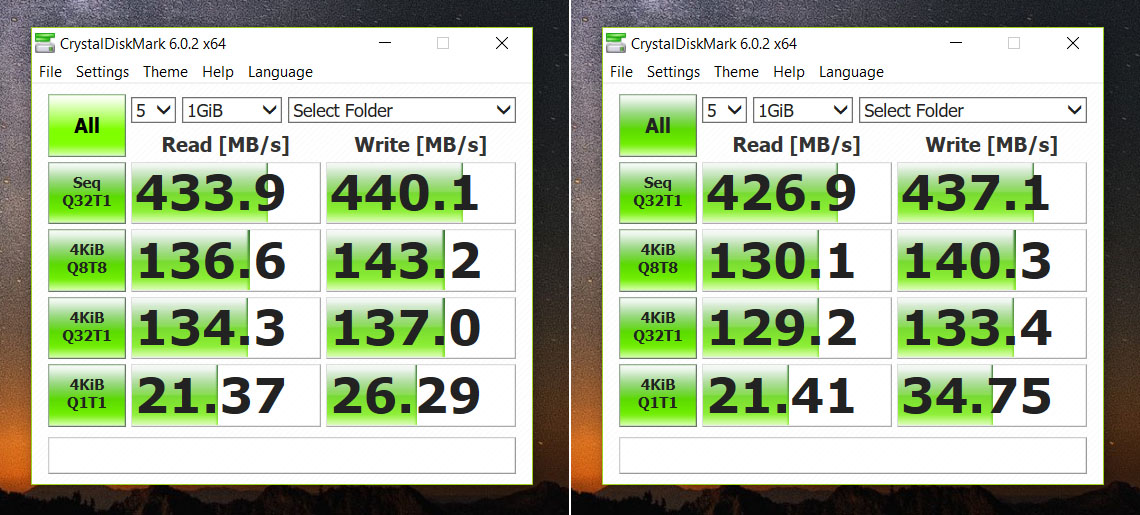 LEFT: Direct Connection. RIGHT: Through The BlitzWolf Hub.[/caption]
If you have multiple peripheral devices, then three USB 3.0 ports may not be enough, so the manufacturer decided to also add a USB Type-C port on the other side of the USB hub (dongle) next to a SD card slot and a TF card reader slot (offering a data transfer speed of up to 480 Mbps). Similarly to the other three USB ports, the USB-C port allow you to connect additional devices and recharge their battery. The SD/TF card slots are a very welcomed addition, allowing you to quickly move the photos and videos from your DLSR camera (you'd be surprised how many high-profile USB hubs have decided against adding this type of slots, despite the fact that lots of slim laptops lack a card reader).
On the opposite side of the attached cable, the BlitzWolf BW-TH5 features an HDMI v1.4 port, so you can connect your laptop to an external monitor, supporting a refresh rate of 30Hz if the resolution is set at 4K. I don't currently have a 4K monitor, but I do have a 2K Dell U2515H and I could easily mirror or extend the laptop display to the larger monitor (there are some more expensive hubs, such as the Kensington SD5300T that can handle two 4K monitors at the same time).
Note: The BW-TH5 offers protection from short-circuits, over current, over voltage and it also has temperature control.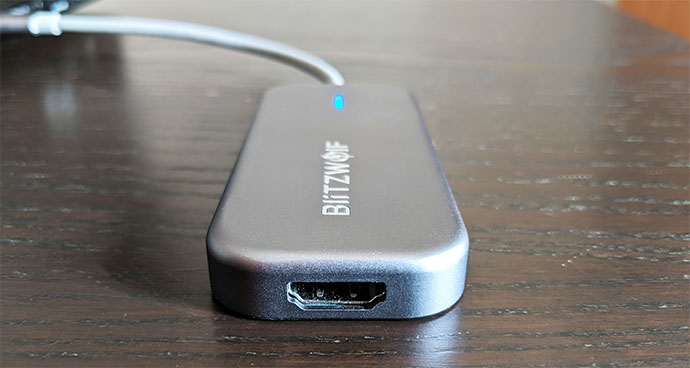 It's clear that the USB hubs are here to stay and I'm sure that the newer laptops (for gaming or not) will have less and less ports, but is the BlitzWolf 7 in 1 USB-C data hub worth taking into consideration for expanding the computer's I/O ports? The BW-TH5 offers four USB 3.0 ports (including a Type-C port), two SD card reader slots, as well as an HDMI port and, so far, it seems to be stable and capable of handling multiple types of devices (including a couple of SSDs) which means that yes, the BlitzWolf hub is definitely worth taking into consideration if you're looking for a portable and inexpensive solution for your ultrabook.
Check the product here: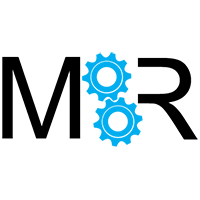 Mark is a graduate in Computer Science, having gathered valuable experience over the years working in IT as a programmer. Mark is also the main tech writer for MBReviews.com, covering not only his passion, the networking devices, but also other cool electronic gadgets that you may find useful for your every day life.